The global AI camera market was valued at USD 12.96 billion in 2022 and is expected to grow at a CAGR of 14.5% during the forecast period.
The increasing concerns related to security, encompassing threats such as theft, vandalism, terrorism, and public safety, have accelerated the demand for advanced surveillance systems. AI cameras, equipped with intelligent monitoring and threat detection capabilities, have become indispensable in addressing these security challenges. Facial recognition technology, a subset of AI cameras, has gained prominence across diverse sectors, including law enforcement, border control, and access management. The convenience and heightened security provided by facial recognition have fueled its widespread adoption.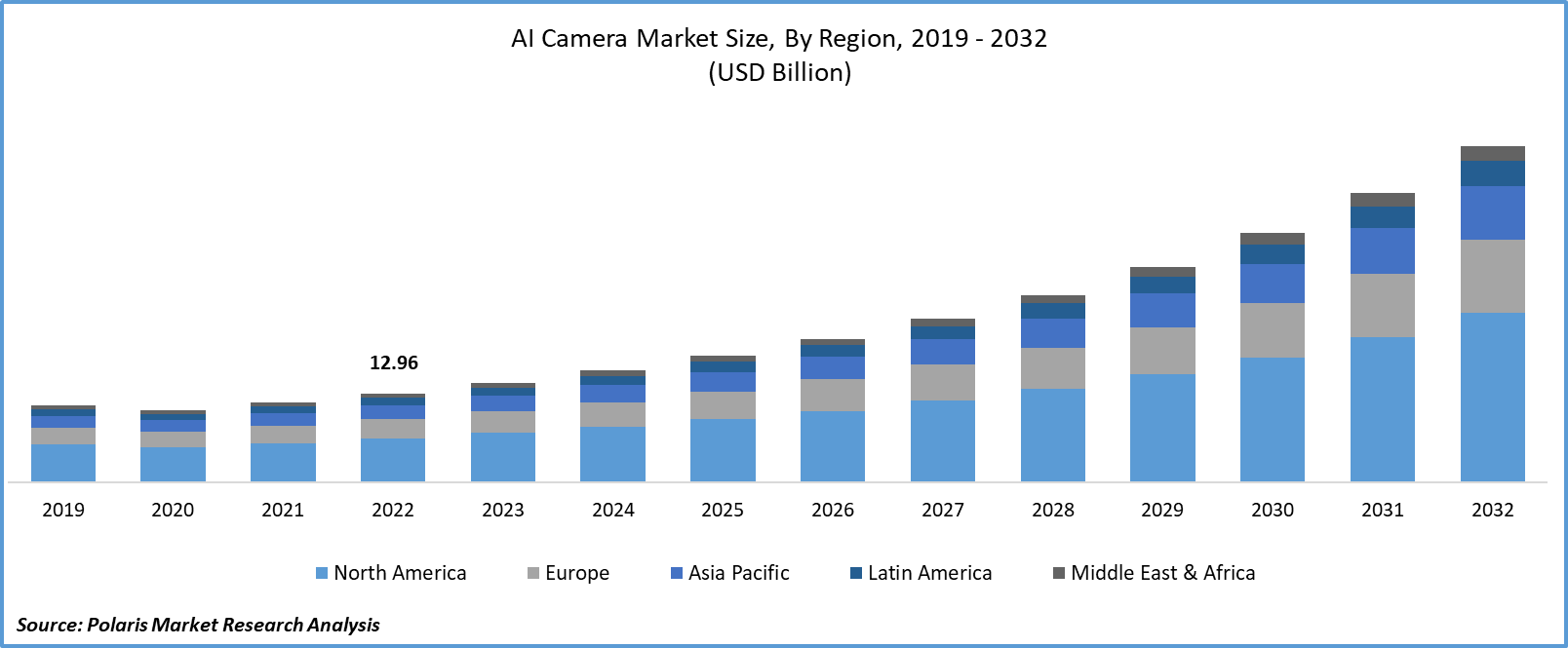 To Understand More About this Research: Request a Free Sample Report
In addition, companies operating in the market is introducing new products to cater to the growing industry demand.
For instance, in March 2023, VIVOTEK introduced its first-ever facial recognition camera. The product is developed to integrate edge computing and has a built-in memory card with facial data storage.
The advancements in AI and computer vision have contributed to a decline in the cost of AI cameras. This increased affordability has democratized access to these cameras, rendering them accessible to a broader range of organizations and individuals, thus fostering market growth. Manufacturers of AI cameras have incorporated features that enhance privacy, such as facial blurring and area masking. These features have been instrumental in mitigating concerns about privacy infringements associated with surveillance implementations.
AI cameras boast seamless integration capabilities with other security systems, including alarms, access control mechanisms, and video management software. This interoperability enhances the overall effectiveness of security solutions, contributing to market growth. The incorporation of cloud connectivity in AI cameras streamlines data storage, retrieval, and management. This facilitates remote access to and sharing of surveillance footage, enhancing user convenience and accessibility.
The COVID-19 pandemic disrupted supply chains, leading to production delays and cost escalations. Furthermore, concerns over privacy and surveillance practices have amplified. Despite these hurdles, the AI camera market continued to experience accelerated growth, propelled by its indispensable role in addressing the unique challenges posed by the pandemic. As businesses and institutions adapt to the evolving landscape, AI cameras remain at the forefront, offering innovative solutions encompassing areas such as security, automation, and the creation of intelligent environments.
Growth Drivers
Increased demand for safety and use in diverse applications is projected to spur the market demand
AI cameras have the potential to play a pivotal role in enhancing public safety, with applications in traffic management, accident detection, and disaster response. AI cameras offer real-time analysis and alerts, effectively reducing response times to security incidents. Their capacity to instantaneously detect anomalies or unauthorized access serves as a major driver, particularly in corporate and residential security sectors. Collaboration with governments and municipalities is expected to drive AI camera market growth.
AI cameras are progressively finding applications beyond security in diverse industries, including healthcare (patient monitoring), retail (customer analytics), and manufacturing (quality control).
The continuous advancements in AI and machine learning are poised to result in more precise and efficient AI algorithms. This will further enhance the capabilities of AI cameras, making them even more indispensable.
Report Segmentation
The market is primarily segmented based on product, technology, end use industry, and region.
By Product

By Technology

By End Use Industry

By Region

DSLR Cameras

Smartphone Cameras

Surveillance Cameras

Others

Computer Vision

Deep Learning

Content-Aware Computing

Natural Language Processing

Others

Consumer Electronics

Automotive

Healthcare

Retail

BFSI

Others

North America (U.S., Canada)

Europe (France, Germany, UK, Italy, Netherlands, Spain, Russia)

Asia Pacific (Japan, China, India, Malaysia, Indonesia. South Korea)

Latin America (Brazil, Mexico, Argentina)

Middle East & Africa (Saudi Arabia, UAE, Israel, South Africa)
To Understand the Scope of this Report: Speak to Analyst
By Product Analysis
Surveillance Cameras segment accounted for a significant share in 2022
The surveillance cameras segment accounted for a significant share in 2022. AI-equipped surveillance cameras offer an array of advanced features, including object recognition, facial identification, real-time anomaly detection, and instantaneous alerts. These capabilities significantly boost the efficacy of surveillance systems, allowing them to identify and respond to security threats swiftly. The cost of AI cameras and associated technologies has progressively decreased, making them more financially feasible for a broader range of entities, including businesses and individuals. This affordability has spurred adoption across various sectors. The escalating concerns related to security breaches, theft, vandalism, terrorism, and public safety have compelled organizations, governments, and individuals to invest in more sophisticated surveillance systems.
By Technology Analysis
Computer vision is expected to experience significant growth during the forecast period
Computer vision is expected to grow significantly during the forecast period. AI cameras rely on computer vision algorithms to detect and identify objects and entities within their field of view. This empowers them to categorize and label elements, including people, animals, and objects, present in images or live video streams. Computer vision technology is frequently harnessed for facial recognition tasks in AI cameras, granting them the ability to recognize individuals, validate identities, and bolster security measures. This application is often found in smartphones for unlocking the device or in access control systems. Certain AI cameras, when integrated into drones or robots, harness computer vision to navigate and evade obstacles, ensuring their safe and efficient movement.
By End Use Industry Analysis
Consumer Electronics segment held the significant market revenue share in 2022
The consumer electronics segment accounted for a significant share in 2022. AI-infused cameras within consumer electronics have revolutionized how individuals engage with and capture visual content. They bring forth convenience, automation, and innovative opportunities that were once beyond reach, making them a valuable inclusion across a spectrum of devices, including smartphones, digital cameras, and webcams. AI cameras exhibit the capacity to evaluate the scene being captured and independently fine-tune parameters like exposure, color balance, and focus to enhance the quality of the resulting image. This empowers users to capture superior photos without necessitating an extensive understanding of photography techniques.
Regional Insights
Asia-Pacific region is expected to experience highest growth during 2023-2032
Asia-Pacific is expected to grow significantly during the forecast period. China boasts major players such as Hikvision and Dahua Technology are renowned for their AI-infused surveillance cameras capable of facial recognition and behavior analysis. Companies such as Samsung and LG from South Korea are actively involved in integrating AI technology into cameras, with a focus on consumer electronics and smartphones. AI cameras are progressively being adopted in smart cities, public transportation networks, and other public spaces, enhancing security and monitoring capabilities. The consumer electronics market has witnessed a surge in demand due to AI-driven camera features, becoming a central selling point for products like smartphones and digital cameras.
North America accounted for a significant market share in 2022. Firms like Google, Amazon, and Apple are actively incorporating AI technology into their camera-related products, which encompass smartphones and smart home devices. AI-equipped cameras have a significant impact on the healthcare industry, fulfilling roles in medical imaging, diagnostics, and telemedicine, facilitating the identification and assessment of medical conditions. The utilization of AI cameras has surged in smart homes and urban areas, bringing about transformative changes in security measures and automation initiatives. The integration of AI-driven camera functionalities has emerged as a competitive advantage for smartphone makers, stoking consumer demand.
Key Market Players & Competitive Insights
The AI camera market exhibits fragmentation and is poised for competitive dynamics owing to the presence of multiple players. Key market participants are continually launching innovative products to bolster their market standing. These industry leaders prioritize forming partnerships, enhancing their product offerings, and fostering collaborations to secure a competitive advantage over their counterparts and secure a substantial market share.
Some of the major players operating in the global market include:
Adobe

Apple

ASUS

Canon

Google

Huawei

Light

Microsoft

Motorola

Nokia

NVIDIA

Panasonic

Samsung

Sony

Vivo
Recent Developments
In October 2022, Innodisk introduced a new camera module series that optimizes image quality for different AI applications. The cameras include AI image recognition.
AI Camera Market Report Scope
| | |
| --- | --- |
| Report Attributes | Details |
| Market size value in 2023 | USD 14.52 billion |
| Revenue forecast in 2032 | USD 49.07 billion |
| CAGR | 14.5% from 2023 – 2032 |
| Base year | 2022 |
| Historical data | 2019-2021 |
| Forecast period | 2023 – 2032 |
| Quantitative units | Revenue in USD billion and CAGR from 2023 to 2032 |
| Segments covered | By Product, By Technology, By End Use Industry, By Region |
| Regional scope | North America, Europe, Asia Pacific, Latin America; Middle East & Africa |
| Customization | Report customization as per your requirements with respect to countries, region and segmentation. |