The global alpha emitters market was valued at USD 416.87 million in 2022 and is expected to grow at a CAGR of 13.4% during the forecast period. The rapid increase in research and development activities in nuclear medicine and nuclear power fuels the innovation and development of new alpha emitters. Along with this, governments worldwide are supporting the use of atomic energy and nuclear medicine in alpha emitters, which are expected to drive the demand and growth of the market. Additionally, alpha emitters are used in cancer therapy and have widespread usage in various industrial applications such as oil and gas exploration, industrial radiography, and sterilization of medical equipment, which creates lucrative growth opportunities for the market.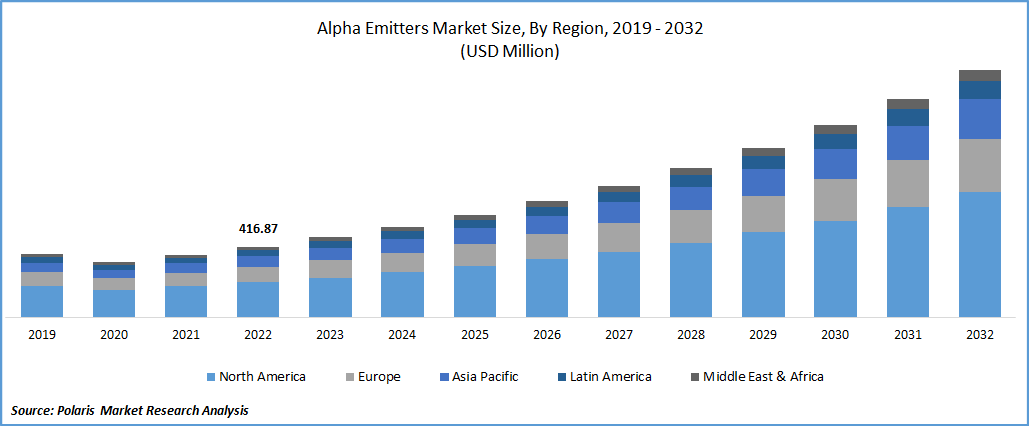 To Understand More About this Research: Request a Free Sample Report
For instance, in September 2022, IBA, a global leader in particle accelerator technology, and the Belgian Nuclear Research Center SCK CEN announced the launch of their new joint venture named 'Pantera,' which is likely to bring new hope for cancer patients. The joint venture now focuses on completing the technical feasibility studies before working on the final design and facility construction in Mol, Belgium.
Recently, there has been an increasing interest in using alpha emitters for targeted radionuclide therapy in cancer treatment, which involves using radioactive isotopes to target cancer cells. Alpha emitters have the potential to be more effective than traditional beta emitters in TRT due to their shorter range and higher energy, which results in higher demand and adoption of these emitters globally.
The outbreak of the COVID-19 pandemic has significantly impacted the market's growth. The spread of the pandemic has disrupted the global supply chain for many industries, and the closure of borders and restrictions on the movement of goods and people have led to delays in the production and delivery of alpha emitters. It has also reduced demand for cancer therapy, as many cancer patients have delayed or canceled their treatments due to concerns about the risk of COVID-19 infection.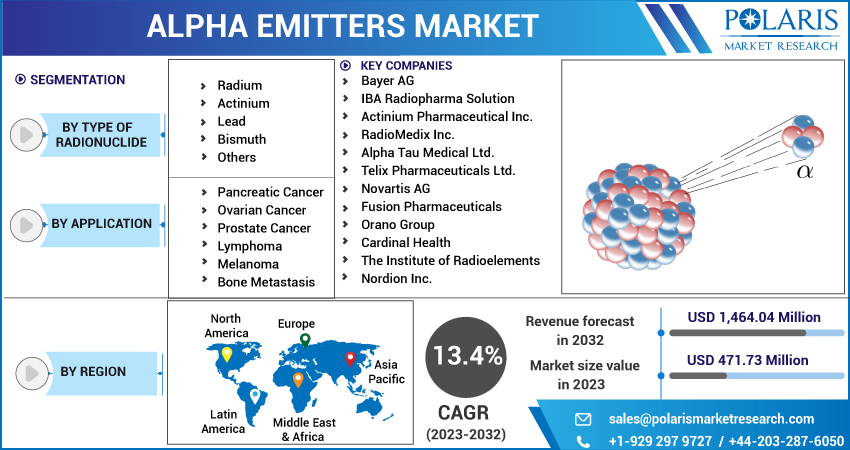 For Specific Research Requirements, Request for a Customized Report
Industry Dynamics
Growth Drivers
The growing use of alpha emitters in nuclear medicine has increased exponentially in recent years, and alpha emitters such as radium-223 and actinium-225 are widely used in cancer therapy for targeted alpha therapy, which has shown promising results in treating various cancers. The emerging demand for energy and the need to reduce greenhouse gas emissions has forced countries' governments and regulatory bodies to increase their investment in nuclear power, used as fuel by several alpha emitters, further driving the alpha emitters market growth.
Furthermore, the increasing prevalence of targeted alpha therapy as an effective cancer therapy that uses alpha emitters to target cancer cells with minimal damage to surrounding healthy tissue, coupled with the significant advances in radiolabeling techniques, have enabled the development of new alpha emitters for use in nuclear medicines is also likely to create huge growth potential and demand for the market.
Report Segmentation
The market is primarily segmented based on type of radionuclide, application, and region.
By Type of Radionuclide

By Application

By Region

Radium

Actinium

Lead

Bismuth

Others

Pancreatic Cancer

Ovarian Cancer

Prostate Cancer

Lymphoma

Melanoma

Bone Metastasis

Others

North America (U.S., Canada)

Europe (France, Germany, UK, Italy, Netherlands, Spain, Russia)

Asia Pacific (Japan, China, India, Malaysia, Indonesia. South Korea)

Latin America (Brazil, Mexico, Argentina)

Middle East & Africa (Saudi Arabia, UAE, Israel, South Africa)
To Understand the Scope of this Report: Speak to Analyst
Radium segment accounted for the largest market share in 2022
The radium segment accounted for the largest market share in 2022 and is likely to retain its market position throughout the anticipated period due to its rapidly growing popularity as a superior cancer treatment technique because of numerous beneficial properties, including goods alpha particles at destroying cells, minimize the narrow toxicity, and also do not entirely penetrate the marrow area. Additionally, the growing prevalence of radium-223 to be used in treating bone metastases in patients with prostate cancer and the rising awareness of radium therapy among patients and healthcare professionals have been influencing the segment market growth.
The actinium segment is expected to gain a substantial growth rate over the next coming years, mainly due to its several properties and capability that make them effective in targeted cancer therapy, which is becoming increasingly important as a way to treat cancer with minimal side effects, and has led to a growing demand for actinium and other alpha emitters in the medical field.
Ovarian cancer segment is anticipated to witness highest growth during projected period
The ovarian cancer segment is anticipated to grow at a healthy CAGR during the forecast period, which is highly attributable to the continuous rise in new diagnosis cases across the globe and the rising popularity of alpha-emitting radionuclides to be an extremely effective treatment alternative to ovarian carcinoma coupled with the increasing investment in research & development activities, that led to innovations in medical technologies and treatment capabilities. For instance, according to the American Cancer Society, there are about 19,710 women expected to receive a new diagnosis of ovarian cancer, and approx. 13,270 will die from cancer during the year 2023 in the United States.
The prostate cancer segment led the industry market with significant market share in terms of revenue in 2022, which is mainly driven by the rapidly growing prevalence of prostate cancer among men population globally and growing interest among the major healthcare companies towards the development of advanced alpha emitter therapies for the effective treatment of cancer, which also led to increased investment in research and development. In addition, several favorable reimbursement policies for alpha emitter therapies in many countries, which have made it easier for patients to access these treatments, are further likely to fuel the segment market.
North America region dominated the global market in 2022
The North American region dominated the global market for alpha emitters in 2022 and is anticipated to maintain its dominance throughout the projected period. The rising prevalence of several types of infectious and chronic diseases and the presence of well-developed and structured healthcare infrastructure allow patients to get easy access to advanced treatment procedures. Besides this, the regulatory environment for alpha emitters across the region is also favorable, with regulatory agencies such as the US FDA approving several alpha emitter therapies, which resulted in higher adoption of these emitters over the years.
The Europe region is likely to be the fastest-growing region with a considerable growth rate over the study period, owing to the significant expansion of radiopharmaceutical research & development and the rising number of businesses focused on developing initiatives to use radiopharmaceuticals to treat patients with cancer. Moreover, the aging population in Europe is drastically increasing, and cancer is becoming more common among older adults, which has fueled the demand for effective cancer treatments in older patients, such as alpha emitters, thereby propelling regional market growth.
Competitive Insight
Some of the major players operating in the global market include Bayer, IBA Radiopharma, Actinium Pharmaceutical, RadioMedix, Alpha Tau Medical, Telix Pharmaceuticals, Novartis, Fusion Pharmaceuticals, Orano Group, Cardinal Health, Institute of Radio-elements, Nordion, SHINE Medical, Medical Solutions, Isotopia Molecular Imaging, and America Elements.
Recent Developments
In January 2022, RadioMedix & Orano Med announced that they have jointly initiated the Phase II Multi-Center Clinical Trial of the Alphamedix for targeted Alpha-Emitted Therapy. This trial will help evaluate the safety and effectiveness of Pb-DOTAMATE in Peptide Receptor Radionuclide Therapy of naïve patients, a crucial milestone in the clinical development of their target alpha-emitter radiotherapy.
Alpha Emitters Market Report Scope
| | |
| --- | --- |
| Report Attributes | Details |
| Market size value in 2023 | USD 471.73 million |
| Revenue forecast in 2032 | USD 1,464.04 million |
| CAGR | 13.4% from 2023 – 2032 |
| Base year | 2022 |
| Historical data | 2019– 2021 |
| Forecast period | 2023 – 2032 |
| Quantitative units | Revenue in USD million and CAGR from 2023 to 2032 |
| Segments covered | By Type of Radionuclide, By Application, By Region |
| Regional scope | North America, Europe, Asia Pacific, Latin America; Middle East & Africa |
| Key companies | Bayer AG, IBA Radiopharma Solution, Actinium Pharmaceutical Inc., RadioMedix Inc., Alpha Tau Medical Ltd., Telix Pharmaceuticals Ltd., Novartis AG, Fusion Pharmaceuticals, Orano Group, Cardinal Health, The Institute of Radioelements, Nordion Inc., SHINE Medical Technologies, Global Medical Solutions, Isotopia Molecular Imaging Limited, and America Elements. |