The global ovarian cancer market was valued at USD 2,444 million in 2022 and is expected to grow at a CAGR of 23.5% during the forecast period.
The ovarian cancer market encompasses a wide range of products and services to prevent, diagnose, treat, and manage ovarian cancer. It is a significant segment within the pharmaceutical and healthcare industry. Ovarian cancer is a global health concern, the eighth most common cancer in women and the fifth leading cause of cancer-related deaths among women. Diagnosis of ovarian cancer is challenging due to the lack of specific symptoms and effective screening methods. Treatment modalities primarily involve surgery, chemotherapy, and radiation therapy.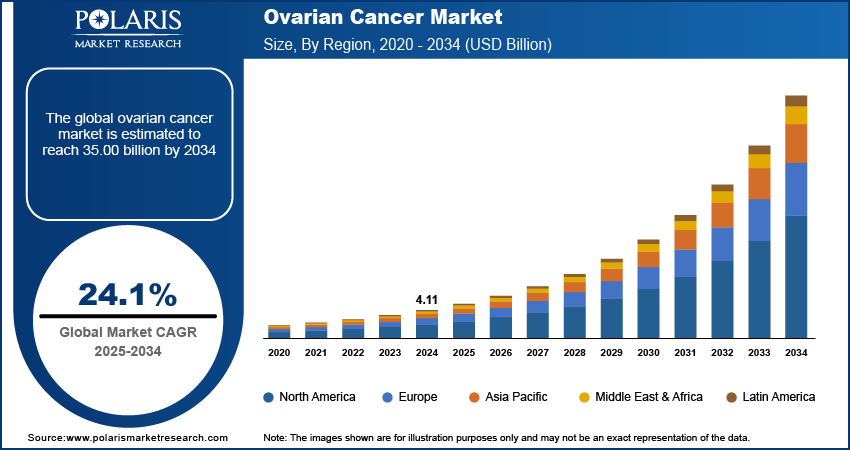 To Understand More About this Research: Request a Free Sample Report
In recent years, targeted therapies such as PARP inhibitors and emerging immunotherapies have transformed the treatment landscape. Ongoing research and development efforts focus on improving patient outcomes by identifying novel therapeutic targets, combination therapies, and personalized treatment approaches. Supportive care and addressing patient well-being are also integral to the ovarian cancer market. Challenges include early detection, drug resistance, disease recurrence, and survival rates. Continued research, clinical trials, and collaboration are crucial for driving innovation and enhancing outcomes in ovarian cancer.
The ovarian cancer market addresses the prevention, diagnosis, treatment, and management of ovarian cancer. It encompasses various products and services aimed at improving patient outcomes. Diagnosis remains challenging, and treatment options primarily include surgery, chemotherapy, and radiation therapy. Targeted therapies and immunotherapies have shown promising results.
Ongoing research and development efforts focus on advancing treatment approaches and personalized medicine. Supportive care and patient well-being are also essential components. Challenges include early detection and improving survival rates. The ovarian cancer market requires continuous research, collaboration, and innovation to address these challenges and enhance patient outcomes.
The COVID-19 pandemic has significantly impacted the market, with disruptions in healthcare services, delays in diagnoses and treatments, and challenges in the supply chain. However, it has also accelerated the adoption of telemedicine, improving access to care. The pandemic has highlighted the importance of research and collaboration to understand the impact of COVID-19 on ovarian cancer patients. Additionally, it has emphasized the need for resilient healthcare systems and increased investment in healthcare infrastructure, which could have long-term positive effects on the market.
Industry Dynamics
Growth Drivers
Healthcare awareness and early detection
Various factors fuel the growth of the market. There is an increased healthcare awareness among the population regarding ovarian cancer, its symptoms, and the importance of early detection. This heightened awareness has resulted in more women seeking medical attention, leading to higher diagnosis rates and a greater demand for ovarian cancer treatments.
Continuous advancements in medication and treatment options have significantly contributed to the growth of the ovarian cancer market. Ongoing research and development efforts have yielded new and improved therapies, such as targeted therapies, immunotherapies, and precision medicine approaches. These innovative treatments have shown promising results in improving patient outcomes and survival rates, driving the market by providing more effective options for managing ovarian cancer.
Government support and funding also play a pivotal role in driving the growth of the ovarian cancer market. Governments worldwide have recognized the importance of addressing ovarian cancer as a significant healthcare issue and have allocated resources to support research, awareness campaigns, and healthcare infrastructure development. This increased support facilitates research and development, ensures access to quality healthcare services, and promotes early detection and treatment initiatives, all of which contribute to market growth.
Furthermore, technological advancements have positively impacted the ovarian cancer market. Innovations in diagnostic tools, imaging techniques, and genetic testing have improved the early detection and diagnosis of ovarian cancer. These technological advancements enable timely interventions and personalized treatment approaches, improving patient outcomes. Technology integration into managing ovarian cancer has contributed to the growth and improvement of the market.
Report Segmentation
The market is primarily segmented based on type, diagnosis, therapeutic treatment, end-use, and region.
By Type

By Diagnosis

By Therapeutic Treatment

By End-Use

By Region

Epithelial Tumors

Germ Cell Tumors

Stromal Tumors

Primary Peritoneal Cancer

Computed Tomography (C.T.) Scans

Ultrasound

Barium Enema X-Ray

Magnetic Resonance Imaging (MRI) Scans

Chest X-Ray

Positron Emission Tomography (PET) Scan

Other Diagnostic Tests

Chemotherapy

Radiation Therapy

Targeted Therapy

Hormone Therapy

Other Therapeutic Treatments

Surgery

Hospitals

Diagnostic Centers

Drug Stores

Online Pharmacies

Other End Users

North America (U.S., Canada)

Europe (France, Germany, UK, Italy, Netherlands, Spain, Russia)

Asia Pacific (Japan, China, India, Malaysia, Indonesia, South Korea)

Latin America (Brazil, Mexico, Argentina)

Middle East & Africa (Saudi Arabia, UAE, Israel, South Africa)
To Understand the Scope of this Report: Speak to Analyst
By Type Analysis
The epithelial tumors segment accounted for the highest market share in 2022
Epithelial cancer, the most prevalent type of ovarian cancer, originates in the tissue surrounding the ovaries. It includes primary ovarian cancer and fallopian tube cancer. The most common subtype is high-grade serous (HGSOC), which often spreads before being detected. Surgical removal of ovarian cancer tumors, and debulking surgery, are performed. Other subtypes include serous, mucinous, endometrioid, or clear cell epithelial cancers. Epithelial cell carcinoma is typically diagnosed at an advanced stage when it has already spread to the peritoneal cavity, limiting treatment options and reducing survival rates.
Stromal and germ cell tumors are fewer common types of ovarian cancer. Stromal tumors arise from the tissues responsible for hormone production, such as testosterone, progesterone, and estrogen. Germ cell tumors, although rare, are most frequently found in women between 20 and 30. Ovarian cancer is the second most frequent cancer affecting the female reproductive system, with uterine (endometrial) cancer being the most common. The lifetime risk of developing ovarian cancer for women is 1 in 78. In 2021, over 21,400 individuals received an ovarian cancer diagnosis, with epithelial ovarian cancer accounting for nine out of ten cases. More than half of epithelial ovarian cancer cases occur in individuals over 65.
By Diagnosis Analysis
Imaging techniques is expected to witness the fastest CAGR rate during forecast period
Imaging techniques play a significant role in detecting and staging ovarian cancer, with a major emphasis on early detection. Among the imaging methods, transvaginal ultrasonography is commonly used as an initial approach to visualize tumors and assess their size, particularly for smaller tumors. However, its applicability is limited in such cases. For cancer staging and determining the extent of the disease, CT scans are preferred. More advanced imaging techniques like MRI and PET scans are employed to identify metastases and obtain a comprehensive view of the disease.
The market for blood tests is projected to experience steady growth, driven by advancements in technology and increasing awareness among consumers. Blood tests are valuable in diagnosing ovarian cancer as they can detect elevated levels of certain biomarkers that serve as tumor indicators. These tests contribute to early detection and provide important diagnostic information.
By End-Use Analysis
Hospital segment is anticipated to dominate the revenue share in the market
The hospital sector is projected to dominate the revenue share in the market. This can be attributed to several factors, including the increasing number of cancer diagnoses in hospitals, the growing awareness among consumers regarding cancer, and the investments in healthcare infrastructure in both developing and underdeveloped nations.
Additionally, with the global increase in funding for cancer research, the market for research institutes is expected to experience rapid expansion during the forecast period.
Regional Insights
North America is anticipated to hold significant growth during forecast period
North America is expected to grow significantly over the forecast period. This can be attributed to the remarkable commercial success in gynecologic diagnostics, particularly in the United States. Favorable government initiatives, increased healthcare spending, and key manufacturers' presence further contribute to this region's market growth. The United States is projected to dominate a substantial portion of the North American market due to factors such as a growing elderly population, rising awareness, and the presence of major industry players. Technological advancements and government-supported research investments also significantly drive market growth in the United States.
In Asia Pacific, the region is anticipated to experience the fastest growth throughout the forecast period. This can be attributed to rapid development in emerging economies, improved healthcare infrastructure, rising disposable income, and increased consumer awareness. Countries like China, India, and South Korea are expected to expand the ovarian cancer diagnostics market significantly. While some countries have slightly declined in cases over the past decade, the growing elderly population is projected to increase cases. Governments in the region have implemented measures to reduce mortality and are funding research to advance ovarian cancer detection methods.
Key Market Players & Competitive Insight
The pharmaceutical and biotechnology companies actively engage in research and development efforts to introduce innovative therapies and treatments, striving to gain a competitive edge in this critical sector. Their focus on targeted therapies, immunotherapies, precision medicine, strategic collaborations, clinical trials, and regulatory approvals underscores addressing the complex challenges associated with ovarian cancer, ultimately benefiting patients and advancing the fight against this devastating disease.
Some of the major players operating in the global market include:
Aetera Zenteris Inc.

AstraZeneca Inc.

Boehringer Ingelheim GmbH

Bristol-Myers Squibb Corp.

Eli Lilly and Company

Genentech Inc.

GlaxoSmithKline plc

Janssen Pharmaceuticals, Inc.

Johnson & Johnson Corp.

Novogen, Inc.

Oasmia Pharmaceutical Inc.

Pfizer Inc.

Roche Ltd.

Tesaro Inc.
Recent Developments
In May 2022, Inex Innovate has developed The OvaCis Rapid test has been launched in the Southeast Asian markets, providing a novel solution for the detection of ovarian cancer.

In May 2021, BDPARIB (RUCAPARIB) was introduced by BDR Pharmaceutical to treat progressive prostate, ovarian, and other malignancies. BDPARIB is the first affordable generic medicine in India that is available as a tablet, and its cost of treatment is lower than that of any other drugs now on the market.

In November 2021, the SORAYA trial, which ImmunoGen Inc. is conducting, will examine the security and effectiveness of mirvetuximab soravtansine (mirvetuximab) monotherapy in individuals with folate receptor alpha (FR)-high metal ovarian cancer who've already previously had Avastin therapy (bevacizumab).
Ovarian Cancer Market Report Scope
| | |
| --- | --- |
| Report Attributes | Details |
| Market size value in 2023 | USD 2,993 million |
| Revenue forecast in 2032 | USD 20,067 million |
| CAGR | 23.5% from 2023 – 2032 |
| Base year | 2022 |
| Historical data | 2019 – 2021 |
| Forecast period | 2023 – 2032 |
| Quantitative units | Revenue in USD million and CAGR from 2023 to 2032 |
| Segments Covered | By Type, By Diagnosis, By Therapeutic Treatment, By End-Use, By Region |
| Regional scope | North America, Europe, Asia Pacific, Latin America; Middle East & Africa |
| Customization | Report customization as per your requirements with respect to countries, region and segmentation. |