The global aluminum curtain wall market was valued at USD 40.89 billion in 2022 and is expected to grow at a CAGR of 9.6% during the forecast period.
A curtain wall is a thin, typically aluminum-framed wall with glass, metal panels, or thin stone infills. The framework is attached to the building structure but does not support the building's floor or roof loads. The demand for the market is increasing due to its benefits, such as good rigidity, lightweight, and high strength. Aluminum curtain wall panels are good corrosion resistance. Furthermore, the growing demand for energy-efficient commercial and public infrastructure solutions has raised market demand.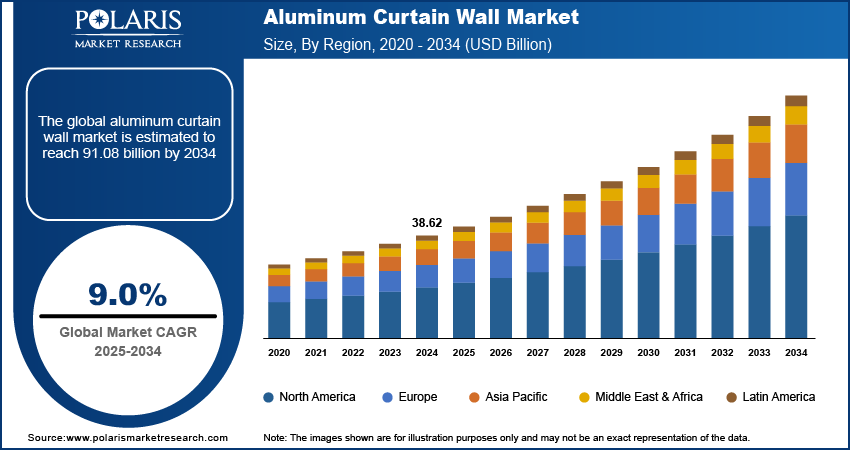 To Understand More About this Research: Request a Free Sample Report
Aluminum curtains are easy to clean and maintain. The non-adhesiveness of the fluorine coating film makes it difficult for contaminants to adhere to the surface. The major function of these walls is to keep air and water out of the building, effectively functioning as a buffer and an insulator. Buildings with curtain walls will be easier and less expensive to maintain and will last longer because they have an extra layer of protection built in.
The aluminum curtain wall market was adversely affected by the COVID-19 outbreak due to the declining growth in the construction industry. Due to the nationwide lockdown, goods movement was disrupted, causing construction materials to be unable to reach the construction site from outside, forcing construction activity to be disrupted.
Industry Dynamics
Growth Drivers
Due to several key factors, the market is experiencing strong demand for aluminum as a construction material. Firstly, aluminum offers excellent structural integrity while being lightweight, making it an ideal choice for curtain walls. Its high strength-to-weight ratio allows for creating large, expansive glass facades without compromising on stability or safety. This is particularly advantageous for high-rise buildings and commercial structures with commonly used curtain walls.
Secondly, aluminum is highly durable and resistant to corrosion, making it well-suited for long-term outdoor applications. Aluminum curtain walls are designed to withstand harsh weather conditions without degradation, including wind, rain, and UV exposure. Its low maintenance requirements further add to its appeal, making it a cost-effective choice for building owners.
Lastly, aluminum is a highly versatile material that allows for various design possibilities. It can be easily extruded, shaped, and formed into various profiles and configurations, offering flexibility in creating customized curtain wall systems. This versatility, combined with advancements in manufacturing techniques and finishes, allows architects and designers to achieve unique and visually striking facades, enhancing the aesthetic appeal of buildings.
Overall, the strong demand for aluminum in the construction industry stems from its advantageous properties, such as lightweight yet durable construction, resistance to corrosion, and design flexibility. As the trend towards sustainable and energy-efficient buildings continues to grow, the aluminum curtain wall market is expected to thrive, driven by its eco-friendly nature and ability to enhance modern structures' overall performance and aesthetics.
Report Segmentation
The market is primarily segmented based on type, application, and region.
By Type

By Application

By Region

Stick-Built

Unitized

Semi-Unitized

Residential

Commercial

Infrastructure

North America (U.S., Canada)

Europe (France, Germany, UK, Italy, Netherlands, Spain, Russia)

Asia Pacific (Japan, China, India, Malaysia, Indonesia, South Korea)

Latin America (Brazil, Mexico, Argentina)

Middle East & Africa (Saudi Arabia, UAE, Israel, South Africa)
To Understand the Scope of this Report: Speak to Analyst
The unitized segment dominated the market in 2022
The unitized segment dominated the market in 2022 and is projected to exhibit substantial growth in the forecasted period. In this segment, the curtain wall components are pre-assembled in the factory and transported to the construction site as a complete unit. This eliminates the need for individual component installation.
The unitized approach enables rapid construction and ensures high-quality outcomes since the components are manufactured under controlled conditions. By streamlining the installation process and enhancing construction efficiency, the unitized segment offers notable advantages in terms of time savings, improved quality, and overall project performance.
The commercial segment dominated the market in 2022
The commercial segment dominated the market in 2022 and is anticipated to maintain its leading position in the forecast period. This is primarily attributed to the increasing demand for commercial buildings such as hotels, malls, offices, and restaurants.
India, in particular, has emerged as one of the world's fastest-growing office space markets, driven by the rising demand for office rentals, the emergence of flexible office spaces, the flourishing start-up ecosystem, and the booming IT sector. These factors collectively contribute to the escalating demand for aluminum curtain walls as a preferred architectural solution in commercial construction.
Asia Pacific dominated the global market in 2022
Asia Pacific region accounted for the largest market share over the forecast period. With major infrastructure spending anticipated across the area, the construction industry in the Asia Pacific region provides huge opportunities. India, Indonesia, China, Australia, Singapore, the Philippines, Thailand, Myanmar, and Vietnam are among the APAC countries looking to boost infrastructure spending to help their economies recover after the pandemic.
Given the substantial pipeline of projects and the growing government focus on infrastructure development, the construction industry is projected to offer significant opportunities in the future. Contractors and implementing agencies use new and advanced technology and digital solutions to accelerate project execution.
Competitive Insight
Some of the major players operating in the global market include Alumil Aluminum Industry S.A, EFCO Corporation, GUTMANN AG, HansenGroup Ltd., Josef Gartner GmbH, Kalwall Corporation., Kawneer Company, Inc., Purso Oy, Reynaers, RAICO Bautechnik GmbH, Sapa Building Systems Ltd, Schuco International, Skansa, Inc., Trimo d.o.o., Tubelite, Inc., YKK AP.
Recent Developments
In April 2019, Schüco International KG and KUKA AG, a renowned provider of intelligent production solutions, joined forces through a strategic partnership. The collaboration aimed to leverage both companies' expertise in producing facades, windows, and doors.
Aluminum Curtain Wall Market Report Scope
| | |
| --- | --- |
| Report Attributes | Details |
| Market size value in 2023 | USD 44.59 billion |
| Revenue forecast in 2032 | USD 101.84 billion |
| CAGR | 9.6% from 2023 – 2032 |
| Base year | 2022 |
| Historical data | 2019 – 2021 |
| Forecast period | 2023 – 2032 |
| Quantitative units | Revenue in USD billion and CAGR from 2023 to 2032 |
| Segments Covered | By Type, By Application, By Region |
| Regional scope | North America, Europe, Asia Pacific, Latin America; Middle East & Africa |
| Key Companies | Alumil Aluminum Industry S.A, EFCO Corporation, GUTMANN AG, HansenGroup Ltd., Josef Gartner GmbH, Kalwall Corporation., Kawneer Company, Inc., Purso Oy, Reynaers, RAICO Bautechnik GmbH, Sapa Building Systems Ltd, Schuco International, Skansa, Inc., Trimo d.o.o., Tubelite, Inc., YKK AP |