The americas coating additives market was valued at USD 3.26 billion in 2022 and is expected to grow at a CAGR of 5.2% during the forecast period. Paints may be made to perform better and to be of higher quality by adding coating additives to the mix. Coating additives are used to improve product qualities and remove or decrease problems arising during the formulation and production of paint systems due to advancements in coating additive technology.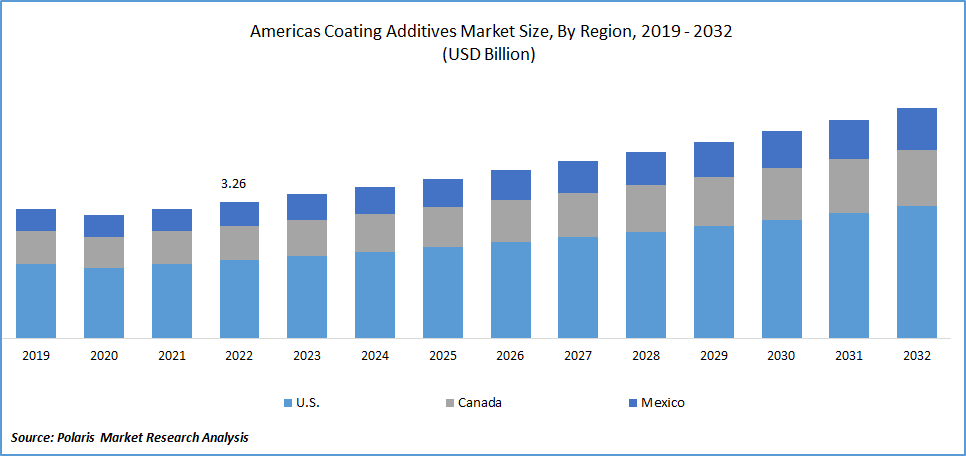 To Understand More About this Research: Request a Free Sample Report
Technologically sophisticated coatings have complicated formulations comprising thickeners, dispersants, emulsifiers, defoamers, pigments, leveling agents, curing catalysts, photo-stabilizers, and other additives. These additions enhance the resin's characteristics. Biocides shield paint films against microbial deterioration from pollution or humid settings, such as fungi and algae growth. Reduced surface deformation in sheets, packing films, and other materials are the primary goal of impact modification. These additives serve various purposes, including leveling, anti-settling, drying, anti-sagging, and surface modification.
Market growth is also fueled by increased demand for coating additives from various end-use industries. For instance, several end-user industries, including the automotive, architectural, and industrial sectors, employ solventless coatings as premium coatings.
Due to supply chain disruptions brought on by the COVID- 19 lockdown measures, the industrial and automotive sectors have been significantly impacted, temporarily reducing demand for coating additives.
Industry Dynamics
Growth Drivers
Paints can benefit from coating additives such as solids dispersion, anti-chipping, wetting, foam reduction, anti-catering, gloss management, and UV protection to enhance their quality and performance. The ability to withstand greater temperatures, abrasion, moisture, biocides, and chemical resistance are also helped by them. These characteristics are what drive the demand for coating additives.
The automotive, building, and construction sectors are expected to develop throughout forecasting, boosting americas coating additives market expansion. Environmental regulations imposed for coating additives to reduce VOC content to minimize environmental dangers are also anticipated to substantially influence the market for coating additives during the projected period.
The American economy benefits significantly from the building sector. The US economy is supported by a vast infrastructure network ranging from bridges and roads to freight trains and ports, electricity grids, and internet connectivity. Rising residential building costs and greater demand for repurposing older structures are the main drivers of the nation's paint additives market.
Report Segmentation
The market is primarily segmented based on formulation, additive type, end-use industry, and country.
By Formulation

By Additive Type

By End-Use Industry

By Country

Water Based

Solvent Based

Powder Based

Other Formulation

Wetting and Dispersing Additives

Polymeric Agents

Conventional Agents

Other Agents

Defoamers

Non-Siloxane Polymeric

Siloxane

Mineral Oil

Vegetable Oil

Others

Rheology Modifiers

For Waterborne Paints

Cellulose

Acrylates

Associative Thickeners

Clays

Others

For Solvent Based Paints

Organoclays

Hydrogenated Castor Oil (HCO)

Polyamides

Fumed Silicates

Others

Biocides

Anti-Foaming

Surfactants

Other Additive Types

Transportation

Industrial

Building and Construction
To Understand the Scope of this Report: Speak to Analyst
Water Based formulation segment accounted for the highest market share in 2022
Compared to solvent-borne coatings, Waterborne coatings take longer to cure and dry. High humidity conditions make it difficult for water to evaporate, negatively impacting treatment outcomes and efficacy. The freezing point may also affect waterborne coatings, and many become useless after the freezing point. The segment's growth is driven by significant replacement of solvent-borne counterparts in several applications including furniture & interiors and general industrial manufacturing.
The rheology segment held a significant market revenue share in 2022
The market for coating additives in America dominated the rheology modifiers category. Rheology modifiers are one group of chemical additions that are essential in the creation of high-performance paints. Rheology modifiers are necessary for application properties because they may change the rheology of stains, which can impact processing and color performance. Rheology modifiers stop paint from leaking and spattering when applied with a roller or brush. Additionally, a quick but controlled increase in viscosity strengthens the sag resistance following application.
Furthermore, rheology modifiers consistently prevent the sedimentation of pigments during paint storage and transit. These additives also aid in keeping an eye on the paint shelf's consistency, application simplicity, and available time/wet edge.
The building and construction industry segment holds the largest share.
The building and construction sector held America's most significant market share for coating additives. In the paint & coatings sector, paint additives are often utilized. As they improve the characteristics of paints while changing the rheology properties, they are widely used on the inside and exterior walls of residential buildings, including independent homes, dwelling houses, and more. Separate dwellings are always painted since paints enhance aesthetic value and beautify building sites. And since they provide different properties and features, paint additives are frequently an essential component of colors. The government is spending extensively in the building sector since it is the ideal fiscal stimulus for the American countries, where it is thriving.
The United States dominated the Americas market in 2022
The protection of a wide range of applications, including architectural, construction, and automotive, requires the use of coatings. The construction industry contributes significantly to the U.S. economy, and the market for coating additives is projected to experience similar growth.
The massive infrastructure of the United States, including its bridges, highways, freight trains, ports, and electrical grids, is also being developed and renovated, increasing demand in the market. Rising investment in the residential building sector and the need to renovate aged structures drive demand for coating additives.
Competitive Insight
Major players include BASF, Dynea AS, Dow Chemicals, AkzoNobel NV, Evonik Industries, The Lubrizol Corporation, Elementis PLC, The Eastman Chemical Company, Ashland, and BYK-Chemie GmbH.
Recent Developments
In December 2021, Ashland funded and approved the plans to construct a new nonionic synthetic associative thickener (NSAT) facility in Calvert City, KY, North America. The expansion strengthens the company's regional growth plan for rheology modifiers. The project is anticipated to be finished and put into service in 2024.

In November 2021, Evonik's Coating Additives Business Line introduced the ACEMATT OK 390, ACEMATT HK 390, and ACEMATT HK 520 new matting agents. A combination of practical, ultra-deep matting, high transparency, and pleasing surface haptics define the three novel additives based on precipitated silica. All three matting agents are interchangeable in clear and colored formulations and water and solvent-based systems.
Americas Coating Additives Market Report Scope
| | |
| --- | --- |
| Report Attributes | Details |
| Market size value in 2023 | USD 3.43 billion |
| Revenue forecast in 2032 | USD 5.41 billion |
| CAGR | 5.2% from 2023 – 2032 |
| Base year | 2022 |
| Historical data | 2019 – 2021 |
| Forecast period | 2023 – 2032 |
| Quantitative units | Revenue in USD billion and CAGR from 2023 to 2032 |
| Segments Covered | By Formulation, By Additive Type, By End-Use Industry, By Country |
| Country scope | U.S, Canada, Mexico |
| Key Companies | BASF, Dynea AS, Dow Chemicals, AkzoNobel NV, Evonik Industries, The Lubrizol Corporation, Elementis PLC, The Eastman Chemical Company, Ashland, and BYK-Chemie GmbH. |