The global amines market was valued at USD 15.3 billion in 2017 and is anticipated to grow at a CAGR of 9.2% during the forecast period. Amines are the organic compounds derived from ammonia, and are obtained by replacing its one or more hydrogen atoms by alkyl or aryl group. Amines are commonly categorized as primary (NH2), secondary(> NH), or tertiary (N). Amines find applications in a wide range of industries such as personal care, agriculture, construction, pharmaceuticals, paints & coatings, and water treatment among others. It is used as a chelating agent, formulator, neutralizing agent, and corrosion inhibitor. Amines are widely used in pharmaceutical industry. They are also used for disinfecting drinking water, pest control and tanning of leather.
The increasing population, increasing disposable income, and rising awareness regarding health and hygiene among consumers has increased the demand for personal care products, driving the growth of this market. There has been increasing application of amines in the construction sector, and paints and coatings which supports the growth of this market. The growing demand for pesticides, and rising need for crop protection, especially from developing countries has supported the growth of the amines industry. Growing use of surfactant, and increasing applications in water treatment has further fueled the amines market growth over the years. Growing demand from emerging economies, development of new applications, and technological advancements are factors expected to provide numerous growth opportunities to the global amines industry in the coming years.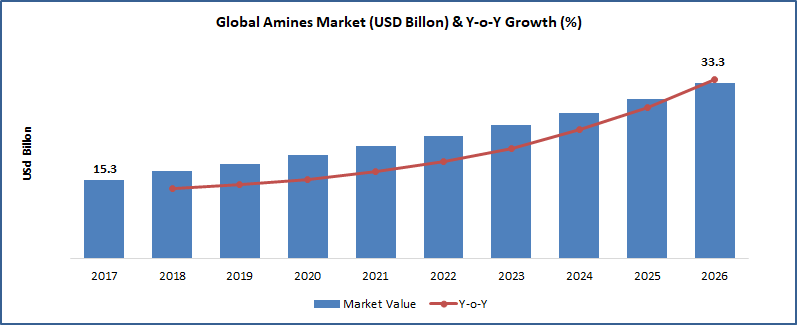 Know more about this report: request for sample pages
Segment Analysis
The global market for Amines is segmented on the basis of type, application, and region. Based on type, the market is segmented into ethyleneamines, fatty amines, ethanolamines, specialty amines, alkylamines, and others. The ethyleneamines segment dominated the global amines industry in 2017 owing to increasing application in agrochemicals, plastics, dyes, and rubber industry.
The report also categorizes the application segment into personal care, oil and petroleum, pharmaceutical, agricultural chemicals, cleaning products, water treatment, and others. The personal care segment dominated the global market in 2017. Increase in awareness about personal hygiene, improving lifestyles, and changing consumer preferences have resulted in growth of this segment.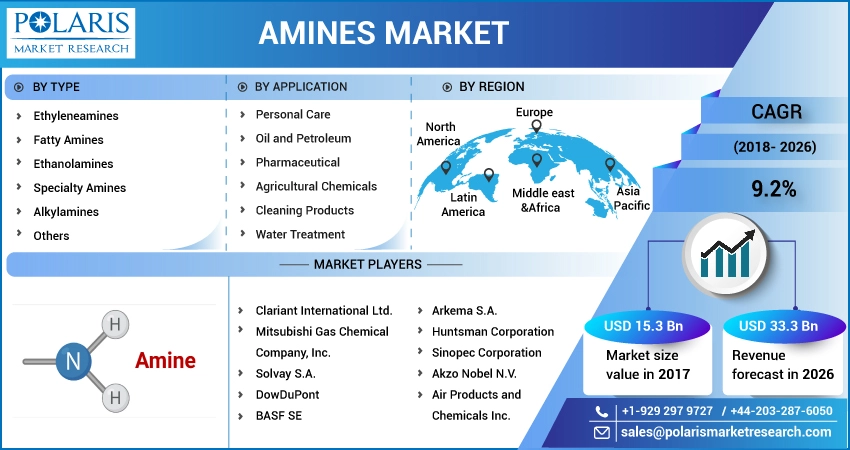 Know more about this report: request for sample pages
Amines Market Scope
By Type

By Application

By Region

Ethyleneamines
Fatty Amines
Ethanolamines
Specialty Amines
Alkylamines
Others

Personal Care
Oil and Petroleum
Pharmaceutical
Agricultural Chemicals
Cleaning Products
Water Treatment
Others

North America (U.S., Canada)
Europe (Germany, UK, France, Italy, Spain, Russia)
Asia-Pacific (China, Japan, India, Australia, Korea, Singapore)
Latin America (Brazil, Mexico, Argentina)
Middle East and Africa
Know more about this report: request for sample pages
Regional Analysis
This report comprises a detailed geographic distribution of the market across North America, Europe, Asia-Pacific, Latin America, and MEA. North America is further segmented into U.S. and Canada. Europe is divided into Germany, UK, Italy, France, Spain, Russia and Rest of Europe. Asia-Pacific is bifurcated into China, India, Japan, Korea, Australia, Singapore and Rest of Asia-Pacific. This region accounted for the largest share in 2017 owing to growing disposable incomes and rising applications in agriculture, construction, and water treatment. A significant rise in the population has been registered over the past few years, boosting the market growth. Increasing awareness regarding personal care and hygiene and improving lifestyles in developing countries of this region boosts the overall industry growth. Increasing application of amines in healthcare and pharmaceutical also supports growth in this region.
Competitive Landscape
The leading players in the amines market include Clariant International Ltd., Mitsubishi Gas Chemical Company, Inc., Solvay S.A., DowDuPont, BASF SE, Air Products and Chemicals Inc., Arkema S.A., Huntsman Corporation, Sinopec Corporation, and Akzo Nobel N.V. among others. These leading players in the amines industry are introducing innovative products in the market to cater to the consumers. These players are entering new markets in developing regions to expand their customer base and strengthen market presence. They are also acquiring other companies, and enhancing their product offerings to improve their market reach in the global amines industry. Acquisitions enable key players to increase their market potential in terms of geographic expansion and expansion of customer base.