The global amino acids market was valued at USD 26.19 billion in 2021 and is expected to grow at a CAGR of 7.5% during the forecast period. Growing public awareness of the importance of leading a healthy lifestyle and an increase in the prevalence of diseases among people have increased the demand for pharmaceutical products, propelling the expansion of the sector. Over the projection period, this is predicted to have a beneficial effect on the inclusion of amino acids in pharmaceutical goods.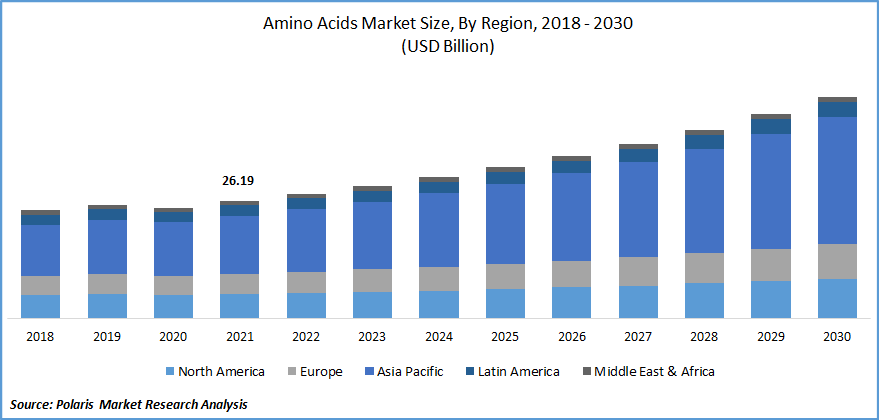 Know more about this report: Request for sample pages
They are required for important bodily functions like the production of hormones and neurotransmitters. The best strategy is determined by the available technology, the cost of raw materials, market considerations, the cost of sustaining fermentation vs. synthetic chemistry, and the method's effects on the environment.
They are produced utilizing numerous biotechnology-based methods. A lot of resources are needed for biotechnology-based production, yet it is necessary for the manufacture of amino acids. However, it is projected that the preferred method for producing amino acids and related compounds will be continued to be enzymatic hydrolysis.
The main factors driving the expansion of the market are rising customer perception of dietary supplements and rising consumption of proteins. The amino acids market is expanding as a result of rising demands for exotic, fresh animal and plant products as a supply of amino acids. People are searching for healthier foods and diet supplements as they become more health conscious and desire to live healthy lifestyles. This is yet another important aspect propelling the amino acids market.
The availability of ready-to-use healthy products and a variety of drinks that contain supplies of amino acids is also fueling the expansion of the market. In addition to this, consumer spending to maintain their nutritional value, such as potassium and minerals, has increased the variety of products available on the market, which is boosting the growth of the amino acids market.
The COVID-19 pandemic presented some difficulties for the market as the forced lockdown on manufacturing sectors caused supply chain interruptions. This led to supply and demand volatility for the items containing such proteins. However, as the virus spread, more individuals turned to treatments that improved immunity, which raised the market for items made with amino acids.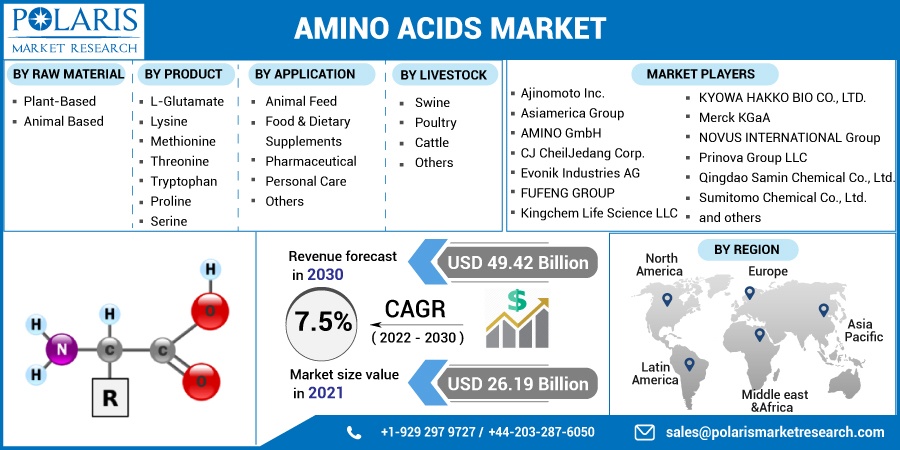 Know more about this report: Request for sample pages
Industry Dynamics
Growth Drivers
Recent years have seen a constant rise in the production of feed on a global scale, mostly due to variables affecting demand, such as rising animal production, consumption, and population. The expansion of commercial livestock rearing practices, particularly in developing nations, is another factor that affects the volume of feed produced.
For instance, the United Nations Food and Agriculture Organization (FAO) projects that somewhere between 2010 and 2050, production of meat and dairy products will increase by about 1.7% annually, with the meat industry expected to increase by nearly 70%, aquaculture by 90%, and milk by 55%. By 2050, the FAO predicts that the need for food will have increased by 60%.
Further, Over a billion tonnes of compound feed are produced worldwide each year. More than $400 billion in revenue is generated annually by the production of commercial feeds globally. The increasing popularity of feed additives amongst feed products is expected to climb as a result of increased benefit awareness and acceptability, assuming no negative regulatory actions harm the growth.
The expansion of the global feed industry and an increase in the infiltration of additives are expected to propel the demand for the amino acids market, which has a direct relationship with the nutrient production volume, presuming that the integration rate of amino acids in nutrients remains unchanged in the future.
Report Segmentation
The market is primarily segmented based on raw materials, products, livestock, application, and region.
By Raw Material

By Product

By Application

By Livestock

By Region

L-Glutamate
Lysine
Methionine
Threonine
Tryptophan
Proline
Serine
Others

Animal Feed
Food & Dietary Supplements
Pharmaceutical
Personal Care
Others

Swine
Poultry
Cattle
Others

North America (U.S., Canada)
Europe (France, Germany, UK, Italy, Netherlands, Spain, Russia)
Asia Pacific (Japan, China, India, Malaysia, Indonesia. South Korea)
Latin America (Brazil, Mexico, Argentina)
Middle East & Africa (Saudi Arabia, UAE, Israel, South Africa)
Know more about this report: Request for sample pages
Food and Dietary supplements industry is expected to witness the fastest growth
Due to the widespread use of amino acids as a food enhancer, either alone or in combination with other chemicals, food, and dietary supplements make up a significant portion of the application market. The most well-known amino acids that are used as a food enhancer in numerous prepared, processed food products are monosodium glutamate.
It is also recognized that glycine and alanine improve the flavor and taste of meals. Another amino acid, tryptophan, is frequently combined with histidine to serve as antioxidant preservation in milk powder products.
Plant-Based segment industry accounted for the highest market share in 2021
Plant-based natural resources, including soybean, grain, and corn, are getting more and more well-liked as a result of their increased availability and increasing concentration of proteins. Soybean is now utilized in the development stage of commercial products due to its strong demand and large production.
To maintain a stable supply of raw materials for manufacturing, major market participants are putting integration strategies into practice. These strategies are aimed at acquiring high-quality and consistent supplies of raw materials. These steps toward vertical integration increase firms' confidence in the availability of raw materials and give them opportunities to develop new products using their current raw materials. However, it is generally known that processing soybeans alter the ratio of proteins, which poses a serious problem when obtaining raw materials.
Lysine is expected to hold the significant revenue share
Since lysine is predominantly used for the production of body proteins, an animal's capacity for growth is directly influenced by its daily lysine intake. Animal development, feed quality, and efficiency are optimized by adjusting the dietary lysine concentration under feed intake capacity. Lysine demand is expected to rise throughout the forecasted period as a result of rising dietary supplement usage as well as expanding consumer demand from companies that make animal feed.
L-glutamate, also called l-glutamic acids, is one of the amino acids that is not required for life. It is widely utilized as a feed addition, flavor enhancer, nutritional supplement, and intermediary in the production of organic compounds.
The demand in Asia-Pacific is expected to witness significant growth
The regional market is anticipated to grow as a result of expanding amino acids output and rising feed ingredient exports from significant countries. They are mostly used to treat liver and cardiovascular diseases, as well as to slow down the degeneration and weariness of muscles. Due to their aging populations, developing economies, and high demand for the market, the aforementioned countries have growing populations.
Furthermore, in European countries, the meat consumed has increased. The growing use of animal feed supplements that include a proportionate number of well-known amino acids, including lysine and globulin, for increasing animal development performance is anticipated to have an impact on the regional market.
A rise in the market for dietary supplements in the region is also anticipated, which would enhance the usage of proteins in the feed industry. This is due to the rising demand for quality meat and meat products. The need for the industry from the food and beverage industry to make nutrient-dense products is expected to increase, which will boost the region's market. The rising levels of development and innovation in European nations are expected to support the sector's development.
Competitive Insight
Some of the major players operating in the global market include Ajinomoto Inc., Asiamerica Group, AMINO GmbH, CJ CheilJedang Corp., Evonik Industries AG, FUFENG GROUP, Kingchem Life Science LLC, KYOWA HAKKO BIO CO., LTD., Merck KGaA, NOVUS INTERNATIONAL Group, Prinova Group LLC, Qingdao Samin Chemical Co., Ltd., Sumitomo Chemical Co., Ltd., Sichuan Tongsheng Amino acids Co., Ltd, and Sunrise Nutrachem Group Co., LTD.
Recent Developments
In January 2022, Ambition, a first-ever amino acids biostimulant, was introduced by Bayer AG in China. The item encourages photosynthesis and fosters plant development. Through improved plant defenses, management of nutrient efficiency, and improved crop production, Ambition helps crops realize their full potential.
In April 2021, CJ CheilJedang Corp. has announced the launch of FlavorNrich Master C. In response to consumer demand for transparent, natural flavor components made from plants, this is the first naturally occurring cysteine in the world. This has aided the business in diversifying its offering.
Amino Acids Market Report Scope
| | |
| --- | --- |
| Report Attributes | Details |
| Market size value in 2021 | USD 26.19 billion |
| Revenue forecast in 2030 | USD 49.42 billion |
| CAGR | 7.5% from 2022 - 2030 |
| Base year | 2021 |
| Historical data | 2018 - 2020 |
| Forecast period | 2022 - 2030 |
| Quantitative units | Revenue in USD million/billion and CAGR from 2022 to 2030 |
| Segments Covered | By Raw Material, By Product, By Livestock, By Application, By Region |
| Regional scope | North America, Europe, Asia Pacific, Latin America; Middle East & Africa |
| Key Companies | Ajinomoto Inc., Asiamerica Group, AMINO GmbH, CJ CheilJedang Corp., Evonik Industries AG, FUFENG GROUP, Kingchem Life Science LLC, KYOWA HAKKO BIO CO., LTD., Merck KGaA, NOVUS INTERNATIONAL Group, Prinova Group LLC, Qingdao Samin Chemical Co., Ltd., Sumitomo Chemical Co., Ltd., Sichuan Tongsheng Acids Co., Ltd, and Sunrise Nutrachem Group Co., LTD. |