The global animal biotechnology market was valued at USD 22.59 billion in 2021 and is expected to grow at a CAGR of 9.5 % during the forecast period. In animal biotechnology, animals are genetically engineered using molecular biology techniques to make them more suitable for pharmaceutical, agricultural, or industrial purposes. Animals with enhanced growth rates, disease resistance, and the ability to synthesize therapeutic proteins have all been developed via the animal biotechnology market.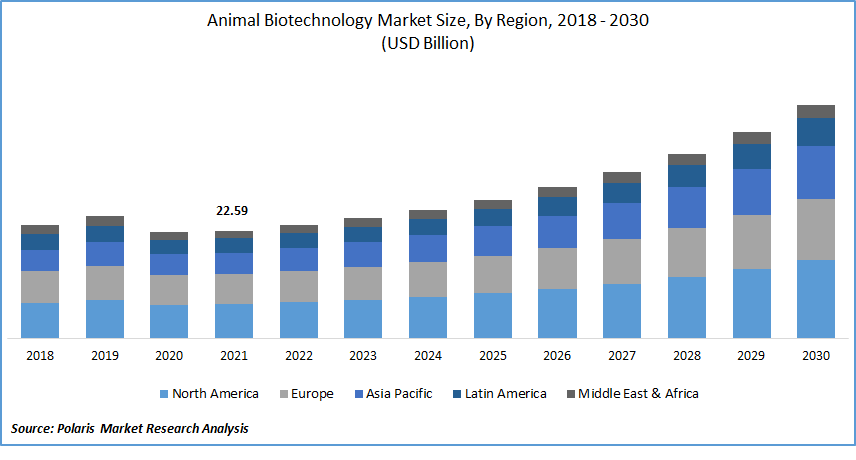 Know more about this report: Request for sample pages
The demand for animal biotechnology is rising as biotechnology employs different diagnostic techniques to identify the various diseases that affect animals, enables the treatment of these diseases through several therapeutic options, and develops pharmaceuticals for use in animals and veterinary vaccines for preventive care. Animal health is protected by veterinary vaccines, which play an important role in preventing and controlling serious epizootic infections.
A few main growth drivers are the expanding demand for genetically altered therapeutic proteins that offer greater disease resistance, their usage in cancer treatment, and the rise in preventative care for pets. Increased public concern over animal welfare and health issues, expanding role of animals in the development of human pharmaceuticals, increase in animal adoption, and improved demand for the use of animals in agriculture, meat production, and animal-based products are all factors that support the industry's expansion. In the upcoming years, demand for animal health technology may increase as a result of the government's rising number of initiatives and programs to enhance animal health.
The market for animal biotechnology has been significantly impacted by the COVID-19 pandemic. Delays in routine medical treatments such as immunizations have had serious adverse effects on people's health and welfare. A surplus of work following the release of COVID-19 constraints has also led to further delays in delivering these services. Veterinary visits and diagnostic procedures were sharply reduced.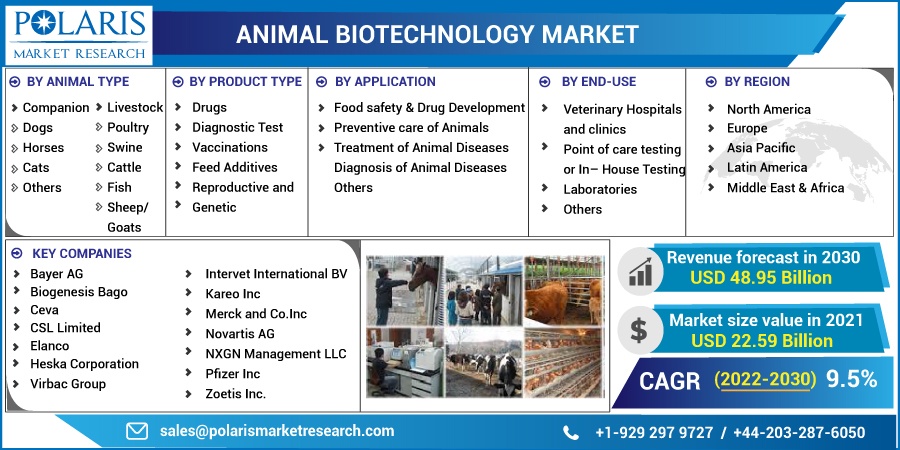 Know more about this report: Request for sample pages
Industry Dynamics
Growth Drivers
The factors which are responsible for the growth of the global animal biotechnology market are the prevalence of animal diseases, the incidence of zoonotic diseases, rise in pet ownership, demand for meat and animal-based products, and use of animals in agriculture.
Other significant factors influencing the growth of this biotechnology market include advancements in cloning and the development of transgenic animals, which will increase the animal's ability to fight disease; supportive approval bodies and favorable governmental regulations; growing R&D activities; and rising demand for animals.
The growing awareness of animal genetic testing is also expected to drive this biotechnology market's expansion. The development of the worldwide animal biotechnology market is anticipated to benefit from the rising production of novel vaccines that are practical and easy to use, such as recombinant vaccines, Anti-idiotype vaccinations, synthetic vaccines, and subunit vaccines. These vaccines are a valuable tool for reducing animal illness burden and are essential for maintaining preventative health and disease control.
Report Segmentation
The market is primarily segmented based on animal type, product type, application, end-use, and region.
By Animal Type

By Product Type

By Application

By End-Use

By Region

Companion
Livestock

Poultry
Swine
Cattle
Fish
Sheep/Goats
Others

Drugs
Diagnostic Test
Vaccinations
Feed Additives
Reproductive and Genetic

Food safety & Drug Development
Preventive care of Animals
Treatment of Animal Diseases
Diagnosis of Animal Diseases
Others

Veterinary Hospitals and clinics
Point of care testing or In– House Testing
Laboratories
Others

North America (U.S., Canada)
Europe (France, Germany, UK, Italy, Netherlands, Spain, Russia)
Asia Pacific (Japan, China, India, Malaysia, Indonesia, South Korea)
Latin America (Brazil, Mexico, Argentina)
Middle East & Africa (Saudi Arabia, UAE, Israel, South Africa)
Know more about this report: Request for sample pages
The livestock segment generated the largest revenue share in 2021.
In developing countries, livestock is becoming more important for the development of agriculture. A number of countries have seen an increase in the contribution of livestock to agriculture and gross domestic product.
This segment is growing as a result of the expanding urban population, dietary and lifestyle modifications, and increased cattle output. Additionally, government initiatives for livestock vaccinations encourage biotechnology market expansion.
The vaccine segment accounted for the largest revenue share in 2021
The rising prevalence of animal diseases is primarily responsible for the vaccination market's expansion. These illnesses naturally pass from animals to humans. Vaccination is crucial to disease prevention and control in order to lower the illness load in animals.
The diagnostic test segment is expected to spearhead the market growth
Some of the biotechnology market growth drivers in this sector include rising R&D expenditures from market participants, an increase in the prevalence of zoonotic diseases, rising costs for animal health care, an increase in the number of veterinary professionals, and rising disposable income in developing nations.
Additionally, as a result of the COVID-19 pandemic as well as the diagnostic test segment's expansion, it is now possible to quickly identify and diagnose any medical issue as well as receive an in-depth analysis.
The preventive care of animal segment holds the largest revenue share in 2021
The category for preventive care of animals held the greatest revenue share in 2021 as a result of the expanding adaptability of companion animals. The rise of pet parents is a part of the effort to humanize pets.
In addition, a global survey done by HABRI and Zoetis found a direct link between routine veterinary care and human-animal attachment. The study, which included participants from the U.S., France, the U.K., Spain, Germany, Japan, Brazil, and China, clearly demonstrated a global phenomenon of the enhanced bond between people and pets, with 95% of respondents indicating they consider their dogs as members of the family. This human-animal bond encourages greater preventative care as a result.
The veterinary hospitals and clinics segment expected to dominate the biotechnology market
Veterinary hospitals and clinics accounted for the highest segment revenue share in 2021. The expansion of this biotechnology market is positively driven by the enormous variety of treatment and diagnostic options offered in veterinary hospitals and clinics.
The demand for diagnostic procedures is anticipated to rise due to the rise in zoonotic illnesses brought on by globalization and climate change, which will result in an increase in point-of-care testing or in-house testing in the future.
North America accounted for the biggest market share in 2021
The expansion in the region is accelerated by the presence of well-known vendors, a rise in pet adoption, increased awareness of the need for animal healthcare, rising demand for animal-based products, and improvements in veterinary healthcare infrastructure.
The need for medications and vaccines for animals in North America will rise as a result of rising healthcare costs for animals. Germany, China, Canada, and the UK are anticipated to become more important markets for the animal biotechnology industry in the next years.
Furthermore, as a result of rising middle-class household numbers, pet adoption, the introduction of new goods, and the region's high need for animal proteins, the Asia Pacific region is expected to expand.
Competitive Insight
Some of the players in the animal biotechnology market include Bayer AG, Boehringer Ingelheim International GmbH, Biogenesis Bago, Ceva, CSL Limited, Elanco, Heska Corporation, Hester Biosciences Limited, Idexx Laboratories, Id Vet India Pvt. Ltd, Indian Immunological Ltd, Intervet International B.V, Kareo Inc, Merck and Co.Inc, Novartis AG, NXGN Management LLC, Pfizer Inc, Santa Cruz Biotechnology Inc, Virbac Group, Zoetis Inc.
Recent Developments
In Oct 2021: Members of the House Agriculture Committee have urged the Food and Drug Administration (FDA) and the United States Department of Agriculture (USDA) to demand an effective, modernized, and scientifically based animal biotechnology regulatory system in order to introduce innovations in the biotechnology market on schedule in October 2021.
In Oct 2021: The Department of Biotechnology launched the "One Health" program. This program will aid in the discovery of transboundary diseases and zoonotic diseases that affect all of India. This effort was inspired by the adverse effects of the COVID-19 pandemic, which showed a rising risk of pathogenic organisms crossing the species boundary is rising.
In Dec 2021: The Goat Pox Vaccine was launched by Indian Immunologicals Ltd (IIL), which helps to control Goat Pox Disease. Such launches enhance the adaptation of vaccines and drive the growth of the market.
In March 2022: Hester Bio, a producer of poultry vaccines, entered the pet care industry. The business is currently trying to expand its pet care line of products to include dermatology, nutrition, grooming, anti-infective, and specialty items.
Global Animal Biotechnology Market Report Scope
| | |
| --- | --- |
| Report Attributes | Details |
| Market size value in 2021 | USD 22.59 Billion |
| Revenue forecast in 2030 | USD 48.95 Billion |
| CAGR | 9.5% from 2022 - 2030 |
| Base year | 2021 |
| Historical data | 2018 - 2020 |
| Forecast period | 2022 - 2030 |
| Quantitative units | Revenue in USD billion and CAGR from 2022 to 2030 |
| Segments covered | Animal Type, By product Type, By Application, By End Users, By Region |
| Regional scope | North America, Europe, Asia Pacific, Latin America; Middle East & Africa |
| Key companies | Bayer AG, Boehringer Ingelheim International GmbH, Biogenesis Bago, Ceva, CSL Limited, Elanco, Heska Corporation, Hester Biosciences Limited, Idexx Laboratories, Vet India Pvt. Ltd, Indian Immunological Ltd, Intervet International BV, Kareo Inc, Merck and Co.Inc, Novartis AG, NXGN Management LLC, Pfizer Inc, Santa Cruz Biotechnology Inc, Virbac Group , Zoetis Inc. |