The global arachidonic acid (ARA) market was valued at USD 211.4 million in 2021 and is expected to grow at a CAGR of 4.28% during the forecast period.
The great majority of infant fatalities occur in poor and middle-income nations. It is feasible to increase infant survival and health and eliminate unnecessary stillbirths by increasing access to high-quality prenatal care, skilled delivery care, postnatal care for mother and baby, and care for tiny and unwell newborns.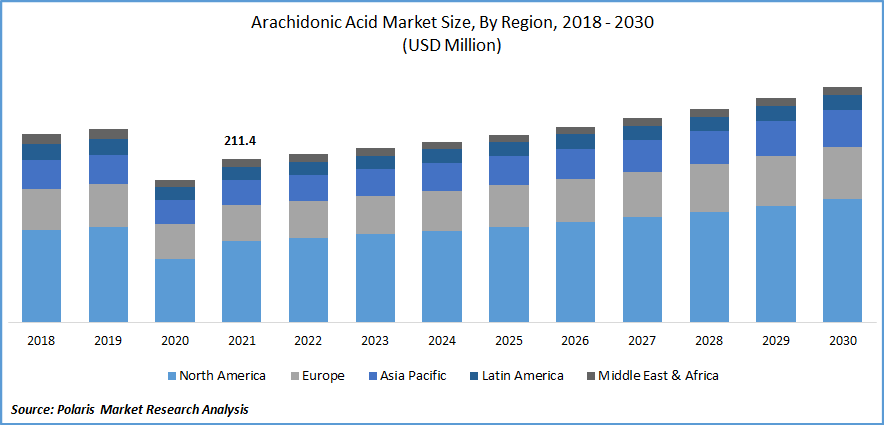 Know more about this report: Request for sample pages
Each day, the global population is increasing by around 215,000 newborns. It is expected to reach 8 Bn by the end of 2023 and 9 Bn by 2037. The increased awareness of the importance of nutrition in baby food, as well as the expanding popularity of infant formula containing ARA to enhance the immune system and cognitive development, is expected to increase.
The increased consumer knowledge of infant care goods is propelling the market forward. Furthermore, rising product demand to treat serious physical injuries is expected to fuel development. It aids in the improvement of visual acuity, neuron development, the balancing of phosphate and calcium levels, and cell survival in developing newborns. To improve product quality and brand value, important product manufacturers focus on strengthening in-house production procedures and R&D operations.
A surge in population, affluence, awareness, and the development of novel technology is lowering the cost of producing ARA. This is also expected to stimulate industrial expansion in the next years.
ARA is an essential component of biological cell membranes, providing them with the fluidity and flexibility required for the proper operation of all cells, particularly those in the neurological system, skeletal muscle, and immune system. It is derived from the diet or via de-saturation and chain elongation of linoleic acid. Free ARA influences the activity of ion channels, receptors, and enzymes by activating and inhibiting them. That explains its critical significance in the correct functioning of the brain and muscles.
The COVID-19 epidemic has caused considerable uncertainty in many parts of the world economy and society, shifting people's concern from unhealthy diets to healthy food and product choices. Similarly, though supply chain disruption impeded the market growth of ARA, the demand for ARA has seen a substantial increase post covid owing to its multiple advantages such as reduced inflammation, improved blood flow in adults, and cognitive development in babies.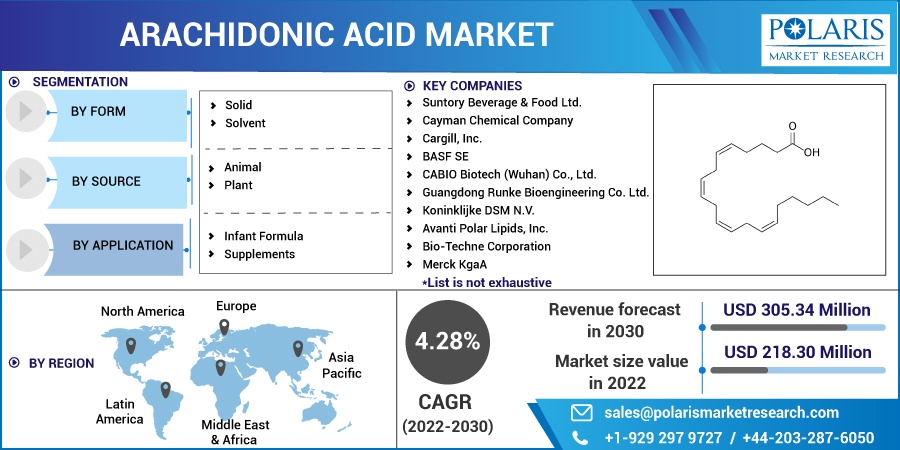 Know more about this report: Request for sample pages
Industry Dynamics
Growth Drivers
ARA oil is also produced and sold as a dietary supplement with patented "performance-boosting" nutritional and vitamin blends. The supplements containing ARA are touted as anabolic nutrients that enhance muscle building in physically active individuals. As a result, following the pandemic, there has been a rise in demand for important minerals and vitamin blends, including ARA, which is a significant market growth driver. ARA as a nutritional supplement, does not need FDA clearance before being advertised and sold. Still, the producer must determine if the substance is "safe" or GRAS-approved before the product is promoted.
Arachidonic acid is acquired from animal organs and meat, shellfish, fish, poultry, and eggs. The demand for these foods is expanding at a quicker rate. For example, demand for chicken has been primarily driven by population increase, urbanization, and growing affluence in emerging nations.
Furthermore, chicken dominates meat consumption since it is inexpensive and has few religious and cultural obstacles. Poultry will be the most eaten meat by 2025, with per capita consumption of 2.9kg, up from 1.1kg in 2005, and is expected to account for 71% of overall meat consumption. Hence, the easy availability of meat products at a lower rate is projected to drive the demand for ARA over the forecast period.
Report Segmentation
The market is primarily segmented based on form, source, application, and region.
By Form

By Source

By Application

By Region

Infant Formula
Supplements

North America (U.S., Canada)
Europe (France, Germany, UK, Italy, Netherlands, Spain, Russia)
Asia Pacific (Japan, China, India, Malaysia, Indonesia, South Korea)
Latin America (Brazil, Mexico, Argentina)
Middle East & Africa (Saudi Arabia, UAE, Israel, South Africa)
Know more about this report: Request for sample pages
The solvent is the fastest and largest segment by form in 2021
In 2021, the ARA industry was dominated by the solvent form. This segment's significant share can be due to growing product use in baby formula and supplements worldwide. Because sophisticated solvent-based goods have better profit margins, important industry companies are active in their development. Demand for the product in this area is driven by the rising use of sports supplements. Consumer preferences are shifting toward ARA-induced supplements, positively boosting the market growth.
Rising sports nutrition expenditure costs are likely to drive product demand even further. Companies are engaged in creating nutritious items that meet global standards and contribute to overall business expansion. The solvent form aids in the permeability of the biological membranes. It also aids in the treatment of brain disorders and depression by raising dopamine levels in the body. Furthermore, key industry players are working on the creation of innovative items in order to expand their portfolios and raise their profit margins.
Plant-based ARA dominated the market in 2021
The plant-based arachidonic acid sector led the global industry in 2021, accounting for the largest proportion of total sales. A significant proportion of this sector can be ascribed to rising consumer demand for vegetarian or vegan products. It is also considered that a vegetarian diet might benefit patients suffering from chronic ailments. Seaweed is an important plant-based source of arachidonic acid. Veganism is not just a new trend but also a philosophy. In the plant-based sector, food makers ranging from startups to prominent CPG businesses to the world's largest meat companies are developing quickly. Plant-based meat, egg, and dairy products are becoming competitive with animal goods in terms of taste, price, and accessibility.
Infant formula is the largest application category in the global ARA market
Infant formula accounted for major market share in the global ARA market, in 2021 and is projected to show a similar trend over the forecast period. Its significant proportion is due to an increased understanding of the advantages of ARA in baby cognitive development and rising investment in infant feeding.
Furthermore, the increased regulatory approval of oil-based ARA solutions in newborn feeding is favorably boosting demand. ARA is utilized to improve a baby's memory and vision. ARA-based supplements promote neural stem cell multiplication, which assists in the enhancement of cognitive function in both newborns and adults. Growing consumer awareness of the advantages of ARA in newborn feeding is expected to drive growth during the forecast period.
The regular usage of ARA supplementation has grown, particularly among young people, since it aids in general well-being and health. Because of its capacity to efficiently repair skeletal muscle tissues, it serves as an important dietary component in muscular growth.
Furthermore, it aids in boosting an individual's general body mass, making the person appear more toned and fit. ARA has anti-inflammatory qualities that speed up the muscle-building process. Manufacturers are concentrating on R&D to create new product applications such as weightlifting supplements and sports drinks. The market growth for nutritional supplements, particularly in metropolitan areas around the globe, is likely to provide lucrative potential for business expansion.
The demand in North America is expected to witness significant growth
The stringent regulations in the Europe industry have aided regional market expansion, which is primarily due to the existence of numerous firms and active R&D operations with many new patents employing ARA for sports nutrition, newborn formula, and the increased fertility rate. Companies like BASF in Germany are developing novel technologies to derive ARA oils from Mortierella Alpina strains, such as JDW-646 and CNCM I-4642, which are high in ARA oil. Furthermore, according to Regulation (EU) No 609/2013, BASF ARA oil is already permitted in follow-on formula, infant meals, and medical use.
The Asia Pacific is also projected to show strong growth over the forecast period owing to the growing awareness and demand from developing nations such as India and China coupled with well-established brands such as Cargill.
Furthermore, China is the world's biggest baby formula marketplace, which is a primary contributor to its high ARA consumption. China accounts for over 65% of the worldwide baby formula market. There is an increasing demand in the country for imported baby formula due to its excellent quality and compliance with requirements. The Japanese market is accessible to foreign companies and has sophisticated regulatory standards, which promote the expansion of the ARA industry.
Competitive Insight
Some of the major players operating in the global market include Suntory Beverage, Cayman Chemical, Cargill, BASF, CABIO Biotech, Guangdong Runke Bioengineering, Avanti Polar Lipids, Bio-Techne Corp., Merck, and A&Z Food Additives.
Recent Developments
In July 2022, Sanderson Farms was acquired by Cargill and Continental Grain. As part of the acquisition, both have joined Sanderson Farms with Wayne Farms to establish a new chicken business.
In April 2020, DSM introduced two brand-new high-quality lipid powders for newborn nutrition: DHASCO and ARASCO powders, each of which contains at least 110 mg/g DHA (docosahexaenoic acid) or ARA (arachidonic acid). These powders comprise vegetarian DHA omega-3 and ARA omega-6 sources that are safe and acceptable for use in newborn and follow-up formulae as well as growing-up milk products.
Arachidonic Acid Market Report Scope
| | |
| --- | --- |
| Report Attributes | Details |
| Market size value in 2022 | USD 218.30 million |
| Revenue forecast in 2030 | USD 305.34 million |
| CAGR | 4.28% from 2022 - 2030 |
| Base year | 2021 |
| Historical data | 2018 - 2020 |
| Forecast period | 2022 - 2030 |
| Quantitative units | Revenue in USD million and CAGR from 2022 to 2030 |
| Segments Covered | By Form, By Source, By Application, By Region |
| Regional scope | North America, Europe, Asia Pacific, Latin America; Middle East & Africa |
| Key Companies | Suntory Beverage & Food Ltd., Cayman Chemical Company, Cargill, Inc., BASF SE, CABIO Biotech (Wuhan) Co., Ltd., Guangdong Runke Bioengineering Co. Ltd., Koninklijke DSM N.V., Avanti Polar Lipids, Inc., Bio-Techne Corporation, Merck KgaA, A&Z Food Additives Co. Ltd. |