The global astaxanthin market was valued at USD 1.33 billion in 2020 and is expected to grow at a CAGR of 15.1% during the forecast period. Growing awareness among individuals regarding healthy lifestyle and nutrition, rising demand for natural antioxidants, and growing consumer preference towards dietary supplements are the key factors responsible for the market growth for astaxanthin. Astaxanthin is considered a potential natural antioxidant with proven ability to consumers from inflammation.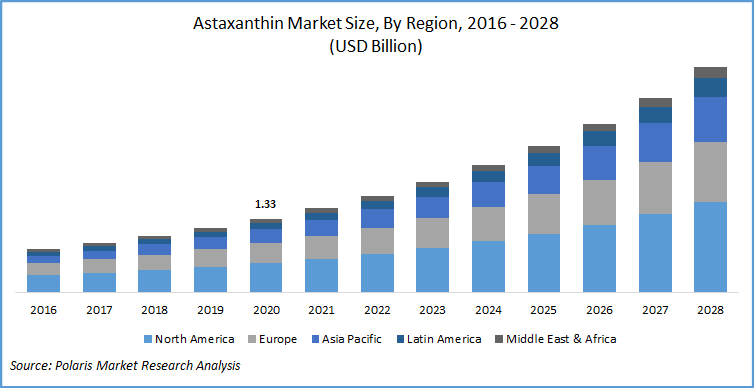 Know more about this report: request for sample pages
Industry Dynamics
Growth Drivers
The continuous technological improvements in production and commercialization are some of the key factors that contributed to the market growth. Companies have employed cost-effective technologies to produce synthetic astaxanthin. In this direction, ALGAMO is the frontrunner, which produces astaxanthin using bioreactors and micro cultivation technologies with less water usage and electricity.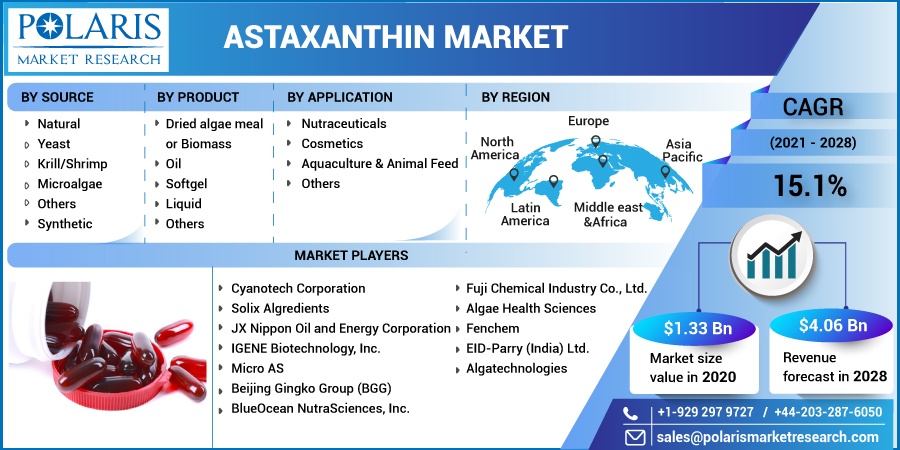 Know more about this report: request for sample pages
Moreover, the sealed micro-algae cultivation process is another full-proof microbial manufacturing technology that minimizes risks associated with foreign objects, agricultural residue, and contamination from microbes, thereby increasing yield and low wastage. Moreover, increasing demand for the natural astaxanthin and the emergence of efficient systems to extract or produce concerned astaxanthin from Haematococcus Pluvialis. Several cultivation methods have been employed such as photoautotrophic, mixotrophic, and heterotrophic cell culture conditions using both batch and fed-batch approaches.
Astaxanthin Market Report Scope
The market is primarily segmented on the basis of source, product, application, and region.
By Source

By Product

By Application

By Region

Natural

Yeast
Krill/Shrimp
Microalgae
Others

Synthetic

Dried algae meal or Biomass
Oil
Softgel
Liquid
Others

Nutraceuticals
Cosmetics
Aquaculture & Animal Feed
Others

North America (U.S., Canada)
Europe (France, Germany, UK, Italy, Spain, Netherlands, Austria)
Asia Pacific (Japan, China, India, Malaysia, Indonesia. Australia)
Latin America (Brazil, Mexico, Argentina)
Middle East & Africa (Saudi Arabia, UAE, Israel, South Africa)
Know more about this report: request for sample pages
Insight by Product
The biomass segment of the astaxanthin market accounted for the largest revenue share in 2020. Such a high share is due to its wide availability. Few of its natural sources include Krill oil, Haematococcus Pluvialis, crayfish, and Xantho-phyllomyces dendrorhous. In Canada, Japan, and the U.S. it is already approved, Haematococcus algae as a meal and natural color additive in sea bream, salmon, trout, and prawns.
The softgel segment of the astaxanthin market is expected to witness a lucrative growth rate over the study period, owing to its stability and wide applicability. Glycerin and corn starch are readily used to manufacture veggie Softgel and are mostly preferred by nutraceutical companies, owing to their natural origin. These softgels are used by many consumers in maintaining their skin health and eyesight. The key market players involved in the production of softgel include AstaReal, Inc., Algalif Iceland, and Algatech.
Insight by Application
On the basis of application, the global market for astaxanthin is categorized into nutraceuticals, cosmetics, aquaculture and animal feed, and others. In 2020, the aquaculture and animal feed market segment accounted for the largest share, owing to its high usage in feeds as an additive. Carotenoid is the natural astaxanthin that is commonly used for coloring fish and improving animal texture by enhancing the reddish component.
The nutraceutical market segment of the astaxanthin industry is projected to witness a lucrative growth rate over the study period. This is due to its natural capability of fighting free radicals. Owing to its antioxidant properties, it is a preferred choice for the treatment of many health ailments such as muscle endurance, diabetes, and cardiovascular ailments.
Geographic Overview
Geographically, the global market for astaxanthin is bifurcated into North America, Europe, Asia Pacific, Latin America, and Middle East & Africa (MEA). North America astaxanthin industry is the largest market revenue contributor followed by Europe and the Asia Pacific region. In 2020, the North America region accounted for more than 40% of the global market. The presence of key companies in the region, fitness-savvy people, and awareness programs by the non-profit organizations are the pivotal factors responsible for the region's growth. For instance, the US. based Natural Algae Astaxanthin Association (NAXA) is strongly focused on the use of astaxanthin use and supports research work pertaining to this.
Asia Pacific market is projected to witness a lucrative growth rate over the study period. Growing awareness about the benefits of astaxanthin among health professionals, the presence of a huge pool of mal-nourished people, and the flourishing nutraceutical industry are a few of the factors boosting the market growth. Moreover, the presence of key market companies in China with advanced manufacturing capabilities including in-house production platforms of InnoBio and BGG also anticipated to drive the region's market growth.
Competitive Insight
The prominent players operating in the market for astaxanthin are Cyanotech Corporation; Solix Algredients, JX Nippon Oil and Energy Corporation; IGENE Biotechnology, Inc.; Micro AS; Beijing Gingko Group (BGG); BlueOcean NutraSciences, Inc.; Fuji Chemical Industry Co., Ltd.; Algae Health Sciences, Fenchem; EID-Parry (India) Ltd.; and Algatechnologies.