The global automated fare collection market was valued at USD 10.88 billion in 2022 and is expected to grow at a CAGR of 13.7% during the forecast period. Automated fare collection (AFC) systems have become a revolutionary solution in various industry offering significant attributes such as end-to-end, no-contact solution that enhances the efficiency and speed of the ticketing process, allowing transport authorities to offer hassle-free services to commuters. The integration of advanced technology, such as electronic payment, contactless technology, and smart cards, has enabled AFC systems to reduce the costs of manual ticketing systems, while minimizing fraud and ensuring transparency. As a result, AFC systems have become an attractive alternative to conventional ticketing systems, driving growth in the market.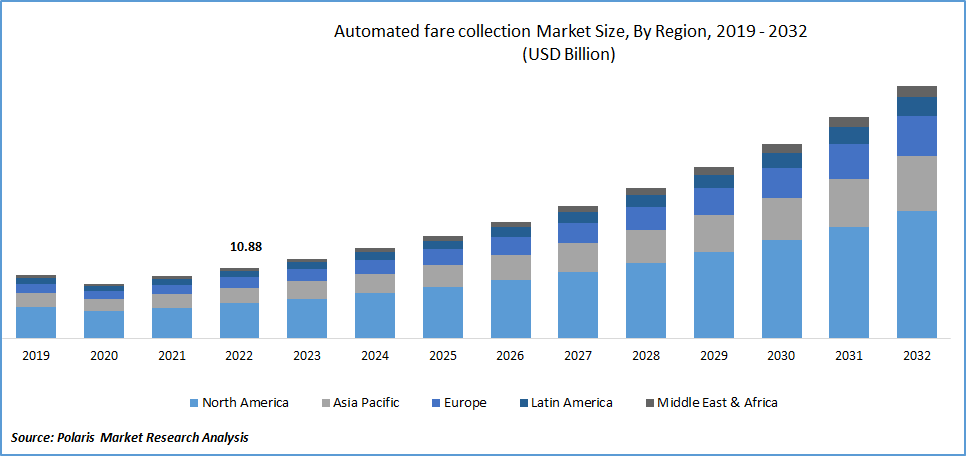 To Understand More About this Research: Request a Free Sample Report
For instance, in June 2021, The National Capital Region Transport Corporation (NCRTC) in India declared that it would implement an automatic fare collection system for the Delhi-Ghaziabad-Meerut Regional Rapid Transit System (RRTS) corridor. The proposed system is planned to incorporate QR Code-based ticketing systems, vending machines, and pre-paid/credit/debit card readers as part of an automated fare collection system.
The transportation sector's rapid growth, driven by a rising population and increasing commuters, has led to the development of Automated Fare Collection (AFC) systems that streamline ticketing. These systems, increasingly used in urban public transportation, have moved from paper tickets to digital ones like contactless smart cards, resulting in greater efficiency and improved data collection. Smart cities trend is driving demand for AFC systems by integrating advanced technologies into municipal operations, boosting Automated Fare Collection Market growth potential.
The COVID-19 pandemic caused a significant setback to the automated fare collection industry due to the cancellation or delay of transportation projects in 2020, as governments imposed strict lockdowns to contain the virus's spread. However, since early 2021, the industry has witnessed remarkable growth driven by supportive government initiatives aimed at promoting economic growth, coupled with increasing development of public infrastructure and transportation systems in developing economies. The payments technology industry has also offered contactless payment solutions in response to the pandemic.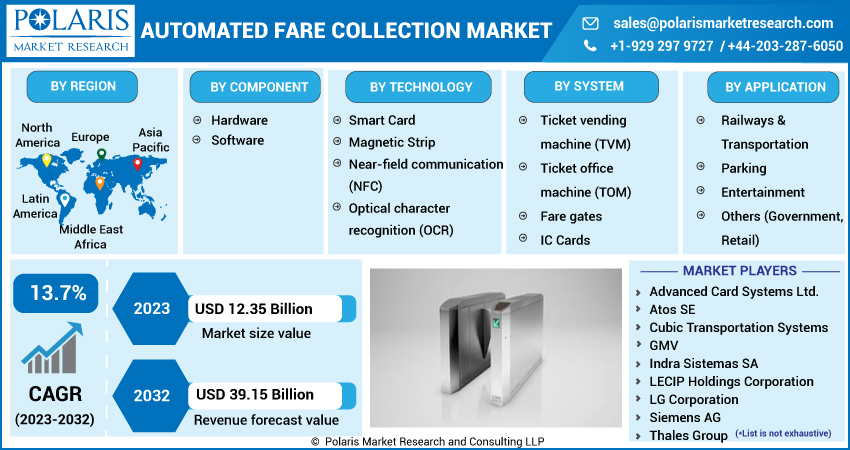 For Specific Research Requirements, Request for a Customized Report
Industry Dynamics
Growth Drivers
The increasing usage of smartphones for online ticketing has played a significant role in boosting the growth of the automated fare collection market. Standalone smartphone applications for bus and train travel simplify ticket purchases with cashless payments and quicker boarding. Customers can buy any ticket type and use preloaded cards to enhance travel convenience. Mobile application-based ticketing speeds up boarding and reduces cash handling. The UPI payment mode in India has also contributed heavily to the automatic fare collection system. Advancements in UPI and E-Wallet technology are expected to further fuel the growth of the automated fare collection system in the future.
Furthermore, the automatic fare collection market has experienced growth due to the convenience of cashless travel and the trend toward card payments. The AFC system allows for direct debit from a driver/owner's bank account, eliminating the need to carry cash. Smart card payment with AFC also eliminates the need for cash payments, simplifies payment handling, and speeds up transactions, with information instantly added to a database. The AFC system offers self-service options, quick service, and quicker transaction validation, reducing wait times and increasing efficiency. These benefits have increased the effectiveness of fare box collection, improved the travel experience for commuters, and fueled market expansion.
Report Segmentation
The market is primarily segmented based on component, technology, system, application, and region.
By Component

By Technology

By System

By Application

By Region

Smart Card

Magnetic Strip

Near-field communication (NFC)

Optical character recognition (OCR)

Ticket vending machine (TVM)

Ticket office machine (TOM)

Fare gates

IC Cards

Railways & Transportation

Parking

Entertainment

Others (Government, Retail)

North America (U.S., Canada)

Europe (France, Germany, UK, Italy, Netherlands, Spain, Russia)

Asia Pacific (Japan, China, India, Malaysia, Indonesia, South Korea)

Latin America (Brazil, Mexico, Argentina)

Middle East & Africa (Saudi Arabia, UAE, Israel, South Africa)
To Understand the Scope of this Report: Speak to Analyst
The hardware segment registered for the largest market share during forecast period
The hardware segment registered for the largest market share and is likely to retain its position over the projected period owing to the growth of transportation and infrastructure in developing regions, as well as the implementation of smart and automated fare collection systems as part of government initiatives.
During the forecast period, the software segment is expected to experience a high CAGR. Automatic fare collection systems facilitate the transfer and handling of information by continuously processing shared information through a back-end panel. The increasing use of advanced technologies such as AI, IoT, & machine learning in developing such systems enables operators to gain operational insights, and the customer details.
The smart card segment held significant market share in 2022
The smart card segment has a significant market share because it offers users an integrated digital payment option that provides flexibility in terms of location, platform, and payment mode. This chip technology that can be scanned on several platforms for payment of transportation tickets, online shopping, and other transactions. With a centralized and single payment solution, smart cards offer higher flexibility, ease of tracking payments, reduced complexities, & enhanced user experience. These notable factors are expected to drive the segment's growth.
Moreover, NFC segment is projected to exhibit the highest growth rate during the forecast period. This technology enables the storage of data of the customers to be linked with the customer's account. It forms a seamless connection between NFC-enabled devices and personal devices such as mobile phones, tablets, laptops, and wearables. NFC eliminates the need for physical cards & cash by connecting a user's virtual wallet, resulting in faster payments. Additionally, NFC employs a token system, providing increased security and privacy for transaction.
The Ticket Vending Machine (TVM) segment had a substantial market share
The Ticket Vending Machine (TVM) segment had a substantial market share. With the ability to accept card or e-wallet payments, modern TVMs have eliminated the need for cash transactions and provide a seamless ticket buying experience. TVMs reduce waiting times and offer 24/7 availability, making them highly convenient. Moreover, they reduce operational costs by eliminating the need for ticketing staff and offering flexible payment options. These advantages fueling the market growth at rapid pace.
The Integrated Circuit (IC) card segment is projected to grow at a high CAGR during the forecast period due to its superior features compared to traditional cards. IC cards use powerful and large-capacity embedded IC chips to store a significant amount of information, allowing for cashless payments in various locations. The increasing demand for cashless payment solutions is a major driving factor for the growth of the IC card market. The integration of IC cards with mobile devices such as smartphones and wearables are also expected to fuel market growth.
Additionally, the adoption of contactless payment technology in various sectors is expected to drive the demand for IC cards. Furthermore, the increasing popularity of e-commerce and online shopping is expected to create lucrative opportunities for the IC card market during the forecast period.
The railways & transportation segment holds significant market share during forecast period
Urbanization in developed and developing countries is driving the need for automated fare collection (AFC) systems to speed up collecting and verifying transport fees. AFC systems offer efficiency, accessibility, and affordability to transport planners, operators, governments, and consumers. These systems are becoming increasingly compatible with various payment methods, including smart cards integrated with NFCs devices & e-commerce platforms.
North America dominated the automated fare collection market in 2022
The North America region dominated the global market. Which can be attributed to its advanced public transportation infrastructure, and internet penetration. The region's leading players in the industry are also major factors driving the growth of the automated fare collection market. For example, Cubic Transportation Systems (CTS) won a contract from the Port Authority of New Jersey and New York in 2022 to upgrade and deliver an innovative fare payment system at the Port Authority of the Trans-Hudson.
Furthermore, Asia-Pacific is expected to experience significant growth in the market due to increasing digitization and higher government initiatives towards infrastructure development. The large population of travelers, and adoption of innovative technologies also contributing to the region's growth. For instance, in October 21, Singapore Land Transport Authority awarded Thales Group a contract to modernize AFC gates on the Singapore's MRT.
Competitive Insight
Some of the major players operating in the global market include Advanced Card Systems, Atos, Cubic Transportation Systems, GMV, Indra Sistemas, LECIP Holdings, LG Corporation, Siemens, Thales Group, Omron Corporation, Masabi, Nippon Signal, Scheidt & Bachmann, Samsung SDS.
Recent Developments
In September 2022, Cubic Transportation Systems teamed up with New England Traffic Solutions to expand its reach in the Northeast region and provide a unified point of contact for all customers through combined customer service.

In March 2022, Thales Group & PAL Aerospace came together and signed an agreement to jointly develop the next-generation mission systems, which marks a significant step forward in enhancing mission-critical capabilities.
Automated Fare Collection Market Report Scope
| | |
| --- | --- |
| Report Attributes | Details |
| Market size value in 2023 | USD 12.35 billion |
| Revenue forecast in 2032 | USD 39.15 billion |
| CAGR | 13.7% from 2023 –2032 |
| Base year | 2022 |
| Historical data | 2019– 2021 |
| Forecast period | 2023– 2032 |
| Quantitative units | Revenue in USD billion and CAGR from 2023 to 2032 |
| Segments covered | By Component, By Technology, By System, By Application, By Region |
| Regional scope | North America, Europe, Asia Pacific, Latin America; Middle East & Africa |
| Key companies | Advanced Card Systems Ltd., Atos SE, Cubic Transportation Systems, GMV, Indra Sistemas SA, LECIP Holdings Corporation, LG Corporation, Siemens AG, Thales Group, Omron Corporation, Masabi Ltd., Nippon Signal, Scheidt & Bachmann GmbH, Samsung SDS Co. Ltd |