The global automotive operating system market was valued at USD 12.85 billion in 2022 and is expected to grow at a CAGR of 9.3% during the forecast period. The demand for automotive software like OS will rise due to factors like the increase in the number of ECUs and domain controllers in vehicles and the penetration of ADAS technology in vehicles. The industry will see new opportunities as autonomous vehicle technology advances and the market share of electric vehicles increases. To obtain a competitive edge in the global market, businesses in the automotive operating system sector concentrate on product improvement.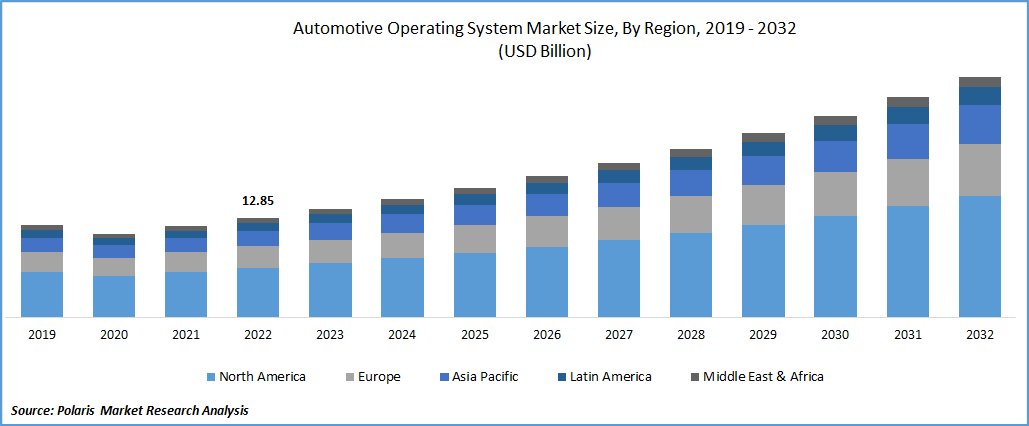 Know more about this report: Request for sample pages
In some areas, 3G is still the most common communication network. For instance, according to the GSM Association, a sizable portion of cell phones in Sub-Saharan Africa, the Middle East and North Africa, and Latin America and the Caribbean only support 3G. Additionally, due to the dominance of the 3G network, developing nations like India, Argentina, and Brazil need help upgrading current infrastructure for connectivity reasons to 4G/5G. Additionally, the widespread availability of 4G connectivity is expanding gradually, primarily in rural and suburban areas of the nation.
Upgrading the essential telematics, data analytics, and cloud platform infrastructure will cost a significant amount of money, and this issue will continue to be of particular concern in developing nations like India and Brazil as they transition to 4G/5G. As a result, telecommunications service providers must increase network infrastructure to handle the spike in spectrum utilization and data needs.
One of the main issues is the need for more unbroken 4G/5G networks in established and developing countries. Additionally, the conversion of some conceptual developments to real-time use in developing countries as well as the peripheries and main cities within developed countries needs to be improved by an unclear image of the commercialization of 5G technology. Therefore, the potential for infotainment systems, ADAS features, and cockpit domains, among others, will be constrained by a need for more continuous and seamless communication. For ADAS to work properly, basic infrastructures like well-maintained roads, lane markings, and GPS connectivity are necessary. Aside from services like navigation and connectivity, essential highway data include lane change, object detection, traffic, and vehicle separation.
The automotive industry has begun to shift its emphasis away from hardware-defined vehicles and towards software-centric vehicles. The result of this transformation is vehicles that are determined by software. The majority of these cars' features and capabilities are made possible by automotive software. These days, most high-end vehicles have up to 150 million lines of software distributed among hundreds of electronic control units (ECUs) and an increasing number of sensors, RADAR, and light detection and ranging (LiDAR) devices, among other things.
Software-defined vehicles have several benefits over those that are hardware-defined. For instance, visiting the dealership is necessary for software updates relating to telematics, car diagnostic systems, and other infotainment systems. Customers can get over-the-air (OTA) updates for software-defined cars covering infotainment enhancements, security patches, and monitoring and tuning essential features like the powertrain and driving dynamics. As a result, the market for automotive operating systems will experience growth over the forecast period due to a rise in demand for software-defined vehicles.
Additionally, the government's attempts to develop the infrastructure for connected car technologies, such as car to Infrastructure (V2I) and Vehicle to Vehicle (V2V), are accelerating the adoption of electronic products in automotive software. Consequently, the market for car operating systems is expanding as connected vehicles become more common.
Infrastructure for vehicles aligns with various system parts, including motor control units, safety systems, and other hardware parts. Additionally, adopting contemporary technologies like ADAS systems, comfort features, and electric components are anticipated to limit the industry's growth as system complexity rises. However, growing customer demand for opulent, technologically advanced vehicles will probably enable manufacturers to overcome these limitations.
Industry Dynamics
Growth Drivers
The automotive operating system market is growing rapidly, driven by several factors. One of the major driving factors is the increasing demand for connected cars. With the advent of the Internet of Things (IoT) and connected technologies, cars are no longer just a means of transportation but have become an integral part of the digital ecosystem. The connected car market is expected to grow exponentially in the coming years, driving the demand for automotive operating systems.
Another significant driving factor for the automotive operating system market is the increasing demand for advanced driver assistance systems (ADAS) and autonomous driving technologies. Automotive operating systems play a crucial role in enabling these technologies, as they provide the necessary connectivity and processing power required for these systems to function effectively. As the demand for ADAS and autonomous driving technologies continues to grow, the need for automotive operating systems is also expected to rise.
Report Segmentation
The market is primarily segmented based on OS Type, ICE Vehicle Type, Application and region.
By OS Type

By ICE Vehicle Type

By Application

By Region

QNX

Linux

Windows

Android

Others

Electric Vehicle

Engine Management & Powertrain

Communication Systems

Autonomous Driving

Body Control & Comfort Systems

Others

North America (U.S., Canada)

Europe (France, Germany, UK, Italy, Netherlands, Spain, Russia)

Asia Pacific (Japan, China, India, Malaysia, Indonesia. South Korea)

Latin America (Brazil, Mexico, Argentina)

Middle East & Africa (Saudi Arabia, UAE, Israel, South Africa)
Know more about this report: Request for sample pages
In 2022, the android segment dominated the automotive operating system market
Android segment dominated the market in 2022. One of the key drivers of this market is the dominance of the Android operating system (OS) segment, which has emerged as a popular choice among automakers. One of the key advantages of Android OS is its compatibility with a wide range of hardware components, which enables automakers to build customized solutions that meet their specific requirements. It led to the development of a wide range of automotive applications that run on the Android platform, including those for in-car entertainment, communication, and navigation.
The growing demand for connected cars has also driven the dominance of Android OS in the automotive operating system market. With the increasing use of internet-connected devices, automakers seek to provide an enhanced user experience by offering connected features such as remote monitoring and control, real-time traffic information, and access to entertainment and other services.
Another key factor driving the growth of the Android OS segment in the automotive operating system market is the increasing adoption of electric and hybrid vehicles. These vehicles require advanced operating systems that can manage complex power systems and provide real-time monitoring and control of battery performance. Android OS offers a range of features and functionalities well-suited for these applications, making it a popular choice among automakers.
The LCV segment will account for a highest market share during forecast period.
OEMs are expanding their selection of LCV models in the Asia Pacific region. Mahindra & Mahindra declared its intention to introduce 14 new models in the Indian market's LCV segment in December 2021. Six new electric LCVs are among the forthcoming LCVs, and of these six electric LCVs, four will be used for last-mile connectivity. The increasing focus on vehicle safety and security is another driving factor for the automotive operating system market. With the rise in cyber threats and the growing concern over vehicle safety, automakers are increasingly looking for secure and reliable operating systems to protect the vehicle's critical systems from hacking and cyber-attacks. Automotive operating systems that provide advanced security features are in high demand, and this trend is expected to continue in the coming years.
Asia Pacific is anticipated to dominate the market during forecast period
During the anticipated timeframe, the automotive operating system market is anticipated to be dominated by the Asia Pacific region. Asia-Pacific has developing nations like Japan and South Korea and rising nations like China and India. This area has become a major center for the manufacture of automobiles in recent years and has more production and sales worldwide. Moreover, the growing demand for electric vehicles is also expected to drive the growth of the automotive operating system market. Electric vehicles require sophisticated operating systems to effectively manage the battery, motor, and other components. Automotive operating systems play a crucial role in addressing these components and ensuring the efficient functioning of electric vehicles.
Competitive Insight
Major players like BlackBerry Limited (Canada), Automotive Grade Linux (US), Microsoft Corporation (US), Apple Inc. (US), and Alphabet Inc. control the automotive operating system market. (US).
Recent Developments
BlackBerry Limited launched updated version of QNX Advanced Virtualization Frameworks (QAVF) in June 2022.
Automotive OS Market Report Scope
| | |
| --- | --- |
| Report Attributes | Details |
| Market size value in 2023 | USD 14.02 billion |
| Revenue forecast in 2032 | USD 31.11 billion |
| CAGR | 9.3% from 2023 - 2032 |
| Base year | 2022 |
| Historical data | 2019 - 2021 |
| Forecast period | 2023 - 2032 |
| Quantitative units | Revenue in USD billion and CAGR from 2023 to 2032 |
| Segments covered | By OS type, By ICE Vehicle type, By Application, By Region |
| Regional scope | North America, Europe, Asia Pacific, Latin America; Middle East & Africa |
| Key companies | BlackBerry Limited (Canada), Automotive Grade Linux (US), Microsoft Corporation (US), Apple Inc. (US), and Alphabet Inc. control the automotive operating system market. (US) |