The global automotive suspension market was valued at USD 81.8 billion in 2017 and is anticipated to grow at a CAGR of 4.9% during the forecast period.
Automotive Suspension is a system of shock absorbers, springs, and linkages connecting an automobile and its wheels. The primary function of automotive suspension is efficient management of car handling and braking systems. Automotive suspension maximizes the friction between the tires and the road surface for steering stability and efficient vehicle handling for enhanced comfort of the passengers. Automotive suspension systems can be categorized into independent suspension, and non-independent suspension.
The major driving factors of the automotive suspension market include increasing demand for comfortable and safe driving experience, and growing popularity of luxury vehicles. The growing need to increase vehicle efficiency, offer high quality driving experience, and enhance road safety has resulted in increased adoption of automotive suspension. Growing safety concerns, significant rise in automotive production, and favorable government regulations are factors expected to support the growth of the market. Advancements in technologies, and use of light weight material in automotive suspension would boost the automotive suspension market growth during the forecast period. However, lack of standardization, and high costs associated with advanced suspension systems are expected to restrict the growth of the market to a certain extent.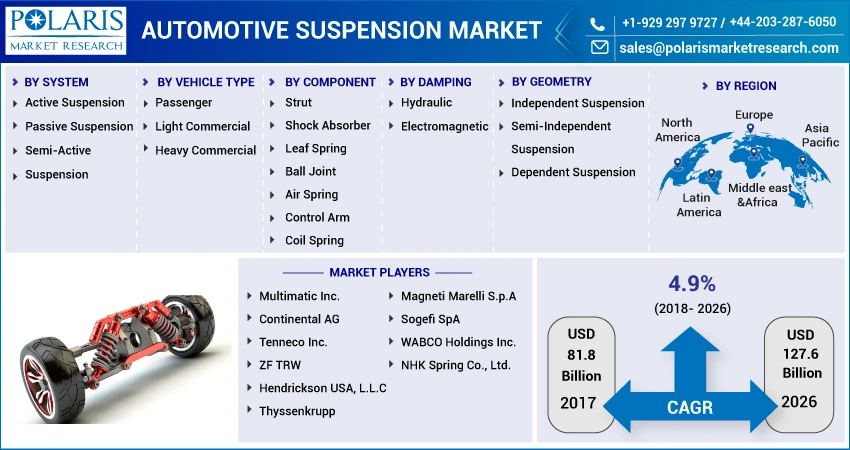 Segment Analysis
The global automotive suspension market is segmented on the basis of system, vehicle type, component, damping, geometry, and region.
Based on system, the market is segmented into active suspension, passive suspension, and semi-active suspension. The vehicle type segment is categorized into passenger cars, light commercial vehicles, and heavy commercial vehicles.
The component segment includes strut, shock absorber, leaf spring, ball joint, air spring, control arm, coil spring, and others. The damping segment is divided into hydraulic, and electromagnetic. The geometry segment is categorized into independent suspension, semi-independent suspension, and dependent suspension.
Regional Analysis
Geographically, the automotive suspension market is distributed across North America, Europe, APAC, Latin America, and MEA. North America is further segmented into U.S., Canada, and Mexico. Europe is divided into Germany, UK, Italy, France, and Rest of Europe. Asia-Pacific is bifurcated into China, India, Japan, and Rest of Asia-Pacific. Asia-Pacific is expected to dominate the global automotive suspension market during the forecast period owing to rising demand for luxury vehicles in the region. The growing safety concerns, and rising need to offer an enhanced driving experience has encouraged market players to develop advanced automotive suspension systems.
Competitive Landscape
The leading players in the automotive suspension market include Multimatic Inc., Continental AG, Tenneco Inc., ZF TRW, Hendrickson USA, L.L.C, Thyssenkrupp, Magneti Marelli S.p.A, Sogefi SpA, WABCO Holdings Inc., and NHK Spring Co., Ltd. among others. These vendors in the market are launching new products to meet the growing customer needs. In addition, the leaders in the market are acquiring and collaborating with top companies in the market to enhance their offerings in the market and expand their customer base.