The global bio-magnetic ear stickers market was valued at USD 1,768.784 million in 2022 and is expected to grow at a CAGR of 5.4% during the forecast period.
Bio-magnetic stickers are tiny magnets taped into the ears. When applied to a specific area over the ears, these magnetic stickers encourage blood circulation and may improve bodily functioning. By using magnets in particular areas, the magnetic field can enhance blood and oxygen flow to the tissues, potentially aiding in the healing process and promoting overall wellness. One common application of bio-magnetic ear stickers is pain management. The magnetic field generated by the magnets may help reduce pain and discomfort.

To Understand More About this Research: Request a Free Sample Report
The COVID-19 pandemic has heightened global health awareness, with individuals becoming more conscious of their overall well-being and seeking ways to support their immune systems and general health. This increased focus on health and wellness could create opportunities for the adoption of various wearable healthcare devices, potentially including biomagnetic devices if they are seen as beneficial. In addition to this, with the need for social distancing and minimizing in-person interactions, there has been a significant shift towards remote healthcare and telemedicine. This shift could increase interest in wearable devices that can monitor and track health parameters remotely, including bio-magnetic devices, if they offer relevant monitoring capabilities.
Despite this, the pandemic has caused economic downturns and financial uncertainties for individuals and businesses. This could impact consumer spending habits, including their willingness to invest in non-essential healthcare products such as biomagnetic devices. The economic impact of the pandemic may influence the growth and adoption of such devices in the market. Also, the pandemic has disrupted global supply chains, potentially impacting the availability and distribution of various products, including wearable healthcare devices. This may hamper the market's growth during the pandemic.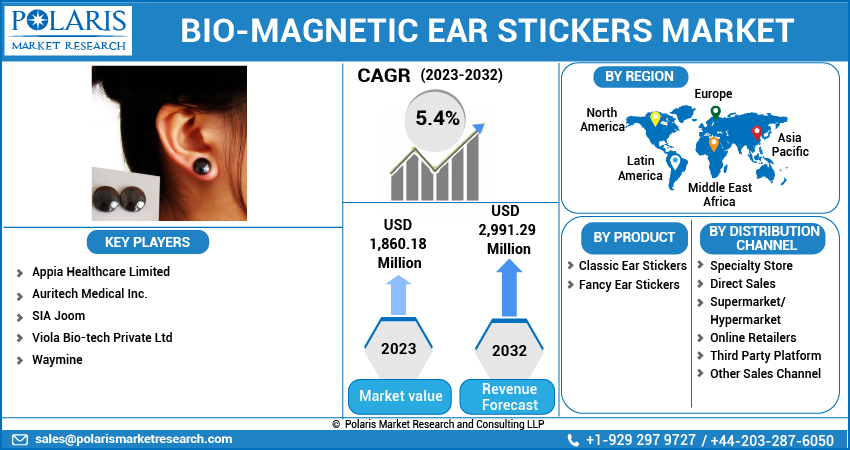 For Specific Research Requirements, Request for a Sample Report
Industry Dynamics
Growth Drivers
Increasing growth of e-commerce drives the market
The growth of e-commerce has had a significant impact on the market's expansion across the world. E-commerce platforms provide a convenient way for consumers to access and purchase bio-magnetic ear stickers. E-commerce enables bio-magnetic ear sticker manufacturers and sellers to reach customers beyond their local markets. They can expand their customer base nationally or globally, as e-commerce platforms provide the infrastructure to handle international shipping and logistics. This wider market reach creates opportunities for growth and increased sales volume. Amazing India Online introduced their bio-magnetic energy bracelet with bio-magnetic ear stickers. Such platforms eliminate the need for physical stores and allow customers to browse and order products from anywhere, anytime. This increased accessibility expands the potential customer base and reaches customers who may not have access to brick-and-mortar stores that sell bio-magnetic ear stickers. This further improved the growth of the global revenue of the market.
There is a growing trend towards holistic approaches to health and well-being, where individuals seek complementary and alternative therapies to enhance their overall wellness. For instance, as per the Health Statistics of India, around 16 million people die before they turn 70, and 82% of these untimely deaths occur in low- and middle-income nations. Bio-magnetic ear stickers are often marketed as part of these holistic approaches, promoting benefits such as stress relief, relaxation, and pain management. As health awareness increases, individuals explore non-invasive and natural options like bio-magnetic ear stickers. With growing health awareness, companies that produce these products may engage in targeted marketing campaigns and collaborate with influencers in the health and wellness space. As a result, this factor is likely to augment the growth of the market all over the world.
Report Segmentation
The market is primarily segmented based product type, distribution channel, and region.
By Product Type

By Distribution Channel

By Region

Classic Ear Stickers

Fancy Ear Stickers

Specialty Store

Direct Sales

Supermarket/ Hypermarket

Online Retailers

Third Party Platform

Other Sales Channel

North America (U.S., Canada)

Europe (France, Germany, UK, Italy, Netherlands, Spain, Russia)

Asia Pacific (Japan, China, India, Malaysia, Indonesia. South Korea)

Latin America (Brazil, Mexico, Argentina)

Middle East & Africa (Saudi Arabia, UAE, Israel, South Africa)
To Understand the Scope of this Report: Speak to Analyst
By Product Type
Fancy ear stickers segment dominated the market in 2022
The fancy ear stickers segment is gaining popularity and accounting for the largest global revenue share in 2022. Fancy ear stickers often feature visually attractive designs, patterns, and colors. They are created to be visually appealing and can be seen as a fashion accessory or a way to add style to one's appearance. The aesthetic appeal of fancy ear stickers attracts individuals who value self-expression and enjoy incorporating unique and fashionable elements into their outfits or overall look. This offers a wide range of options for personalization and customization. They may come in different shapes, sizes, and designs, allowing individuals to choose a style that resonates with their personality or matches their preferences.
Furthermore, the rise of social media and influencer culture has played a significant role in the popularity of fancy ear stickers. Fancy ear stickers, with their visual appeal and fashion-forward designs, align well with the aesthetics and trends promoted on social media platforms. It can also serve as a unique and eye-catching gift or novelty item.
By Distribution Channel
Online retailers segment held largest share in 2022
In the fiscal year 2022, the online retailer segment held the largest share of the market. Online retailers offer the convenience of shopping from anywhere at any time. Consumers can easily browse and purchase ear stickers without needing to visit physical stores. This accessibility has contributed to online sales growth in various product categories, including wellness and alternative therapy products. They often have a wider range of bio-magnetic ear stickers than brick-and-mortar stores. This gives consumers more options, including different brands, designs, and price ranges.
Moreover, online platforms enable consumers to compare prices, read product descriptions, and access customer reviews. This information empowers shoppers to make informed decisions and choose the bio-magnetic ear stickers that align with their requirements. They often run marketing campaigns and promotions to attract customers. They leverage digital marketing strategies like targeted advertisements, email marketing, and social media campaigns to create awareness and drive sales. This also has the advantage of reaching customers beyond local markets.
Regional Analysis
North America is accounting the largest share in the global market during forecast period
North America is expected to lead the global market during the forecast period as the region is the primary consumer of bio-magnetic products. North America has a well-developed healthcare infrastructure, including medical facilities, research institutions, and healthcare professionals. For example, US healthcare costs more than those in most other nations. The US healthcare sector is enormous; in 2021 healthcare spending will represent more than 18.3% of the US GDP. This advanced infrastructure provides a conducive environment for developing, distributing, and adopting alternative therapies and wellness products like bio-magnetic ear stickers. The region's advanced healthcare infrastructure, including research institutions and medical facilities, fosters innovation and scientific advancements. This can increase research and development activities in alternative therapies and wellness products. As a result, this factor is promoting the growth of the market.
Asia Pacific is the fastest growing region in the global market during the assessment years. The region has a significant population, including countries such as China and India, with large consumer bases, contributing to the market with a considerable growth rate. Many countries in the Asia Pacific region have a rich history of traditional medicine and practices, such as Traditional Chinese Medicine (TCM) and Ayurveda. Bio-magnetic ear stickers align with some of these traditional practices and philosophies, making them more readily accepted and integrated into the local healthcare systems.
Familiarity with alternative therapies can contribute to market growth in the region. In addition to this, growing awareness and interest in health and wellness in the Asian population is also helping the market to expand at the fastest growth rate. As individuals become more conscious of their well-being, they may seek alternative approaches to healthcare and explore products. The rising health awareness and the preference for holistic well-being can drive the demand in the region.
Competitive Insight
The Bio-Magnetic Ear Stickers Market is fragmented and is anticipated to witness competition due to several players' presence. Major service providers in the market are constantly upgrading their technologies to stay ahead of the competition and to ensure efficiency, integrity, and safety. These players focus on partnership, product upgrades, and collaboration to gain a competitive edge over their peers and capture a significant market share.
Some of the major players operating in the global market include:
Appia Healthcare Limited

Auritech Medical Inc.

SIA Joom

Viola Bio-tech Private Ltd

Waymine
Recent Developments
In 2021, MagnetRX launched its magnetic acupressure Ear Seeds that are stimulate to specific acupressure points for various health benefits, such as anxiety and reducing stress.

In 2020, Amazing India Online launched its Bio magnetic energy bracelet that includes bio-magnetic ear stickers for improving overall health such as stress.
Bio-Magnetic Ear Stickers Market Report Scope
| | |
| --- | --- |
| Report Attributes | Details |
| Market size value in 2023 | USD 1,860.18 million |
| Revenue forecast in 2032 | USD 2,991.29 million |
| CAGR | 5.4% from 2023 – 2032 |
| Base year | 2022 |
| Historical data | 2019– 2022 |
| Forecast period | 2023– 2032 |
| Quantitative units | Revenue in USD million and CAGR from 2023 to 2032 |
| Segments covered | By Product Type, By Distribution Channel, By Region |
| Regional scope | North America, Europe, Asia Pacific, Latin America; Middle East & Africa |
| Customization | Report customization as per your requirements with respect to countries, region and segmentation. |