The global bioactive ingredients market was valued at USD 53.64 billion in 2022 and is expected to grow at a CAGR of 13.3% during the forecast period.
The market has experienced significant growth and transformation in recent years, driven by the increasing consumer demand for natural and healthy products. Bioactive ingredients are biologically active compounds derived from natural sources such as plants, animals, and microorganisms. These ingredients are beneficial and widely used in various industries, including food and beverages, pharmaceuticals, cosmetics, and dietary supplements.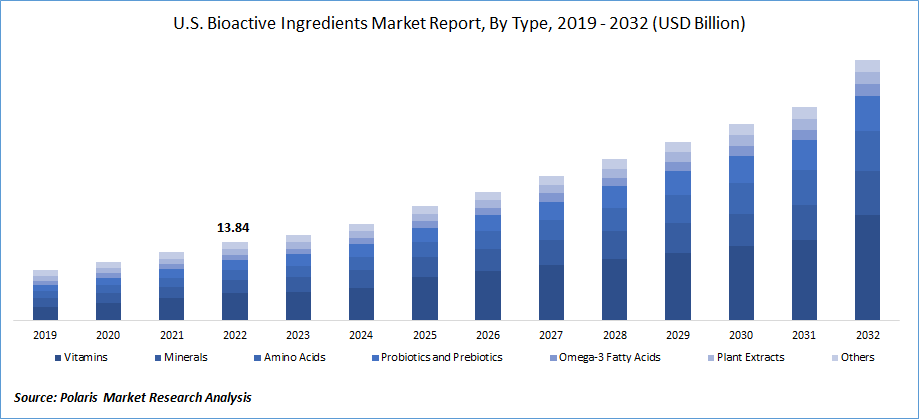 To Understand More About this Research: Request a Free Sample Report
In the food and beverage sector, bioactive ingredients enhance nutritional value, improve flavor, extend shelf life, and provide health benefits. Growing consumer awareness of the importance of a healthy diet and the preference for natural ingredients have fueled this industry's demand for bioactive ingredients.
However, the COVID-19 pandemic has significantly impacted the market. Initially, the market faced disruptions due to supply chain challenges, reduced manufacturing activities, and restrictions on trade and transportation. The closure of restaurants, cafes, and other food service establishments also led to declining demand for bioactive ingredients.
On the other hand, the pandemic has also heightened consumer focus on health and well-being, leading to an increased interest in natural and functional foods. This has created opportunities for bioactive ingredients as consumers seek products to boost their immune systems and support overall health. The demand for dietary supplements and functional foods fortified with bioactive ingredients has surged during the pandemic.
Moreover, the pharmaceutical industry has experienced an increased demand for bioactive ingredients, particularly those with potential antiviral and immune-boosting properties. Research and development activities in this sector have accelerated, leading to the exploration of bioactive ingredients for developing novel drugs and therapies.
Industry Dynamics
Growth Drivers
The growing obese population, sedentary lifestyle of consumers leading to lifestyle diseases, increasing disposable income, and growing public initiatives to promote health and wellness have increased the sale of bioactive ingredients. Modern consumers are aware and educated about the health benefits of products consumed.
Owing to the benefits of bioactive ingredients, they are increasingly being used to develop functional food and beverages to cater to the growing consumer demands for healthy and nutritious products. The increasing use of bioactive ingredients in preventing and treating several diseases has also supported the bioactive ingredients market growth for bioactive ingredients. The application of bioactive ingredients has increased in cosmeceutical products to provide both cosmetic and therapeutic benefits to consumers.
Bioactive ingredients are increasingly being used in cosmetics and personal care products. The growing population, changing lifestyle of consumers, rising awareness regarding beauty and wellness, and growing trend towards the use of skincare and personal care products drive the growth of this segment. New product launches and acquisitions by leading players in the market and increasing demand from emerging economies have increased the demand for bioactive ingredients.
In April 2021, Yemoja, Ltd., a marine cultivation start-up, launched EPS-Revive for the cosmetics industry. EPS-Revive, a bioactive ingredient derived from microalgae, offers anti-aging, anti-inflammatory, and rejuvenating properties. The company claims this is the first bio-active ingredient developed from red algae in a controlled setting through photobioreactor technology.
The demand for bioactive ingredients has increased during the pandemic, owing to the significant rise in functional food and dietary supplements for improved immunity. Increasing health awareness and growth in the consumption of nutraceuticals has increased the demand for bioactive ingredients, especially vitamins and probiotics. The fear of contracting the disease has encouraged consumers of all ages to focus on nutrition and self-care.
Report Segmentation
The market is primarily segmented based on type, application, and region.
By Type

By Application

By Region

Vitamins

Minerals

Amino Acids

Probiotics and Prebiotics

Omega-3 Fatty Acids

Plant Extracts

Others

Animal Feed

Dietary Supplements

Functional Food & Beverages

Personal Care

Pharmaceutical

Others

North America (U.S., Canada)

Europe (France, Germany, UK, Italy, Netherlands, Spain, Russia)

Asia Pacific (Japan, China, India, Malaysia, Indonesia, South Korea)

Latin America (Brazil, Mexico, Argentina)

Middle East & Africa (Saudi Arabia, UAE, Israel, South Africa)
To Understand the Scope of this Report: Speak to Analyst
The functional food and beverage segment emerged as the dominant force in the industry in 2022
In 2022, the functional food and beverage application segment emerged as the dominant force in the industry, capturing the highest share of overall revenue. This can be attributed to the increasing interest in functional foods, the popularity of preventive healthcare, and the wide range of products available in this segment. The growing global awareness of preventative healthcare has led to a greater focus on functional foods to implement preventive measures. The diverse portfolio of functional food items also contributes to the segment's growth.
Functional food ingredients are commonly found in various forms, such as glycosylated, esterified, hydroxylated, or thiolylated. Plant-based foods like fruits, whole grains, and vegetables are major sources of bioactive food ingredients. Animal products like fermented milk and cold-water fish also contain bioactive elements like conjugated linolenic acid, probiotics, omega-3 polyunsaturated fatty acids, and bioactive peptides. The market growth of functional foods is expected to be driven by factors such as the increasing geriatric population in Australia and the Asia-Pacific region and the rising prevalence of lifestyle-related diseases such as diabetes and bone problems.
Furthermore, consumer awareness regarding healthy eating and lifestyle choices is growing, particularly in Malaysia, Singapore, India, and South Korea. These countries, along with India, China, Hong Kong, Indonesia, Japan, and Singapore, are expected to contribute to the long-term growth of functional foods and ingredients.
Asia-Pacific dominated the global market in 2022
In 2022, the Asia-Pacific region dominated the global market. The region experienced a surge in market demand for bioactive ingredients, driven by a growing awareness of nutrition and the benefits of a healthy diet. This trend was further amplified during the COVID-19 pandemic as consumers became more conscious of maintaining their health and well-being. The presence of a rising geriatric population, combined with proactive initiatives taken by individuals to prioritize their overall health, has significantly driven market growth in the Asia-Pacific region.
Competitive Insight
Some of the major players operating in the global market include Ajinomoto Co., Inc., FMC Corporation, Koninklijke DSM N.V., Arla Foods amba, BASF SE, Cargill Inc., E. I. du Pont de Nemours and Company, Mazza Innovation Ltd, Ingredion Incorporated, Archer Daniels Midland Company, Sabinsa Corporation, and Roquette Frères.
Recent Developments
In November 2022, Cargill Incorporated announced its acquisition of Owensboro Grain Company, aiming to introduce Owensboro Grain Company's integrated soy processing facility, protein ingredients, and other product offerings into the North American market. The acquisition was strategically undertaken to expand Cargill's portfolio and strengthen its regional presence.

In August 2022, Archer Daniels Midland (ADM) and Benson Hill partnered to scale up the production of innovative soy ingredients, meeting the demand for plant-based proteins. ADM will process and commercialize ingredients derived from Benson Hill's UHP soybeans.
Bioactive Ingredients Market Report Scope
| | |
| --- | --- |
| Report Attributes | Details |
| Market size value in 2023 | USD 58.44 billion |
| Revenue forecast in 2032 | USD 179.93 billion |
| CAGR | 13.3% from 2023 – 2032 |
| Base year | 2022 |
| Historical data | 2019 – 2021 |
| Forecast period | 2023 – 2032 |
| Quantitative units | Revenue in USD billion and CAGR from 2023 to 2032 |
| Segments Covered | By Type, By Application, By Region |
| Regional scope | North America, Europe, Asia Pacific, Latin America; Middle East & Africa |
| Key Companies | Ajinomoto Co., Inc., FMC Corporation, Koninklijke DSM N.V., Arla Foods amba, BASF SE, Cargill Inc., E. I. du Pont de Nemours and Company, Mazza Innovation Ltd, Ingredion Incorporated, Archer Daniels Midland Company, Sabinsa Corporation, and Roquette Frères. |