The global bioethanol market was valued at USD 33.61 billion in 2021 and is expected to grow at a CAGR of 14.1% during the forecast period. Bioethanol can be produced from sugar cane molasses, starch crops, crop residues, and other wasted crops. For production, the manufacturers are focusing on agricultural & forest residues and energy crops like miscanthus, switch grass, and sugarcane bagasse. It can be used as a fuel in isolation and in mixtures with other fossil fuels. Bioethanol is a biodegradable, renewable energy resource produced from biomass through sugar fermentation and chemical process. Bioethanol is an attractive substitute for conventional fuel sources due to its high octane value and lower greenhouse gas emissions.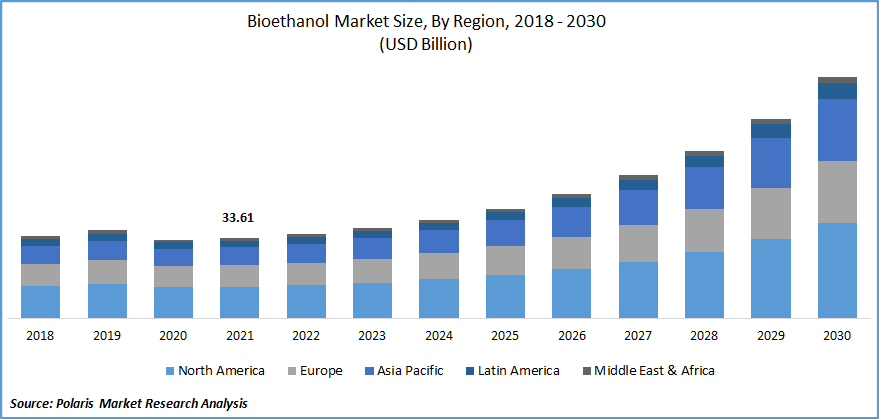 Know more about this report: Request for sample pages
Production involves different manufacturing steps, such as fermentation, distillation, dehydration, etc. Bioethanol has various properties, such as homogeneity, physical stability, low viscosity, weak lubricity, anti-corrosiveness, and better antiknock characteristics. The versatility of bioethanol is used as feedstock in the chemical market, fuel for power generation, a substitute for petrol in road transport vehicles, etc.
Additionally, Sustainable Development Goals (SDG) is one of the primary goals of the United Nations, which slows down climate change and reduce global warming. Biofuels play an essential role in this. Also, depleting energy resources and increasing focus on renewable energy sources are expected to boost the market growth. Technological advances and increased R&D to produce ethanol from algae are expected to increase market demand due to its rapid production rate and natural occurrence in the sea, lowering production costs. Furthermore, consumption will rise due to low prices compared to diesel and petrol.
The COVID-19 pandemic has disrupted the daily lives of the world's population and altered the ethanol market requirements for manufacturing use in many countries. Fuel ethanol standards remain a viable alternative for future development despite these short-term consequences, and regional councils are operating hard to develop market access in specific countries. As the coronavirus pandemic reduces gasoline consumption and pushes corn-based fuel off the market, several ethanol plants in the United States have lowered or decreased production. Fuel requirements have been reduced as governments encourage people to stay at home to combat the COVID-19 pandemic.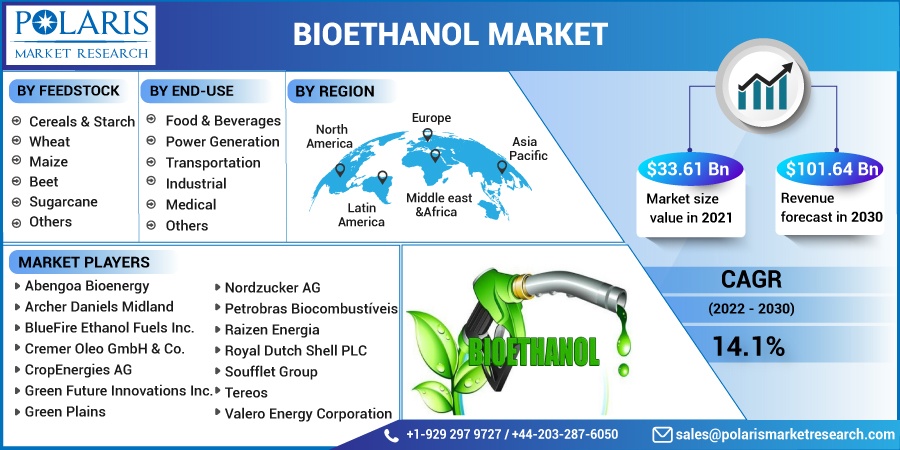 Know more about this report: Request for sample pages
Industry Dynamics
Growth Drivers
The primary driver for the global bioethanol market is government regulatory bodies encouraging production. Growing demand for blending in gasoline and increased government initiatives to produce and use greener fuels such as bio-ethanol are driving the market growth. Implementing stringent regulations has encouraged companies to focus on building better, cleaner, and less expensive energy. Technological advancements in the market have resulted in the development of second and third-generation bioethanol, which is expected to remain a viable prospect in the global market.
The factors driving the global bioethanol market are rising environmental concerns, which encourage manufacturers to produce bioethanol, blending mandates from regulatory bodies such as the EPA (Environmental Protection Agency), and abundant raw material availability.
Countries are focusing on energy security as demand for energy has increased significantly due to economic expansion, population growth, increased consumer income, and the discovery of new energy use. Many countries continue to import massive amounts of crude oil and could use it as a substitute for crude oil, thus, reducing their dependence. As a result, the increased focus on improving energy security is expected to provide lucrative opportunities for the global bioethanol oil market.
Report Segmentation
The market is primarily segmented based on feedstock, end-use, and region.
By Feedstock

By End-Use

By Region

Cereals & Starch
Wheat
Maize
Beet
Sugarcane
Others

Food & Beverages
Power Generation
Transportation
Industrial
Medical
Others

North America (U.S., Canada)
Europe (France, Germany, UK, Italy, Netherlands, Spain, Russia)
Asia Pacific (Japan, China, India, Malaysia, Indonesia. South Korea)
Latin America (Brazil, Mexico, Argentina)
Middle East & Africa (Saudi Arabia, UAE, Israel, South Africa)
Know more about this report: Request for sample pages
Transportation segment accounted for the largest market share
Bioethanol applications include transportation, power generation, food and beverages, industrial, medical, and others. In terms of value and volume, the transportation end-use market segment of the bioethanol market accounted for the largest market share.
The automotive and transportation industries utilize bio-ethanol as a fuel and fuel additive. It is used in conjunction with conventional petrol to fuel petrol engines in automobiles. Bioethanol is less expensive and more environmentally friendly than petroleum. A small amount of bioethanol is mixed with pure gasoline to create blends, which burn more efficiently and emit no carbon dioxide. As a result, bioethanol fuel blends are required in many countries worldwide. This rising use of bioethanol in the transportation end-use market is thus driving its market towards growth.
Maize segment is accounted for a significant share
Maize is expected to dominate the market owing to its easy availability and large-scale production. Most of the bioethanol generated in the United States is derived from starch-based crops and processed in a dry or wet mill. A dry milling process is created when maize is crushed into flour, fermented to make ethanol, and coupled with co-products such as distillers' grains and carbon dioxide. Wet mills have maize sweeteners and ethanol, and a variety of by-products. Maize is separated into starch, protein, and fiber, then processed into products. Usage of maize mills is expected to grow globally, which will boost the bioethanol market's growth.
North America is expected to hold the largest revenue share
The North American region is dominating the global bio-ethanol market share in terms of value. North America is one of the largest consumers of fuel in the world and uses different ethanol fuel blends. The United States is the largest producer and consumer of bioethanol worldwide, followed by Brazil, China, India, and Canada.
North America accounts for a significant share owing to increasing approvals and government backing for developing eco-friendly and sustainable fuels. Countries in this region have mandated using higher blends in vehicles. Bio-ethanol production has increased due to higher renewable fuel standard targets and growth in domestic motor gasoline consumption, which is now blended with 10% ethanol by volume. The enormous quantity of maize growing in North America has created an enticing and fertile economic environment for the region's bioethanol market.
Competitive Insight
Some of the key market players in the bioethanol market are Abengoa Bioenergy, Archer Daniels Midland, Bioethanol Japan Kansai Co Ltd, BlueFire Ethanol Fuels Inc., Cremer Oleo GmbH & Co., CropEnergies AG, Green Future Innovations Inc., Green Plains, Nordzucker AG, Petrobras Biocombustíveis, Raizen Energia, Royal Dutch Shell PLC, Soufflet Group, Tereos, and Valero Energy Corporation. These players are expanding their presence across various geographies and entering new markets in developing regions to expand their customer base and strengthen their presence in the market. The companies are also introducing new innovative products to cater to the growing consumer demands.
Recent Developments
In October 2021, the Coca-Cola Company announced its first-ever beverage bottle made entirely of plant-based plastic. Coca-Cola's technology, which it co-owns with Changchun Meihe Science & Technology, speeds up the bMEG production process while allowing a larger spectrum of renewable materials. bMEG is made by converting sugarcane or corn into bioethanol, then converted to bio ethylene glycol.
In January 2021, Argentina's energy division and corn bioethanol producers collaborated to manufacture biofuels and improve oil firms' prices. This agreement aims to reverse the industry's semi-stagnation.
In Dec 2020, Serbia's Bionex announced plans to develop a bioethanol facility in Apatin in March 2021 with a USD 6.1 billion investment. Furthermore, Bionex has committed to purchase a property parcel in the Apatin Free Zone for 64 million dollars.
In January 2020, TATA Projects Limited, an Indian infrastructure company, secured multiple major orders worth $809.7 million in the oil & gas refinery sector. HPCL Rajasthan Refinery Ltd. (HRRL) placed three orders, while Bharat Petroleum Corporation Limited has placed one (BPCL). Furthermore, the order for BPCL's second-generation bioethanol project in Odisha, with a proposed production capacity of 100,000 liters per day.
In July 2019, Greenbelt Resources, a waste-to-bioproducts company, partnered with New Age Renewable Energy to offer a long-term solution for turning dairy waste into bioproducts.
In April 2018, AustroCel Hallein GmbH (a dissolving pulp company based in Austria) announced a US$74 million investment to expand its dissolving pulp manufacturing capacity and production. The company plans to install equipment to produce bioethanol from wood sugars, with a total capacity of 30 million liters per year. The plant is expected to be operational by 2020.
Bioethanol Market Report Scope
| | |
| --- | --- |
| Report Attributes | Details |
| Market size value in 2021 | USD 33.61 billion |
| Revenue forecast in 2030 | USD 101.64 billion |
| CAGR | 14.1% from 2022 - 2030 |
| Base year | 2021 |
| Historical data | 2018 - 2020 |
| Forecast period | 2022 - 2030 |
| Quantitative units | Revenue in USD billion and CAGR from 2022 to 2030 |
| Segments covered | By Feedstock, By End-use Industry, By Region |
| Regional scope | North America, Europe, Asia Pacific, Latin America; Middle East & Africa |
| Key companies | Abengoa Bioenergy, Archer Daniels Midland, Bioethanol Japan Kansai Co Ltd, BlueFire Ethanol Fuels Inc., Cremer Oleo GmbH & Co., CropEnergies AG, Green Future Innovations Inc., Green Plains, Nordzucker AG, Petrobras Biocombustíveis, Raizen Energia, Royal Dutch Shell PLC, Soufflet Group, Tereos, and Valero Energy Corporation |