The global desalination technologies market was valued at USD 14.81 billion in 2022 and is expected to grow at a CAGR of 11.2% during the forecast period.
The constant increase in the demand for these technologies, especially from the Middle East and North Africa region, because of the lack of fresh water supply and the significant need for industrial wastewater treatment at global levels are the primary factors driving the market growth. The surge in the number of government plans promoting the use of desalination technologies for water production to meet the increasing need for water, as a result of industrialization that has put a heavy strain on water resources, is further likely to boost the global market in the near future.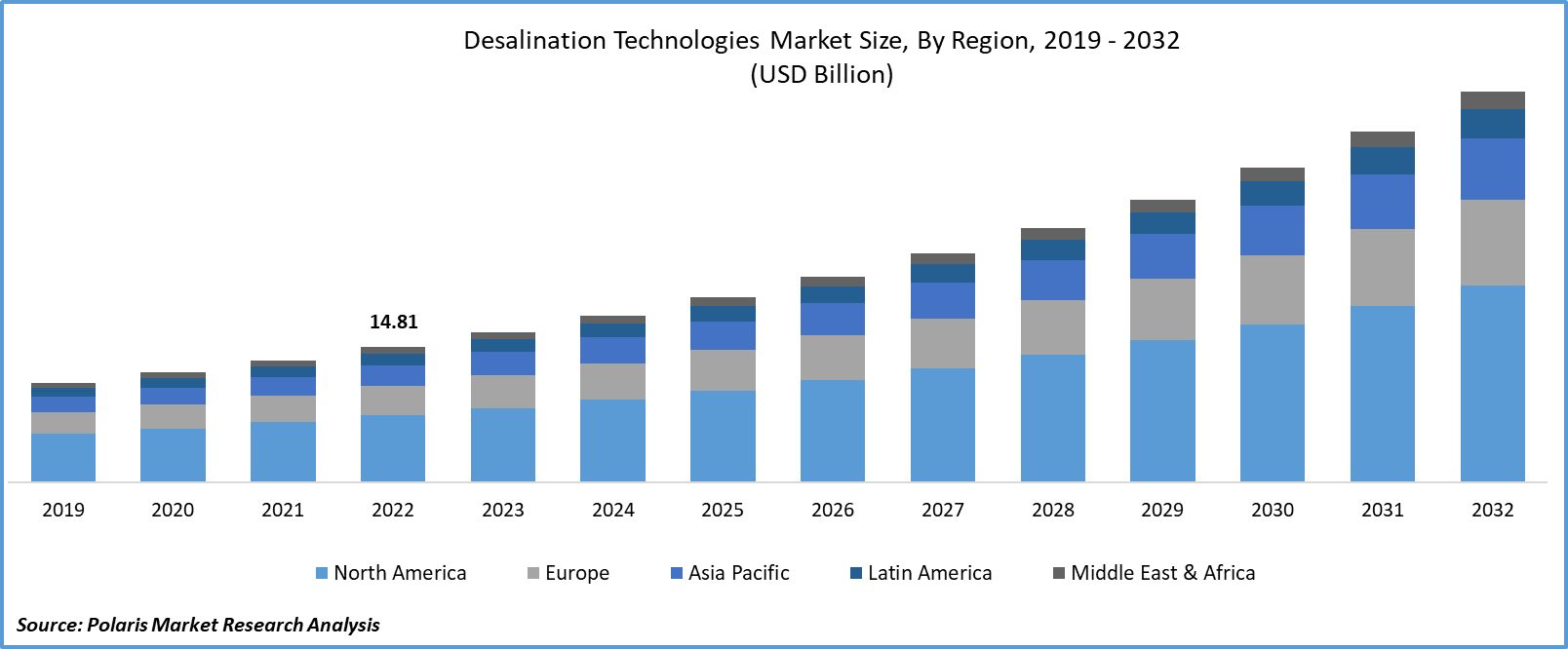 To Understand More About this Research: Request a Free Sample Report
For instance, the Middle East and North Africa region is home to approx. 6.8% of the world's population is the most water-scare region in the world and contains only 1.4% of the world's renewable fresh water.
Besides this, growing awareness of the importance of clean and safe drinking water for public health and industrial processes, leading to increased investments in desalination projects and encouraging key companies to introduce new innovative technologies with enhanced capabilities, are further driving the growth of the market.
For instance, in April 2022, Veolia Water Technologies, a leading provider in water-treatment technologies and systems, announced the APAC launch of the Barrel™, an integrated play-and-play reverse osmosis technology suitable for low-pressure RO applications and wastewater reuse. It has been selected as a major technology for the first experiment in Europe in wastewater treatment for supplying drinking water.
In the last few decades, there has been a growing trend and traction for the incorporation of ZLD technologies into desalination systems, which mainly aims to minimize the environmental impact of desalination by recovering and reusing almost all of the brine available and waste products generated during the process, and also reducing the volume of brine that required to be disposed of. However, the installation of desalination construction plants requires high initial investments or upfront capital, and companies need to obtain the necessary permits and adhere to environmental guidelines, which creates a barrier to new market players' entry and results in a major market restraint.
Industry Dynamics
Growth Drivers
Increasing need for freshwater across the globe, driving the need for efficient desalination technologies
The Desalination Technologies Market is experiencing substantial growth driven by the increasing global demand for freshwater. One of the most pressing challenges faced by many regions around the world is the scarcity of fresh, potable water. Factors such as population growth, urbanization, industrial expansion, and climate change have exacerbated water shortages, making desalination technologies more crucial than ever.
Desalination technologies, which involve the removal of salt and impurities from seawater or brackish water, have emerged as a viable solution to address this critical issue. As the need for freshwater continues to rise, desalination technologies are playing a pivotal role in meeting the growing water demands of both municipal and industrial sectors. These technologies offer a sustainable and reliable source of high-quality water, helping to mitigate water scarcity issues.
The market for desalination technologies is expected to witness sustained growth as governments, municipalities, and industries invest in advanced systems and infrastructure to secure a consistent supply of freshwater. Additionally, ongoing innovations in desalination processes and materials are contributing to greater energy efficiency and reduced environmental impacts, further fueling the market's expansion. In summary, the increasing need for freshwater across the globe is propelling the Desalination Technologies Market, and its growth is expected to continue in the years to come as the world grapples with water resource challenges.
Report Segmentation
The market is primarily segmented based on technology, application, and region.
By Technology

By Application

By Region

Reverse Osmosis

Multi-Stage Flash

Multi-Effect Distillation

Municipal

Industrial

Others

North America (U.S., Canada)

Europe (France, Germany, UK, Italy, Netherlands, Spain, Russia)

Asia Pacific (Japan, China, India, Malaysia, Indonesia. South Korea)

Latin America (Brazil, Mexico, Argentina)

Middle East & Africa (Saudi Arabia, UAE, Israel, South Africa)
To Understand the Scope of this Report: Speak to Analyst
By Technology Analysis
Reverse osmosis segment accounted for the largest market share in 2022
The reverse osmosis segment accounted for the substantial market share, which is majorly driven by its numerous beneficial properties like easy processing, minimal use of chemicals, less installation cost, and ability to treat various types of feed water. Apart from this, RO desalination systems are extremely flexible and can be easily tailored to various water quality and quantity requirements. This makes them highly suitable for a wide range of applications ranging from small-scale residential systems to large municipal and industrial facilities.
The multi-stage flash segment is expected to exhibit the fastest growth rate over the next coming years on account of its greater flexibility with power production plants, lower maintenance costs, and ease of operation compared to other technologies available in the market. In addition, these technologies are often preferred for large-scale desalination projects, as they can efficiently produce large volumes of freshwater and help supply entire communities, industries, or regions with water in an effective manner.
By Application Analysis
The municipal segment led the industry market with a significant share in 2022
The municipal segment led the industry market with a significant revenue share in 2022, which is mainly driven by the continuous expansion of megacities all over the world and a significant increase in the contamination of surface water and groundwater supplies that led to higher demand for safe drinking water. The rapid rate of urbanization and exponential growth in the global population place significant pressure on existing water resources, necessitating the development of new water sources to meet the increasing demand of urban populations.
The industrial segment is expected to grow at the highest growth rate throughout the study period, mainly attributable to increasing water quality needs across various industries such as mining, power generation, manufacturing, and chemicals for performing various crucial functions like cooling, processing steam, and others. Growing advances in desalination technologies, such as energy recovery devices and improved membrane materials that have made desalination more energy-efficient and cost-effective, are also resulting in increased adoption in several industries.
Regional Insights
North America region dominated the global market in 2022
The North American region dominated the global market. The regional market growth can be largely accelerated by the quick adoption of advanced desalination technologies along with the robust presence of several favorable initiatives that have initiated desalination projects and provided incentives to encourage higher investments in the desalination infrastructure.
For instance, the US Department of Energy announced a USD 5 Mn solicitation for small-scale desalination water-reuse technologies that are likely to improve the security and affordability of the country's water supply.
The Asia Pacific region is anticipated to emerge as the fastest growing region with a healthy CAGR during the anticipated period, owing to the presence of some of the most populous countries of the world that lead to an increased need for safe drinking water among residents and utilization of significant amount of water from various manufacturing industries across the region. According to the Central Pollution Control Board of India, around 500 billion cubic meters of water from the total available fresh water are used in different industries in India annually. Out of this, 30 billion cubic meters of water are used for refrigeration purposes, and about 10 billion cubic meters of water are used by the processing industries across the country.
Key Market Players & Competitive Insights
The desalination technologies market is moderately consolidated with the presence of various global or regional market players. Top players in the market have been extensively focusing on bringing innovations and heavily investing in research and development activities to develop more efficient, advanced, and sustainable solutions for desalination and also to expand their geographical presence and cater to a large customer base.
Some of the major players operating in the global market include:
Acciona SA

Ampac USA

Danfoss A/S

Doosan Enerbility Co. Ltd.

DuPont de Nemours Inc.

Evoqua Water Technologies LLC

Hitachi Ltd.

IDEXX Technologies

Kepple Offshore & Marine Ltd.

Komax Systems Inc.

SUEZ SA

Veolia Water Technologies

Webuild SpA
Recent Developments
In October 2022, Sulzer announced the launch of its new next-generation pumps named MSN-RO, which combines the company's proven features from existing designs and includes various enhancements to optimize both capital and operation costs on desalination projects. The product is mainly designed for large-scale desalination applications with independent and large RO trains.
In December 2021, IDE Water Technologies announced that they have partnered with WEB Bonaire in order to launch Bonaire's desalination plant, with a capacity of producing 5,600 m3/d of drinking water. The new plant will also offer a higher level of preassembly of sub-systems while providing extremely low consumption of electricity.
Desalination Technologies Market Report Scope
| | |
| --- | --- |
| Report Attributes | Details |
| Market size value in 2023 | USD 16.43 billion |
| Revenue Forecast in 2032 | USD 42.76 billion |
| CAGR | 11.2% from 2023 – 2032 |
| Base year | 2022 |
| Historical data | 2019 – 2021 |
| Forecast period | 2023 – 2032 |
| Quantitative units | Revenue in USD billion and CAGR from 2023 to 2032 |
| Segments Covered | By Technology, By Application, By Region |
| Regional scope | North America, Europe, Asia Pacific, Latin America; Middle East & Africa |
| Customization | Report customization as per your requirements with respect to countries, regions, and segmentation. |