The global bone densitometers market was valued at USD 290 million in 2021 and is expected to grow at a CAGR of 4.6% during the forecast period.
Increased osteoporosis cases and degenerative joint conditions primarily drive the market. Age-related bone loss elevates the likelihood of osteoporosis. People lose a small amount of bone each year beyond 30 since bone growth slows down. The thickness of the bones affects how severe osteoporosis is. Bones in women are frequently lighter and smaller than those in men.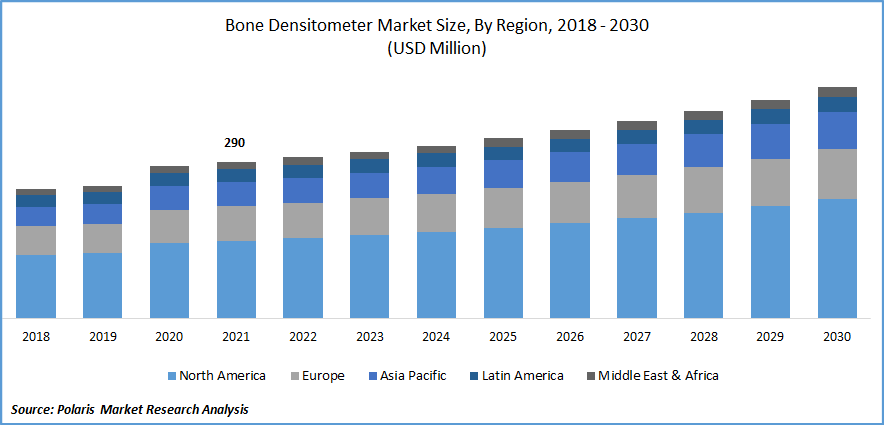 Know more about this report: Request for sample pages
Dual-energy x-ray absorptiometry, often known as DEXA or DXA, or bone densitometry, is a method for identifying osteoporosis and estimating a person's risk of developing osteoporotic fractures. The DXA treatment is quick, easy, and painless. This is also the most well-known and accepted method for diagnosing osteoporosis.
A bone densitometer, sometimes referred to as a DXA machine, is a device that uses a low dosage of ionizing radiation to assess the bone mineral density and reduced bone in a bone segment. The central devices, which often have an arm raised upward and are plain and broad, are utilized to test the hip and spine's bone mass. Peripheral devices are more compact and typically measure bone density in the elbows, heels, or hands. It is the accepted approach for detecting osteoporosis because it takes less time than other procedures and doesn't require any specific preparations. It is also employed to determine how likely a person is to experience osteoporotic fractures.
Further, the prevalence of vitamin D and calcium insufficiency illnesses is expected to rise shortly, driving demand. The number of people receiving chemotherapy is increasing due to the rising incidence of cancer, which is also known to have long-term effects on a patient's bone density. This will add to the market growth. Increasing DXA incorporation into regular physicals will undoubtedly accelerate industry growth during the anticipated time frame.
The COVID-19 pandemic is anticipated to affect the global market positively and promote its growth. The adoption of the equipment is bound to increase, due to the rise in bone mineral testing, driving the industry forward over the coming years. However, the high price of bone densitometer products restricts the market's growth.
Industry Dynamics
Growth Drivers
The increase in the number of older people, particularly vulnerable to bone-related illnesses like arthritis, and osteoporosis, is one of the key factors driving the market. The International Osteoporosis Foundation (IOF) estimates that osteoporosis contributes to more than 8.9 million fractures per year globally. Osteoporosis affects about 200 million postmenopausal women worldwide.
According to the WHO's definitions of osteoporosis, the condition affects 6.3% of men and 21.2% of women globally over 50. This is significantly boosting market growth and the rise in fragility fracture incidence. These densitometers are also commonly used for bone mass testing in many hospitals and medical facilities because they are essential in diagnosing osteoporosis and osteopenia.
Furthermore, the industry has grown as a result of the Centers for Disease Control and Prevention (CDC) reporting that in 2016, 25% of women aged 65 and older had osteoporosis. There were 158 million people who were thought to be at high fracture risk in 2010. Due to demographic changes, this number is likely to quadruple by 2040. Thus, the rising prevalence of bone-related diseases, such as fractures in body parts, drives the demand for bone densitometers, propelling industry growth.
Report Segmentation
The market is primarily segmented based on technology, device type, end-use, application, and region.
By Technology

By Device Type

By End-Use

By Application

By Region

Dual-Energy X-Ray Absorptiometry (DXA)
Single X-Ray Absorptiometry (SXA)
Radiographic Absorptiometry (RA)
Quantitative Computed Tomography (QCT)
Others

Axial Bone Densitometers
Peripheral Bone Densitometers

Hospital
Specialty Clinics
Diagnostics and Imaging Centers
Others

Osteoporosis and Osteopenia Diagnosis
Cystic Fibrosis Diagnosis
Body Composition Measurement
Rheumatoid Arthritis Diagnosis
Others

North America (U.S., Canada)
Europe (France, Germany, UK, Italy, Netherlands, Spain, Russia)
Asia Pacific (Japan, China, India, Malaysia, Indonesia, South Korea)
Latin America (Brazil, Mexico, Argentina)
Middle East & Africa (Saudi Arabia, UAE, Israel, South Africa)
Know more about this report: Request for sample pages
The axial Bone Densitometers segment is expected to witness the fastest growth
Axial bone densitometry has a significant market share since densitometers based on this technology are widely used. Given the considerable prevalence of osteoporosis in the population, the rising adoption rate can be linked to axial bone densitometers' ability to satisfy various clinical needs. Due to the widespread use of densitometers built using this technology, axial bone densitometry made up the greatest portion of the market. The fact that this type of densitometer satisfies a variety of clinical needs explains the rising adoption rate. These mainly consist of central dual-energy x-ray absorptiometry-based instruments, which are essential for precise findings in diagnostic procedures.
Additionally, bone densitometers are considered highly cost-effective due to their superior linearity, sensitivity, and precision, which assure minimal performance variance. The advantages mentioned above are anticipated to play a significant role in motivating physicians to utilize them.
Osteoporosis & Osteopenia segment industry accounted for the highest market share in 2021
Osteoporosis is a condition that weakens bones by reducing bone mass and strength. Osteoporosis causes the bones to deteriorate, making them porous and weaker. This raises the risk of fractures, especially in the wrists, hips, and spine. It is brought on by vitamin and mineral deficiencies, specifically in magnesium, calcium, and weaker-than-normal bones characterize vitamin D. Osteopenia. Yet, they do not break as easily as bones damaged by osteoporosis. The state of the bones when they are young affects the development of osteopenia, a disorder that occurs beyond 50.
Hospital segment is expected to hold the significant revenue share
A large portion was held by hospitals, which is understandable given the high patient volume and numerous readmissions. Additionally, sophisticated infrastructure makes bone densitometer diagnostic processes highly efficient, increasing the proportion of hospitals. One of the major factors contributing to the significant share of the segment is the growing propensity of government healthcare institutions to push sophisticated diagnostic tools that produce quick results. Additionally, in the current environment, hospitals are using fully automated systems that can detect this illness early. In the upcoming years, it is anticipated that the sum of these elements will positively impact segment growth.
The demand in North America is expected to witness significant growth
North America held the biggest market share for bone densitometers. The demand is anticipated to increase throughout the region as a result of several cooperative initiatives made by well-known businesses in this area to enhance their R&D capabilities and uphold high medical standards. This region's significant illness burden (osteoporosis) contributes to the majority share it has captured. According to the National Osteoporosis Foundation, the risk is enhanced for the 44 million Americans with inadequate bone density and the nearly 10 million Americans with osteoporosis. Half of all adults aged 50 and over, or 54 million people, are at risk of fracturing a bone and should therefore be concerned about their bone health.
Furthermore, according to the Burden of Osteoarthritis in Canada, 2021 report, osteoarthritis prevalence increases with advancing age. Additionally, it stated that 52% of Canadians with osteoarthritis are under 65. More than 4 million Canadians, or almost one in seven adults, have osteoarthritis. As a result, it is anticipated that the region's researched market will expand in the upcoming years.
It is anticipated that the Asia Pacific market will expand exponentially during the projection period. High demand to stop the rising prevalence, rising disposable income, and infrastructure upgrades in healthcare institutions are projected to contribute to this rise. The growing interest in osteoporosis treatment in developing nations like China and India will also likely create room for expansion in the market. For instance, As per the IOF, by 2050, the region will account for around half of all osteoporotic hip-related fractures across the globe.
Further, rural communities are severely affected by the issue. Compared to metropolitan areas, most people in populous nations like China and India, where 60% of the population resides in rural areas, have less access to diagnosis and treatment. Most developing Asian countries lack access to DXA technology since it is relatively expensive, particularly in rural areas. In addition, according to the IOF, Osteoporosis is estimated to affect 32 million people in Europe who are 50 or older in 2019. Thus, the rising prevalence of the disease is the major factor driving the Europe market growth.
Competitive Insight
Key players include BeamMed, CyberLogic, CompuMed, DMS Group, Demetech, Echolight, Eurotec Medical Systems, GE Healthcare, Hologic, Medonica, Medilink Incorporation, Osteometer MediTech, OsteoSys Corp, Scanflex Healthcare, Swissray International, Trivitron Healthcare, and Xingaoyi Medical Equipment.
Recent Developments
In February 2022: Aurora Spine collaborated with Echolight Medical, manufacturer of radiation-free "EchoS portable densitometer" being used to assess quality of the software platform & the bone mineral density (BMD) in the concerned patients. The two businesses decided to jointly market each other's goods to their respective clients and prospects as a component of the Aurora DEXA Platform.
In May 2019: Hologic partnered with the DEXA+ system to distribute Hologic's Horizon DXA system for body composition measurement.
Bone Densitometers Market Report Scope
| | |
| --- | --- |
| Report Attributes | Details |
| Market size value in 2022 | USD 299 million |
| Revenue forecast in 2030 | USD 429 million |
| CAGR | 4.6% from 2022 - 2030 |
| Base year | 2021 |
| Historical data | 2018 - 2020 |
| Forecast period | 2022 - 2030 |
| Quantitative units | Revenue in USD million and CAGR from 2022 to 2030 |
| Segments Covered | By Technology, By Device Type, By End-Use, By Application, By Region |
| Regional scope | North America, Europe, Asia Pacific, Latin America; Middle East & Africa |
| Key Companies | beamed Ltd, CyberLogic, Inc., CompuMed, Inc., DMS Group, Demetech AB, Echolight S.P.A., Eurotec Medical Systems SRL, GE Healthcare, Hologic Inc, Medonica Co. Ltd, Medilink Incorporation, Osteometer MediTech Inc, OsteoSys Corp, Scanflex Healthcare AB, Swissray International Inc., Trivitron Healthcare, and Xingaoyi Medical Equipment Co. Ltd. |