The global branded generics market was valued at USD 239.85 billion in 2022 and is expected to grow at a CAGR of 5.6% during the forecast period. Rising prevalence of chronic diseases, such as diabetes, cancer, and cardiovascular diseases, is indeed one of the primary drivers of growth in the pharmaceutical industry. This is due to the increasing demand for drugs to treat and manage these chronic conditions. The increasing penetration of branded generic drugs is another factor driving growth in the industry. Generics are cheaper to the branded drugs that have lost patent protection. They are popular due to their affordability & similar efficacy to their branded counter-parts.

To Understand More About this Research: Request a Free Sample Report
Government initiatives to promote generic products are also contributing to the growth of the pharmaceutical industry. Governments are encouraging the use of generic drugs to reduce healthcare costs and improve access to affordable healthcare for their citizens. Lastly, the patent expiry of major drugs is another factor driving growth in the industry. When a patent expires, pharma companies can produce its low-cost generic versions of the concerned drug. This increases competition and can lead to lower prices for consumers.
When the patent exclusivity of innovator drugs expires, it provides an opportunity for generic manufacturers to introduce equivalent products at a lower cost. This competition can drive down the cost of drugs and increase affordability for patients. Lower costs of generic drugs can also help reduce healthcare expenditure per capita, as generic drugs are often significantly less expensive than their branded counterparts. This can lead to savings for both patients and healthcare systems, particularly in countries where healthcare costs are a significant burden on the economy.
In addition to their cost-saving benefits, generic drugs are often just as effective and safe as their branded counterparts, as they contain the same active ingredients and are subject to the same regulatory standards. This means that patients can access high-quality treatments at a lower cost, improving access to healthcare and health outcomes.
The pharmaceutical industry has been moderately impacted by the COVID-19 pandemic. One of the primary ways in which the pandemic has affected the industry is through the disruption and slowdown of the supply of pharmaceuticals. This has been due to the strategies designed to control the spread of the pandemic, such as lockdowns and travel restrictions, which have impacted the manufacturing, transportation, and distribution of drugs.
In addition, regulatory operations have also been affected by the pandemic. The authorization and health technology assessment process has slowed down, and decisions on reimbursements have been deprioritized. This has resulted in delays in the approval and launch of new drugs and has impacted the overall growth of the industry.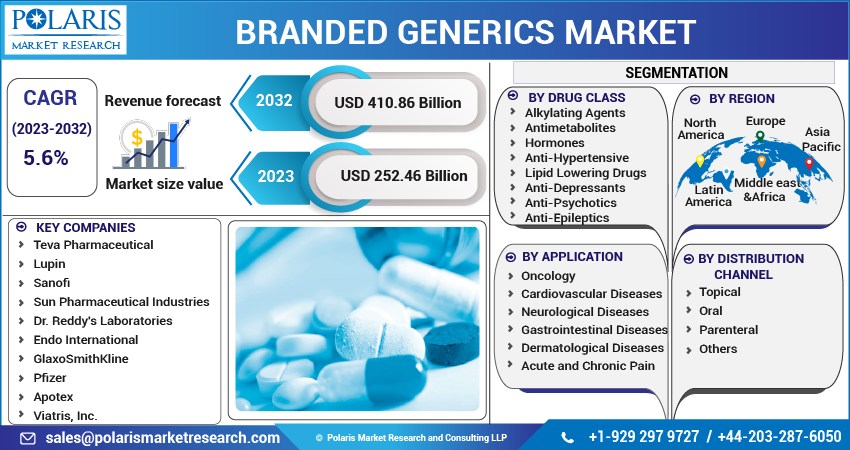 For Specific Research Requirements, Request for a Customized Report
Industry Dynamics
Growth Drivers
High ANDA approvals and the launch of generic products are crucial factors supporting branded generics market growth in the pharmaceutical industry. The FDA's annual report shows that in 2021, 93 first generics were approved, which is an increase from the 72 approved in 2020. However, it is also important to note that the overall number of the ANDA approvals declined from 1,014 in 2019 to around 948 in 2020, & further declined to 776, in 2021. This decrease in the trend of these ANDA approvals for the generic drugs could potentially impede industry growth. Fewer approvals mean that there are fewer generic drugs available in the market, which can result in higher prices for patients and limit their access to affordable healthcare.
Additionally, fewer approvals may also mean that there is less competition in the market, which can result in slower innovation and development of new drugs.
Report Segmentation
The market is primarily segmented based on drug class, application, route of administration, distribution channel, and region.
By Drug Class

By Application

By Distribution Channel

By Region

Alkylating Agents

Antimetabolites

Hormones

Anti-Hypertensive

Lipid Lowering Drugs

Anti-Depressants

Anti-Psychotics

Anti-Epileptics

Others

Oncology

Cardiovascular Diseases

Neurological Diseases

Gastrointestinal Diseases

Dermatological Diseases

Acute and Chronic Pain

Others

Topical

Oral

Parenteral

Others

North America (U.S., Canada)

Europe (France, Germany, UK, Italy, Netherlands, Spain, Russia)

Asia Pacific (Japan, China, India, Malaysia, Indonesia. South Korea)

Latin America (Brazil, Mexico, Argentina)

Middle East & Africa (Saudi Arabia, UAE, Israel, South Africa)
To Understand the Scope of this Report: Speak to Analyst
Anti-hypersensitive segment accounted for the largest market share in 2022
There has been a trend of rising ANDA approvals and product launches in the pharmaceutical industry over the past few years. One example is the introduction of the generic version of Tracleer in the U.S. by Teva Pharmaceuticals & Hikma Pharmaceuticals, in June 2019.
Hormones segment is anticipated to gain significant growth rate over the next coming years, sedentary lifestyles have contributed to an increase in the prevalence of metabolic disorders. These disorders include thyroid and sexual hormone imbalances, which can lead to various health problems, including weight gain, diabetes, and cardiovascular disease. As a result, there has been a growing demand for drugs that can treat these disorders. The development of value-added or complex generics can help to address this demand by providing more effective and affordable treatment options. These drugs are typically more complex than traditional generics and may include additional features such as modified-release formulations or novel delivery systems.
Gastro-intestinal segment held the significant market revenue share in 2022
Gastro-intestinal segment held the maximum market share in terms of revenue in 2022, due to increasing prevalence of gastrointestinal (GI) diseases is an important driver of growth in the pharmaceutical industry. GI diseases include conditions such as acid reflux, ulcers, and inflammatory bowel disease (IBD), which can cause a range of symptoms and complications. One commonly used class of drugs to treat GI diseases is proton pump inhibitors (PPIs). NCBI article suggests that around 113 million prescription PPIs were sold globally in 2020, highlighting the significant demand for these drugs.
Oncology segment registered steady growth over the study period. This is primarily due to rise in cancer cases across the globe. Cancer is a major global health issue, and according to WCRF International, in 2020, there were an estimated 18.1 million cancer cases globally. Of these cases, 9.3 million were among men and 8.8 million were among women. Cancer is a complex disease that can be caused by a range of factors, including genetic mutations, environmental exposures, and lifestyle factors such as diet and physical activity. The incidence of cancer is expected to continue to rise in the coming years, driven by factors such as population growth, aging, and changing lifestyles.
Retail pharmacy segment garnered high share in 2022
Retail pharmacy segment held the largest share. Consolidation in the retail pharmacy industry has also led to increased bargaining power for these companies, allowing them to negotiate better prices and terms with pharmaceutical manufacturers. This has helped to reduce the cost of prescription drugs for patients, while also supporting industry growth by increasing demand for pharmaceutical products. Hospital pharmacies segment recorded robust growth. Due to their importance in treating critical and acute medical conditions, injectable drugs account for a significant proportion of hospital pharmacy sales. These drugs can be expensive and require specialized storage and handling, which can add to their cost.
North America region dominated the global market in 2022
The North America region dominated the global market with considerable market share in 2022, and is expected to maintain its dominance throughout the projected period, due to moderately high penetration of branded generic drugs is one of the factors driving growth in the pharmaceutical industry. This is because branded generics are often considered more affordable and accessible than their branded counterparts, making them an attractive option for patients and healthcare providers. Branded generics are also often preferred by governments and payers due to their lower cost, which helps to control healthcare spending.
The Asia Pacific region is expected to be the fastest growing region with a healthy CAGR over the study period. Countries in the Asia-Pacific region are focusing on the development of their manufacturing hubs to tackle the shortage of life-saving medicines and address the unmet medical needs of their populations. For instance, India has emerged as a major hub for generic pharmaceuticals, with many domestic and multinational companies operating in the country. The country has also established itself as a major supplier of affordable medicines to various countries around the world.
Competitive Insight
Some of the major players operating in the global market include Teva Pharmaceutical, Lupin, Sanofi, Sun Pharmaceutical Industries, Dr. Reddy's Laboratories, Endo International, GlaxoSmithKline, Pfizer, Apotex, and Viatris, Inc.
Recent Developments
In March 2023, Viatris, Inc., Aurobindo Pharma, and Cipla Inc. were granted sublicenses by the United Nations-backed Medicines Patent Pool (MPP) to produce affordable branded generic versions of Apretude, a drug used to treat HIV. The drug is currently manufactured by GSK plc.
Branded Generics Market Report Scope
| | |
| --- | --- |
| Report Attributes | Details |
| Market size value in 2023 | USD 252.46 billion |
| Revenue forecast in 2032 | USD 410.86 billion |
| CAGR | 5.6% from 2023 – 2032 |
| Base year | 2022 |
| Historical data | 2019 – 2021 |
| Forecast period | 2023 – 2032 |
| Quantitative units | Revenue in USD billion and CAGR from 2023 to 2032 |
| Segments covered | By Product Type, By Grade, By End-Use Application, By Region |
| Regional scope | North America, Europe, Asia Pacific, Latin America; Middle East & Africa |
| Key companies | Teva Pharmaceutical, Lupin, Sanofi, Sun Pharmaceutical Industries, Dr. Reddy's Laboratories, Endo International, GlaxoSmithKline, Pfizer, Apotex, and Viatris, Inc. |