The global pharmaceutical gelatin market was valued at USD 1.24 billion in 2022 and is expected to grow at a CAGR of 5.8% during the forecast period. The pharmaceutical business uses gelatin as a raw material. Gelatin capsules shield ingredients like fish oil from oxygen, light, contamination, and microbiological growth. It is crucial in creating film-coated and effervescent tablets and hard and soft capsules. 90% of the gelatin used in pharmaceutical production is converted into commonly prescribed dose forms.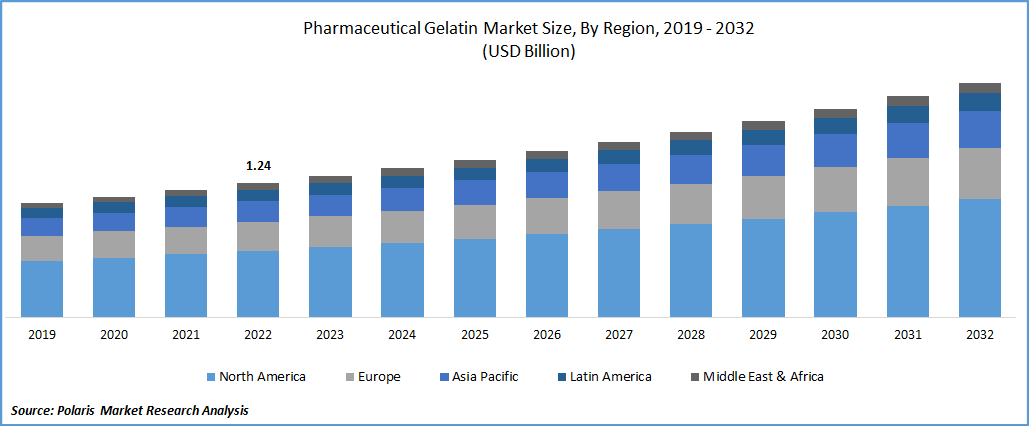 Know more about this report: Request for sample pages
The market is expanding due to the growing use of gelatin in biomedical, intrinsic, and cosmetic applications and wound healing and wound dressing, gene therapy, tissue engineering, bone substitutes, and implants. Market growth is anticipated to be driven by rising demand for gelatin in functional food applications due to its potential to prevent various diseases, enhance food quality, and protect food.
The market is experiencing growth due to several factors, such as increased demand for pharmaceutical-grade gelatin, the growing burden of chronic disease, thankvaccines. Moreover, the expanding use of gelatin in cosmetic applications, biomedical applications like wound healing and dressing, tissue engineering, gene therapy, implants, and bone substitutes are also contributing to market growth. For instance, a study published in March 2021 in PubMed reveals that pharmaceutical gelatin has many applications in manufacturing capsules, coating microparticles or oils, coating tablets, stabilizing emulsions, and delivering drugs using microspheres, nanospheres, scaffolds, microneedles, and hydrogels. These market is expected to grow due to the additional benefits gelatin obtained from fish offers in the pharmaceutical industry, as outlined in the same source. Fish gelatin is immunologically safe, protects against the transmission of diseases such as bovine spongiform encephalopathy and foot-and-mouth disease, and offers environmental and economic benefits. These advantages are likely to drive the market growth of pharmaceutical gelatin.
Moreover, the increasing advancement of gelatin in drug delivery is expected to drive market growth during the forecast period. A study published in November 2021 on Springer Link highlights that gelatin is a biodegradable and biocompatible material that can deliver drugs for tumor therapy, including doxorubicin, cycloheximide, and resveratrol. Gelatin nanoparticles have been suggested as a suitable choice for parenteral formulations due to their low cost, limited antigenicity, biocompatibility, and ability to be used in various formulations. It is expected to increase the demand for parenteral drug delivery systems, thus driving the market growth.
The market is therefore predicted to grow throughout the forecast period due to the innovations offered by gelatin and the rise in demand for pharmaceutical-grade gelatin. However, factors such as the growing veganism trend, societal constraints, and human negative effects from using animal-derived gelatin, among others, are anticipated to restrain market expansion.
COVID-19 has significantly impacted the production and supply chain of gelatin. Lonza, a major player in the capsule market, has reported that the pandemic has affected both the demand and supply chain of pharmaceutical capsules. Furthermore, gelatin has become increasingly important in COVID-19 treatment. For instance, in May 2022, a study of Gelatin Stabilizes Nebulized Proteins in Pulmonary Drug Delivery against COVID-19' found that incorporating gelatin in drug delivery significantly increases the stability and activity of proteins after nebulization to reduced medication dosage. These advantages of gelatin in treating COVID-19 patients will likely result in increased pharmaceutical gelatin adoption.
Industry Dynamics
Growth Drivers
The demand for pharmaceuticals is expected to increase as the global population ages. It is expected to drive the demand for pharmaceutical gelatin, an essential component in many drug formulations. Soft gel capsules are becoming increasingly popular as they are easier to swallow and provide better bioavailability than traditional tablets. As a result, the demand for gelatin as a key ingredient in soft gel capsules is expected to increase, driving the growth of the pharmaceutical gelatin market.
Chronic diseases like diabetes, cancer, and cardiovascular diseases are rising globally. These diseases require long-term medication, likely to drive the demand for pharmaceutical gelatin as a key ingredient in sustained-release formulations. Advancements in gelatin manufacturing technologies are expected to lead to increased efficiency and cost-effectiveness, driving the growth of the market. Gelatin is increasingly being used in tissue engineering and regenerative medicine applications. As these fields grow, the demand for pharmaceutical gelatin as a key component will increase.
Report Segmentation
The market is primarily segmented based on source, function, end-use, and region.
By Source

By Function

By End-Use

By Region

Porcine

Bovine Skin

Bovine Bone

Fish

Poultry

Stabilizing

Thickening

Gelling

Hard Capsule

Soft Capsule

Tablet

Absorbable Hemostat

North America (U.S., Canada)

Europe (France, Germany, UK, Italy, Netherlands, Spain, Russia)

Asia Pacific (Japan, China, India, Malaysia, Indonesia. South Korea)

Latin America (Brazil, Mexico, Argentina)

Middle East & Africa (Saudi Arabia, UAE, Israel, South Africa)
Know more about this report: Request for sample pages
The soft capsules segment is anticipated to hold the highest market share in 2022
The pharmaceutical gelatin market is divided into hard capsules, soft gel capsules, tablets, absorbable hemostats, and other applications based on the application. The market is anticipated to experience the highest growth in the soft gel capsules category during the projected period. Soft gel capsules are advantageous for low-dose lipid-soluble medications because they allow for greater content homogeneity between dosage units, which is anticipated to enhance demand and impact the segment's growth.
The Porcine segment accounted to witness largest significant market share in 2022
Porcine sources hold the largest market share. The main segments are pork, bovine skin, bone, marine, and poultry. One of the main reasons influencing the segment's growth is the quick manufacturing cycle and cost-effective manufacture with the porcine. Due to a greater emphasis on introducing fish gelatin into the market, the marine segment is anticipated to earn a sizable share throughout the projected period.
North America is projected to dominate the market in 2022
The North American region is a significant player in the market. The region's market growth can be attributed to a well-established pharmaceutical industry, increasing R&D activities, and rising demand for pharmaceutical products.
The United States is the largest market for pharmaceutical gelatin in North America. The country's market growth is fueled by factors such as the presence of key gelatin manufacturers, increasing demand for nutraceuticals, and rising investments in R&D activities. Canada also holds a substantial share of the market, primarily driven by the increasing geriatric population, the rising prevalence of chronic diseases, and the growing demand for innovative drug delivery systems.
Moreover, the North American region has a robust regulatory framework and stringent quality standards, which have resulted in a significant demand for high-quality pharmaceutical gelatin products. This demand is expected to increase further in the coming years, owing to the region's increasing focus on improving healthcare infrastructure and rising investments in the pharmaceutical industry.
Competitive Insight
Some of the major players operating in the global market include Tessenderlo Group, Rousselot, Nitta Gelatin Inc., Gelita AG, Catelent Inc., Capsugel, Norland Products Inc, Roxlor llc, Weishardt, and Trobas Pharmaceutical Gelatine B.V, Sterling Gelatin, Aspire Pharmaceuticals, Junca Gelatines, Gelco International, Lapi Gelatine S.p.a.
Recent Developments
In 2022, In response to the need from the food industry to meet standards for foods in the European Union, Lonza increased their Capsugel contribution with a white hard gelatin capsule of titanium dioxide-free (TiO2-free).

In May 2021, X-Pure GelDAT Gelatin Desaminotyrosine for biomedical applications was introduced under the Rousselot brand of Darling Ingredients Inc., expanding the purified pharmaceutical-grade modified gelatin line.

In July 2022, Gelita inaugurated a biotech hub to create proteins using biotechnological methods in pharmaceutical and medical products, cosmetics, and nutrition.
Pharmaceutical Gelatin Market Report Scope
| | |
| --- | --- |
| Report Attributes | Details |
| Market size value in 2023 | USD 1.30 billion |
| Revenue forecast in 2032 | USD 2.17 billion |
| CAGR | 5.8% from 2023 - 2032 |
| Base year | 2022 |
| Historical data | 2019 - 2021 |
| Forecast period | 2023 - 2032 |
| Quantitative units | Revenue in USD billion and CAGR from 2023 to 2032 |
| Segments covered | By Source, By Function, By End Use, By Region |
| Regional scope | North America, Europe, Asia Pacific, Latin America; Middle East & Africa |
| Key companies | Tessenderlo Group, Rousselot, Nitta Gelatin Inc., Gelita AG, Catelent Inc., Capsugel, Norland Products Inc, Roxlor llc, Weishardt, and Trobas Pharmaceutical Gelatine B.V, Sterling Gelatin, Aspire Pharmaceuticals, Junca Gelatines, Gelco International, Lapi Gelatine S.p.a. |