The global cargo drones market was valued at USD 627.88 million in 2022 and is expected to grow at a CAGR of 37.0% during the forecast period. The approval of the relevant governments and the regulations they create to ensure proper air traffic management, adequate data support, efficient controller training, and social adaptability by the population in those countries are the main requirements for the flying of cargo drones in the airspace of various nations. Governments from various nations around the world are working to improve their defense capacities by creating new drone technologies or making improvements to the ones that already exist. These technologies must be able to operate drones in a regulated environment and must adhere to national drone regulations.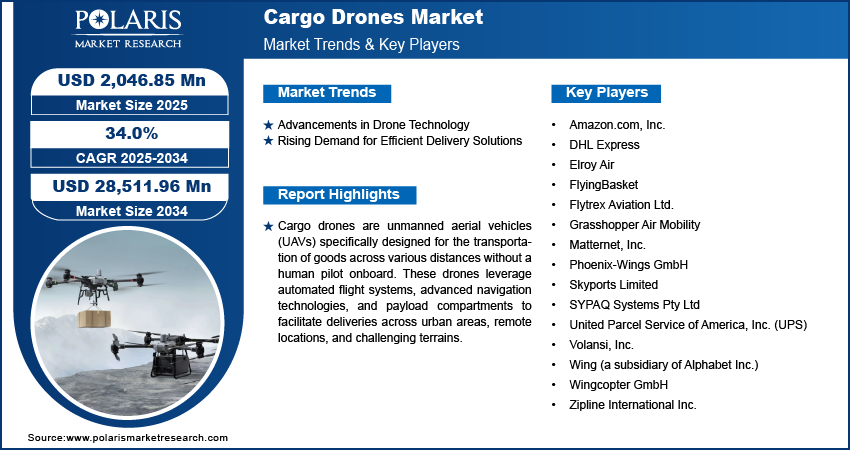 Know more about this report: Request for sample pages
Uncertainty about the expansion of this market is increased by the expense of creating the drone infrastructure and political barriers to getting the necessary approval for the creation of drone ecosystems.
The middle-mile delivery industry sees a big opportunity in the future of drone use in logistics operations. Middle-mile logistics are frequently disregarded while some companies concentrate on last-mile delivery from retailers to customers. Companies are now concentrating on middle-mile logistics, or those that occur between one company and another, such as from a port to a distribution centre or from a distribution centre to a store, due to the higher payloads of cargo drones. Middle-mile drone delivery objectives using intermodal freight networks and semi-trucks. In comparison to those used for last-mile delivery, middle-mile logistics drones have bigger payload capacities and extended ranges. For instance, Elroy Air's Chaparral can carry cargo up to 500 lb and has a 300-mile range.
FedEx (US) teamed up with the eVTOL freight drone company Elroy Air (US) in California in March 2022 to look into autonomous transport options for its middle-mile delivery operations. FedEx Express, a FedEx subsidiary, will begin testing Elroy Air's Chaparral cargo drones in 2023 as per the terms of this deal. Italian aerospace, defense, and security firm Leonardo S.P.A., cargo drone creator and operator FlyingBasket, and Italian postal service provider Poste Italiane collaborated on the initial drone-based delivery experiments in Turin in January 2022. The "middle-mile delivery" trial, which was a component of the "Sumeri Moderni" trial series, was concerned with delivery from a warehouse or distribution center to retail establishments.
Drones face a challenge from the weather because it might cause them to deviate from their planned routes. Drones cannot hover in all-weather situations, just like small aircraft. The characteristics of cargo drones decide their ability to withstand particular weather conditions. Advanced weather data will undoubtedly be crucial in pre-flight planning to make sure that drones can fly their weather-sensitive missions safely and effectively to transport commercial goods. Weather information impacts flight direction, path elevation, operation time, and other in-flight variables during flight operations. Particularly, wind speeds are a crucial element for successful drone-based operations and should be taken into account during the planning and deployment stages of the operation.
The drone business has benefited from the spread of COVID-19. The most crucial aspect of managing this outbreak is to encourage social distance, and drones helped in many tasks that restricted physical contact between people, like checking the temperature at available facilities, delivering medical supplies, and many other things. The flexibility with which drones conduct their working processes is one of the key traits that has facilitated the growth of the cargo drones market.
Precipitation, which can harm electronics, strong winds, which can increase battery usage or even cause drones to lose control, and low temperatures, which significantly lower battery performance, are the weather conditions most likely to prohibit drone use. It's not a good idea to fly your drone in extremely hot weather because the heat can damage various components of it. Less dense hot air makes it more difficult for drone blades to generate lift. As they battle to generate lift, the batteries may overheat. The length of the flight will be reduced as a consequence. As a result, weather presents a significant obstacle for drones.
Industry Dynamics
Growth Drivers
Drone delivery of business packages, food, and pharmacy, healthcare, and other packages reduces CO2 emissions and the carbon impact. Delivery trucks release about 415 million metric tons of carbon dioxide annually, or about 25% of all transportation-related emissions in the US, according to the US Environmental Protection Agency, accounting for 31% of the country's GHG emissions in 2021.
Depending on whether a small payload drone or a large payload drone makes the delivery, the GHG emissions related to cargo drones differ. Smaller payload cargo drones emit fewer grammes of CO2 equivalent per package than bigger cargo drones and electric trucks. Enhancing warehouse energy efficiency and lowering the amount of power produced from carbon-intensive fuels can both have significant positive effects. As a result, it is expected that the cargo drones market for cargo drones will expand during the forecast period due to the growing need to reduce carbon emissions in transportation. A maker of enormous autonomous cargo drones, Natilus (US), asserted in February 2022 that its technology would cut the cost of air freight by 60% and its carbon emissions by 50%.
Report Segmentation
The market is primarily segmented based on industry, range and region.
By Industry

By Range

By Region

Retail

Healthcare

Agriculture

Defence

Maritime

C

lose – Range

Short- Range

Mid – Range

Long - Range

North America (U.S., Canada)

Europe (France, Germany, UK, Italy, Netherlands, Spain, Russia)

Asia Pacific (Japan, China, India, Malaysia, Indonesia. South Korea)

Latin America (Brazil, Mexico, Argentina)

Middle East & Africa (Saudi Arabia, UAE, Israel, South Africa)
Know more about this report: Request for sample pages
In 2022, the healthcare segment has dominated the market & accounting for the largest market share.
The cargo drones market has been divided into segments by sector, including retail, healthcare, agriculture, defense, and maritime. The healthcare sector of the cargo drones market is being driven by the need to provide medical assistance in rural and remote locations.
The Mid - Range segment will account for a higher share of the market during forecast period
During the forecast term, a higher CAGR is anticipated for the mid-range segment. This market sector is being driven by the growing demand for low-cost, quick, and long-distance cargo transportation.
The demand in North America is expected to witness significant growth during forecast period
According to estimates, the Asia Pacific region will have the highest CAGR during the forecast period. Since the Asia Pacific region has been expanding its manufacturing capabilities by establishing new developments in the cargo drone industry, the nations in this area present significant opportunities for manufacturers of cargo drones. Growing expenditures in cargo drones from nations like India, China, and Japan are propelling the development of this area.
Competitive Insight
Some of the major players operating in the global cargo drones market include Flying Basket (Italy), Natilus (US), ARC Aerosystems (UK), Dronamics (UK), H3 Dynamics (Singapore), Kaman Corporation (US) and Sabrewing Aircraft Company (US).
Recent Developments
Ameriflight, a pioneer in freight operations, signed an Aircraft Purchase Agreement with Natilus in January 2023, making it the first regional US airline to do so. The total value of contracts for the delivery of 460+ aircraft has increased to USD 6.8 billion thanks to Ameriflight's acquisition of 20 Natilus Kona feeder aircraft for USD 134 million.

In November 2022, Dronamics, the leading middle-mile cargo drone developer and operator in the market, and Cranfield Aerospace Solutions (CAeS), a pioneer in the development of zero-emission solutions for aerospace, announced that they would be combining their expertise to integrate hydrogen fuel-cell technology into the Black Swan, Dronamics' long-range cargo drone.
Cargo Drone Market Report Scope
| | |
| --- | --- |
| Report Attributes | Details |
| Market size value in 2023 | USD 858.31 million |
| Revenue forecast in 2032 | USD 14,592.47 million |
| CAGR | 37.0% from 2023 to 2032 |
| Base year | 2022 |
| Historical data | 2019 - 2021 |
| Forecast period | 2023 - 2032 |
| Quantitative units | Revenue in USD million and CAGR from 2023 to 2032 |
| Segments covered | By Industry, By Range, By Region |
| Regional scope | North America, Europe, Asia Pacific, Latin America; Middle East & Africa |
| Key companies | Flying Basket (Italy), Natilus (US), ARC Aerosystems (UK), Dronamics (UK), H3 Dynamics (Singapore), Kaman Corporation (US) and Sabrewing Aircraft Company (US). |