The global chemoinformatics market was valued at USD 2.89 billion in 2022 and is expected to grow at a CAGR of 15.6% during the forecast period.
Rising incidence of chronic diseases, necessitating the development of new drugs to address these health challenges. Additionally, there is a growing need to validate a vast number of potential drug candidates, which are being developed using advanced combinatorial chemical methods. Furthermore, the effective management of data generated during molecular and atomic reactions has become crucial. As scientific research becomes more intricate, managing this data efficiently is essential for drawing meaningful conclusions.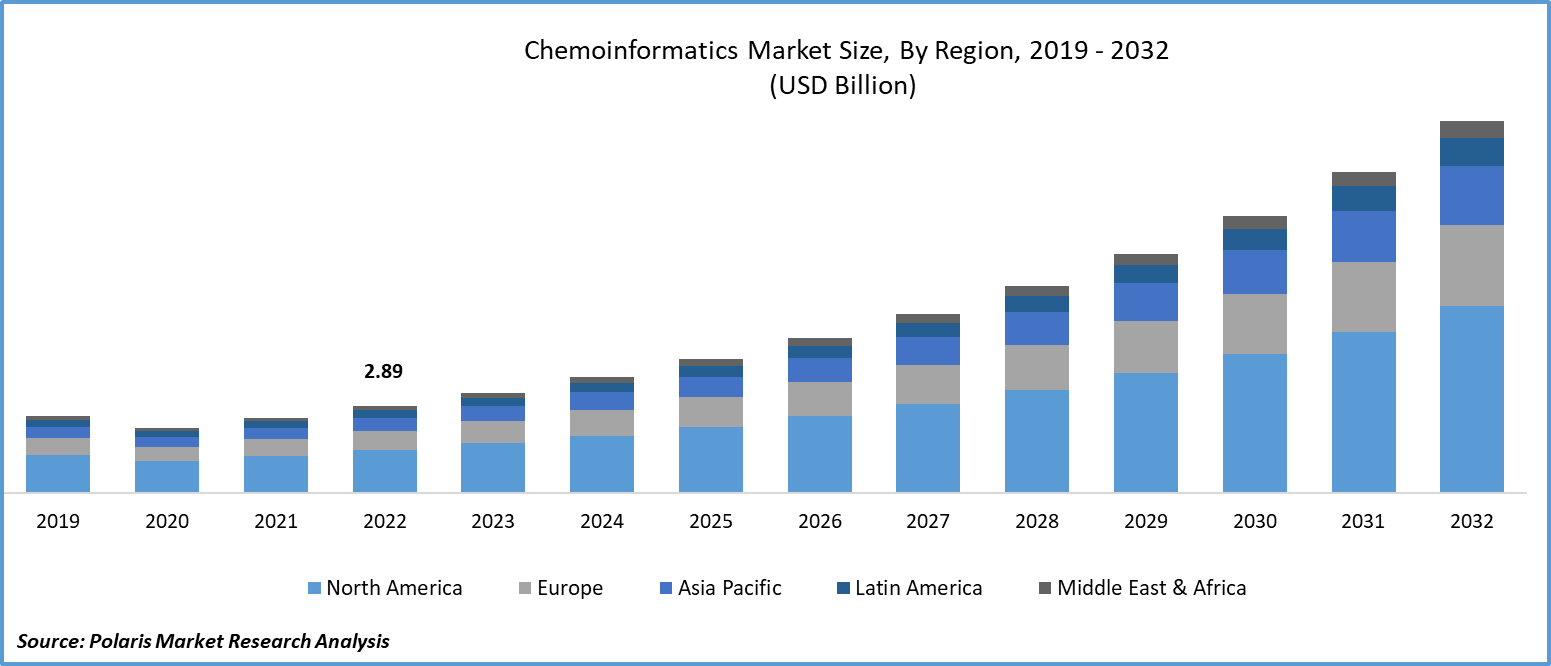 To Understand More About this Research: Request a Free Sample Report
Alongside this, increased investments in research and development efforts are further fueling advancements in this field. These investments support the exploration of new drug candidates and facilitate the development of innovative solutions to tackle various diseases. Together, these factors are contributing significantly to the growth of the market, driving advancements in drug discovery and molecular research.
In contemporary drug discovery, the collaboration between chemoinformatics and quantitative structure–activity relationship (QSAR) modeling has become a powerful combination. It empowers researchers to leverage machine learning (ML) techniques for predictive molecular design and analysis. Chemoinformatics, shedding light on the complex nature of chemical data and the essential role of molecular descriptors in uncovering molecular properties. Key descriptors, such as 2D fingerprints and topological indices, alongside structure–activity relationships (SARs), are crucial in guiding small-molecule drug discovery.
Various ML algorithms, including regression analysis and support vector machines, are highlighted for their ability to predict and understand the connections between molecular structures and biological activities. It offers researchers insights into the synergy between chemo-informatics, QSAR, & ML. By embracing these technologies, predictive analysis holds the potential to accelerate the discovery of innovative therapeutic agents in the field of pharmaceutical sciences.
Increasing awareness about personalized medicine and the need for more effective medications, coupled with the growing burden of chronic diseases, is driving the demand for new drug development. This scenario is significantly boosting the chemoinformatics industry. These techniques are widely applied in different stages of drug design, fundamentally transforming the drug discovery process. They play a crucial role in identifying promising lead targets with higher success rate estimates, thus increasing the probability of success and reducing the historically high drug attrition rates.
Due to the massive volume of data generated in synthesizing new, potential drug candidates through this approach. This huge amount of data is achievable with the help of pertinent tools. The integration of AI & Machine Learning (ML) techniques within the chemoinformatics will transform the field. ML based algorithms can analyze vast amounts of chemical & biological data can candidate's characteristics & molecular interactions.
AI-driven methods play a vital role in expediting drug discovery processes by aiding in virtual screening, lead optimization, and toxicity prediction. As the volume of chemical and biological data continues to expand exponentially, sophisticated data analytics techniques are essential. Big data analytics platforms seamlessly incorporate chemoinformatic tools with data mining, statistical analysis, and visualization features. These platforms empower researchers to analyze extensive databases effectively, extracting valuable insights. Ultimately, this accelerates the drug discovery and development processes.
Industry Dynamics
Growth Drivers
Advancements in Computational Power
One of the pivotal factors driving the chemoinformatics market growth in chemoinformatics is the remarkable progress in computer technology. These advancements have revolutionized the field by enabling the handling of extensive chemical databases & complex calculations at un-precedented speeds and efficiency levels. The advent of the cloud computing has further transformed the landscape, providing researchers and scientists with instant access to vast computational resources. This access allows for scalable and collaborative research in chemoinformatics.
Additionally, enhancements in data storage and management technologies have streamlined the organization and retrieval of chemical data. By analyzing individual patient data & tailoring treatments based on desired molecular profiles, these advancements have significantly enhanced the precision and effectiveness of medical interventions.
Report Segmentation
The market is primarily segmented based on application, end use, and region.
By Application

By End Use

By Region

Chemical Analysis

Drug Discovery

Drug Validation

Others

Chemical & pharmaceutical companies

Research & academic institutions

Biotechnology

North America (U.S., Canada)

Europe (France, Germany, UK, Italy, Netherlands, Spain, Russia)

Asia Pacific (Japan, China, India, Malaysia, Indonesia. South Korea)

Latin America (Brazil, Mexico, Argentina)

Middle East & Africa (Saudi Arabia, UAE, Israel, South Africa)
To Understand the Scope of this Report: Speak to Analyst
By Application Analysis
Chemical analysis segment accounted for the largest market share
Chemical analysis segment held the largest revenue share. The chemical analysis sector took precedence in the market. Ensuring accuracy and precision in chemical analysis is vital for generating dependable data for multiple chemoinformatics applications, including structure-activity relationship (SAR) modeling and virtual screening. Progress in chromatography, spectrometry, and spectroscopy has notably enhanced the effectiveness of chemical analysis. This sector plays a pivotal role in bolstering drug discovery, formulation, and development processes, as well as in guaranteeing the safety and effectiveness of pharmaceutical products.
Drug discovery expected to register steady growth rate. This significant growth is attributed to heightened investments in research and development (R&D) and the relatively low success rate of potential leads evolving into viable drug molecules. The field of chemoinformatics plays a vital role in the creation of innovative medicines, thanks to its versatile tools used in various aspects of drug development.
These include target identification, drug validation, ADMET predictions, quantitative relationships, molecular modeling, & 3D structure development. Its in-silico approach has been revolutionary in solving complex molecular and atomic-level challenges in the drug development sector. The adoption of automation-based rapid screening techniques, particularly high throughput screening methods, has further accelerated growth.
Regional Insights
North America region dominated the global market in 2022
North America emerged as the largest region. This was due to the region's high focus on research and development (R&D) and the integration of cutting-edge technologies. Additionally, the rising prevalence of chronic diseases and the presence of major players in the drug manufacturing sector played a significant role.
The growing awareness among patients about healthcare services and the increasing demand for personalized medicine are anticipated to drive market expansion. Furthermore, region boasts a strong position in the global pharmaceuticals industry and has a robust R&D presence. The region's advanced IT infrastructure further supports its thriving pharmaceutical and biotechnology sectors, contributing significantly to its market growth.
APAC region will grow rapidly. Several thriving economies in the Asia Pacific, including India, China, & Singapore, have become attractive hubs for major multinational companies conducting research. This is due to cost-effective manufacturing and labor, coupled with favorable manufacturing conditions. Moreover, the substantial rise in research initiatives in the rapidly emerging economies of the region is poised to bolster this growth even further.
Key Market Players & Competitive Insights
Market participants employ vital business strategies like launching new products, obtaining regulatory approvals, strategic acquisitions, and fostering innovations to sustain and expand their global presence. These strategies enable companies to adapt to changing market demands, enhance their product portfolios, secure a competitive edge, and explore new market opportunities. By introducing innovative products, acquiring strategic assets or businesses, and gaining regulatory approvals, companies can strengthen their foothold in existing markets and expand into new regions, ensuring their continued growth and relevance in the competitive landscape.
Some of the major players operating in the global market include:
ACD/Labs, Inc.

Agilent Technologies, Inc.

Bio-Rad Laboratories, Inc.

BIOVIA (formerly Accelrys)

Cambridgesoft Corp.

ChemAxon, Inc.

Molecular Discovery Ltd

Schrödinger, LLC
Recent Developments
In June 2022, ChemAxon, revealed its partnership with the Tetra Partner Network. This collaboration aims to significantly enhance customers' ability to discover and synthesize chemical compounds with improved property profiles.

In April 2023, Agilent Technologies has revealed its acquisition of advanced artificial intelligence (AI) technology developed by the Virtual Control. This AI and machine learning software provider specializes in creating distinctive analytical solutions for laboratory testing. Agilent plans to integrate the ACIES software into its renowned gas chromatography and mass spectrometry (GC/MS) equipment, aiming to enhance productivity, efficiency, & accuracy in their processes.
Chemoinformatics Market Report Scope
| | |
| --- | --- |
| Report Attributes | Details |
| Market size value in 2023 | USD 3.33 billion |
| Revenue forecast in 2032 | USD 12.33 billion |
| CAGR | 15.6% from 2023 – 2032 |
| Base year | 2022 |
| Historical data | 2019 – 2021 |
| Forecast period | 2023 – 2032 |
| Quantitative units | Revenue in USD billion and CAGR from 2023 to 2032 |
| Segments covered | By Application, By End use,By Region |
| Regional scope | North America, Europe, Asia Pacific, Latin America; Middle East & Africa |
| Customization | Report customization as per your requirements with respect to countries, region and segmentation. |