The global circulating tumor cells market was valued at USD 10.68 billion in 2021 and is expected to grow at a CAGR of 14.9% during the forecast period. Circulating tumor cells (CTCs) are a rare group identified in the blood of solid tumor patients that serve as a seed for metastases. Single migrating CTCs or multicellular groupings CTC clusters are two ways cancer spread through the bloodstream.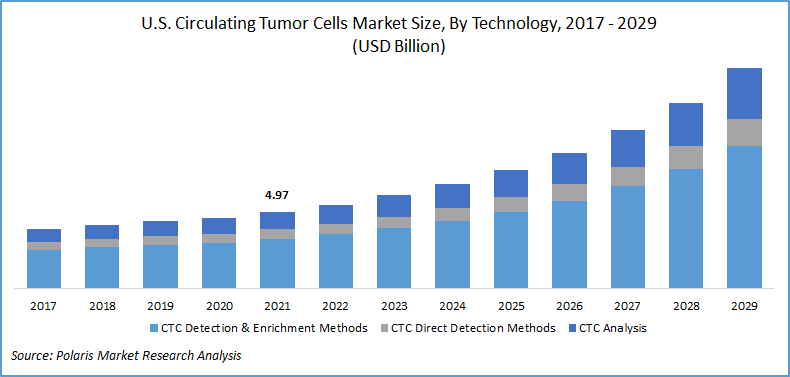 Know more about this report: request for sample pages
CTCs are highly suitable for developing preclinical models, particularly 3D organoid cultures, for use in drug screening, disease modeling, genome editing, and organoid biobanks. The rising need for preventative medicine and companion diagnostics and the increasing occurrence of cancer are contributing to the growth of the circulating tumor cells market.
According to the data provided by the World Health Organization, cancer is a leading cause of death worldwide, accounting for nearly 10 million deaths in 2020. Cancer cases are increasing due to tobacco use, high body mass index, low fruit and vegetable intake, alcohol use, and lack of physical activity.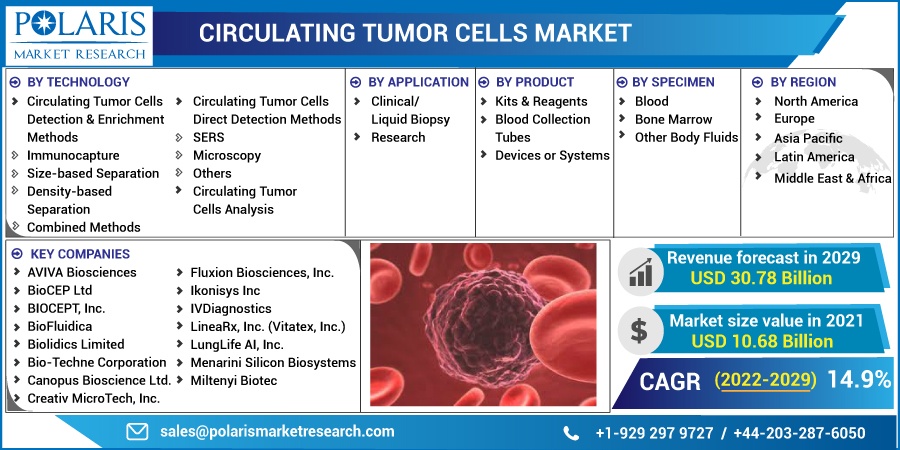 Know more about this report: request for sample pages
Industry Dynamics
Growth Drivers
The rising prevalence of different types of cancer is expected to drive the industry. The most common cancer in 2020 was breast cancer with 2.26 million cases and lung cancer with 2.21 million cases. The cancer burden can also be reduced through early detection of cancer and appropriate treatment and care of patients who develop cancer. Circulating cancer cells are also highly suitable for developing preclinical models, particularly 3D organoid cultures, for use in drug screening, disease modeling, genome editing, and organoid biobanks, therefore driving the growth of the industry.
Growing demand for companion diagnostics is fueling the demand for the market. Factors driving the demand for companion diagnostics are increased R&D of targeted therapies, increased demand for personalized medicine with increased awareness in emerging economies, the discovery of new biomarkers for various conditions, and a higher number of unmet needs for cancer treatment.
Report Segmentation
The market is primarily segmented on the basis of technology, application, product, specimen, and region.
By Technology

By Application

By Product

By Specimen

By Region

Circulating Tumor Cells Detection & Enrichment Methods

Immunocapture
Size-based Separation
Density-based Separation
Combined Methods

Circulating Tumor Cells Direct Detection Methods
Circulating Tumor Cells Analysis

Clinical/ Liquid Biopsy
Research

Kits & Reagents
Blood Collection Tubes
Devices or Systems

Blood
Bone Marrow
Other Body Fluids

North America (U.S., Canada)
Europe (France, Germany, UK, Italy, Spain, Rest of Europe)
Asia Pacific (Japan, China, India, South Korea, Rest of Asia Pacific)
Latin America (Brazil, Mexico, Argentina, Rest of Latin America)
Middle East & Africa (Saudi Arabia, UAE, Rest of Middle East & Africa)
Know more about this report: request for sample pages
Insight by Technology
Circulating tumor cells detection & enrichment method segment accounted for the largest share in 2021. There is positive or negative enrichment of circulating lump based on biological properties. Positive enrichment refers to the capture of tumor; however, negative enrichment, which involves the marking of antigens that are not expressed on CTCs but are expressed on other blood plates.
Insight by Product
In 2021, the devices market segment of circulating tumor cells accounted for the largest revenue share. The introduction of manufactured glass microchips to overcome obstacles and improve technical completeness for mass production is projected to move this market forward.
Advances in microfluidic technology are fueling segment growth. Microfluidics and microfabrication techniques have advanced significantly over the last decade. Chemical engineering, biotechnology, pharmaceutics, and medicine have all benefited from the use of microfluidic devices and systems as diverse research tools.
Insight by Specimen
In 2021, the blood specimen segment of the circulating tumor cells market accounted for the largest revenue share. The highest penetration of this specimen type is due to a high concentration of these in blood samples compared to other biospecimens. Furthermore, technological improvements have effectively accelerated genomic changes among these cells, boosting the market's growth prospects.
Geographic Overview
In 2021, North America accounted for the largest market share for the circulating tumor industry due to the operations of key players in the region such as Advanced Cell Diagnostics Aviva Biosciences, Biocept, Inc., Apocell, Inc., Biofluidica, Inc, and CellTraffix, Inc. Furthermore, with the rising prevalence of cancer diseases in the U.S the demand for the circulating tumor cells market, is growing. Some other elements contributing to its large share include increased market penetration rates and technologically upgraded cancer care infrastructure.
Competitive Insight
Major players in the circulating tumor cells market include AVIVA Biosciences BioCEP Ltd, BIOCEPT, Inc., BioFluidica, Biolidics Limited, Bio-Techne Corporation, Canopus Bioscience Ltd., Creativ MicroTech, Inc., Epic Sciences, Fluxion Biosciences, Inc., Greiner Bio-One International GmbH, Ikonisys Inc, IVDiagnostics, LineaRx, Inc. (Vitatex, Inc.), LungLife AI, Inc., Menarini Silicon Biosystems, Miltenyi Biotec, Precision for Medicine, QIAGEN, Rarecells Diagnostics, ScreenCell, STEMCELL Technologies, Inc., Sysmex Corporation. Companies are launching new products, collaborating with key market players in order to expand their distribution network.
For instance, Biocept announces the release of a Liquid Biopsy Test to Detect TRK Biomarkers in the Blood of Cancer Patients. Biocept now offers 20 CLIA-certified liquid biopsy tests that use its Target SelectorTM platform to identify the status of actionable solid tumor biomarkers, due to the addition of this new assay.
In November 2019, Biolidics, a Singapore-based medical technology company, has signed a negotiated agreement with Sysmex, a Japanese producer of hematology products, for the development of laboratory-developed tests (LDT) to identify cancer.
Circulating Tumor Cells Market Report Scope
| | |
| --- | --- |
| Report Attributes | Details |
| Market size value in 2021 | USD 10.68 Billion |
| Revenue forecast in 2029 | USD 30.78 Billion |
| CAGR | 14.9% from 2022 - 2029 |
| Base year | 2021 |
| Historical data | 2017 - 2029 |
| Forecast period | 2022 - 2029 |
| Quantitative units | Revenue in USD million and CAGR from 2022 to 2029 |
| Segments covered | By Technology, By Application, By Product, By Specimen, By Region |
| Regional scope | North America, Europe, Asia Pacific, Latin America; Middle East & Africa |
| Key Companies | AVIVA Biosciences BioCEP Ltd, BIOCEPT, Inc., BioFluidica, Biolidics Limited, Bio-Techne Corporation, Canopus Bioscience Ltd., Creativ MicroTech, Inc., Epic Sciences, Fluxion Biosciences, Inc., Greiner Bio-One International GmbH, Ikonisys Inc, IVDiagnostics, LineaRx, Inc. (Vitatex, Inc.), LungLife AI, Inc., Menarini Silicon Biosystems, Miltenyi Biotec, Precision for Medicine, QIAGEN, ScreenCell, STEMCELL Technologies, Inc., Sysmex Corporation. |