The global claims processing software market was estimated at USD 36.3 billion in 2021 and is projected to grow at a CAGR of 8.4% during the forecast period.
The market is rapidly expanding and is anticipated to grow further during the forecast period. Insurers use claims management software to manage and review insurance claims. This is due to an increase in the transition from manual processing to AI automation. Among the services provided by this system are data collection, settlement, authorization, payment tracking, recovery, communications management, and monitoring.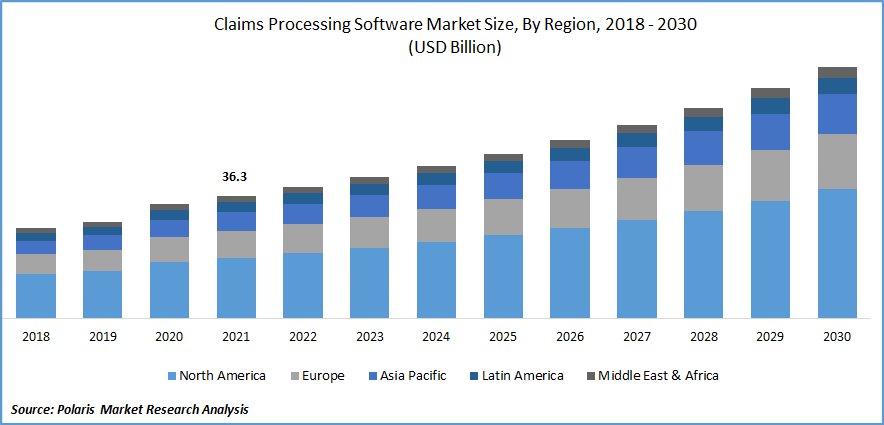 Know more about this report: Request for sample pages
They manage and review insurance claims; insurers employ insurance claims management software. It enables data collection and settlement for insurance businesses to be automated. Other capabilities include payment tracking, recovery tracks, legal matter processing, monitoring, and authorization and authorization processes. Operations for processing claims must be customer-focused, economical, and flexible for insurers, healthcare providers, and manufacturers. So, top companies in these industries use claims management software to minimize operational inefficiencies and legacy problems, lower maintenance and training costs, and enhance the customer experience.
The COVID-19 pandemic has positively affected the market since consumers of health insurance, and general insurance insisted on claim settlements due to ongoing health issues and business losses. This sudden increase in claim settlement became difficult for insurance companies to manage, so they began to adopt claims processing software that could simultaneously handle large amounts of claims. Furthermore, it sped up the process, saving employees time and effort. As a result, demand for insurance claims management software increased during the COVID-19 pandemic.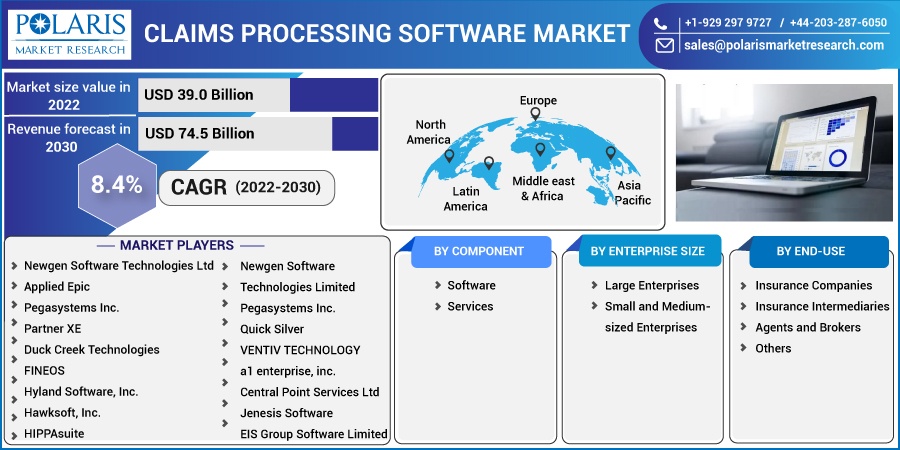 Know more about this report: Request for sample pages
Industry Dynamics
Growth Drivers
Claims processing software enables insurance companies to manage all aspects of claims within a single system, allowing for easier access to consumer data and improved workflow. Independent companies use it to streamline the claims management process. Furthermore, this software eliminates manual methods' requirements while reducing errors, saving time, and improving data accuracy. As a result, this summarises the factors influencing the success of such softwares.
Moreover, customer preference for claims processing tools will create a lucrative market as claims settlements become faster in the coming years. By using a single platform for all data sources, automation reduces the costs associated with claim processing. It also aids in the routing of claims for review and approval processes, increasing payment uniformity and the timely payment of claims.
According to the American Medical Association's (AMA) National Health Insurer Report Card, eliminating claim errors could save approximately USD 17 billion annually (on average). Regulatory requirements such as the Health Insurance Portability and Accountability Act (HIPAA) are met through automation. Health insurance payers invest in claims management systems to improve interoperability, the release of new insurance claims, and the efficiency of claims processing.
Report Segmentation
The market is primarily segmented based on component, enterprise size, end-user, and region.
By Component

By Enterprise Size

By End-Use

By Region

Large Enterprises
Small and Medium-sized Enterprises

Insurance Companies
Insurance Intermediaries
Agents and Brokers
Others

North America (U.S., Canada)
Europe (France, Germany, UK, Italy, Netherlands, Spain, Russia)
Asia Pacific (Japan, China, India, Malaysia, Indonesia, South Korea)
Latin America (Brazil, Mexico, Argentina)
Middle East & Africa (Saudi Arabia, U.A.E., Israel, South Africa)
Know more about this report: Request for sample pages
The Software segment is expected to observe the fastest growth.
In 2021, the software segment sub-part was anticipated to increase throughout the projected period. A comprehensive view of claims makes it easier to spot inconsistencies and detect potential fraud early. Furthermore, this software can detect errors faster than the human eye. The accurate information presented in the resulting reports and complete status overviews can be attributed to an integrated machine learning and artificial intelligence system.
On the other hand, the services sector is estimated to grow at the fastest rate during the projected period. This is because claims processing services allow businesses to handle any volume of transactions efficiently. Claim processing service providers assist healthcare practices in shortening the time it takes to process claims by efficiently balancing surges in processing requirements. The time saved from this can be used to mitigate more effectively. The time saved can be better used to reduce problems, improve cash flow, and focus on other core goals of an organization.
Small and Medium-sized Enterprises accounted for the largest market share in 2021
It is anticipated that small and medium-sized enterprises will hold the largest market share and maintain their dominance during the forecast period because the software for small and medium-sized businesses ensures accurate data processing, leading to better service and increasing customer satisfaction. In addition, it assists insurance companies in thriving in the market. The cost-effectiveness of claims processing software is attributed to the segment's rapid growth. Furthermore, this software significantly reduces time and allows the organization to use that time for other purposes.
The Insurance Companies segment is projected to witness the fastest growth
Insurance companies can operate more efficiently by providing faster access to claims data. The program also improves process visibility by tracking claim process performance. Business automation lowers costs, which insurance companies use to gain a competitive advantage in the market. This helps employees save time and increase productivity, allowing them to serve their clients better.
The demand in North America is expected to witness significant growth.
The global market in North America is estimated to expand appreciably during the forecast period because North America has seen a higher adoption rate of cloud-based solutions due to the growing digitalization in the insurance & e-commerce sectors, to boost region's growth. Because of the region's strong presence of insurance and significant claims management solution providers, the region is expected to dominate during the forecast period.
Implementing new strategies such as business expansion and product launches are some of the major factors driving demand among the various insurance companies in this region. Furthermore, the increased focus on IoT-based solutions across different areas will support the market's growth prospects during the forecast period.
Asia-Pacific is expected to have a significant revenue share during the forecast period. Many financial institutions implement claims processing software to improve business efficiency, reduce risk exposure, and increase organizational bureaucracy. As a result, these are the primary growth factors in the region. The region is supposed to hold a significant share due to rising awareness of medical claims, which is expected to boost the market. In addition, India and China are the major countries driving global market growth due to the rising population.
Competitive Insight
Key players include Newgen Software, Applied Epic, Pegasystems, Partner XE, FINEOS, Hyland Software, Hawksoft, HIPPAsuite, Quick Silver, VENTIV TECHNOLOGY, A1 Enterprise, Central Point Services, Jenesis Software, EIS Group Software, HawkSoft, and EZLynx.
Recent Developments
In May 2022, Pegasystems partnered with Tech Mahindra to create a larger ecosystem to drive the introduction of innovative industry solutions to enable customers' accelerated digital transformation.
In February 2021, FINEOS allied with Partners Life to focus on replacing existing claims systems and processes while offering a diverse value proposition. Furthermore, this collaboration would bring significant operational benefits, such as integrated, efficient, and automated workflow processes and precise claims covering life.
Claims Processing Software Market Report Scope
| | |
| --- | --- |
| Report Attributes | Details |
| Market size value in 2022 | USD 39.0 billion |
| Revenue forecast in 2030 | USD 74.5 billion |
| CAGR | 8.4% from 2022 – 2030 |
| Base year | 2021 |
| Historical data | 2018 - 2020 |
| Forecast period | 2022 - 2030 |
| Quantitative units | Revenue in USD billion and CAGR from 2022 to 2030 |
| Segments Covered | By Components, By Enterprise Size, By End-Use, and By Region |
| Regional scope | North America, Europe, Asia Pacific, Latin America; Middle East & Africa |
| Key Companies | Newgen Software Technologies Limited, Applied Epic, Pegasystems Inc., Partner XE, Duck Creek Technologies, FINEOS, Hyland Software, Inc., Hawksoft, Inc., HIPPAsuite, Newgen Software Technologies Limited, Pegasystems Inc., Quick Silver, VENTIV TECHNOLOGY, a1 enterprise, inc. Central Point Services Limited, Jenesis Software, EIS Group Software Limited, HawkSoft Inc., EZLynx., and others. |