The global complementary and alternative medicine market was valued at USD 82.78 billion in 2020 and is expected to grow at a CAGR of 21.9% during the forecast period. The market is expected to grow in the coming years as a result of the evolving regulatory landscape and strong government initiatives, resulting in the creation of strong transnational links through healing channels that bind global, national, and local movements in alternative medicine.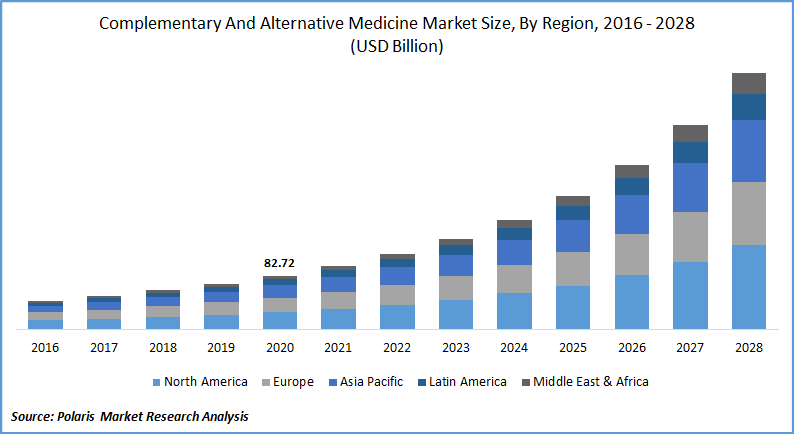 Know more about this report: request for sample pages
Furthermore, government programs addressing norms related to the right to health in all of its types are expected to bolster service providers' and consumers' participation in the area of alternative and complementary medicine. Government programs, such as increased targeted investment, the creation of government facilities, and the release of guidelines to make proper use of complementary and alternative medicine, all help to drive demand for integrative wellness and complementary medicine practices (CAM).
Industry Dynamics
Growth Drivers
The global market is driven by rising public awareness of the benefits of alternative natural therapies is boosting the industry. However, most alternative medicine approaches are less effective and are not licensed by regulatory bodies, which is expected to hinder the complementary and alternative medicine market growth.
Besides, in the coming years, research into the use of conventional medicines for the care of COVID-19 patients is expected to gain momentum. Traditional treatments for COVID-19 patients are being promoted by governments all over the world; however, it is critical to adhere to the traditional testing criteria established for all other drug candidates.
This trend has emerged as a result of research into the ability of various medicinal plants to provide effective treatment to COVID-19 patients, and it is expected to have a positive impact on the market development for complementary and alternative medicine.
The lack of scientific evidence to back up natural drug practitioners' claims has become a stumbling block for alternative drug practitioners. Shortly, however, robust support for clinical trials along these lines is expected to resolve this constraint.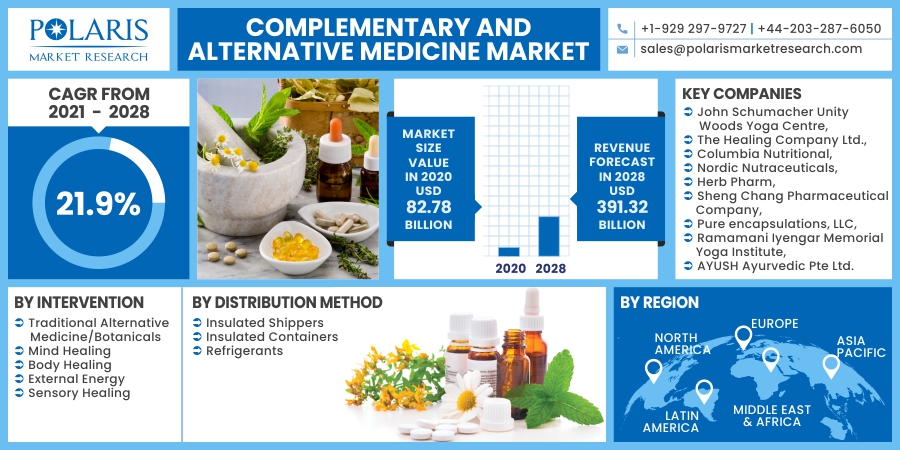 Know more about this report: request for sample pages
Complementary And Alternative Medicine Market Report Scope
The market is primarily segmented based on intervention, distribution method, and region.
By Intervention

By Distribution Method

By Region

Traditional Alternative Medicine/Botanicals

Ayurveda
Apitherapy
Bach Flower Therapy
Naturopathic
Traditional Chinese
Traditional Korean
Traditional Japanese
Traditional Mongolian
Traditional Tibetan
Zang-Fu Theory

Mind Healing

Autosuggestion
Hypnotherapy
Neuro-linguistic Programming
Self-hypnosis
Spiritual Mind Treatment
Transcendental Meditation

Body Healing

Acupressure
Acupuncture
Alexander Technique
Auriculotherapy
Autogenic Training
Chiropractic
Cupping Therapy
Kinesiology
Osteomyology
Osteopathy
Pilates
Qigong
Reflexology
Yoga

External Energy

Magnetic Therapy

Bio-magnetic Therapy
Magnetic Resonance Therapy

Radionics
Reiki
Therapeutic Touch
Chakra Healing

Sensory Healing

Aromatherapy
Music therapy
Sonopuncture
Sound Therapy

Direct Sales
E-sales
Distance Correspondence

North America (U.S., Canada)
Europe (France, Germany, UK, Italy, Spain, Netherlands, Austria)
Asia Pacific (Japan, China, India, Malaysia, Indonesia, South Korea)
Latin America (Brazil, Mexico, Argentina)
Middle East & Africa (Saudi Arabia, UAE, Israel, South Africa)
Know more about this report: request for sample pages
Insight by Intervention
In 2020, botanicals or traditional alternative medicine dominated the market for complementary and alternative medicine. Botanicals are most commonly used complementary and alternative in many countries. Herbal supplements, homeopathic drugs, and other natural ingredients are all used to produce them. They are widely used in the majority of countries as dietary supplements in addition to traditional food and drug.
Other products, such as herbal oils and tea, have become increasingly popular in developed nations. Herbal products are commonly used, and this trend is expected to continue, enhancing the market growth. Medicinal herbs have grown in popularity as a result of their ability to be processed and shipped in a variety of forms, including capsules, syrups, ointments, teas, and whole herbs.
Insight by Distribution Method
In 2020, direct sales accounted for the bulk of revenue. Because of the tremendous growth in medical tourism, the care offered by direct sales is projected to lead the market for complementary and alternative medicine.
This trend is bolstered by government support to expand care facilities and encourage alternative medicine. To expand their enterprises, numerous local acupuncture and Ayurveda practitioners and entities are looking into the direct delivery of complementary medicine and alternative therapies.
During the forecasted period, the distance correspondence is attaining the fastest CAGR. One of the key factors contributing to this segment's robust sales is the increased preference for distance education and training programs for yoga and meditation, as well as the increasing acceptance of distance mind healing strategies by the majority of practitioners.
Geographic Overview
Europe complementary and alternative medicine market is expected to account for a substantial revenue share in the forecasted period. Complementary and alternative therapies, which include a broad variety of treatments that are less reliant on modern drugs, such as acupuncture, have exploded in popularity throughout Europe. Since 2000, the number of hospitals in Norway that offer complementary and alternative medicine, especially acupuncture, has increased significantly.
Acupuncture treatments were available in more than 40% of Norwegian hospitals as early as 2008. Furthermore, in both outpatient and in-patient hospital settings in Norway, acupuncture remains the most commonly used and demanded complementary and alternative drug therapy.
From 2021 to 2028, the Middle East & Africa complementary and alternative medicine industry are projected to witness the fastest growth. The number of alternative medicine practitioners in the area has increased significantly.
The market for herbal drugs in Middle Eastern countries has been examined in a variety of studies. These studies conduct targeted analyses of factors such as medicinal plant use, availability, and affordability across the country, thereby boosting the market growth for complementary and alternative medicine.
Competitive Insight
Key market players in the complementary and alternative medicine industry are concentrating their energies on strategic acquisitions to boost their research and development capabilities, which will help them provide creative solutions to users and gain a competitive edge.
Few major players operating the market for complementary and alternative medicine include John Schumacher Unity Woods Yoga Centre, The Healing Company Ltd., Columbia Nutritional, Nordic Nutraceuticals, Herb Pharm, Sheng Chang Pharmaceutical Company, Pure encapsulations, LLC, Ramamani Iyengar Memorial Yoga Institute, and AYUSH Ayurvedic Pte Ltd.