The global data visualization tools market was valued at USD 6.67 billion in 2022 and is expected to grow at a CAGR of 11.3% during the forecast period.
The fast-paced business environment demands access to real-time data and insights. Data visualization tools that can provide up-to-the-minute information are vital for organizations seeking agility and responsiveness. The proliferation of data analytics across industries underscores the need for robust data visualization tools. These tools are crucial for presenting the findings of data analysis effectively, facilitating data-driven decision-making.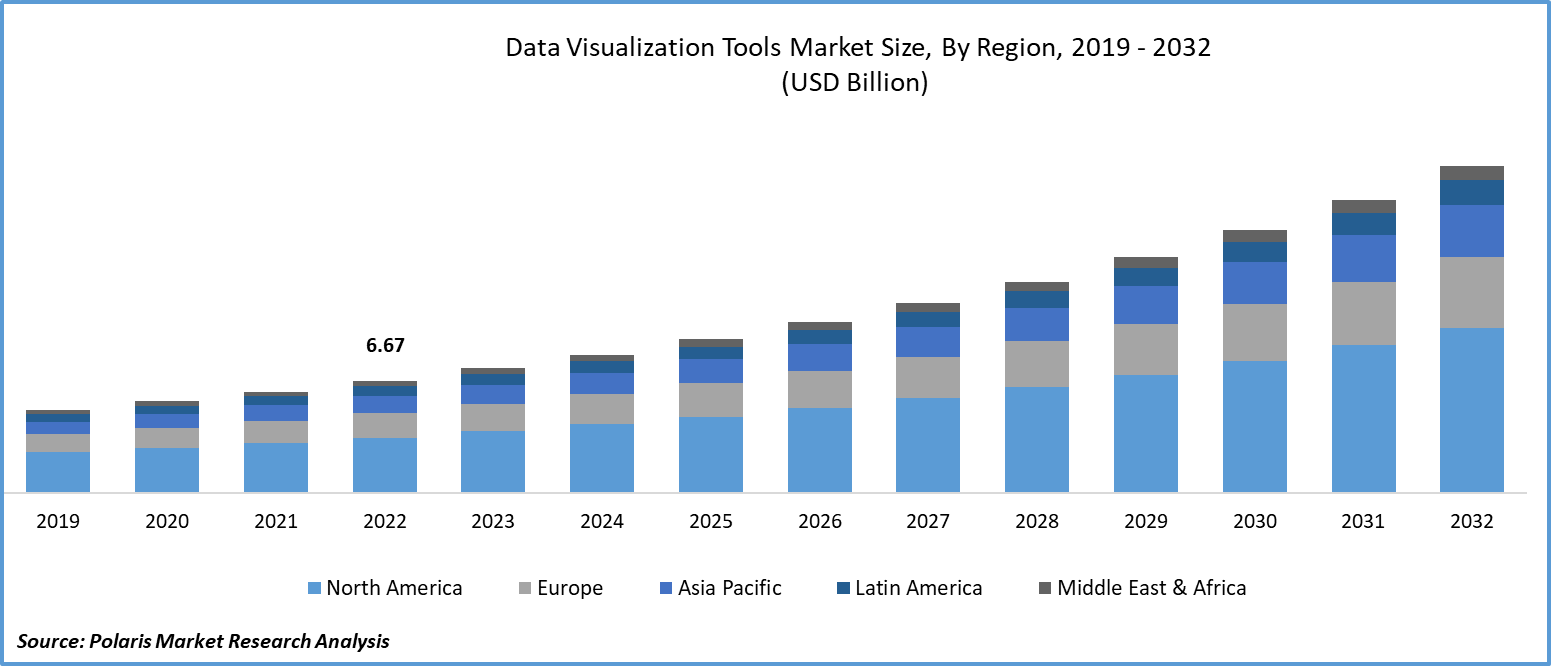 To Understand More About this Research: Request a Free Sample Report
Data visualization tools with user-friendly interfaces broaden their user base, enabling professionals from diverse fields, including non-technical staff, to create, interpret, and interact with data visualizations. Intuitive interfaces are increasingly valued in the data visualization tools market.
In addition, several companies are expanding their offerings to cater to the growing consumer demand.
For instance, in May 2021, PredictiVu launched Dynamic Marketing Optimizer (DMO), a centralized next-gen automated AI-powered data visualization tool.
The integration of artificial intelligence (AI) and machine learning (ML) capabilities within data visualization tools unlocks opportunities for advanced analytics and predictive modeling. These tools can provide more insightful visualizations and assist in uncovering patterns and trends in complex data. Businesses seek data visualization tools that can be customized to align with their specific branding and reporting needs. Scalability is essential for accommodating data growth and varying business requirements over time.
Various sectors, such as healthcare, finance, e-commerce, and marketing, have unique data visualization requirements. Tailored solutions for specific industry verticals present opportunities for specialized vendors to provide niche offerings.
Growth Drivers
Increase in data complexity, adoption of data-driven decision-making, and technological advancements is projected to spur the market demand
The increasing intricacy of data, encompassing vast datasets and unstructured information, underscores the need for highly advanced data visualization tools capable of effectively managing and presenting this complexity.
With a growing awareness of the benefits of data-driven strategies, data visualization tools have evolved into pivotal assets for translating raw data into actionable insights. This transformation is further propelled by the ready availability of real-time data, solidifying the tools' importance in facilitating well-informed decision-making.
The extensive adoption of Business Intelligence (BI) solutions has led to a considerable demand for integrated data visualization functionalities. Businesses are actively pursuing the creation of interactive, visually engaging dashboards and reports that effectively convey insights to key stakeholders.
Report Segmentation
The market is primarily segmented based on offering, deployment, application, end use industry, and region.
By Offering

By Deployment

By Application

By End Use Industry

By Region

Finance

Marketing & Sales

Operations

Human Resources

Others

Healthcare & Life Sciences

BFSI

IT and Telecommunication

Retail and E-commerce

Transportation & logistics

Others

North America (U.S., Canada)

Europe (France, Germany, UK, Italy, Netherlands, Spain, Russia)

Asia Pacific (Japan, China, India, Malaysia, Indonesia. South Korea)

Latin America (Brazil, Mexico, Argentina)

Middle East & Africa (Saudi Arabia, UAE, Israel, South Africa)
To Understand the Scope of this Report: Speak to Analyst
By Offering Analysis
Software segment accounted for a significant share in 2022
The software segment accounted for a significant share in 2022. The escalating complexity and volume of data require advanced visualization tools for comprehending and harnessing insights. Data-driven decision-making has become a cornerstone of business strategy, creating a demand for software that present data in actionable formats. Business intelligence adoption is on the rise, necessitating integrated data visualization for interactive dashboards and informed decisions. Real-time insights and the growth of data analytics further fuel the demand for data visualization software. The integration of AI and machine learning, user-friendly interfaces, cross-device compatibility, and customization options amplify the market's momentum, serving diverse industries' evolving needs.
By Deployment Analysis
On-premise segment accounted for a significant share in 2022
The on-premise segment accounted for a significant share in 2022. On-premise deployment of data visualization tools involves installing and running these applications within an organization's local infrastructure. This approach offers several benefits, including greater data control, customization, improved performance, compliance adherence, robust data governance, enhanced security measures, and seamless integration with existing systems. This is especially relevant for industries with stringent privacy and security requirements, like healthcare and finance. However, on-premise deployment also entails higher initial expenses, the need for dedicated IT support, and potential scalability and remote access limitations.
By End Use Industry Analysis
Healthcare & life sciences segment is expected to experience significant growth during the forecast period
The healthcare & life sciences segment is expected to experience significant growth during the forecast period. Data visualization tools are essential in the healthcare and life sciences sector, offering numerous advantages. They enable healthcare professionals to analyze patient data, make informed treatment decisions, and engage patients effectively. In life sciences, these tools are critical for visualizing complex molecular data, aiding in drug discovery and genetic research. Epidemiological analysis and disease tracking benefit from data visualization, as do pharmaceutical sales, marketing, and healthcare operations. These tools enhance drug safety monitoring, support public health initiatives, and help researchers present their findings effectively. Data visualization is integral in transforming complex data into actionable insights for better patient care and scientific progress in healthcare and life sciences.
Regional Insights
North America emerged as the largest region in 2022
North America emerged as the largest region in 2022. The market for data visualization tools is witnessing substantial growth as these tools serve as the essential bridge between raw data and actionable insights. They empower businesses to distill intricate datasets into clear visuals, enabling better decision-making. Business intelligence (BI) adoption is a major catalyst driving the data visualization tools market. Enterprises across various industries in the U.S. are embracing these tools to gain a competitive edge. By utilizing data visualization, they can transform data into strategic insights, resulting in informed decision-making and enhanced performance. Self-service business intelligence is a rising trend that significantly impacts the market. The self-service approach empowers users to create their visualizations, reports, and dashboards without heavy reliance on IT departments. This shift not only streamlines processes but also democratizes data access and analytics, driving the market's expansion.
The data visualization tools market in Asia-Pacific is experiencing robust growth, propelled by several key drivers. The region's increasing emphasis on data-driven decision-making and rapid digital transformation are significant factors. Government initiatives supporting data analytics across sectors, along with industry-specific solutions, are fostering market expansion. Cloud adoption is on the rise, offering scalability and accessibility. The integration of AI and ML enhances predictive analytics and automation. Regulatory compliance, particularly in finance and healthcare, drives the adoption of data visualization tools. Opportunities lie in healthcare analytics, financial services, education, government, SMEs, and advanced analytics, making the Asia-Pacific market dynamic and promising.
Key Market Players & Competitive Insights
The data visualization tools sector exhibits a fragmented landscape, and competition is expected to intensify due to the active participation of numerous players. Prominent firms in this industry consistently introduce innovative strategies to bolster their market position. These key players prioritize strategies like forming partnerships and fostering collaborations to gain a competitive edge over their peers and establish a significant market presence.
Some of the major players operating in the global market include:
Alibaba Cloud

Amazon Web Services, Inc.

Domo

Google

IBM

Information Builders

Microsoft Corporation

MicroStrategy

Oracle

Salesforce, Inc.

SAP

SAS Institute Inc.

Sisense Inc.

TIBCO software

Qlik
Recent Developments
In August 2022, Reveal introduced a new data visualization solution, which utilizes the company's artificial intelligence system. The solution is aimed at assisting users to map the patterns through various data points from common communication apps.

In April 2022, TCN, Inc introduced Data Explorer, a cutting-edge data visualization tool. This latest addition empowers contact centers to efficiently optimize real-time data organization and administration, simplifying the process of maintaining high-quality data and meeting compliance requirements proactively.
Data Visualization Tools Market Report Scope
| | |
| --- | --- |
| Report Attributes | Details |
| Market size value in 2023 | USD 7.40 billion |
| Revenue forecast in 2032 | USD 19.40 billion |
| CAGR | 11.3% from 2023 – 2032 |
| Base year | 2022 |
| Historical data | 2019 - 2021 |
| Forecast period | 2023 – 2032 |
| Quantitative units | Revenue in USD billion and CAGR from 2023 to 2032 |
| Segments covered | By Offering, By Deployment, By Application, By End Use Industry, By Region |
| Regional scope | North America, Europe, Asia Pacific, Latin America; Middle East & Africa |
| Customization | Report customization as per your requirements with respect to countries, region and segmentation. |