The global diaphragm pacing therapy system market was valued at USD 4.9 million in 2019 and is expected to grow at a CAGR of 5.6% during the forecast period. The market growth of diaphragm pacing therapy is due to increasing invasive mechanical ventilation (IMV) complications which results in lung injuries, infection and muscle atrophy. Additionally, the market is showing lucrative growth by the increasing occurrence of Spinal Cord Injuries (SCI) and amyotrophic lateral sclerosis (ALS).
Diaphragm pacing is a method to assist and support people who are facing problem in breathing on their own. It can be used to replace mechanical ventilator when required. It is a desired treatment for patients suffering with congenital central hypoventilation syndrome (CCHS) and the people who suffered a huge cervical spinal cord injury.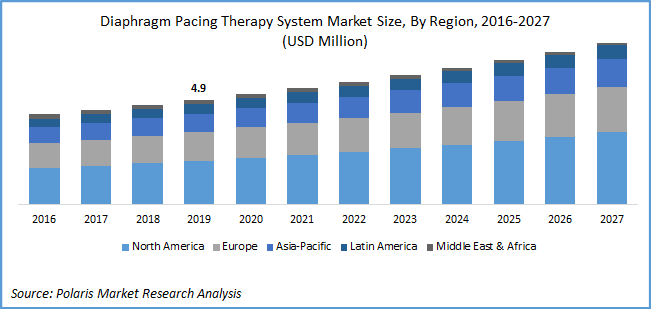 Know more about this report: request for sample pages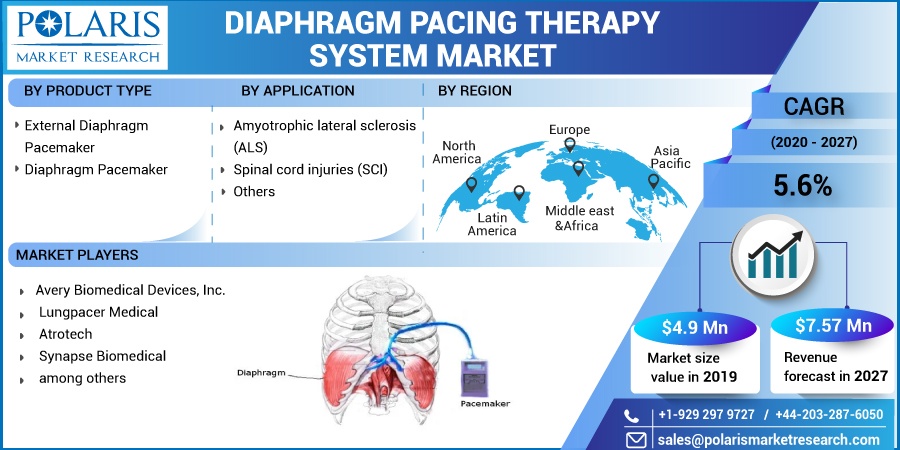 Know more about this report: request for sample pages
Industry Dynamics
Growth Drivers
The key market driving factors of global Diaphragm pacing therapy system market includes increasing prevalence of SCI (Spinal Cord Injuries) and rising occurrences of ALS (Amyotrophic lateral sclerosis). For instance, as per the National Spinal Cord Injury Statistical Center report in 2019, nearly 17,730 new SCI cases are accounted every year and nearly between 249,000 and 363,000 people are presently surviving with SCI in the U.S. Moreover, the global market is showing significant growth owing to rising technological advancements and rising product innovations and launches in the segment to thrive the market growth. The several benefits associated with diaphragm pacing therapy system like, less dependency on mechanical ventilators and allowing patients to breath more efficiently and naturally without the use of ventilators thrives the market growth in the forecast period.
Additionally, rapidly surging in figures of cases with COVID-19 has resulted in need of numerous mechanical ventilators, globally. Diaphragm pacing therapy system is very useful in treatment of COVID-19 suffering patients, where restricted or very less number of mechanical ventilators are available. For instance, in July 2020, nearly 3.8 million patients have tested positive for coronavirus in the America coupling with nearly 1.12 million people in India who are suffering from coronavirus. These rising numbers of COVID-19 is anticipating immense requirement of Diaphragm pacing therapy systems in the near future.
Diaphragm Pacing Therapy System Market Report Scope
The market is primarily segmented on the basis of Product Type, by Application and geographic region.
By Product type

By Application

By Region

External Diaphragm Pacemaker
Diaphragm Pacemaker

Amyotrophic lateral sclerosis (ALS)
Spinal cord injuries (SCI)
Others

North America (U.S., Canada)
Europe (France, Germany, UK, Italy, Spain, Netherlands, Austria)
Asia Pacific (Japan, China, India, South Korea)
Latin America (Brazil, Mexico)
MEA (Saudi Arabia, UAE, Israel, South Africa)
Know more about this report: request for sample pages
Insight by Product Type
On focusing on product type, the global market is bifurcated into an external diaphragm pacemaker and diaphragm pacemaker. The external pacemaker holds dominant position in the market owing to its increase usage in congenital central hypoventilation syndrome and cervical spinal ailments. Moreover, the diaphragm pacemaker diminishes the concern regarding power outages, and the need for an external power source thereby fueling the market growth for this segment. With this there are some other advantages of this segment these include, a reduction in respiratory infections and rising mobility in patients have surged the segment market growth, globally.
Insight by Application
Based on application, the global market is divided into spinal injuries, ALS and others. The SCI segment is expected to contribute significant growth because of the rising figures & incidence of SCI cases yearly. For instance, as per the report published by the National Spinal Cord Injury Statistical Center, nearly 288,000 people were surviving with spinal cord injuries in the America in 2018. Additionally, rising vehicular crashes, accidents, sports/recreation activities, falls, have risen the SCI patient numbers and gradually the demand for such systems.
Moreover, there is a huge diaphragm pace therapy system requirement for the treatment of ALS patients. This is attributed due to ALS includes breathing muscles and if not treated properly may cause pulmonary ailments and respiratory disorder. Additionally, as per the ALS Association statistics, in 2018, around 5,000 U.S. individuals were suffered with ALS each year. This has given lucrative demand for the global market in the segment.
Geographic Overview
Geographically, the market is bifurcated into five major regions which include, North America, Europe, Asia Pacific, Latin America and MEA. North America is holds dominant market share in the growth of Diaphragm pacing therapy system. This growth is attributed due to rising government initiatives and support, surging COVID-19 cases in America and rising healthcare investment in the region. For instance, in July 2016, the Lungpacer Diaphragm Pacing System achieved the early market access status by the U.S. FDA, which assist the organization in nourishing and expanding its market position in the U.S.
Moreover, The Asia Pacific region is predicted to grow at a lucrative rate throughout the prediction period. The surging growth can be attributed due to the increasing R&D investments to develop technologically advanced healthcare infrastructure. Additionally, favorable government regulations also surge the market growth in the region. Rising per capita income of the region is also boosting the market growth of Diaphragm pacing therapy system in the near future.
Furthermore, European regions also contributes significant growth in the Diaphragm pacing therapy system market owing to the existence of vital service providers with enhanced and updated healthcare solutions. Additionally, rising new product launches and increasing healthcare infrastructure in the region shows impressive growth in Europe. European regions mainly include, Germany, Russia, France and Spain who contributes major share in the market. The relaxations in the government regulations and increasing assistance by the government bodies and several private institutions surge the market growth of Diaphragm pacing therapy system in the region. Moreover, rising awareness amongst the citizens regarding the treatment and Diaphragm pacing therapy system thrives the market growth in the region.
Competitive Insight
The key market focused to emphasize their market share and product portfolio in the market by adopting several effective approaches like, new product launches, expansions, joint ventures, collaboration, and merges and acquisitions (M&A) to improve and build remarkable footprints in the market for long term. Some of the major players operating the global market include Avery Biomedical Devices, Inc., Lungpacer Medical, Atrotech, Synapse Biomedical, and among others.