The Global Digital Signature Market size was valued at USD 1.5 billion in 2019 and is anticipated to grow at a CAGR of 41.5% during the forecast period. Digital signatures have witnessed tremendous adoption rates in the past, especially in countries such as China. These adoption rates have resulted in the automation of document workflows and has resulted in increase in paper free processes, thus providing users avenues to improve their efficiency as well as operations speed
Digital signature software benefits are not limited to the convenience of digital signature only. These benefits encompass a wide array such as elimination of paperwork bottlenecks, digitization of documents, and improved and swift workflow from various departments of an enterprise. The overall market is benefitting due to several factors such as drafting of legal laws pertaining to digital signatures, increased Solution rivalry and rising need to remain competitive especially among small & medium scale enterprise (SME), rising customer preference for digital interaction, effective tackling of concerns pertaining to security as well as compliance, and rising number of mobile device users among others.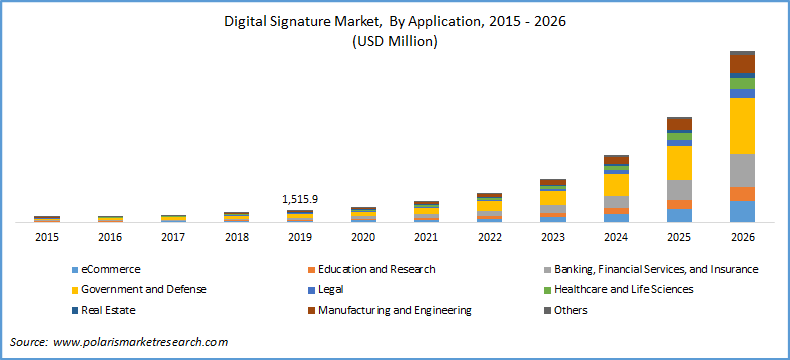 Know more about this report: request for sample pages
One of the most definitive trends that is driving the market is the urge of offices to go paperless. Companies are seeking digital signatures as they perceive that this will help them to reduce costs, offset traditional storage and maintenance associated with hard papers, and will streamline the overall operations.
Some of the drivers driving the market are Digital Experience Expectation, Awareness regarding digital signature legal acceptance, SME competition, Compliance and Security and Mobile device usage growth. Mobile devices usage growth driver is bound to turn into a definitive trend in the coming years. Rising number of mobile device users is directly benefitting the usage of digital signatures in applications such as BSFI.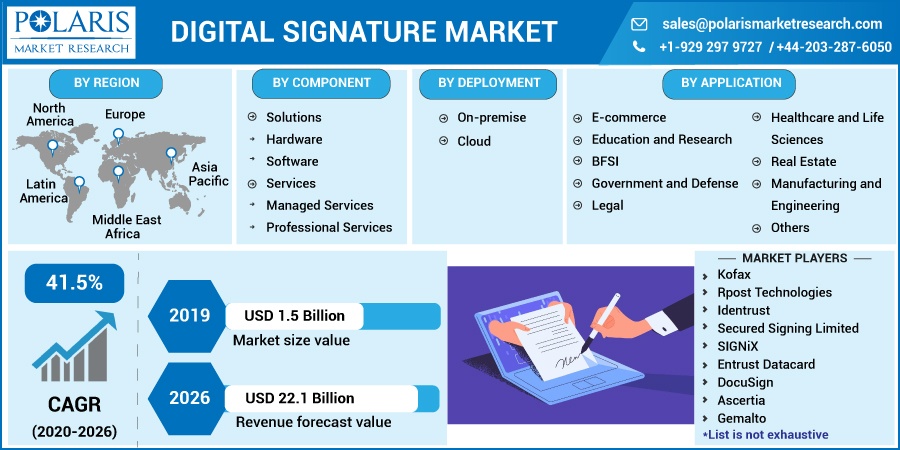 Know more about this report: request for sample pages
Digital Signature Market Report Scope
The market is primarily segmented on the basis of Component, By Deployment, By Application, and geographic region.
By Component

By Deployment

By Application

By Region

Solutions
Services

Managed Services
Professional Services

E-commerce
Education and Research
BFSI
Government and Defense
Legal
Healthcare and Life Sciences
Real Estate
Manufacturing and Engineering
Others

North America (U.S., Canada, Mexico)
Europe (France, Germany, UK, Italy, Spain)
Asia Pacific (Japan, China, India, Australia)
South America (Brazil, Chile)
MEA (Saudi Arabia, UAE, Qatar, Oman)
Know more about this report: request for sample pages
Component Outlook
The Digital signature market is marred by disputes over the validity of electronic contracts. These has given rise to a nuanced legal implication all around the globe. Solution participants therefore need to educate their clients regarding the legal validity, current rules and regulations pertaining to digital signatures. This may aid companies to mitigate the risks and costs associated with legal disputes thus saving a lot of money and manpower.
This has resulted in a number of companies securing the services of third-party vendors for their digital purpose needs. These third-party companies verify the identity of the signatory through means such as asking for verified bankcards, confirmation via texts and so on. Third party users provide high security and compliance to ensure tamper proof and disclosure free services thus limiting the risks of legal disputes to their clients.
Deployment Outlook
On the basis of cloud, the market has been segmented into cloud and on-premise. The segment is also expected to witness the highest penetration during this tenure. Major market participants have entered into an agreement with cloud solution organizations to provide seamless digital signature integration via cloud. For example, Adobe Sign and Cloud Signature Consortium entered into a partnership, to provide enhanced and seamless integration. Cloud Signature Consortium is a dedicated organization committed to defining new and better standards for digital signatures that are cloud based.
Pay-as-you-go cloud based systems are one of the definitive current trends in the market. It has been observed that the number of owners opting for this model for a period of zero to six months, and zero to twelve months is significantly higher than on premise model. However, as the subscription period increases, the demand shifts from cloud based to subscription based.
Regional Outlook
It is expected that Asia Pacific is anticipated to witness highest growth rate over the next six years. Rising penetration of internet in the region has benefitted the overall market growth in the country. This rising penetration has resulted in the inclusion of underbanked as well as the unbanked population in the mainstream financial activities. This population is using BFSI services from their smartphones thus benefitting the growth of the digital signature market.
E-commerce activities in China have witnessed tremendous rise in the country in the recent past and the momentum is expected to continue over the next few years. Ever increasing mobile phone user penetration, decreasing internet access costs, wide product portfolio are some of the reasons for e-commerce growth. These activities have in-turn have stemmed a rise in online payments which is proving beneficial for the overall market traction.
Competitive Landscape
Subscriber costs are costs that a digital signer has to pay to secure the digital signature software. It also includes the cost related to issue a certificate from competent certificate authority. The cost also includes hardware costs such as the cost required to secure subscriber's private key. Costs associated with verification software, and to gain access to certificate revocation lists (CRL) are also included in this Application. Such costs may prove to be a burden especially for SMEs. Solution participants need to find out ways to mitigate these costs so as to provide a more cost-effective working model.
Some of the leading players in the market include Kofax, Rpost Technologies, Identrust, Secured Signing Limited, SIGNiX, Entrust Datacard, DocuSign, Ascertia, Gemalto, OneSpan, Adobe, and Hellosign among others. Ability to sign multiple number of documents in a single stride or operation similar to batch signing, Adding multiple signatures to a document either in a specific order or as per the needs of the document, Facilitation of document signing upon receiving a trigger, The ability for the addition of a non-refutable signature for purposes such as approval of form or workflow, Ability to sign off on list items on a per unit basis were some of the areas that Solution participants need to addressing order to increase their market share.