The global digital therapeutics market was valued at USD 2.18 billion in 2020 and is expected to grow at a CAGR of 26.1% during the forecast period. The public has become more conscious of the rapidly evolving digital world. Furthermore, the market for digital therapeutic is fueled by increasing chronic disease prevalence and rapid technological advancements.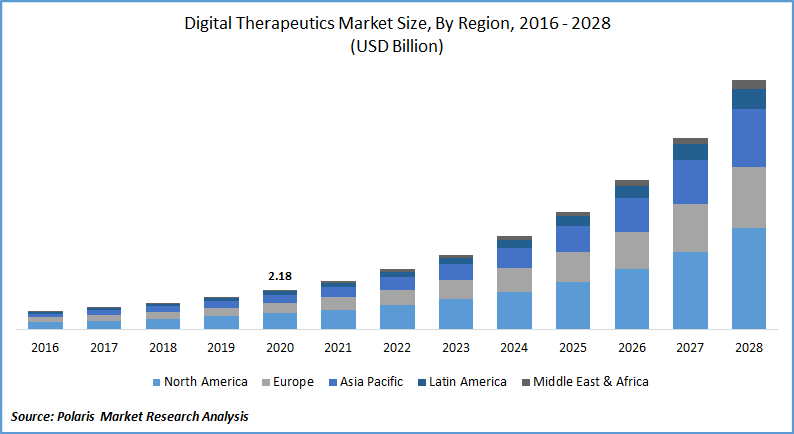 Know more about this report: request for sample pages
As a result of the introduction of emerging technology and solutions, end-user awareness is expected to grow, propelling the digital therapeutics industry forward. Consumer attitudes toward digital health are expected to continue to change, as will their appetite for affordable, personalized, and engaging medical solutions.
Industry Dynamics
Growth Drivers
Another important technological factor for the demand for digital therapeutics is the increase in smartphone and internet use among people. The Indian market is the world's fastest-growing application market, according to a report published by the India Cellular and Electronics Association, in July 2020. In 2019, the nation had 500 million smartphone users, with that number projected to increase to 829 million, by 2022.
The outbreak of COVID-19 had a positive influence on the concerned market. The emergence of demand for easy and affordable digital health solutions is the primary COVID-related market driver. For the duration of the pandemic, the FDA announced in April 2020 that it will make it easier to get and use digital health therapeutic devices for mental health issues.
As a result, digital therapeutics providers can commercialize their solutions without having to comply with traditional regulatory standards, as long as the products do not pose an unnecessary risk in light of the public health emergency.
A factor that is anticipated to push the therapeutics market forward is mental wellbeing. The pandemic worsened mental health problems, highlighting the need for new treatment methods. This opens up a lucrative opportunity for digital therapeutics firms.
The U.S., for example, will hold presidential elections in November 2020. The Food & Drug Administration agency has approved Nightware, a digital therapeutics firm, for the temporary reduction of sleep disruption in PTSD patients.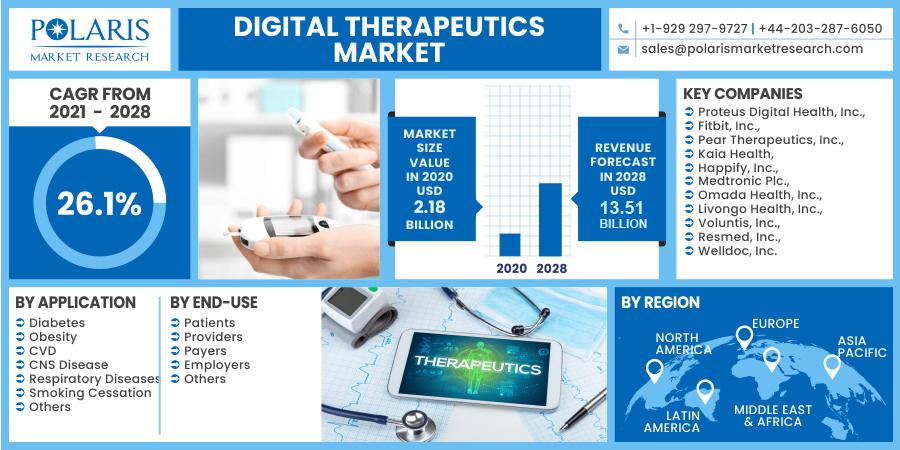 Know more about this report: request for sample pages
Digital Therapeutics Market Report Scope
The market is primarily segmented based on application, end-use, and geographic region.
By Application

By End-Use

By Region

Diabetes
Obesity
CVD
CNS Disease
Respiratory Diseases
Smoking Cessation
Others

Patients
Providers
Payers
Employers
Others

North America (U.S., Canada)
Europe (France, Germany, UK, Italy, Spain, Netherlands, Austria)
Asia Pacific (Japan, China, India, Malaysia, Indonesia, South Korea)
Latin America (Brazil, Mexico, Argentina)
Middle East & Africa (Saudi Arabia, UAE, Israel, South Africa)
Know more about this report: request for sample pages
Insight by Application
In 2020, the diabetes market segment dominated the digital therapeutics industry. In the given timeframe, this therapeutics application segment is likely to rise at the fastest rate. Diabetes is becoming more common in the world's population, which is fueling this development. As per the IDF, there were 463 million diabetics in the world in 2019, with 700 million anticipated by 2045.
As a result, market demand for related digital therapeutics solutions is expected to increase. Patients with diabetes, for example, need careful treatment, coaching, and instruction to cope with symptoms such as polydipsia, polyuria, and polyphagia, as well as medication reminders.
Insight by End-Use
In 2020, the patient market segment dominated the digital therapeutics industry, and it is anticipated to attain significant market share over the forecast period. Therapeutic healthcare applications and services are mostly used for patients. The market for digital therapeutics is growing in response to the growing number of patients suffering from chronic illnesses.
Geographic Overview
With the presence of key market players for digital therapeutics, growing government policies, well-developed healthcare systems, and the rising prevalence of chronic health problems, North America digital therapeutics held the largest share, in 2020.
The U.S. FDA published recommendations in April 2020 to increase the use of digital devices for psychiatric conditions. The FDA planned to support people who were breaking home quarantine orders without any need for in-clinic appointments during the COVID-19 health emergency.
Asia Pacific digital therapeutics is anticipated to grow at the fastest pace due to two major factors including a large and relatively young demographic audience, which translates into a massive target base, and rapid urbanization and digitization. Furthermore, ongoing reforms in the countries for infrastructure deficits and maintain long-term growth.
According to the India Cellular and Electronics Association's 2020 report, 97.0% of internet users in India use mobile devices to access the internet, owing to factors such as lower smartphone costs, increased mobile data availability, a rise in the number of rural users, and government initiatives.
Competitive Insight
Key market players in the digital therapeutics market are concentrating their energies on strategic acquisitions to boost their research and development capabilities, which will help them provide creative solutions to users and gain a competitive edge.
Market participants such as Proteus Digital Health, Inc., Fitbit, Inc., Pear Therapeutics, Inc., Kaia Health, Happify, Inc., Medtronic Plc., Omada Health, Inc., Livongo Health, Inc., Voluntis, Inc., Resmed, Inc., and Welldoc, Inc. are some of the companies operating in the digital therapeutics market.