The global direct attach cable market was valued at USD 6.84 billion in 2022 and is expected to grow at a CAGR of 36.8% during the forecast period.
With the growing volume of data generated and processed in various industries, there is a rising demand for reliable and high-speed data transmission solutions. To meet the evolving need for high-bandwidth applications and high-density applications, manufacturers are making substantial investments in the development of AOCs and DAC cables. These cables offer the advantage of lower power consumption, making them more energy-efficient and cost-effective for data transmission.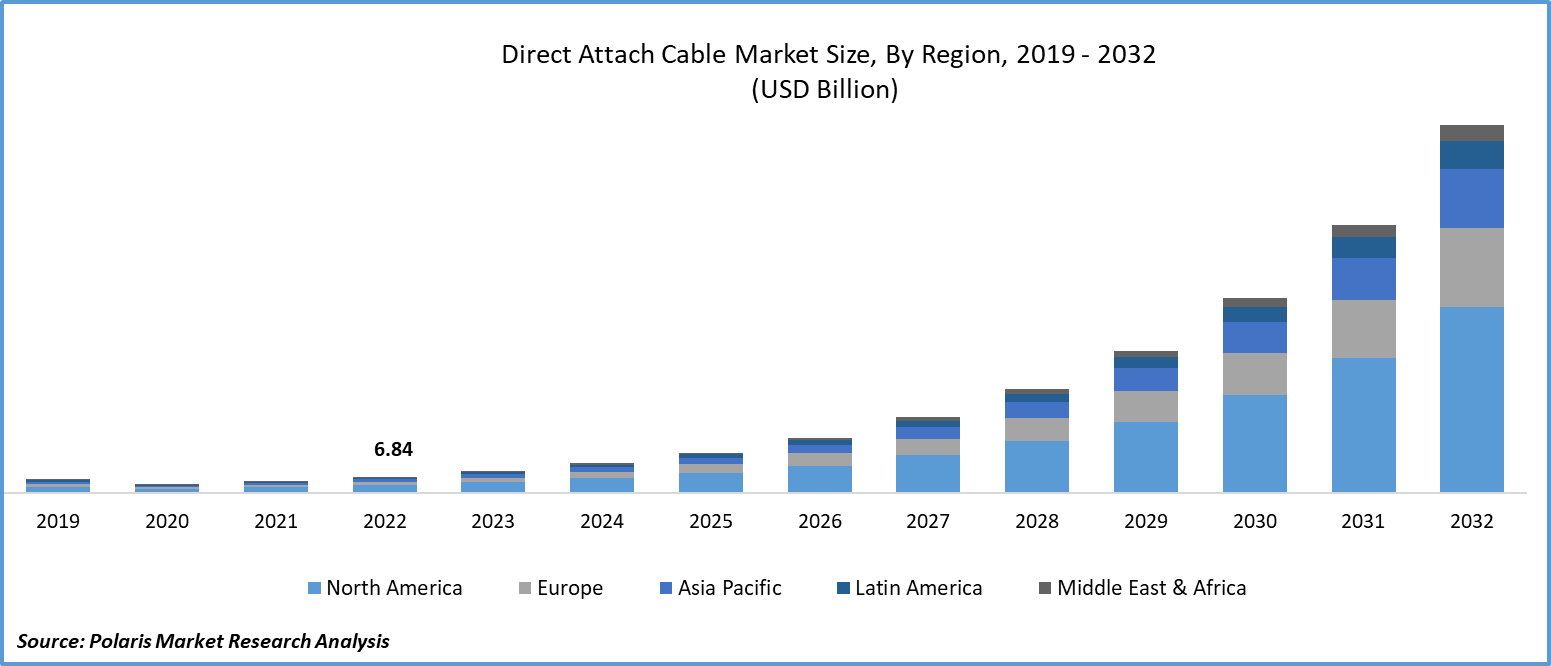 To Understand More About this Research: Request a Free Sample Report
The market is experiencing growth driven by the increasing demand for next-generation high-speed pluggable products during the forecast period. A notable example is Molex's introduction of Quad Small Form-Factor Pluggable Plus (QSFP28) & QSFP56-DD interconnect Form Factors to meet the requirements of high-density applications demanding speeds of up to 400 Gbps.
These pluggable products, namely QSPF28 and QSFP56-DD, are designed to be compatible with servers, switches, routers, and SAN (Storage Area Network) cards. What sets these next-generation cables apart is their ability to perform reliably even in extreme conditions, including high-temperature data centers. These advanced cables are instrumental in supporting the ultra-fast data transfer speeds demanded by the hyper-scale industry.
The market is expected to experience growth driven by the expanding utilization of active optical cables in consumer electronics, particularly in products like 4K televisions and digital signage, throughout the forecast period. ISF conducted extensive field and laboratory testing with the aim of enhancing the quality of electronic imaging. The result was the production of visually superior images characterized by rich colors and exceptional clarity.
Furthermore, the increasing demand for HDMI AOCs (Active Optical Cables) is attributed to their numerous advantages, including expanded bandwidth capacity, speeds of up to 18Gb/s, and heightened security and reliability. These attributes are driving the growth of the market as they cater to the rising demand for enhanced image quality and performance in consumer electronics.
The market faces hindrances due to the ongoing research and development (R&D) efforts undertaken by manufacturers. These efforts aim to create next-generation Active Optical Cables (AOCs) and transceivers to meet the evolving demands of data centers.
Industry Dynamics
Growth Drivers
Increased demand for high-speed data transmission
The Direct Attach Cable (DAC) market is witnessing substantial growth driven by the increased demand for high-speed data transmission. As data-intensive applications and services become more prevalent, there is a growing need for efficient and cost-effective connectivity solutions within data centers and networking environments.
DAC cables offer a compelling solution to this demand, as they provide high-speed data transmission capabilities at a lower cost compared to traditional networking equipment. Data center operators and enterprises are increasingly adopting DAC cables to bridge the gap between servers, switches, and storage devices. This adoption not only accelerates data transfer rates but also significantly reduces the need for additional networking hardware, leading to substantial cost savings.
Furthermore, the rise of cloud computing services has further fueled the demand for DAC cables, as they play a crucial role in building scalable and flexible network infrastructures to support cloud-based applications and storage. In addition to the financial benefits, DAC cables also contribute to environmental sustainability by reducing power consumption and promoting energy efficiency within data centers. These factors, coupled with the ever-increasing need for rapid data transmission, position the DAC market for continued expansion and innovation in the years to come.
Report Segmentation
The market is primarily segmented based on product type, form, end-user, and region.
By Product Type

By Form

By End-User

By Region

Direct Attach Copper Cables

Active Optical Cables

QSFP

SFP

CXP

Cx4

CFP

CDFP

Networking

Telecommunications

Data Storage

High-Performance Computing (HPC) Centers

Others

North America (U.S., Canada)

Europe (France, Germany, UK, Italy, Netherlands, Spain, Russia)

Asia Pacific (Japan, China, India, Malaysia, Indonesia. South Korea)

Latin America (Brazil, Mexico, Argentina)

Middle East & Africa (Saudi Arabia, UAE, Israel, South Africa)
To Understand the Scope of this Report: Speak to Analyst
By Product Type Analysis
The active optical cables segment accounted for the largest market share in 2022
The active optical cables segment held the largest revenue share. This dominance can be attributed to the growing demand for higher bandwidth capacities, particularly in heavy computing centers, and the significant increase in the deployment of data centers. AOCs find extensive use not only in high-performance computing centers but also in the hyper-scale infrastructure & storage sub-systems. They are particularly utilized for transmitting data at speeds of 10G or 25G from a Top-of-Rack switch to various subsystems within these environments.
By Form Factor Analysis
QSFP segment held a significant market share in 2022
QSFP segment held the majority market share in terms of revenue. Growth is propelled by manufacturers' increased investments in the development of next-generation pluggable products. For instance, Molex introduced innovative products like QSFP28 & QSFP56-DD interconnect form factors, specifically designed for high-density applications, capable of delivering speeds of up to 400 Gbps. These advancements contribute significantly to the growth of this segment.
By End-User Analysis
The Telecommunications segment held the largest share in 2022
The telecommunication segment garnered the largest share. AOCs assume a vital role in the telecommunications industry by enabling the rapid and error-free transmission of information from one location to another. Currently, there is a rapid growth in the global population, leading to an increased need for the establishment of additional data centers and improved internet infrastructure to support communication demands. In response to this surge in network demand, the deployment of efficient communication cables like AOCs becomes imperative. These cables play a crucial role in ensuring reliable and high-speed communication capabilities to meet the evolving needs of the telecommunications sector.
Regional Insights
North America region dominated the global market in 2022
North America emerged as the largest region. There is a substantial demand for higher bandwidth speeds, especially in high-performance computing centers located in the region. These centers require increasingly faster data transfer rates to support their intensive computational tasks, such as simulations, data analysis, and scientific research. Additionally, there is a consistent upward trend in the establishment and expansion of data centers throughout the region. The rapid growth of digital technologies, cloud computing, and the increasing volume of data generated by businesses and consumers have spurred the need for data centers. These facilities serve as the backbone of the modern digital economy, providing storage, processing, and connectivity services.
Asia Pacific region will grow rapidly. Increasing demand for enhancements in digital infrastructure and connectivity across the region. Countries such as China, India, & Japan are at the forefront of this digital transformation. Data centers are essential for businesses and organizations across the region to meet the demands of a rapidly digitizing economy. They play a critical role in ensuring the availability of online services, supporting cloud computing, and facilitating data-driven decision-making. To function effectively, data centers require high-speed communication solutions like active optical cables (AOCs) to maintain the rapid and efficient flow of data.
Key Market Players & Competitive Insights
Companies have introduced expanded offerings within the data center segment, aiming to provide solutions that are both cost-effective and deliver high performance, along with a focus on reliability.
Some of the major players operating in the global market include:
3M

Arista Networks, Inc.

Avago Technologies Ltd

Cisco Systems, Inc.

Cleveland Cable Company

Emcore Corporation

FCI Electronics

Finisar Corporation

Hitachi, Ltd.

Juniper Networks

Methode Electronics

Molex, LLC

Nexans

Panduit

ProLabs Ltd

Shenzhen Gigalight Technology Co., Ltd

Solid Optics

Sumitomo Electric Industries, Ltd

TE Connectivity Ltd.

The Siemon Company
Recent Developments
In October 2022, Molex introduced the PCIe Cable Connection System tailored for Open Compute Project Servers. This innovative system utilizes cutting-edge direct-attached cable technology, as seen in the NearStack PCIe Connector System & Cable Assemblies. The primary objectives of this technology are to improve signal integrity, reduce insertion loss, and minimize signal delay.

In June 2022, Arista unveiled its latest offering, the 7130 Series Systems, designed for Converged Ultra Low Latency Networking. This advanced solution has been developed with the aim of increasing client agility by consolidating multiple devices. This consolidation strategy not only reduces costs but also simplifies network complexity and optimizes power consumption.
Direct Attach Cable Market Report Scope
| | |
| --- | --- |
| Report Attributes | Details |
| Market size value in 2023 | USD 9.32 billion |
| Revenue Forecast in 2032 | USD 156.83 billion |
| CAGR | 36.8% from 2023 – 2032 |
| Base year | 2022 |
| Historical data | 2019 – 2021 |
| Forecast period | 2023 – 2032 |
| Quantitative units | Revenue in USD billion and CAGR from 2023 to 2032 |
| Segments Covered | By Product Type, By Form, By End-User, By Region |
| Regional scope | North America, Europe, Asia Pacific, Latin America; Middle East & Africa |
| Customization | Report customization as per your requirements with respect to countries, regions, and segmentation. |