The global donkey milk market was valued at USD 24.79 million in 2022 and is expected to grow at a CAGR of 9.1% during the forecast period. Growing concern about the skin nourishment is one of the prime factors largely driving the growth of global market. Researchers are studying the potential benefits of donkey milk in skincare products, including its ability to improve skin hydration and reduce the appearance of fine lines and wrinkles. For example, UP-based start-up 'Organiko Beautifying Life' prepared soap from donkey milk. The business has been producing and selling skin care items made with donkey milk.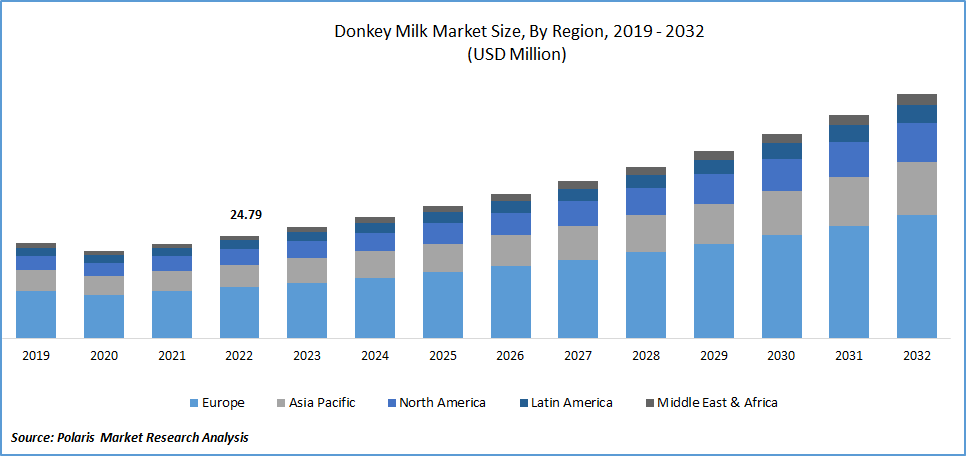 To Understand More About this Research: Request a Free Sample Report
According to its originator, donkey's milk has many anti-aging effects, skin-nourishing ingredients, and healing potential. People are more concern regarding their skin, whereas donkey milk is becoming increasingly popular in the cosmetic industry due to its moisturizing and anti-aging properties. As a result, this factor is augmenting the growth of global market.
Donkey milk market has a unique composition that sets it apart from other types of milk, and it has been associated with several potential health benefits. It is high in vitamins and minerals, such as calcium, phosphorus, and vitamin D, and it has a lower fat content than cow's milk. It is also easier to digest than cow's milk, which makes it a good option for people who are lactose intolerant. This milk contains high levels of lysozyme, an enzyme that helps to boost the immune system by destroying harmful bacteria and viruses.
Donkey milk is becoming increasingly popular in the cosmetic industry due to its moisturizing and anti-aging properties. It can be used in skincare products such as soaps, lotions, and creams to improve skin hydration, reduce the appearance of fine lines and wrinkles, and improve overall skin health.
However, the pandemic has also made it more difficult to maintain and care for donkey herds, as travel restrictions and quarantine measures may limit the availability of workers. It has caused disruptions in supply chains, making it more difficult for donkey milk producers to obtain the necessary resources and equipment to produce and distribute their products. As a result, the pandemic has had both, positive and negative impact on the global market.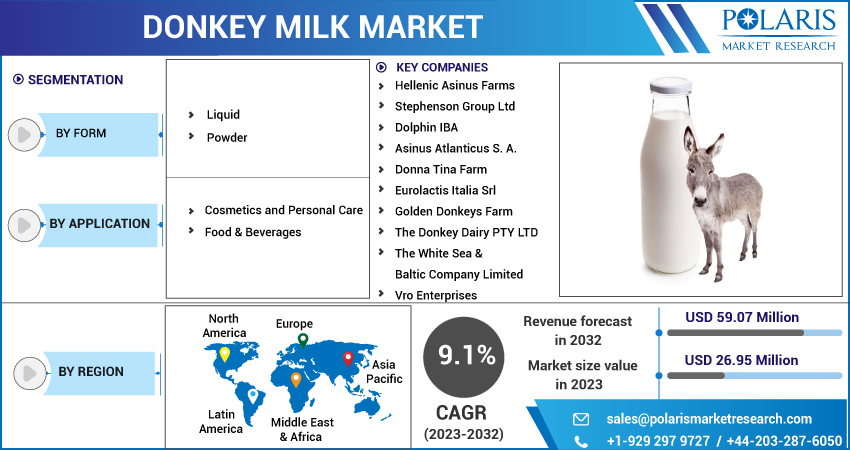 For Specific Research Requirements, Request for a Customized Report
Industry Dynamics
Growth Drivers
There is growing awareness among consumers about the health benefits of donkey milk, such as its high nutritional value and potential immune-boosting properties. This is leading to increased demand for donkey milk and donkey milk products. The World Health Organization (WHO) has recognized the nutritional value of donkey milk, noting that it contains higher levels of certain nutrients than cow's milk, including vitamin C, vitamin B12, and folate. The Italian Association of Donkey Milk Producers has reported on the potential health benefits of donkey milk, noting that it is rich in immunoglobulins and lactoferrin, which have been shown to have antimicrobial and anti-inflammatory properties. These health benefits are flourishing the development of market.
Government support is another growth factors escalating the growth of global market with a significant growth rate. Some governments have implemented programs to support the development of the donkey milk industry, including funding for research and development, and incentives for producers.
For example, an entrepreneurial development programme on donkey farming was held in August in Bikaner, Rajasthan, the state that is home to one-fifth of all the nation's donkeys. In Addition to this, National Horse Research Centre was opened in the India. By providing funding for research and development, incentives for producers, promotion and marketing, and standards and regulations to ensure the safety and quality of donkey milk products, government of various countries are supporting the market growth.
Report Segmentation
The market is primarily segmented based form, application, and region.
By Form

By Application

By Region

Cosmetics and Personal Care

Food & Beverages

North America (U.S., Canada)

Europe (France, Germany, UK, Italy, Netherlands, Spain, Russia)

Asia Pacific (Japan, China, India, Malaysia, Indonesia. South Korea)

Latin America (Brazil, Mexico, Argentina)

Middle East & Africa (Saudi Arabia, UAE, Israel, South Africa)
To Understand the Scope of this Report: Speak to Analyst
Powder form segment accounted as largest contribution to the global market in 2022
Powder form segment is gaining a huge popularity and accounting largest share of the global revenue in the year 2022. It has a longer shelf life than fresh donkey milk, which makes it more convenient for storage and transportation. This longer shelf life also reduces the risk of spoilage, which can improve product quality and safety. Powder form of milk can be used in a variety of applications, including infant formula, functional foods and beverages, and cosmetics. This versatility makes it an attractive option for manufacturers who are looking for a high-quality, versatile ingredient.
Moreover, powdered donkey milk is more widely available than fresh donkey milk, as it can be produced and distributed on a larger scale. This increased availability has helped to increase demand for donkey milk products, particularly in regions where fresh donkey milk is not widely available.
Cosmetics and personal care segment held largest share in the global market
The cosmetics and personal care segment dominated the market with largest shares. This is due to increasing needs by personal care industry and enhancing the concerns regarding skin nourishment. There is a growing trend towards natural and organic cosmetic products, and donkey milk is a natural and eco-friendly ingredient that is free from synthetic chemicals and additives. This has helped to increase demand for donkey milk-based cosmetics among consumers who are looking for natural and sustainable skincare solutions.
Moreover, there has been significant innovation in the cosmetics and personal care segment of the donkey milk market, with manufacturers developing new products and formulations that incorporate donkey milk. For example, some companies are using donkey milk in hair care products, such as shampoos and conditioners, to improve hair health and promote growth. These health benefits are developing the expansion of cosmetics and personal care industry.
Europe is accounting the largest share in the global market
Europe is expected to lead the global market with largest share as the region is the primary consumer of the donkey milk. Donkey's milk is primarily consumed in this region, where notable countries like Spain, Belgium, Portugal, Italy, Bulgaria, France, and Greece are prominent consumers. The surging consumption of refreshing milk products is one of the major factors propelling the market's expansion. For example, the Defra Family Food Survey shows that UK consumers have changed the way they consume dairy.
Additionally, in 2021, the EU generated 161.0 million tonnes of raw milk. In addition, the UK has 12,000 active dairy farmers who produce about 15 billion litres of milk annually. Donkey milk is becoming increasingly available in many countries in the Europe, which has helped to increase the availability of refreshing milk-based products made with donkey milk. Hence, adoption of milk products is dramatically heightening the market's expansion in the European market.
Asia Pacific is expected to grow at a fastest rate in the global market during the forecast period due to evolving of the dairy sector in the region. Dairy sector is developing in response to changing consumer preferences, technological advancements, and sustainability concerns. For example, India contributes 23% of the world's milk production, making it the largest producer in the world.
The industry is increasingly adopting new technologies to improve efficiency, productivity, and sustainability. This evolution is driving innovation, technological advancements, and new product development, which is expected to continue in the coming years. As a result, this factor is increasingly broadening the market value with a considerable growth rate and is expected to boost in the forthcoming years.
Competitive Insight
The global players include Hellenic Asinus Farms; Stephenson; Dolphin; Asinus Atlanticus; Donna Tina; Eurolactis Italia; Donkey Dairy; White Sea & Baltic Company; and Vro Enterprises
Recent Developments
In March 2022, Isaac and George Tsichouridis dedicated the past decade to establishing a distinct farm spanning 250 acres of lush greenery. Their primary focus on this farm is the cultivation of donkeys with the explicit purpose of producing organic milk, renowned for its exceptional therapeutic and beneficial properties.
Donkey Milk Market Report Scope
| | |
| --- | --- |
| Report Attributes | Details |
| Market size value in 2023 | USD 26.95 million |
| Revenue forecast in 2032 | USD 59.07 million |
| CAGR | 9.1% from 2023 – 2032 |
| Base year | 2022 |
| Historical data | 2019– 2022 |
| Forecast period | 2023– 2032 |
| Quantitative units | Revenue in USD million and CAGR from 2023 to 2030 |
| Segments covered | By Form, By Application, By Region |
| Regional scope | North America, Europe, Asia Pacific, Latin America; Middle East & Africa |
| Key companies | Hellenic Asinus Farms; Stephenson Group Ltd; Dolphin IBA; Asinus Atlanticus S. A.; Donna Tina Farm; Eurolactis Italia Srl; Golden Donkeys Farm; The Donkey Dairy PTY LTD; The White Sea & Baltic Company Limited; Vro Enterprises |