The global dravet syndrome market was valued at USD 227.72 million in 2022 and is expected to grow at a CAGR of 9.4% during the forecast period. Dravet syndrome (DS) is a lethal form of epilepsy characterized by more frequent, protracted seizures triggered by hyperthermia. It is distinguished by delayed development, language impairment, sleep disturbances, & other related problems. SMEI, formerly known as Dravet syndrome, is a rare kind of intractable epilepsy that begins in infancy and continues with increasing morbidity, having a significant lifetime impact on patients. Over 80% of persons with Dravet syndrome have a mutation in the SCN1A gene, with the disorder affecting 1 in every 15,700 people. According to the National Organization for Rare Disorders, Dravet syndrome affects around 1 in 15,700 Americans, or 0.0064%. An SCN1A mutation and a clinical diagnosis of DS are found in 80-90% of patients. This accounts for around 0.17% of all epileptic seizures.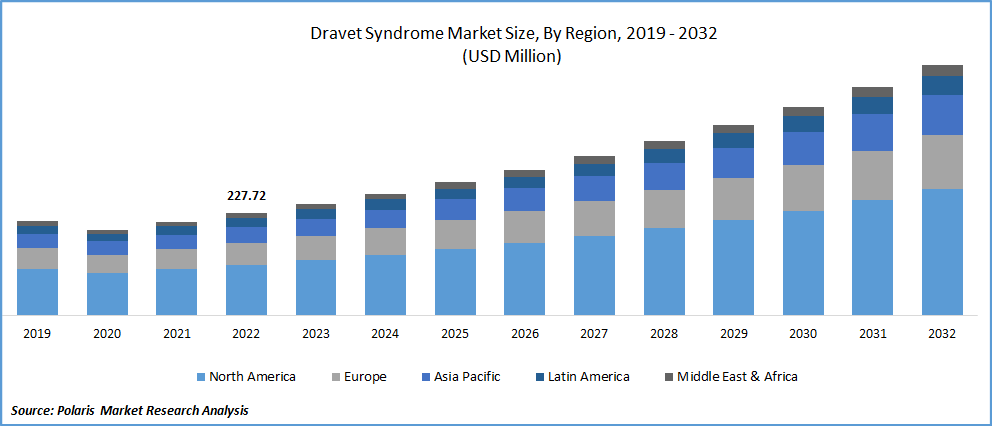 Know more about this report: request for sample pages
The market's revenue growth will most likely be driven by enhanced genetic testing, which has increased the likelihood of Dravet syndrome diagnosis. Duplication, deletion, mosaicism detection, and other sophisticated diagnostic procedures are included in this examination.
Increased R&D efforts for the development of novel treatment options are expected to propel the market ahead in the coming years. Furthermore, strategic collaborations among leading market players for the development and manufacturing of pharmaceuticals licensed for the treatment of Dravet syndrome are expected to drive the global.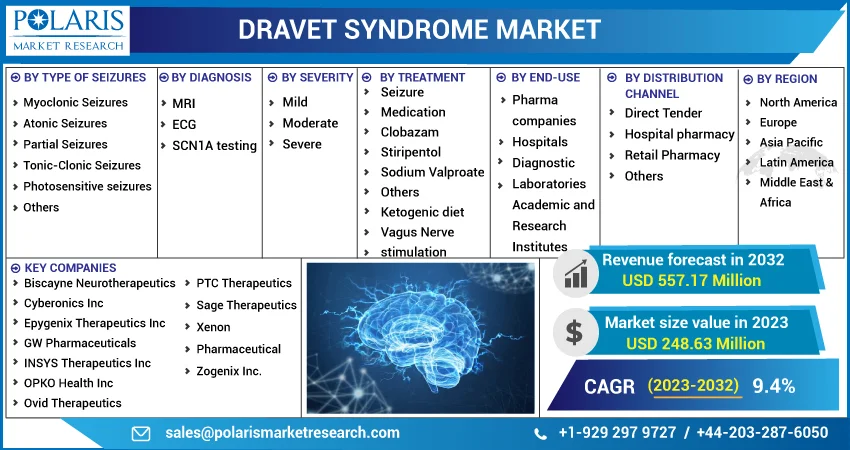 Know more about this report: request for sample pages
Industry Dynamics
Growth Drivers
The anticipated release of various novel developing medicines is expected to have favorable benefits; as part of these treatments, new pharmaceuticals such as stiripentol and cannabidiol have been created. Furthermore, it is expected that the availability of favorable reimbursement policies throughout both the early and late stages of therapeutic product development would favorably benefit the expansion. Other factors that contribute to the dravet syndrome market revenue growth include increased government investment in R&D and a better regulatory environment in the healthcare industry. A more effective regulatory framework would make Dravet syndrome research less restricted.
Increased clinical trial activities have resulted in a better product pipeline. Technological advances and greater investment in R&D operations have paved the way for a variety of innovative treatment alternatives. Furthermore, enhanced healthcare infrastructure and rising healthcare budgets are expected to boost market revenue growth throughout the forecast period.
Report Segmentation
The market is primarily segmented based on the type of seizures, diagnosis, severity, treatment, end-use, distribution channel, and region.
By Type of seizures

By Diagnosis

By Severity

By Treatment

By End-Use

By Distribution

Channel

By Region

Myoclonic Seizures

Atonic Seizures

Partial Seizures

Tonic-Clonic Seizures

Photosensitive seizures

Others

Seizure

Medication

Clobazam

Stiripentol

Sodium Valproate

Others

Ketogenic diet

Vagus Nerve stimulation

Pharma companies

Hospitals

Diagnostic

Laboratories

Academic and Research Institutes

Others

Direct Tender

Hospital pharmacy

Retail Pharmacy

Others

North America (U.S., Canada)

Europe (France, Germany, UK, Italy, Netherlands, Spain, Russia)

Asia Pacific (Japan, China, India, Malaysia, Indonesia. South Korea)

Latin America (Brazil, Mexico, Argentina)

Middle East & Africa (Saudi Arabia, UAE, Israel, South Africa)
Know more about this report: request for sample pages
Myoclonic seizures segment held a significant market revenue share
Children's muscles tense and relax fast during a myoclonic seizure, resulting in jerky motions. These jerking motions occur on both sides of the body in children with Dravet syndrome and other epileptic conditions. These seizures normally have little effect on the child's awareness, leaving them awake and able to think. When these seizures occur in children with Dravet syndrome, they generally happen before the age of two. Atonic seizures can have either a focal or a widespread onset. Because of the lack of muscular control that leads to limp muscles, these seizures are also known as drop attacks. They often last fewer than 15 seconds. They do no direct injury but may produce indirect injuries as a result of falling. Head protection is frequently advised for children experiencing this sort of seizure.
Tonic-clonic seizures often have a broad onset; however, they can also have a localized onset. This type of seizure includes symptoms from both tonic and clonic seizures. The convulsion's tonic phase begins with the person's body suddenly stiffening, followed by the clonic phase, in which the person's body jerks repeatedly. These convulsions usually last between one and three minutes. The jerky motions slow to a halt after the seizure, and the person's body relaxes. During this period, the individual may lose control of his or her bladder or bowels. A tonic-clonic seizure that lasts longer than five minutes needs rapid medical attention.
MRI diagnosis segment accounted for the fastest-growing segment
When seizures initially begin, MRI test results are frequently normal, which might delay diagnosis. When such a syndrome is encountered, genetic testing to seek pathogenic variation in SCN1A gene may be performed. If this is discovered, it can confirm a diagnosis in the setting of clinical symptoms associated with Dravet syndrome. For children with Dravet syndrome, such earlier diagnosis may enhance long-term results. If no pathogenic SCN1A variation is detected, a diagnosis based only on symptoms may be established. These people might be candidates for research studies looking at novel genetic origins or processes of Dravet syndrome.
Mild Severity is expected to grow significantly over the forecast timeline
Milder presentations (phenotypes) of SCN1A-related diseases are more frequently linked with missense mutations, although neither the kind of the mutation nor its placement to the clinical severity of DS. More than 70% of individuals with the syndrome have mutations in the SCN1A gene, which codes for the alpha-1 subunit of the sodium channel. Sequencing mutations and copy number variation abnormalities are examples; 90% of the mutations occur by chance. PCDH 19 analysis is a secondary test for Dravet-like girls who don't have SCN1A mutations. The majority of individuals have an intellectual impairment and continue to have seizures; hence the outcome is bad. The severity of intellectual impairment ranges from severe in 50% of patients to moderate and mild in 25% of instances. Only a few patients have normal intelligence.
Diagnostic laboratory is anticipated to grow dominantly over the forecast period.
Diagnostic laboratory enhancement includes techniques like metabolic testing, EEG, lumbar puncture, genetic testing, and imaging techniques has contributed to and hold a significant percentage in driving the growth of market. Recently differential diagnosis technique like cerebral pals and inborn error of metabolism has also contributed to the market.
Hospital pharmacies are dominate the distribution channel segment
Dravet Syndrome is associated with significant healthcare consumption, financial strain, and time commitment. Developing research on the financial cost of DS is critical for understanding the total effect of the disease, identifying possible areas for support requirements, and analyzing the impact of new therapies as they become available. According to the study findings, in-home visits, & carer's lost productivity & leisure time are critical categories for the DS economic assessments.
A hospital drugstore is a professional that seeks to constantly maintain and enhance drug operation and pharmaceutical treatment for cases in a sanitarium terrain to the loftiest norms. Government sanitarium channels give cheap individual and threptic functionality causing them an implicit distribution channel and accelerating the overall request growth. Retail apothecia save solidified their places within the healthcare team by being one of the most accessible healthcare providers in the community and abetting their cases in maintaining continuity of care by educating cases on complaint operation, habitual remedy operation, immunization administration, and closing the communication gap between croakers and cases.
North America dominated the global market in 2022
North America is likely to dominate the market throughout the forecast period. According to the National Organization for Rare Disorders, the prevalence of Dravet syndrome in the United States is estimated to be one in every 15,700 people, with around 11% of Americans experiencing seizures at some time in their lives. Furthermore, increased government spending on research and development of novel and efficient seizure medications, higher per capita disposable income, improved healthcare infrastructure, availability of skilled medical staff, and the presence of major players are expected to drive market revenue growth during the forecast period.
In Asia Pacific, developing countries like India, China, and South Korea prioritize R&D and the development of new goods. Furthermore, healthcare reforms in these nations are likely to fuel market revenue growth. For example, emerging countries such as China and India are enacting reforms to improve the availability, cost, and quality of healthcare.
Competitive Insight
Some of the major players operating in the global market include Biscayne Neurotherapeutics, Epygenix Therapeutics, OPKO Health, GW Pharmaceuticals, Ovid Therapeutics, PTC Therapeutics, Sage Therapeutics, INSYS Therapeutics, Takeda Pharmaceutical, ThermoFisher Life, Xenon Pharmaceutical, and Zogenix Inc.
Recent Developments
In March 2022, the FDA approved UCB Inc.'s FINTEPLA (fenfluramine). This oral CIV solution is used to treat seizures caused by Lennox-Gastaut syndrome and Dravet syndrome in patients aged two and up. Furthermore, the FDA awarded FINTEPLA pediatric exclusivity.

In June 2018, the FDA approved GW Research Ltd.'s Epidiolex (cannabidiol). It is an oral solution used to treat seizures in kids two years and older caused by the uncommon and severe epilepsy conditions known as Lennox-Gastaut syndrome and Dravet syndrome. This is the first pharmaceutical medication with a refined marijuana-derived medicinal component. Furthermore, it is the first drug licensed by the FDA for the treatment of Dravet syndrome patients.
Dravet Syndrome Market Report Scope
| | |
| --- | --- |
| Report Attributes | Details |
| Market size value in 2023 | USD 248.63 million |
| Revenue forecast in 2032 | USD 557.17 million |
| CAGR | 9.4% from 2023 - 2032 |
| Base year | 2022 |
| Historical data | 2019 – 2021 |
| Forecast period | 2023 - 2032 |
| Quantitative units | Revenue in USD million and CAGR from 2023 to 2032 |
| Segment Covered | By Type of seizures, By Diagnosis, By Severity, By Treatment, By End-Use, Distribution Channel, By Region |
| Regional scope | North America, Europe, Asia Pacific, Latin America; Middle East & Africa |
| Key Companies | Biscayne Neurotherapeutics, Cyberonics Inc, Epygenix Therapeutics Inc, GW Pharmaceuticals, INSYS Therapeutics Inc, OPKO Health Inc, Ovid Therapeutics, PTC Therapeutics, Sage Therapeutics, Takeda Pharmaceutical Company, ThermoFisher Life Technologies, Xenon Pharmaceutical, Zogenix Inc. |