The global educational robot market was valued at USD 1.2 billion in 2021 and is expected to grow at a CAGR of 17.1% during the forecast period.
An educational robot is a learning device that employs accurate instructional simulations to speed up students of all ages' acquisition of new skills. It provides information based on the STEAM (science, technology, engineering, art, and math) sectors along with computer coding, linguistics, history, and geography. To keep kids interested, delighted, and informed, these robots can carry out a variety of tasks, including gestures, voice control, and sophisticated mechanics. It has been demonstrated that working with them helps kids develop their interpersonal, communication, and creative problem-solving skills. As a result, these robots have a wide range of applications in academic institutions such as particular education institutions, schools, and universities that offer higher education.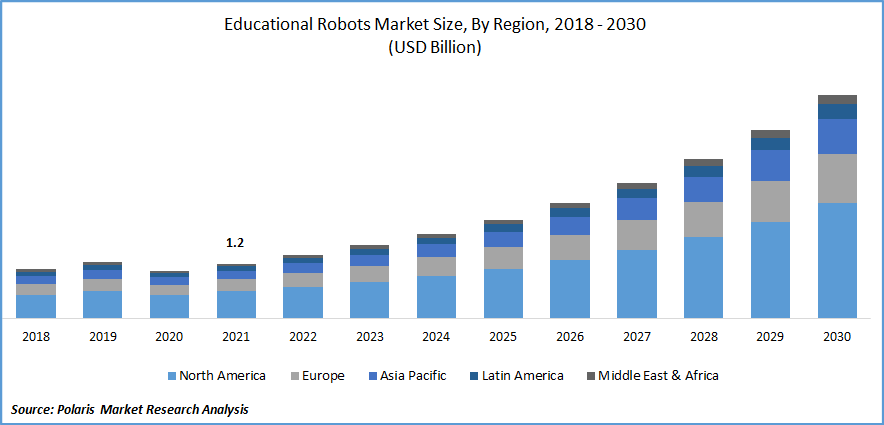 Know more about this report: Request for sample pages
The major factors are anticipated to fuel the market, such as rising government and non-governmental organization (NGOs) investments in the education industry, substantial robotics research and development (R&D), and the availability of reasonably priced educational robots. For instance, in February 2022, The Union Budget 2022 and the budget for education strongly emphasized digital learning, establishing a digital institution, job creation, agriculture universities, and improving programmers' skills, among other things. According to the National Education Policy (NEP), public education spending should account for 6% of the GDP by 2020.
In addition, Robotex India is a non-profit organization that helps kids in government schools in urban, tribal, and rural areas develop their STEAM, robotics, AI, ML, and IoT skills. The major goal of Robotex is to give K–12, college, and early-stage entrepreneurs a platform to display their technological inventions through an international championships structure. Thus, these government and NGO investments drive the demand for educational robots across the verticals.
However, Although there is a demand for educational robots, several factors, such as the high costs associated with their deployment and maintenance, their enormous power consumption, and the absence of the necessary infrastructure in some schools and universities, are anticipated to restrain the market's growth.
The market has been impacted by the COVID-19 pandemic, a severe respiratory disease that started in China and has since spread worldwide. This issue has afflicted most educational robot manufacturers and is anticipated to have a moderate impact. Most of this results from the universities, training centers, and organizations dedicated to robotics temporarily closing their doors. The number of educational robots sold significantly decreased as a result of the closure of training facilities, colleges, and schools, as well as the limitations placed on manufacturing, import, and export. The market's expansion may also need to be improved by the high initial investment expenses linked to the procurement of educational robots.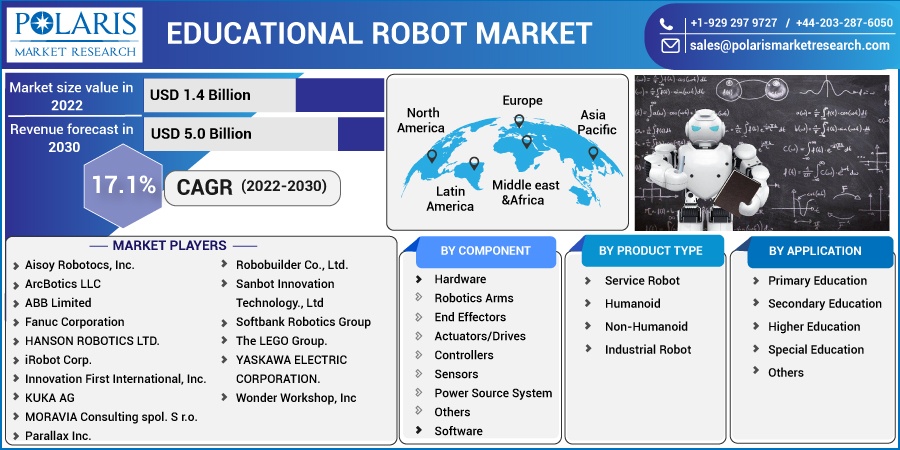 Know more about this report: Request for sample pages
Industry Dynamics
Growth Drivers
One of the main factors influencing the market's expansion is the new trend of digitalization, accompanied by an increase in the use of artificial intelligence and machine learning (AI/ML) technologies in the education industry. Governments worldwide are increasing their investments in AI and developing strategies for implementing and promoting its applications. For instance, it is anticipated that the US will invest USD 6 billion in research and development initiatives including AI, in 2021. International Data Corporation predicts that between 2020 and 2023, spending on AI in Europe will rise by 33%. Investment in AI systems in Europe is anticipated to increase significantly, from $25.4 billion in 2022 (up 27.8% from 2021) to even more than $72.9 billion, in 2026.
Furthermore, the GOI boosted the budget for Digital India in 2020 to USD 477 million to advance robots, AI, IoT, big data, cybersecurity, and machine learning. India's leading digital project promotes e-governance, e-banking, e-education, and e-health while working to increase internet accessibility. The government will provide 10 million young Indians with industry-relevant skill training in fields like AI, Big Data, and robotics as part of the 2019 Union Budget.
Report Segmentation
The market is primarily segmented based on component, product type, application, and region.
By Component

By Product Type

By Application

By Region

Hardware

Robotics Arms
End Effectors
Actuators/Drives
Controllers
Sensors
Power Source System
Others

Software

Service Robot
Industrial Robot

Primary Education
Secondary Education
Higher Education
Special Education
Others

North America (U.S., Canada)
Europe (France, Germany, UK, Italy, Netherlands, Spain, Russia)
Asia Pacific (Japan, China, India, Malaysia, Indonesia, South Korea)
Latin America (Brazil, Mexico, Argentina)
Middle East & Africa (Saudi Arabia, UAE, Israel, South Africa)
Know more about this report: Request for sample pages
Higher education segment is expected to witness the fastest growth
The higher education segment is growing with the fastest CAGR over the forecast period. This can be ascribed to the complexity of robot construction because older students tend to think more logically and need detailed feedback on the robot's capabilities. Robots are a fantastic teaching tool for engineering principles that may be used in several particular disciplines, hands-on activities, lab classes, and project work. The practical learning environment inspires and motivates pupils. Additionally, the rising need for robots in research and development projects with practical applications drives this sector's market share.
Further, due to the rising demand for educational robots, the particular education segment is anticipated to post strong revenue growth throughout the projection period. Basic understanding and learning can be complete for students with unique needs. Such kids have found that robotic education has helped enhance their social and communication abilities. Children with autism can learn new skills and knowledge using robots as an alternate learning tool. Such students learn better in a different classroom setting due to robotic education. Some of these robots have already gained popularity for personal care and support globally, which could be helpful when interacting with special-needs kids.
Humanoid segment industry accounted for the highest market share in 2021
This segment's expansion can be ascribed to the increased demand for humanoid robots, driven by their sophisticated features and expanding range of applications in the education industry. These include helping professors run classes, leading classes, and aiding researchers in projects with practical applications. The market is expected to attract investments in the following years since using humanoids as teachers have gotten a favorable response in the education sector. Robots must be able to interact with people to teach effectively. This component is being focused on in technological advancements made by market suppliers, and it is currently thought to be a significant issue with robot teachers.
Additionally, Humanoid robots currently make up a minor portion of the service robot market, but they have the potential to transform it completely. For use as medical assistants and teaching tools, human-like robots have been created by businesses. Humanoid robots are thriving in the medical industry, notably companion robots. Due to the significance of software in robotic systems, university researchers are developing novel software solutions. By providing some fundamental knowledge about the things being controlled and then providing the robot with a single demonstration of how to complete the task, non-coders can teach robots motions and tasks using C-Learn.
The demand in North America is expected to witness significant growth
The main factors propelling the market's growth in the region are the participation of significant market players and the high adoption of cutting-edge technology among educational institutions due to the increasing prevalence of activity-based learning and changes in educational rules. Additionally, the most forward-thinking robotics start-ups in the area are taking advantage of every opportunity to expand internationally as they continue developing and reinventing their products.
Further, numerous educational organizations in the area have financed the introduction of affordable robotic educational solutions in Europe, promoting the expansion of the educational robot sector. Governments and Non-government Organizations (NGOs) have increased their robotics investments, which is responsible for expanding the Asia-Pacific region market. Children will have the opportunity to use various tools and equipment as part of this effort to learn fundamental and complex STEM topics.
Competitive Insight
Some of the major players operating in the global market include Aisoy Robotics, ArcBotics LLC, ABB Limited, Fanuc Corporation, HANSON ROBOTICS, iRobot Corp., Innovation First International, KUKA AG, MORAVIA, Parallax, Robobuilder, Sanbot Innovation Technology., Ltd, Softbank Robotics Group, The LEGO Group., YASKAWA ELECTRIC CORPORATION., and Wonder Workshop.
Recent Developments
In July 2022, PAL Robotics established euROBIN, a network of excellence that unites European robotics and artificial intelligence experts. It creates a shared, all-encompassing European infrastructure for research and development. The web is accessible to all members of the robotics community and provides mechanisms for cascade funding to enable member growth to double during the ensuing years.
In may 2021, A robotic toy car that is intended to educate young children on the basics of programming was unveiled by Sphero, Inc. Children may program the Sphero indi using several silicone tiles of various colors; the car utilizes a color sensor to determine which tile it is currently driving over.
In April 2019, Embody Digital and Hanson Robotics Limited established a partnership to enable human-like nonverbal communication on Hanson's socially autonomous robots. To facilitate Hanson robots to instantaneously implement natural arm motions based on the substance and emotional expressions of their utterances, the corporation formed a partnership with Embody.
Educational Robot Market Report Scope
| | |
| --- | --- |
| Report Attributes | Details |
| Market size value in 2022 | USD 1.4 billion |
| Revenue forecast in 2030 | USD 5.0 billion |
| CAGR | 17.1% from 2022 – 2030 |
| Base year | 2021 |
| Historical data | 2018 – 2020 |
| Forecast period | 2022 – 2030 |
| Quantitative units | Revenue in USD billion and CAGR from 2022 to 2030 |
| Segments Covered | By Component, By Product Type, By Application, By Region |
| Regional scope | North America, Europe, Asia Pacific, Latin America; Middle East & Africa |
| Key Companies | Aisoy Robotocs, Inc., ArcBotics LLC, ABB Limited, Fanuc Corporation, HANSON ROBOTICS LTD., iRobot Corp., Innovation First International, Inc., KUKA AG, MORAVIA Consulting spol. S r.o., Parallax Inc., Robobuilder Co., Ltd., Sanbot Innovation Technology., Ltd, Softbank Robotics Group, The LEGO Group., YASKAWA ELECTRIC CORPORATION., and Wonder Workshop, Inc |