The global elderly nutrition market was valued at USD 17.40 billion in 2021 and is expected to grow at a CAGR of 6.5% during the forecast period.
The elderly population is constantly increasing and is more prone to many chronic diseases due to inadequate dietary intake of nutrients. During the projected period, this is anticipated to aid in the growth of the elderly nutrition market. However, the risks connected with some elderly nutrition, such as liver problems and a lack of funds, are essential restraints for the market over the projection period.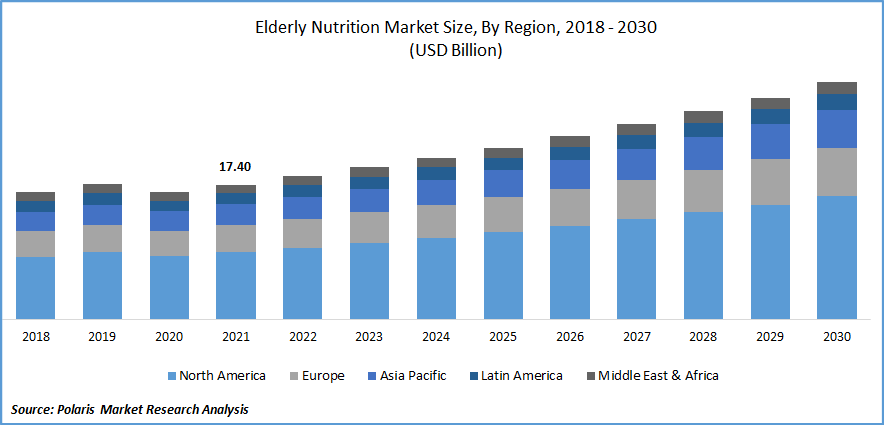 Know more about this report: Request for sample pages
As per the "World Population Prospects" 2022 study, the percentage of people in the world who are 65 or older is expected to increase from 10% in 2022 to 16% in 2050. The elderly population is expected to increase to 994 million by 2030 and 1.6 billion by 2050. Also, by 2050, a higher proportion of over 65, with adults over 65 years old outnumbering children under five by more than double. Elderly nutrition security will face new difficulties as a result of these rapid demographic shifts, which will have a major impact on nearly every element of our society and way of life.
The market for nutrition for the elderly is also anticipated to benefit from a rise in market producers' R&D investments in the creation of novel materials for dietary intake. For instance, according to a publication by Marion Burckhardt et al. issued in 2020, Souvenaid is a dietary supplement with a trademarked formulation intended for use by those who have Alzheimer's disease. Additionally, Danone launched a powder version of the medical nutrition drink 'Souvenaid,' which was usually only available in a 125ml ready-to-drink format, in January 2022.
However, throughout the forecast period, it is anticipated that factors such as a lack of funding and dangers related to parenteral elderly nutrition therapy, such as liver dysfunction and re-feeding syndrome, will limit market expansion.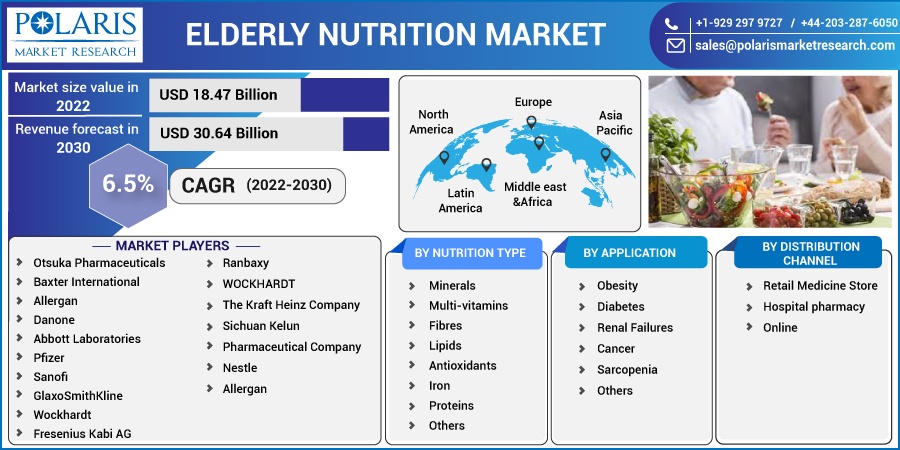 Know more about this report: Request for sample pages
Industry Dynamics
Growth Drivers
Among the chronic diseases on the rise are obesity, diabetes, cancer, cardiovascular disease, osteoporosis, and dental problems. These diseases can be avoided by listening to medical advice, getting the proper care, eating a nutritious diet, and exercising. According to projections from the Alzheimer Association 2022 report, there will be 88 million Americans 65 and older by the year 2050, up from 58 million in 2021. Alzheimer's dementia affects an increasing proportion of the elderly population: 5.0% of those between the ages of 65 and 74, 13.1% of those between the ages of 75 and 84, and 33.2% of those above the age of 85. Alzheimer's dementia can also strike those under 65. It is estimated that 12.7 million people aged 65 and older will have Alzheimer's dementia by 2050.
Some age-related issues that prevent seniors from eating well include pharmaceutical side effects, diminished sensitivity, financial hardship, poor dental health, transportation issues, memory loss, physical difficulty, and despair.
Report Segmentation
The market is primarily segmented based on nutrition type, application, distribution channel, and region.
By Nutrition Type

By Application

By Distribution Channel

By Region

Minerals
Multi-vitamins
Fibres
Lipids
Antioxidants
Iron
Proteins
Others

Obesity
Diabetes
Renal Failures
Cancer
Sarcopenia
Others

Retail Medicine Store
Hospital pharmacy
Online

North America (U.S., Canada)
Europe (France, Germany, UK, Italy, Netherlands, Spain, Russia)
Asia Pacific (Japan, China, India, Malaysia, Indonesia, South Korea)
Latin America (Brazil, Mexico, Argentina)
Middle East & Africa (Saudi Arabia, UAE, Israel, South Africa)
Know more about this report: Request for sample pages
Proteins segment is anticipated to dominate industry's market segment
Protein is estimated to lead the market in 2021 due to the increasing need for protein in the elderly. The demand for proteins keeps offering the food industry excellent growth prospects.
The growing awareness of protein consumption and new R&D in protein-based products is another major factor contributing to the market's rise. For instance, according to a study by Christianto Putra et al. published in 2021, increasing dietary protein intake by up to 1.2 g/kg bodyweight/day may prevent sarcopenia and maintain the health of older adults' musculoskeletal systems.
Additionally, on March 2022, India saw the launch of a line of products from Mighty Foods, including seekh kebab, spring rolls, grilled plant fish, keema samosas, hamburger patties, prawns in black pepper sauce, prawn Thai curry, & plant keema, which are high in protein quantity.
Obesity segment will account for a higher share of the market.
Obesity is anticipated to rule the elderly nutrition market in 2021. The primary drivers of the market's growth are older adults' poor eating and physical inactivity patterns, health problems, genetic predispositions, and environmental elements, including food access.
Furthermore, obese or overweight adults are frequently considered to consume more energy and nutrients than they require, but they often have inadequate intakes and are suboptimal. According to the Centers for Disease Control and Prevention 2021 report, obesity was 39.8% among those aged 20 to 39, 44.3% among those aged 40 to 59, and 41.5% among those aged 60 and above.
Hospital pharmacy is expected to hold the significant revenue share
Hospital pharmacies will dominate the market in 2021. The expected rise in the elderly population and hospitals' demand for parenteral nutrition products would be the main factors driving the market's growth. Parenteral nutrition can save a patient's life when admitted to the hospital for long-term care or severe disease. Many people require nutritional supplements through injections to keep their energy levels up and prevent malnutrition.
Hospital pharmacy shops are situated inside hospitals, making it simple for older patients to reach them and provide the crucial care they need with time-sensitive medications. Hospital pharmacies also enable hospitals to supply high-quality medicines to patients by making direct purchases from pharmaceutical companies, which solves the issue of fake drugs. Additionally, as the number of hospitalized patients worldwide has increased over time, there has been a rise in the need for parenteral geriatric nutrition products from hospital pharmacists.
The demand in North America is expected to witness significant growth
North America is predicted to dominate the worldwide elderly nutrition market over the forecast period, owing to the region's increasing prevalence of chronic lung disease. As per the World Health Organization report from 2022, there will be 426 million Americans who are 85 years of age or older by 2050. Develop a culture of attention to the needs of this population and its subgroups among clinicians and the public health community. The diverse community of adults over 85 may exhibit modest or severe sensory abnormalities, cognitive impairments, and frailty.
Furthermore, the geriatric nutrition market is expanding due to advanced treatment developments in North America. For instance, according to research by Phaniendra Alugoju et al. published in 2022, astaxanthin is one of these naturally occurring carotenoids with superior antioxidant activity to other carotenoids, vitamins C and E, and other carotenoids.
Additionally, it is known to exhibit a variety of pharmacological effects. The current research highlights the preventive molecular mechanisms of activities of astaxanthin on age-related disorders of numerous organs, including neurodegenerative diseases, Alzheimer's disease, Parkinson's disease, stroke, multiple sclerosis, Amyotrophic lateral sclerosis, status epilepticus, bone-related diseases, cancers, and more.
Competitive Insight
Some of the major players operating in the global market include Otsuka Pharmaceuticals, Baxter International, Allergan, Danone, Abbott Laboratories, Pfizer, Sanofi, GlaxoSmithKline, Wockhardt, Fresenius Kabi, Ranbaxy, WOCKHARDT, Kraft Heinz, Sichuan Kelun Pharmaceutical, Nestle, and Allergan.
Recent Developments
In June 2022: Sonia Calligaris et al. concluded that food structure design strategies for creating the future generation of food for the elderly are only one component of the solution to the complex problems associated with population aging. During aging, there are physiological changes related to food consumption. In evaluating food acceptance, nutrient digestion, bioactive compounds, and probiotic bacteria, the focus then switched to the potential impact of food structure in providing target functionality.
Elderly Nutrition Market Report Scope
| | |
| --- | --- |
| Report Attributes | Details |
| Market size value in 2022 | USD 18.47 billion |
| Revenue forecast in 2030 | USD 30.64 billion |
| CAGR | 6.5% from 2022 - 2030 |
| Base year | 2021 |
| Historical data | 2018 - 2020 |
| Forecast period | 2022 - 2030 |
| Quantitative units | Revenue in USD billion and CAGR from 2022 to 2030 |
| Segments Covered | By Nutrition Type, By Application, By Distribution Channel, By Region |
| Regional scope | North America, Europe, Asia Pacific, Latin America; Middle East & Africa |
| Key Companies | Otsuka Pharmaceuticals, Baxter International, Allergan, Danone, Abbott Laboratories, Pfizer, Sanofi, GlaxoSmithKline, Wockhardt, Fresenius Kabi AG, Ranbaxy, WOCKHARDT, The Kraft Heinz Company, Sichuan Kelun Pharmaceutical Company, Nestle, and Allergan. |