The global enteral feeding formulas market was valued at USD 5.84 billion in 2020 and is expected to grow at a CAGR of 6.2% during the forecast period. Enteral feeding refers to any king of feeding practice that utilizes the GI tract to impart an individual's daily caloric requirements. It includes an oral diet, liquid supplements through the feeding tubes. Nutrition through is indicated for the patients who are unable to take oral food but have an active functioning GI tract. Newborn babies and geriatrics usually require such kind of nourishment apparatus.
The enteral feeding formulas market is primarily driven by few factors, notably, rising incidence of chronic and metabolic disorders, malnutrition and premature deaths in the emerging countries, surge in geriatrics requiring home care. Moreover, the innovations in the feeding procedures, customized to the requirement of the patient, with real-time analysis are also acts as a key determinant in the enteral feeding formulas industry. As per the statistics published by the Center for Disease Control and Prevention, in 2016, pre-mature deaths, in the U.S. alone affected 1 in 10 babies. Moreover, metabolic genetic disorders in newborns, adults, and old age people, suffer from nutritional deficiencies, which could be sufficed by such enteral feeding formulas.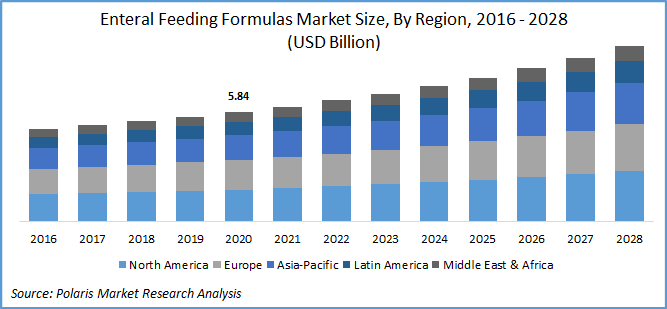 Know more about this report: request for sample pages
Industry Dynamics
Growth Drivers
Enteral food category is right now uncharted and unexplored in comparison to oral food segment, owing to this low penetration rate among geriatrics and pediatric patients. The innovations in the enteral feeding pumps, customized according to the desired indication, for the patient being treated. The patients suffering from Crohn's disease or any other metabolic disorder requires special attention, and players in the market are focusing on innovative customized formulas and appropriate practices to garner more enteral feeding formulas market share.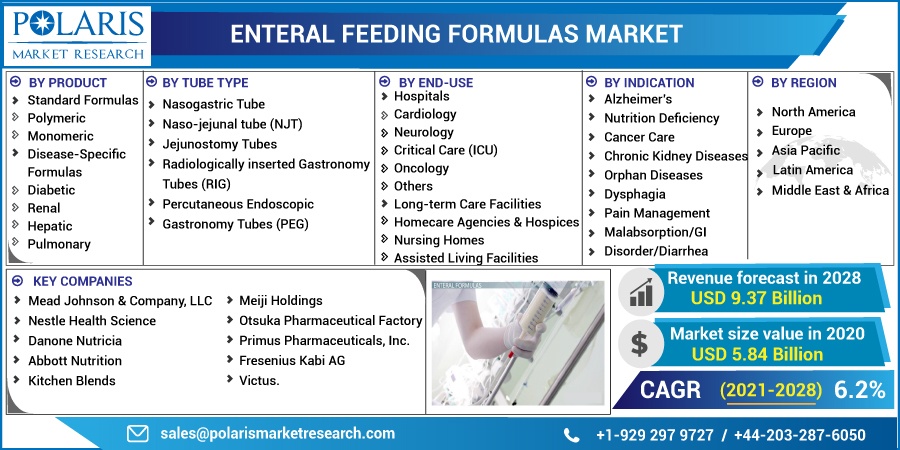 Know more about this report: request for sample pages
For instance, Japan-based firm Otsuka Pharmaceutical Factory, in August 2020, introduced ENORAS liquid in both coffee and strawberry flavor. The liquid is the concentrated polymeric enteric solution containing nutritional requirements as recommended by Dietary Reference Intakes for Japanese (2020). It is indicated for the nutrition support in the post-operative patients and tube feeding for those for whom oral nutrition is not sufficient and is prolonged care is needed.
Enteral Feeding Formulas Market Report Scope
The enteral feeding formulas industry report is primarily segmented on the basis of product, tube type, indication, end-use, and region.
By Product

By Tube Type

By Indication

By End-Use

By Region

Standard Formulas
Disease-Specific Formulas

Diabetic
Renal
Hepatic
Pulmonary
Others

Nasogastric Tube
Naso-jejunal tube (NJT)
Jejunostomy Tubes
Radiologically inserted Gastronomy Tubes (RIG)
Percutaneous Endoscopic Gastronomy Tubes (PEG)

Alzheimer's
Nutrition Deficiency
Cancer Care
Chronic Kidney Diseases
Orphan Diseases
Dysphagia
Pain Management
Malabsorption/GI Disorder/Diarrhea
Others

Hospitals

Cardiology
Neurology
Critical Care (ICU)
Oncology
Others

Long-term Care Facilities

Homecare Agencies & Hospices
Nursing Homes
Assisted Living Facilities

North America (U.S., Canada)
Europe (France, Germany, UK, Italy, Spain, Netherlands, Austria)
Asia Pacific (Japan, China, India, Malaysia, Indonesia, South Korea)
Latin America (Brazil, Mexico, Argentina)
Middle East & Africa (Saudi Arabia, UAE, Israel, South Africa)
Know more about this report: request for sample pages
Insight by Product
Based on the product, the global enteral feeding formulas industry is categorized into standard and disease-specific market segments. In 2020, the standard formulas segment accounted for the largest revenue share and is likely to retain its dominance over the study period. The availability of ready to use formulas, growing investments in the sectors, and rising awareness about the nutritional requirements in newborns, particularly in emerging nations are the key factors responsible for the market segment's high share in enteral feeding formulas industry.
Disease-specific formulas are projected to register the highest market growth over the forecast period. The strong focus of the companies on target diseases, unmet medical needs, coupled with concerning investments by market players on such enteral formulas shaping the segment's future. For instance, customized formulas Hepatic-Aid II and NutriHep by Hormel Healthlabs, and Nestle, respectively for the people suffering from hepatic diseases.
Insight by Indication
In 2020, the cancer care market segment accounted for the largest revenue share of over 40% in the global market. The key factor for such a high share is the malnourished newborns in third world countries. Moreover, the burden of the old age population, requiring home care for liquid feeding services also favoring enteral feeding formulas industry growth.
Moreover, the rising incidence of cancer, especially neck and GI tract cancer, does not allow patients to swallow properly, under such circumstances enteral feeding tubes and formulas play a vital role. According to the estimates of the American Cancer Society, in 2018, more than 64,690 people in the U.S. alone were suffering from head and neck cancer. Thus, these patients under medical settings would require enteral feeding tubes food intake.
Geographic Overview
Geographically, the global enteral feeding formulas industry is bifurcated into North America, Europe, Asia Pacific, Latin America, and Middle East & Africa (MEA). North American region is the largest revenue contributor followed by Europe and the Asia Pacific region. In 2020, the North American enteral feeding formulas industry accounted for over 25% of the global market in 2020.
Awareness regarding medical nutrition, government-sponsored disease-related malnutrition programs, and the presence of key companies with robust distribution models and expertise are the key regional factors driving enteral feeding formulas industry growth. As per the claims of Abbott Nutrition, the U.S.-based firm, the healthcare expenditure in the U.S. is higher, as compared to other countries owing to the high incidence of chronic disorders.
The main reason for this is malnutrition. It was published that the country spends more than USD 15.5 billion each year as direct medical costs and associated eight diseases. In line with this, few hospitals in the country started implementing nutritional changes, which had shown promising results in the form of reduced hospital stays and hospital re-admissions.
Latin America enteral feeding formulas industry is projected to register the fastest growth rate over the study period. A surge in the prevalence of chronic diseases due to changing lifestyles, and demographic shifts towards old age groups driving the region's growth. The region comprises over 8 percent of people aged more than 65 years.
Moreover, as per the estimates of the National Center for Biotechnology Information (NCBI), in 2015, more than 50 percent of the total population were suffering from disease-causing malnutrition. It included countries such as Argentina, Brazil, Mexico, Paraguay, Venezuela, Ecuador, Chile, and Peru.
Competitive Insight
The prominent players operating in the enteral feeding formulas industry are Mead Johnson & Company, LLC, Nestle Health Science, Danone Nutricia, Abbott Nutrition, Kitchen Blends, Meiji Holdings, Otsuka Pharmaceutical Factory, Primus Pharmaceuticals, Inc., Fresenius Kabi AG, and Victus.