The global Ewing sarcoma therapeutics market was valued at USD 245.66 million in 2022 and is expected to grow at a CAGR of 5.7% during the forecast period. The rise of regenerative medicines, as well as a surge in R&D activities to give the finest gene therapy, are also driving market expansion. Furthermore, technology advances in illness detection, pipeline medications, and growing healthcare expenditures present prospects for market expansion. The high cost of pharmaceuticals, poor healthcare spending in underdeveloped nations, and a stringent regulatory environment may hamper the worldwide market.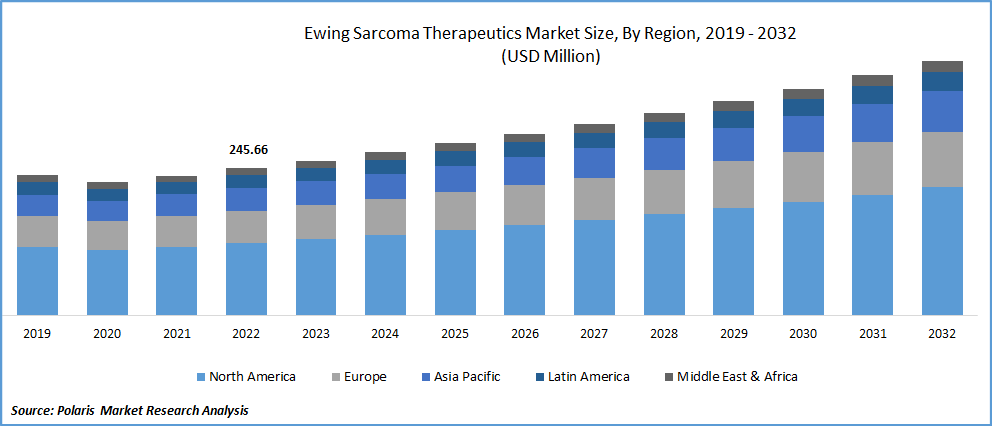 Know more about this report: Request for sample pages
Ewing sarcoma is a rare malignant tumor that develops in the bones or soft tissue around the bones, such as cartilage or nerves. This condition primarily affects persons between the ages of 10 and 20. Ewing sarcoma often begins in the pelvis or thigh bone and spreads to other bones, bone marrow, and important organs such as the lungs, heart, and kidneys. Ewing sarcoma is classified into four categories based on the afflicted body site: bone tumor, soft tissue (extra-osseous tumor), peripheral primitive neuroectodermal tumor, and skin tumor. Ewing sarcoma develops as a result of alterations in cell DNA after birth.
The most frequent Ewing sarcoma symptoms are skin lumps, a continual low temperature, bone discomfort, shattered bones, weight loss, paralysis, or bladder loss, among others. Chemotherapy, surgery, and radiation treatment can all be used to treat Ewing sarcoma. According to research, Ewing sarcoma is most frequent in the European population, followed by African and Asian populations. As a result, these influenced the populace, relying on sophisticated treatment choices and predicted to bring profitable growth to the industry.
Several historical data analyzed to determine the primary market drivers and the impact of the COVID-19 pandemic on the Ewings sarcoma therapy business. A complex examination of the drivers would help in determining the end goals and improving the marketing strategies to establish a competitive advantage.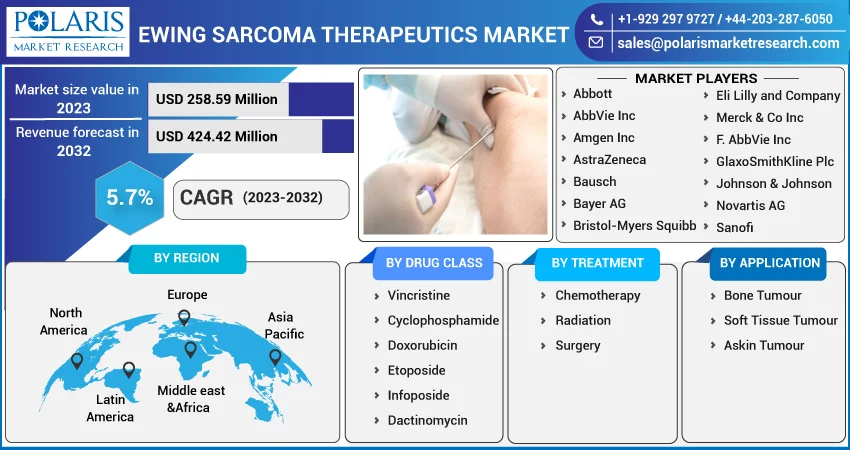 Know more about this report: Request for sample pages
Industry Dynamics
Growth Drivers
Patients with Ewings sarcoma are supported and educated by a number of independent sarcoma groups, including Sarcoma Foundation of America, Cure Research, and others. Such efforts aimed to raise sarcoma awareness and research money. It is still considered an underserved cancer. As a result of the lack of knowledge, attempts to support research and medicine development are more difficult. As a result, every year in July, numerous groups hold educational events to promote awareness among people with Ewing's sarcoma all around the world.
Furthermore, the increased frequency of bone-related illnesses and substantial investment by private businesses in developing improved cancer therapy devices are fueling ewing sarcoma therapeutics market expansion. Rising healthcare expenditures, shifting consumer and manufacturing preferences, changing patient demographics collectively drives the market growth.
Report Segmentation
The market is primarily segmented based on drug class, treatment, application, and region.
By Drug Class

By Treatment

By Application

By Region

Vincristine

Cyclophosphamide

Doxorubicin

Etoposide

Infoposide

Dactinomycin

Chemotherapy

Radiation

Surgery

Bone Tumour

Soft Tissue Tumour

Askin Tumour

North America (U.S., Canada)

Europe (France, Germany, UK, Italy, Netherlands, Spain, Russia)

Asia Pacific (Japan, China, India, Malaysia, Indonesia, South Korea)

Latin America (Brazil, Mexico, Argentina)

Middle East & Africa (Saudi Arabia, UAE, Israel, South Africa)
Know more about this report: Request for sample pages
In 2022, Vincristine drug class segment is projected to collect the largest revenue share
Vincristine is a chemotherapeutic drug used in the routine treatment of Ewing sarcoma patients. The other, YK-4-279, is an investigational medication that targets a fusion protein defect that is frequent in Ewing sarcoma tumors. Because surgery or local radiation alone has a very high death rate,1 adjuvant chemotherapy has been widely employed in this group, with chemotherapy for patients with Ewing sarcoma initially based on four drugs: doxorubicin, cyclo-phosphamide, vincristine, & dactinomycin. Treatment with the ifosf-amide, with/without etoposide, has recently proven a therapeutic benefit in patients who had relapsed following traditional Ewing sarcoma therapy.
The combination of the medications has long been regarded the standard treatment regimen for non-Hodgkin lymphoma. This combination's cytotoxic activity is mostly dependent on DNA targeting. Cyclophosphamide, first licensed in 1959, is a commonly used alkylating chemical that induces DNA cross-linking efficiently.
According to the pivotal research, this combination is safe and enhances response rate in patients undergoing induction treatment with cisplatin, vincristine, etoposide, cyclophosphamide, and carboplatin. In addition, cyclophosphamide can be used with vincristine and topotecan. A statistical examination of a larger group of patients is needed to prove the effectiveness over the usual regimen, which presently includes of vincristine, doxorubicin, cyclophosphamide, ifosfamide, and etoposide. The case of Ewing's sarcoma exemplifies the usage of vincristine.
Chemotherapy treatment segment accounted for the largest market share
Chemotherapy employs the use of strong medications to eliminate cancer cells. Chemotherapy treatment generally consists of two or more medications that are given as an infusion into a vein (IV), as pills, or both ways. Chemotherapy is typically used to start treatment for Ewing sarcoma. The medications may reduce the tumor, making it simpler to remove it surgically or with radiation therapy. Chemotherapy treatments may be continued after surgery or radiation therapy to destroy any remaining cancer cells.
To destroy cancer cells, radiation treatment employs high-energy beams such as X-rays and protons. Energy beams are given from a machine that travels around you as you lie on a table during radiation therapy. To decrease the danger of damaging surrounding healthy cells, the beams are carefully focused to the location of the Ewing sarcoma. After surgery, radiation treatment may be advised to eradicate any remaining cancer cells. It can also be utilized instead of surgery if the Ewing sarcoma is in a location where surgery is not viable or would result in undesirable functional consequences.
Ewing sarcoma surgery may include removing a tiny part of bone or a whole limb. The ability of surgeons to remove all of the cancer without losing the entire limb is dependent on a number of circumstances, including the size and location of the tumor, as well as whether it decreases following treatment.
The demand in Europe is expected to witness significant growth
Europe is predicted to grow at an exponential rate as a result of well-developed healthcare sectors and increased strategic endeavors by market participants to enhance product distribution channels.
Because of increased knowledge about various forms of therapies and government funding for research and development efforts, Asia-Pacific is likely to account for the greatest market share. Increasing government expenditure on the healthcare industry is another factor driving ewing sarcoma therapeutics market expansion in the area.
Competitive Insights
Some of the major players operating in the global ewing sarcoma therapeutics market include Abbott, AbbVie, Amgen, AstraZeneca, Bausch, Bayer, Bristol Squibb, Eli Lilly, Merck, AbbVie Inc, GlaxoSmithKline, Johnson & Johnson, Novartis, and Sanofi.
Recent Advancement
Gradalis has begun a Phase 3 clinical trial of Vigil in combination with the "irinotecan" & "temozolomide" to treat patients suffering with Ewing's Sarcoma (EWS), which is planned to be completed, in 2023.

In December 2019, the FDA stated that SP-2577, a medication for the relapsed/ recurrent Ewing sarcoma, had achieved expedited designation in the ongoing clinical trials conducted by the Moffitt Cancer Center.
Ewing Sarcoma Therapeutics Market Report Scope
| | |
| --- | --- |
| Report Attributes | Details |
| Market size value in 2023 | USD 258.59 million |
| Revenue forecast in 2032 | USD 424.42 million |
| CAGR | 5.7% from 2023 – 2032 |
| Base year | 2022 |
| Historical data | 2019 – 2021 |
| Forecast period | 2023 - 2032 |
| Quantitative units | Revenue in USD million and CAGR from 2023 to 2032 |
| Segments covered | By Drug Class, By Treatment, By Application, By Region |
| Regional scope | North America, Europe, Asia Pacific, Latin America; Middle East & Africa |
| Key companies | Abbott, AbbVie Inc, Amgen Inc, AstraZeneca, Bausch, Bayer AG, Bristol-Myers Squibb, Eli Lilly and Company, Merck & Co Inc, F. AbbVie Inc, GlaxoSmithKline Plc, Johnson & Johnson, Novartis AG, Sanofi. |