The global excavator market was valued at USD 46.1 billion in 2019 and is predicted to exhibit a CAGR of 4.32% over the forecast period. Excavators, also called as hydraulic excavators, which are heavy duty equipment plays a considerable role in the worldwide market for building machinery. Excavator is one of the construction and mining equipment industry's main component. It is commonly used in residential construction, business building, sewage disposal applications and mining, both surface and underground. An excavator consists of a backhoe on a rotating platform known as a rear actor or back actor, dipper or stick, digging bucket, and taxi also called as a house. The backhoe pulls the bucket that is attached to itself. The bucket is carried by dipper stick or the dipper itself. The digging bucket digs out the soil from the floor, while at the necessary location the cab dumps the soil on the rotating platform. Excavator is used to excavate various types of soil.
Mini excavator, also called as a compact excavator, has either a steel wheel or rubber wheel or undercarriage and usually has an operating range of 0.6–10 tons and is used to perform tasks traditionally performed by labor. Mini excavator automates the work which can be done with the help of a tractor, pickups and mini trucks making the task efficient, versatile, cost-effective, compact and easy. They are used with limited space in the building sites. Mini excavator, together with a boom swing, has a backfill blade and bucket. Mini excavators are generally used in small to medium-sized projects, including small-scale landscaping, demolition, small-scale construction, forestry, electrical trench construction and plumbing. They are used prominently for all the tasks that a hand tool can accomplish.
In addition, they are attached to increase their productivity with advanced features and extensive arrays. In the infrastructural development program and for construction purposes, mini excavators are used. Increasing demand for residential construction and growth in infrastructure will drive the global market for mini excavators. Mini excavators are widely used in the maintenance, installation, electrical transmission networks and repair of gas pipelines, thus increasing utility will accelerate the global mini excavator market. They are also used in other applications such as irrigation farming and railway maintenance.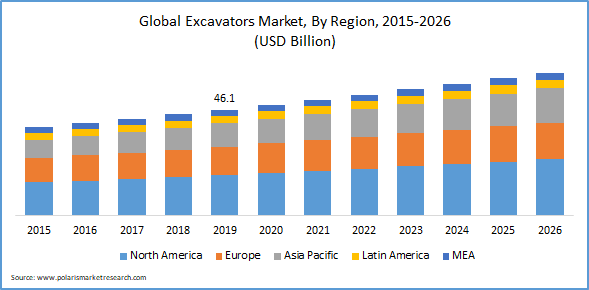 Know more about this report: request for sample pages
By adding several attachments such as tie inserters, hydraulic brush cutter, under cutter bars and tie tampers the productivity of mini excavator can be enhanced. It is estimated that the global excavator market will grow as private construction companies & government investments in infrastructure development such as commercial, industrial projects and residential will increase. Large-scale oil and gas, road and port construction projects and mining have also led to an increase in the excavator's demands. The market's key companies are investing in graduation R&D activities such as ports & warehouses material handling, hydraulic installation, agricultural equipment, municipal equipment, forestry equipment and providing efficient mining equipment
Emerging trends such as renting excavators drive the global excavator market to shift from traditional to automated excavators, as technology-equipped excavators are much more efficient than traditional excavators, as they provide information to service centers in the event of any malfunctions or operational disadvantages that reduce information flow time & costs. In 2019, Crawler excavators held the highest market share due to their higher weight carrying capacity and more suitable for use in muddy conditions. They enable debris to be removed safer and faster. With the help of crawlers, digging procedures have also become much simpler and easier. Growing economy demands more residential and non-residential construction projects, which will accelerate the global market demand for excavators in the future. Increasing momentum due to globalization and industrialization to develop global infrastructure will drive the demand for excavator on the global market. In addition, investment in infrastructure and housing projects and road construction will increase the global market demand for excavators. Increasing demand for fuel-efficient and environmentally friendly excavators will result in convectional replacement with more efficient and advanced excavators and thus increase the demand for excavators on the global market. Significant market participants are investing mainly in R&D activities to implement many new features on the market for excavators.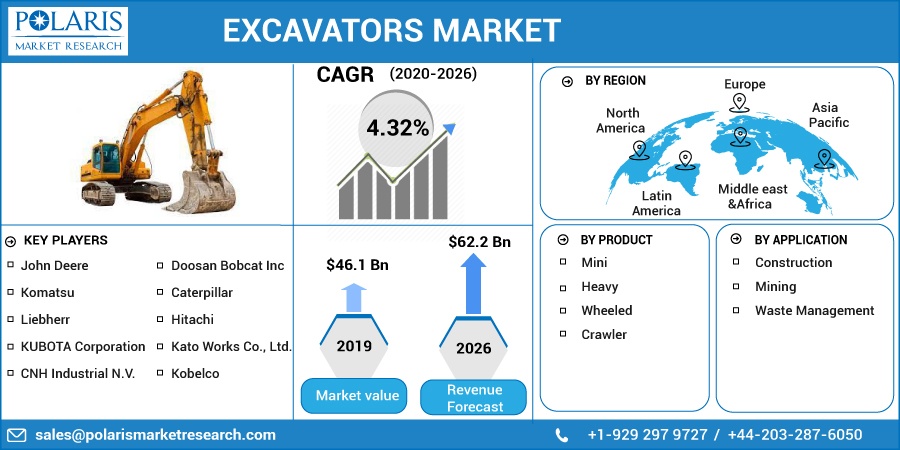 Know more about this report: request for sample pages
Excavators Market Report Scope
The market is primarily segmented on the basis of product type, application and geographic region.
By Product Type

By Application Type

By Region Type

Mini
Heavy
Wheeled
Crawler

Construction
Mining
Waste Management

North America (U.S., Canada)
Europe (Germany, UK, France, Italy, Russia)
Asia Pacific (India, Japan, China, South Korea)
Latin America (Brazil, Mexico, Colombia)
MEA (Saudi Arabia, South Africa, Israel, UAE)
Know more about this report: request for sample pages
Product Type Outlook
During the forecast period, demand for wheeled excavators is expected to rise by an above average growth rate. The wheeled excavators are very easy to move and hence have contributed to the growth in demand for these wheeled excavators. In addition to this, the mini excavators are used in various industries such as construction and agriculture. Increase in demand from these end use industries is also expected to fuel the demand for excavators over the forecast period.
Application Outlook
The construction segment is projected to witness above average growth over the forecast period based on application. Increase in industrialization has led to increase in demand for excavators in the recent years. In addition to this, urbanization has also fueled the demand for excavators in construction industry. Various government initiatives as a part of development has also boomed the demand for excavators and is also expected to continue the same in the forecast period as well. Growth in mining industry is also anticipated to boost the demand for excavators over the forecast period.
Regional Outlook
The report examines markets in North America, Asia Pacific, Middle East and Africa, Europe, and Latin America from a geographical front. The construction industry is fostered by improving economic conditions and rapid development of infrastructure in emerging economies such as India, South Korea and China. It is estimated that the market in developed countries will register relatively sluggish growth in the coming years. Construction activities in North America and Europe have declined in recent times with low investment in infrastructure expansion, which can hamper prospects for growth in turn.
Competitive Landscape
The global market in nature is highly competitive. John Deere, Komatsu, Liebherr, KUBOTA Corporation, CNH Industrial N.V., Doosan Bobcat Inc, Caterpillar, Hitachi, Kato Works Co., Ltd. and Kobelco among others are key industry competitors. Excavator manufacturers use strategies such as rentals, partnership with suppliers of components, and R&D investments to expand their product portfolio. For example, Caterpillar Inc. launched a strategic alliance for on-site and off-site auction of used Cat equipment with Ritchie Bros.