The global flow cytometry market was valued at USD 6.38 Billion in 2020 and is expected to grow at a CAGR of 9.0% during the forecast period. Technological advances in flow cytometers, the use of flow cytometry technologies in scientific research and drug testing, the rising emphasis on developmental biology and immuno-oncology research, the integration of AI platforms in flow cytometry interfaces and innovations in flow cytometry software, and the high incidence rates of melanoma are all driving market growth.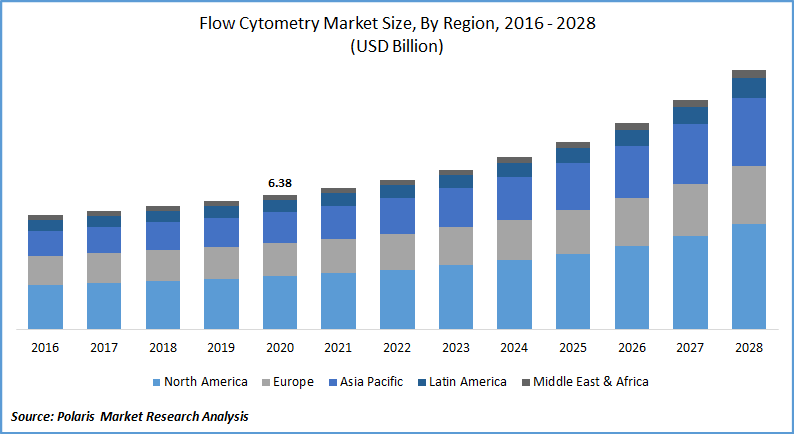 Know more about this report: request for sample pages
The expansion of the market in developing countries, the expansion of stem cell research, the acceptance of recombinant DNA technology for antibody manufacturing, and the progression of tandem flow cytometry technology are all factors to consider.
Industry Dynamics
Growth Drivers
One of the factors that are likely to drive the market demand for flow cytometry over the projected period is the rising prevalence of chronic disorders. Furthermore, the negative effects of chemotherapy and radiation therapy in cancer care have increased physicians' preference for autologous and allogeneic stem cell therapies, boosting the market's development.
As per the WCRF, about 18 million people were diagnosed with cancer globally, in 2018. In that year, approximately 17,036,901 new cases were diagnosed. According to the WCRF, about 437,033 people were identified with leukemia, in 2018. Flow cytometry aids in the identification and therapy of leukemia, as well as the differentiation of lymphoid from myeloid leukemia.
Due to the healthcare spending in developed countries and improved healthcare facilities, the biotechnology industry is expected to expand significantly over the forecast period. The market is expected to be driven by an increase in government support for clinical trials about in vitro molecular diagnostics, as it plays a critical role in the production of new drugs.
Significant market growth of flow cytometry has resulted from increased investments in influential biotech and biopharma firms. In comparison to the U.S., Chinese investors are increasingly focused on European biotech firms.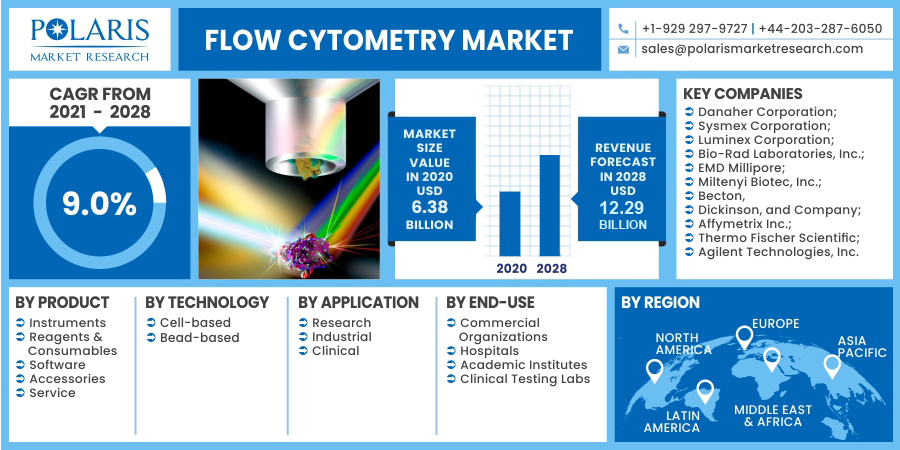 Know more about this report: request for sample pages
Flow Cytometry Market Report Scope
The market is primarily segmented based on product, technology, application, end-use, and region.
By Product

By Technology

By Application

By End-Use

By Region

Instruments
Reagents & Consumables
Software
Accessories
Service

Research
Industrial
Clinical

Commercial Organizations
Hospitals
Academic Institutes
Clinical Testing Labs

North America (U.S., Canada)
Europe (France, Germany, UK, Italy, Spain, Netherlands, Austria)
Asia Pacific (Japan, China, India, Malaysia, Indonesia, South Korea)
Latin America (Brazil, Mexico, Argentina)
Middle East & Africa (Saudi Arabia, UAE, Israel, South Africa)
Know more about this report: request for sample pages
Insight by Product
The instruments segment dominated the global market for flow cytometry in 2020, accounting for the largest revenue share, and is anticipated to continue to do so during the forecast period. This high market share can be attributed to technological advances and the launch of new cytometers by key market players. The high cost of these instruments also contributes to the segment's market growth.
Insight by Technology
In 2020, cell-based technology dominated the market. The market growth is due to an increase in demand for early diagnosis and increased understanding of the related benefits of cell-based assays. Besides, advances in cell-based assay technology, such as innovations in tools, labels, software, affinity reagents, and algorithms, are likely to accelerate adoption soon.
Insight by Application
The research application of flow cytometry accounted for the significant market value in 2020 and is likely to be the largest segment in the given time frame. Increased R&D activities in cancer and communicable diseases, like COVID-19, can be due to this high share. Furthermore, rising R&D investments in the pharmaceutical and biotechnology industries are projected to add a favorable climate for business expansion.
Insight by End-Use
In 2020, the commercial organization category dominated the market. Increased R&D efforts by commercial entities such as pharmaceutical and biotechnology firms are credited with this supremacy. Furthermore, growing food industries in emerging countries like China and India are expected to boost segment growth.
Geographic Overview
North America accounted for the highest revenue share of the global flow cytometry market in 2020. This dominance is due to the U.S. high healthcare spending, well-developed healthcare system, and rising adoption of flow cytometers.
Besides, research activities by academic institutions and pharmaceutical companies, has induced adoption of flow cytometry solutions in research purposes. Furthermore, the high incidence of prolonged and communicable diseases, for instance, coronavirus, has increased the demand for flow cytometry.
Due to the rapid growth of the biopharmaceutical industry in emerging markets such as China and India, the demand for flow cytometry in Asia Pacific is anticipated to expand at an exponential rate. Ongoing R&D activities in the fields of cancer and infectious diseases.
For instance, COVID-19, are expected to drive up demand for flow cytometry products in the area. Furthermore, regional market players are conducting comprehensive research to enhance or create novel flow cytometry solutions.
Competitive Insight
Key players in the flow cytometry market are concentrating their energies on strategic acquisitions to boost their research & development capabilities, which will help them provide creative solutions to users and gain a competitive edge.
Market participants such as Danaher Corporation; Sysmex Corporation; Luminex Corporation; Bio-Rad Laboratories, Inc.; EMD Millipore; Miltenyi Biotec, Inc.; Becton, Dickinson, and Company; Affymetrix Inc.; Thermo Fischer Scientific; and Agilent Technologies, Inc. are some of the companies operating in the market for flow cytometry.