The global food safety testing market was valued at USD 19.09 billion in 2020 and is expected to grow at a CAGR of 7.8% during the forecast period. Increasing incidents of chemical infection in food processing industries due to unconventional techniques in the production plants of packaged eatables is anticipated to fuel the market growth over the forecast period.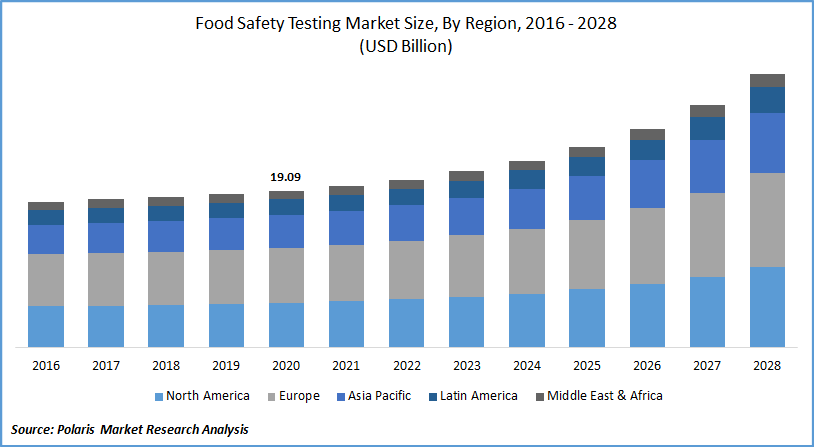 Know more about this report: request for sample pages
A busy lifestyle among the working population has created a need for processed and packaged eatables in developed and developing economies. Quick-service restaurants and junk food joints are expanding globally to cater to this demand, which further acts as a driver for the food safety testing market.
Consumer shift from dine-in restaurants to online delivery services in the COVID-19 pandemic has created new market opportunities across the globe as the buyers are more concerned about the quality of food and its composition for maintaining a strict diet and healthy lifestyle.
Advanced instrumental techniques such as infrared spectroscopy, ELISA (enzyme-linked immunosorbent assay), mass spectroscopy, and nuclear magnetic resonance are used for safety. Increasing development in high-end technologies for food safety is the significant market driver expected for market growth in the upcoming years.
Food-generated complications occur due to the presence of yeast, molds, and mycotoxin in the edibles. Pathogens such as Listeria, E. coli, campylobacter, and salmonella have a severe effect on microbiological safety and contaminate eatables. Food safety testing safeguards quality and ensures its health measures.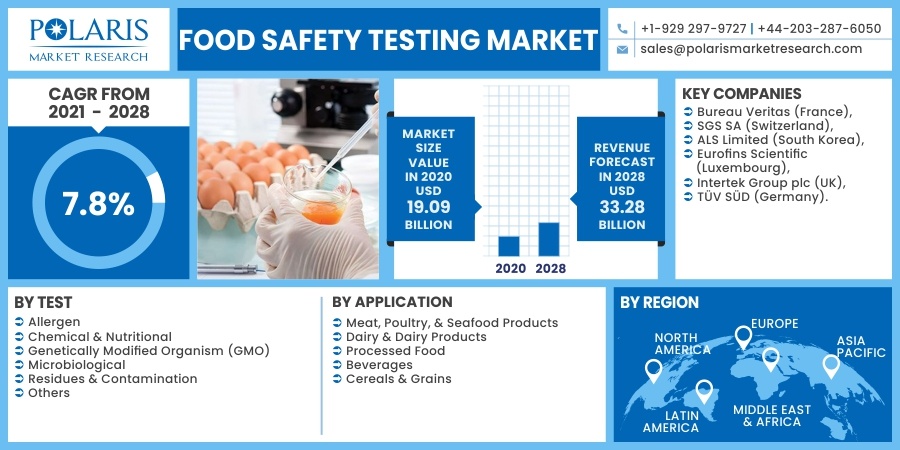 Know more about this report: request for sample pages
Food safety testing Market Report Scope
The market is primarily segmented on the basis of test, application, and geographic region.
By Test

By Application

By Region

Allergen
Chemical & Nutritional
Genetically Modified Organism (GMO)
Microbiological
Residues & Contamination
Others

Meat, Poultry, & Seafood Products
Dairy & Dairy Products
Processed Food
Beverages
Cereals & Grains

North America (U.S., Canada)
Europe (France, Germany, UK, Italy, Spain, Netherlands, Austria)
Asia Pacific (Japan, China, India, Malaysia, Indonesia, South Korea)
Latin America (Brazil, Mexico, Argentina)
Middle East & Africa (Saudi Arabia, UAE, Israel, South Africa)
Know more about this report: request for sample pages
Insight by Test
The food safety testing market is segmented based on test segment, which is bifurcated into allergen, chemical & nutritional, genetically modified organism (GMO), microbiological, residues & contamination, and other tests.
Microbiological test was the market leader in the year 2020, owing to its use in detecting microorganisms in eatables using biological, chemical, biochemical, and molecular methods. It delivers precise and accurate results and thus has significant market demand from the food & beverage industries.
Microbiological tests aids in verifying the existence of industrial microorganisms such as Lactobacillus rhamnosus, casei, and Bifidobacteria. These tests can be carried out in heat resistance microorganisms, fecal contamination, and acid resistance microorganisms.
Genetically modified organism (GMO) testing is projected to witness high pace market growth over the forecast period in terms of revenue accounted for increasing awareness across the consumers for harmful GMO in food products and their adverse impact on the human body. The industries are using GMO palatable products which are further anticipated to boost the demand for safety testing effective in genetically modified organisms to make sure ideal quality.
Residue & contamination accounted for the second-largest market share in terms of volume and revenue in the test segment. Growing demand for checking contamination in meat products, poultry, and meat has been a key driver for its growth. It can be used in quality and safety checks to spot the overuse of chemicals such as herbicides and pesticides along with the high intake of additives and antimicrobial drugs in the edibles.
Insight by Application
In the year 2020, meat, poultry & seafood registered the highest revenue share owing to the growing intake of meat and meat products among the population across the globe and the high threat of disease-causing due to its consumption. With a consumer shift towards packaged non-vegetarian products, the segment is expected to maintain the leading position over the forecast period.
The dairy and dairy products segment is anticipated to witness higher growth in the coming years accounted for the rising incidence of contamination during processing. The strict government norms for milk composition considering the health hazards caused due to contaminated milk consumption are expected to drive the growth.
Processed food had the second-largest revenue share in the year 2020 due to the rising demand for packaged products such as snacks, cake mixes, frozen meals, etc. As these products deliver longer shelf life the chemical used in the production process becomes a crucial factor and, the government has enforced strict rules for defining its structure. It is projected to thrust the demand for safety testing in the segment.
Manufacturers are aiming to get longer storage life and better quality for beverages such as energy drinks, soft drinks, and fruit juices. This has resulted in more preservative use and thus anticipated to increased more accurate and reliable safety testing and propelled the market growth for safety testing.
Geographic Overview
Europe safety testing emerged as a market leader contributing to over 30% of global revenue in the 2020, accounted for the high occurrence of food-associated allergies across the population in the region. In the U.K. near about 1 million people are diagnosed with an illness caused due to consumption of contaminated food and about 500 death incidences are registered each year due to poisoning. Food safety norms are stringent in the region contributing to the market growth over the forecast period.
Asia Pacific safety testing is anticipated to grow at fastest rate over the forecast period owing to the regulations carried out by several authorities for the food safety and well-being of consumers in the region. FSSAI designed an IT solution for an Indian food research laboratory called InFoLNet.
Such programs are estimated to drive market development at a high pace in the coming years. India is becoming one of the largest consumers for packaged food products and ready-to-eat meals with customer shift on account of hectic lifestyle among working youth and escalating disposable income.
North America was a key region for the allergen testing market in the year 2020, owing to the strict regulations in the U.S. However, genetically modified organism testing had comparatively lower market expansion in the province due to a lack of strong directives for the production and cultivation of GMO crops in the U.S.
Latin America market had the most limited market growth considering less apprehension about food safety and lack of government laws. The growing need for processed and packaged meals in the region has created new market opportunities with growth potential in the coming years.
Competitive Insight
The prominent players in the market for food safety testing are Bureau Veritas (France), SGS SA (Switzerland), ALS Limited (South Korea), Eurofins Scientific (Luxembourg), Intertek Group plc (UK), and TÜV SÜD (Germany). Key players are focusing on expanding in Asia Pacific, Europe, and North America with mergers, collaboration acquisitions, and partnerships.
SGS S.A. contributes to the largest share in the global market with a focus on expanding its product portfolio with acquisitions and investment in R&D. In the year 2019, Merieux NutriScinece, acquired a majority of shares in Advanced Laboratory Testing (ALT) to deliver high-quality chemistry and microbiology testing services in Ireland.