The global freeze-drying equipment market was valued at USD 1,568.5 million in 2018 and is expected to exhibit a CAGR of 8.9% over the forecast period. It is the process of drying an already frozen product below the triple point using vacuum. The vacuum helps in sublimation process, thus, facilitates the direct conversion of ice into vapor. This process skips the intermediate liquid stage. This process is used to keep the product's shape, color, nutrients and taste, thus making it a very gentle drying process.
Some of the applications of free dryers include fruits, vegetables, meat, instant coffee and tea, and prepared meals among others. In addition to this, these equipment are used for active ingredients such as enzymes, probiotics, and other functional ingredients for food products. Food processing industry is one of the major users of these type of dryers, as this process turns residual moisture into ice thereby, slows down the decomposition process. It also suppresses the growth of bacteria, thus preserving the texture and taste of the food.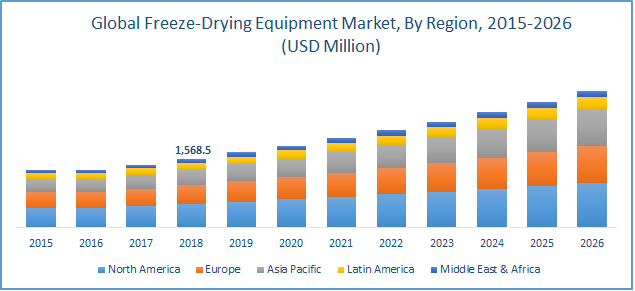 Know more about this report: Request for Sample Pages
Increasing demand for food preservation is anticipated to be one of the major reasons for the rise in demand for these dryers, thus driving the market growth. The rapid growth in food and pharmaceutical industry has propelled the need for these dryers. In the recent years, freeze-drying process has been largely used in the surgical procedures, thereby fueling the industry growth. Apart from this, flower preservation and leather preservation has also augmented the demand for these type of dryers in the recent years.
Pharmaceutical industry has been using these equipment in order to store and stabilize drugs. However, one of the major factors hampering the growth of free-drying equipment industry is the high cost associated with it. In addition to this, the growing market for refurbished products is also anticipated to hamper the growth of this market in the near future. The freeze dryer market is very competitive and marks the presence of large number of players. The major players in this market are majorly focused on food processing industry in order to create new opportunities in terms of revenue.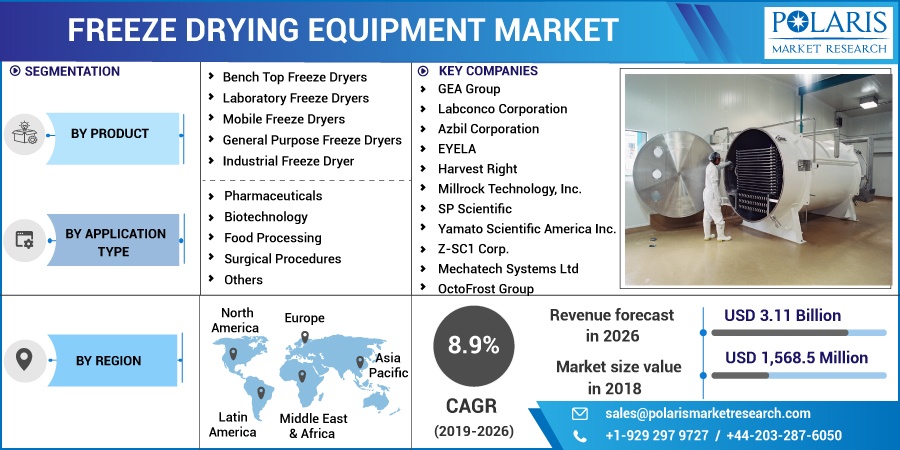 Know more about this report: Request for Sample Pages
Freeze drying Equipment Market Report Scope
By Product Type

By Application Type

By Region Type

· Bench Top Freeze Dryers

· Laboratory Freeze Dryers

· Mobile Freeze Dryers

· General Purpose Freeze Dryers

· Industrial Freeze Dryers

· Others

· Pharmaceuticals

· Biotechnology

· Food Processing

· Surgical Procedures

· Others

· North America (U.S., Canada)

· Europe (UK, Germany, France, Italy, Russia)

· Asia Pacific (China, India, Japan, South Korea)

· Latin America (Brazil, Mexico, Colombia)

· MEA (Saudi Arabia, South Africa, Israel, UAE)
Know more about this report: Request for Sample Pages
The market is primarily segmented on the basis of product type, application and geographic region.
Product Type Outlook
The overall market is segmented based on product type as bench top, laboratory, mobile, general purpose, industrial freeze dryers and others. The industrial segment held the largest market share in the global market and is expected to retain its dominance over the forecast period. The mobile freeze dryer is expected to exhibit the highest growth over the forecast period. This is mainly attributed to the growth of large industries across the globe.
Application Type Outlook
Global freeze drying equipment market can be segmented into pharmaceuticals, biotechnology, food processing, surgical procedures and others, based on application. In 2018, the global market was led by food processing segment contributing a major market share of the total revenue generated worldwide. The growing food processing industry has augmented the demand for freeze dryers in order to store the food for long transportations. Another major use of these dryer is in the pharmaceutical industry in order to store drugs. The biotechnology segment is anticipated to witness highest growth over the forecast period. The use of freeze-dried platelet rich plasma for surgical procedures in order to maintain its efficacy for longer time span is expected to drive the demand for these dryers in the near future.
Regional Outlook
The global freeze drying equipment market is categorized based on region into North America, Europe, Asia Pacific, Latin America and Middle East and Africa. The global market was dominated by North America in terms of market share in 2017. However, Asia-Pacific region is anticipated to witness exponential growth over the forecast period. This is mainly attributed to the growth of pharmaceutical and food sector in Asia Pacific region. In addition to this, Asia Pacific is a hub for major players in this market. India and China have witnessed continuous increase in pharmaceutical companies which in turn is expected to drive the market size in this region. Europe is also expected to enjoy significant market share in the near future.
Competitive Landscape
The key leading players in the market include Tofflon Science and Technology Co., Ltd, GEA Group, Labconco Corporation, Azbil Corporation, EYELA, Harvest Right, Millrock Technology, Inc., SP Scientific, Yamato Scientific America Inc., Z-SC1 Corp., Mechatech Systems Ltd., OctoFrost Group and USIFROID among others. Collaborations and partnerships are some of the key developmental strategies adopted by the key players in this market. In addition to this, the key players in this market are also investing on R&D activities in order to develop innovative solutions.
In line with this, in April 2019, Telstar introduced pharmaceutical freeze-drying equipment in order to ensure an efficient production of pharmaceutical processes. In June 2018, GEA introduced LYOSPARK, a controlled nucleation technology which enables uniform ice crystal formation in laboratory and production-scale freeze dryers with a minimum degree of supercooling. In March 2018, GEA Group launched its new RAY PP (Pilot Plant) batch freeze dryers in Cologne. These machines are designed for drying of general food products such as fruit, vegetables, instant coffee, meat, seafood, as well as pet foods.