The global fructose market was valued at USD 4.45 billion in 2020 and is expected to grow at a CAGR of 4.2% during the forecast period. Fructose is a monosaccharide with similar chemical formula as glucose but a different molecular structure. It is extracted from honey, fruits, plants, and vegetables. Fructose is mostly used in the food, beverage, and confectionery industry to enhance a product's taste, texture, and quality.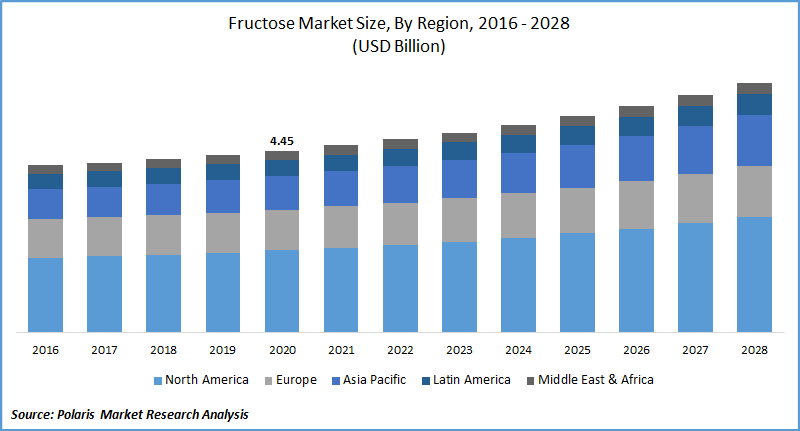 Know more about this report: request for sample pages
Key factors responsible for the fructose market growth include rising global population, increasing demand for low-calorie food products, and its potential benefits over table sugar. Its low glycemic index and wide applicability in the food processing industry also boosted the market growth. Moreover, millennials in the developed countries are more focused on a healthy balanced diet also favoring market growth for fructose.
However, fluctuations in raw material prices and rising production costs are expected to restrain the market growth for fructose. A rise in the cost of production directly influences the final product price. In September 2019, Tate and Lyle increased the price of its offerings in the North America region's food & beverage business due to an increase in production costs. The same was quoted by Cargill in its annual reporting, where it saw a decline in revenue due to a rise in the cost of raw material procured.
Moreover, through recent research it being predicted that high fructose corn syrup can increase the risk for diabetes, weight gain, high blood pressure, cholesterol level, fatty liver, and mental stress. Owing to this, the consumers could shift towards potential alternatives such as raw honey, stevia, and coconut milk. Hence, product substitutes like this are likely to hamper fructose market growth.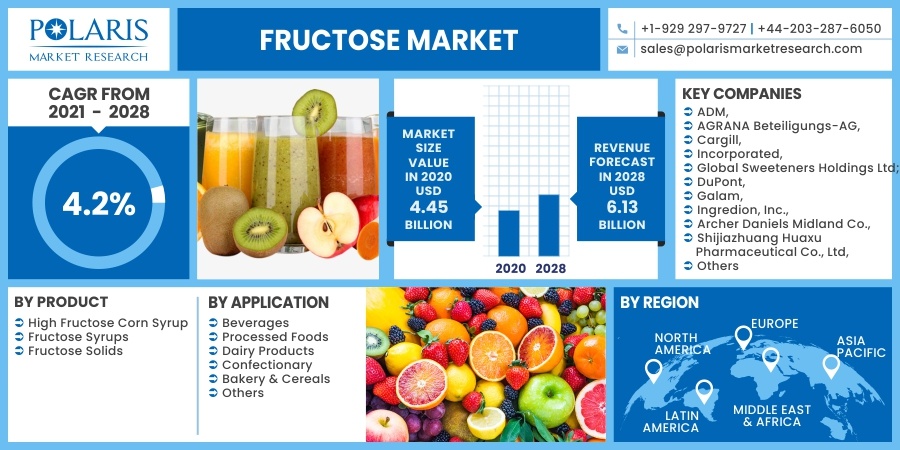 Know more about this report: request for sample pages
Fructose Market Report Scope
The market is primarily segmented on the basis of product, application, and geographic region.
By Product

By Application

By Region

High Fructose Corn Syrup
Fructose Syrups
Fructose Solids

Beverages
Processed Foods
Dairy Products
Confectionary
Bakery & Cereals
Others

North America (U.S., Canada)
Europe (France, Germany, UK, Italy, Spain, Netherlands, Austria)
Asia Pacific (Japan, China, India, Malaysia, Indonesia, South Korea)
Latin America (Brazil, Mexico, Argentina)
Middle East & Africa (Saudi Arabia, UAE, Israel, South Africa)
Know more about this report: request for sample pages
Insight by Product
The high fructose corn syrup market segment accounted for the largest revenue share, in 2020. Product is gaining high adoption among consumers due to its ability to enhance quality, flavor, texture, and color to several foods, drinks, and syrups. Manufacturers usually prefer high fructose syrup due to its liquid state, which makes it cheaper to manufacture as compared to other sweeteners. It is being analyzed that, use of table sugar instead of fructose syrups in cold drinks increases the sweetener's price by two times.
The fructose syrup market segment is projected to witness a lucrative market growth rate over the assessment period. This future market growth is backed by its ability to blend with other ingredients. They are primarily derived from corn starch and used in dry mix energy drinks, chocolate milk, fruit packs, carbonated drinks, and low-calorie sweeteners. This helps maintain moistness and proper textures for the bakery products for a longer duration.
Insight by Application
In 2020, the beverage market segment accounted for the largest share. The product is being used as a sweetener in the food & beverage industry for juices, creams, energy drinks, soda, and coffee. The growing consumption of coffee across the globe also facilitating the segment's market growth. Some of the major companies using fructose include Coca-Cola, Tropicana, Kraft Foods, Jones Soda, Pepsi, Marigold, and other concentrate companies.
The food processing market segment is projected to witness lucrative growth over the assessment period. This market growth is due to rapid innovations and advancements in the processed food industry. The rising popularity of snacks, desserts, meals, and bakery items is likely to propel the segment's market growth over the study period.
Geographic Overview
In 2020, the North America region accounted for over 40% of the global market. Regional factors contributing to the market growth include the rising popularity of food and beverage such as diet coke, sports drinks, juices, and other refreshments.
A gradual shift to organic products, the presence of key players, and consumer awareness regarding low-calorie diet coupled with heavy reliance on processed food due to busy lifestyle. The marketplace is flooded with small, medium, and large players with robust supply chain networks also boosted the region's market growth prospects.
Competitive Insight
The prominent players operating in the market are ADM, AGRANA Beteiligungs-AG, Cargill, Incorporated, Global Sweeteners Holdings Limited, DuPont, Galam, Ingredion, Inc., Archer Daniels Midland Company, Shijiazhuang Huaxu Pharmaceutical Co., Ltd, Showa Sangyo Co., Ltd. and Tate & Lyle.