The global gaming peripheral market was valued at USD 6.63 billion in 2022 and is expected to grow at a CAGR of 11.1% during the forecast period.
The growing global gaming community, especially in the realm of e-sports and virtual games, is a significant driver of market growth. This trend has led to an increased demand for specialized gaming keyboards and gamepads that can be tailored to individual gamers' needs, providing enhanced ergonomics. Additionally, the rising desire for immersive and lifelike gaming encounters has opened avenues for body sensors, peripheral devices, and high-quality gaming consoles to thrive.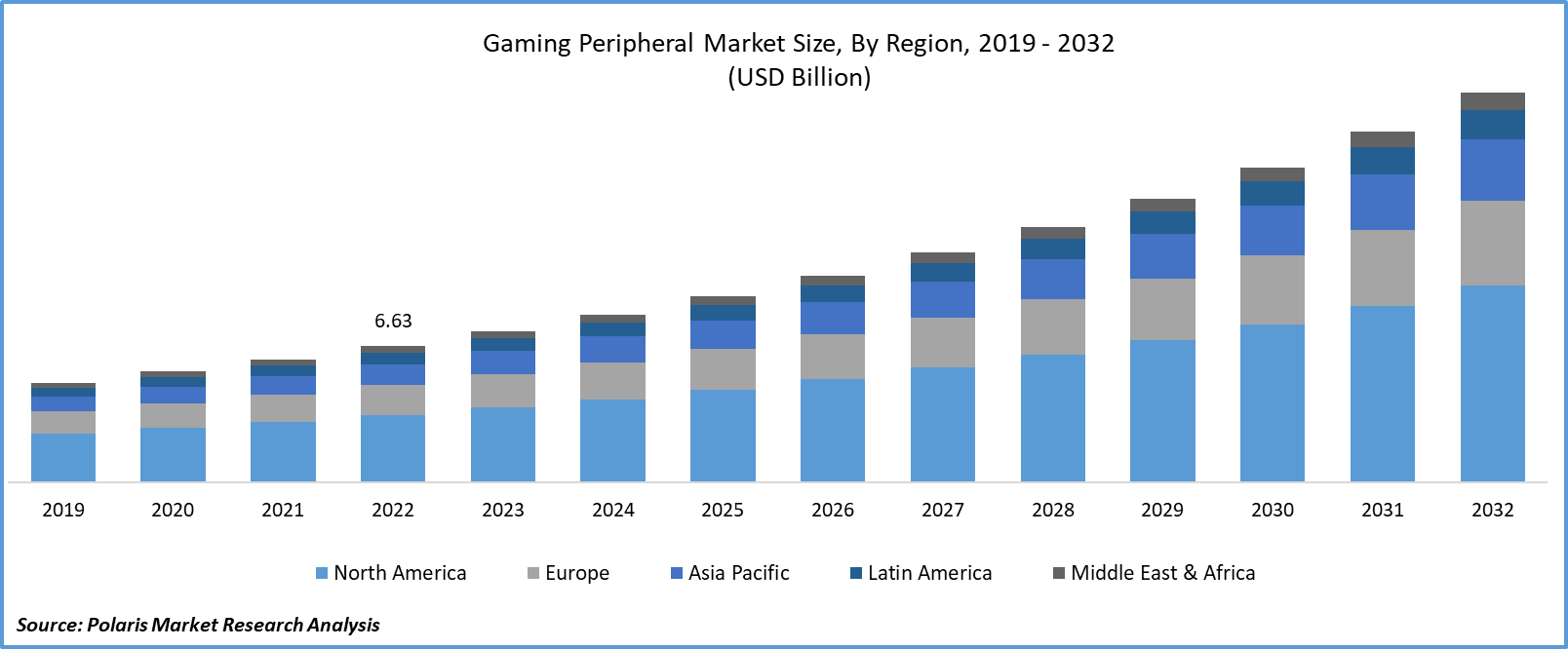 To Understand More About this Research: Request a Free Sample Report
According to the statistics published by the World Bank, in India, the average annual expenditure on gaming per person is USD 23, notably lower than the spending in the USA and China, which are at USD 113 and USD 115, respectively. However, the country's growing young population, deeply passionate about gaming, is becoming more inclined to invest both time and money into gaming activities.
Gaming companies allocate substantial budgets for marketing campaigns and promoting gaming products and platforms. These efforts have effectively raised awareness about gaming peripherals among gamers, expanding their customer base and creating diverse opportunities in the market. Additionally, the introduction of virtual reality headsets and high-quality displays has elevated gamers' experiences, driving the development of advanced gaming peripherals.
For instance, Sony Group Corporation extended its presence beyond PlayStation by launching the INZONE brand in June 2022. INZONE provides displays and headphones for PCs and has plans to broaden its product range in the future.
The gaming peripheral market faced challenges during the early stages of the COVID-19 pandemic due to supply chain disruptions and manufacturing facility closures. However, the market rebounded strongly as people increasingly turned to gaming for entertainment during lockdowns and social distancing measures. This surge in demand for gaming accessories and peripherals was also fueled by the rise in remote work and e-learning, where high-quality headphones, mice, and keyboards became essential tools for both gaming and productivity. This resilience showcased the gaming peripheral industry's ability to adapt to evolving consumer needs during the pandemic.
Industry Dynamics
Growth Drivers
Rising Demand for Gaming Products
Key players in the market are experiencing robust growth due to increasing demand for gaming products like headsets, keyboards, controllers, mice, and various accessories, propelled by advancements in gaming graphics. For instance, in July 2023, Corsair Gaming completed the acquisition of the Drop, a renowned enthusiast keyboard boutique recognized for its keyboards, mechanical switches, & components for building mechanical keyboards, along with other peripherals. Additionally, the rise of game streaming platforms and online gaming has further encouraged the global adoption of gaming peripherals. Moreover, the introduction of accessories such as haptic gloves, displays, VR cameras, chairs, & controllers is expected to drive the market forward.
Furthermore, continuous advancements in technology have led to the development of gaming peripherals with better features, improved performance, and higher quality. It includes high-refresh-rate monitors, advanced gaming mice and keyboards, and virtual reality (VR) peripherals. The PC gaming market is a major driver of gaming peripherals. PC gamers often invest in high-quality components, including peripherals, to enhance their gaming experience. The popularity of gaming consoles like the PlayStation and Xbox has also boosted the gaming peripheral market. Accessories such as controllers, headsets, and charging stations are in high demand.
Report Segmentation
The market is primarily segmented based on product, device, type, distribution channel, and region.
By Product

By Device

By Type

By Distribution Channel

By Region

Headsets

Keyboard

Controller

Mice

Others

North America (U.S., Canada)

Europe (France, Germany, UK, Italy, Netherlands, Spain, Russia)

Asia Pacific (Japan, China, India, Malaysia, Indonesia. South Korea)

Latin America (Brazil, Mexico, Argentina)

Middle East & Africa (Saudi Arabia, UAE, Israel, South Africa)
To Understand the Scope of this Report: Speak to Analyst
By Product Analysis
Keyboard segment accounted for the fastest market share during forecast period.
The keyboard segment accounted for the fastest market share during the forecast period due to the diverse range of features and functionalities offered, including anti-ghosting technology, customizable RGB lighting, tailor-made mechanical switches, and programmable macros designed to meet gamers' specific requirements. These enhancements in the gaming experience are expected to create lucrative growth prospects for the market.
The headsets segment will grow at a significant rate. Headsets provide gamers with an immersive audio experience, enhancing sound effects, dialogues, and background music. For example, in July 2022, Indian gaming gear brand Cosmic Byte introduced Equinox Neutrino & Equinox Kronos Wireless headsets, compatible with Mobile, PC, PS4, Tablets, XBOX, & PS5. The enjoyable and engaging gaming experience facilitated by these headphones presents numerous growth avenues for the market.
By Device Analysis
PC segment held the largest market share in 2022
In 2022, the PC segment held the largest market share. PCs equipped with dedicated graphic cards, high-end CPUs, and abundant RAM offer superior gaming performance due to their high customization options compared to other gaming platforms. The extensive online gaming community, complemented by dedicated forums and servers for multiplayer gaming, creates opportunities for cooperative play, competitive gaming, and social interaction within the PC gaming realm. Moreover, the multitasking capabilities and versatility of PCs contribute to an integrated and smooth gaming experience.
The gaming consoles segment will grow at a rapid pace. These consoles feature a dedicated interface and operating system, ensuring easy accessibility and user-friendliness. They provide a unified gaming experience through standardized software and hardware. Gaming consoles often support multiplayer controllers, facilitating multiplayer gaming sessions and social gatherings. The simplicity of plug-and-play functionality, affordability, and robust gaming services are expected to drive the market's expansion in the foreseeable future.
By Distribution Analysis
Offline segment held the highest market share in 2022
In 2022, the offline stores segment held the highest market share. Offline stores offer immediate access to gaming peripherals, enabling instant purchases without the wait for deliveries. These stores employ expert staff who can recommend compatible peripherals and assist customers with their questions and issues. Moreover, offline channels provide extra advantages like convenient returns, community engagement, exclusive offers, and established store relationships, making them the preferred choice for gamers looking to buy gaming peripherals.
The online segment will grow at a rapid pace. This rapid growth is attributed to the surge in e-commerce platforms and the increasing preference for online shopping. It provides numerous benefits, including easy access to product information, user-friendly filters and search options, and the availability of gaming peripherals on an international scale, all contributing to the segment's accelerated growth.
Regional Insights
APAC region dominated the largest market

in 2022
In 2022, the APAC region dominated the largest market. This region is home to a vast and varied gaming community, ranging from casual mobile gamers to competitive e-sports enthusiasts. The growth is propelled by the widespread appeal of esports tournaments and gaming cafes, along with the increasing number of professional gamers who demand high-performance peripherals for a competitive advantage. Additionally, the region's robust technology manufacturing sector ensures a diverse range of gaming peripherals are readily accessible, catering to various budgets and preferences.
Middle East & Africa will grow at the fastest pace. A primary driver of this market is the growing fascination with gaming in the region. As more individuals turn to gaming for entertainment, the demand for top-notch gaming peripherals has surged. Consequently, there has been a rise in the number of gaming peripheral manufacturers in the region due to heightened competition. This competitive landscape is expected to fuel market growth in the coming years.
Key Market Players & Competitive Insights
These industry players are employing diverse strategic approaches, including product launches, collaborations, and partnerships, to maintain their market presence. Moreover, they are prioritizing user comfort, enhancing their offerings, and taking substantial measures to introduce their products into new markets.
Some of the major players operating in the global market include:
Cooler Master Technology Inc.

Dell Inc. (Alienware)

CORSAIR

HyperX/Kingston Technology Company, Inc.

Logitech

Plantronics Inc.

Rapoo Corporation

Razer Inc.

Redragon USA

Turtle Beach
Recent Developments
In March 2023, Alienware introduced a Tenkeyless Gaming Keyboard, a dual-mode wireless gaming headset, a wired gaming headset, and a wireless gaming mouse. These products come with advanced features and provide comfort during extended gaming sessions.
Gaming Peripheral Market Report Scope
| | |
| --- | --- |
| Report Attributes | Details |
| Market size value in 2023 | USD 7.35 billion |
| Revenue forecast in 2032 | USD 18.94 billion |
| CAGR | 11.1% from 2023 – 2032 |
| Base year | 2022 |
| Historical data | 2019 – 2021 |
| Forecast period | 2023 – 2032 |
| Quantitative units | Revenue in USD billion and CAGR from 2023 to 2032 |
| Segments covered | By Product, By Device, By Type, By Distribution Channel, By Region |
| Regional scope | North America, Europe, Asia Pacific, Latin America; Middle East & Africa |
| Customization | Report customization as per your requirements with respect to countries, region and segmentation. |