The global geofencing market was valued at USD 1.97 billion in 2022 and is expected to grow at a CAGR of 20.8% during the forecast period.
The market for geofencing services is growing rapidly, thanks to various applications such as telematics, human resources management, and child location services. However, the market is facing concerns related to privacy and data security, which need to be addressed. In addition, the market is expected to benefit from the increasing adoption of Internet of Things (IoT) technology and geofencing solutions across various industry sectors.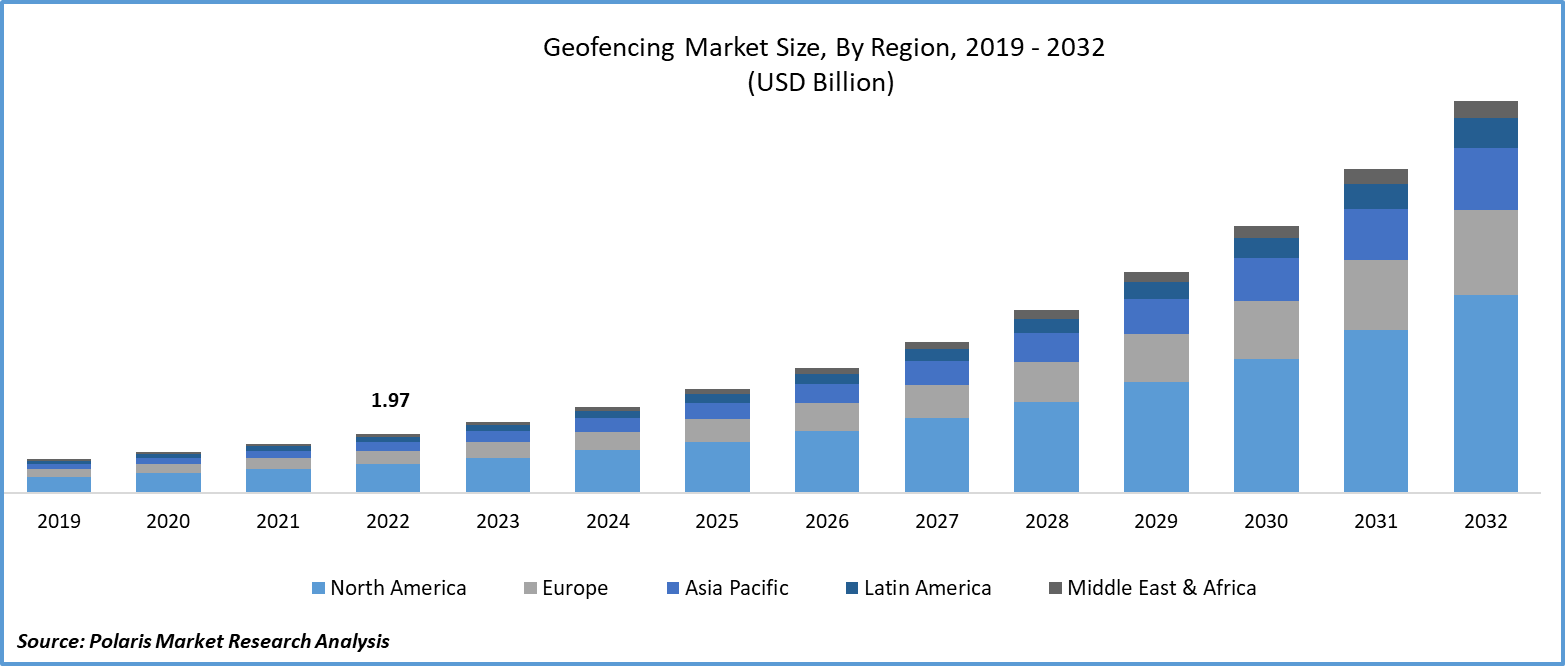 To Understand More About this Research: Request a Free Sample Report
Moreover, the market for mobile advertising is also expanding significantly due to the saturation of mass media and mass advertising. Companies are now looking for innovative and unique marketing strategies to differentiate themselves from competitors right at the point of sale. This trend is expected to contribute to the market's growth in the coming years. Businesses are combining traditional offline components with mobile elements to improve the overall point-of-sale experience and boost sales through mobile advertising. These innovative mobile features not only grab consumers' attention but also provide added value to the products or services being marketed.
Industry Dynamics
Growth Drivers
Increasing adoption of location-based services
The Geofencing market is currently growing at a rapid pace because of the increasing adoption of location-based services in various industries. Companies are using geofencing technology to provide personalized and location-specific content to their customers, which results in higher customer engagement and sales. For instance, in the retail sector, geofencing is being used to send special offers and promotions to customers when they are near a store, which increases foot traffic and conversions. In addition, geofencing is also becoming popular in logistics and fleet management, as it helps companies track and manage their assets more efficiently, leading to cost savings and improved operational efficiency. With the growing demand for location-based marketing and services, as well as the prevalence of smartphones, the geofencing market is expected to keep growing.
Another major factor driving the growth of the Geofencing market is the increasing importance of security and safety measures across industries. Geofencing technology enables organizations to create virtual boundaries and receive real-time alerts when a device or object enters or exits these boundaries. This feature is being used in various sectors, such as healthcare, to ensure that patients stay within secure areas, and in the construction industry, to track valuable equipment on job sites and prevent theft.
Furthermore, geofencing is being used for child safety, as parents and schools can monitor the location of children and receive alerts if they leave predefined safe zones. These applications contribute to the growth of the geofencing market as organizations and individuals become increasingly concerned with security and safety in today's interconnected world.
Report Segmentation
The market is primarily segmented based on component, technology, type, organization size, industry vertical, and region.
By Component

By Technology

By Type

By Organization Size

By Industry Vertical

By Region

Solution

Services

Deployment & Integration Services

Support & Maintenance Services

Consulting & Advisory Services

API Management & Testing Services

Active Geofencing

Passive Geofencing

Fixed Geofencing

Mobile Geofencing

Small & Medium-Sized Enterprises

Large Enterprises

Transportation and Logistics

Retail

Healthcare and Life Sciences

Industrial Manufacturing

Media and Entertainment

Government and Defense

BFSI

Others

North America (U.S., Canada)

Europe (France, Germany, UK, Italy, Netherlands, Spain, Russia)

Asia Pacific (Japan, China, India, Malaysia, Indonesia. South Korea)

Latin America (Brazil, Mexico, Argentina)

Middle East & Africa (Saudi Arabia, UAE, Israel, South Africa)
To Understand the Scope of this Report: Speak to Analyst
By Component Analysis
Solutions segment accounted for the largest market share in 2022
The solutions segment accounted for the largest market share. These software solutions often combine location-based technology with user-friendly interfaces to simplify the implementation of geofencing techniques. Through these software-enabled applications, developers can create dynamic push notifications that include images, videos, and integrated action buttons. This approach enhances response rates by allowing users to take immediate actions directly from their idle screens. Depending on the content, these actions can include ordering, making purchases, responding to messages, or engaging in activities such as completing questionnaires.
The services segment will grow rapidly. These services encompass the necessary equipment, facilities, and expertise required to implement, manage, and enhance geofencing strategies for companies and organizations. Support and maintenance services are anticipated to play a significant role in driving the growth of the geofencing market. These services involve ongoing assistance and upkeep provided by service providers to ensure the effective functioning and optimal performance of geofencing solutions. They are essential for companies utilizing geofencing technology to uphold their reliability, security, and effectiveness over time.
By Technology Analysis
Active segment held the significant market share in 2022
The active segment held the majority of the market share in terms of revenue. Retailers are leveraging active geofencing to send targeted messages and offers to potential customers within a specified radius of a particular location, enticing them to visit the store and make purchases. Furthermore, the increasing adoption of digital technology and the growing demand for business intelligence tools across various industries have led to the popularity of automation technologies that employ diverse geofencing methods.
The passive segment will grow at a robust pace. Passive geofencing offers various avenues for enhancing business growth, including improved customer engagement, enhanced marketing effectiveness, and valuable data insights. Businesses leverage passive geofencing to deliver timely and relevant real-time content to users based on their location. This approach enables businesses to enhance customer engagement and sustain their audience's interest by providing personalized and location-specific information.
By Industry Vertical Analysis
Logistics & transportation segment is expected to witness highest growth over forecast period
The logistics and transportation industry is expected to experience rapid growth, with companies adopting geofencing technology to manage shipments. This technology ensures more accurate and transparent handling of shipments with real-time updates, giving businesses a competitive edge. Such advancements not only enhance customer satisfaction but also boost overall operational efficiency in the delivery process. Moreover, the use of geofencing techniques in yard management and monitoring is driving market growth. An automated system that plans loading and unloading assignments within the yard receives tracking information, enabling truck drivers to locate the correct loading or unloading dock at the designated time.
Furthermore, the retail industry holds the largest share in the market. Market suppliers in this segment are introducing advanced solutions tailored to provide retailers with highly precise, relevant, and personalized information exactly when and where it is needed. This is achieved using geofencing technology, which relies on the customer's latitude and longitude coordinates to determine their location when they use the retailer's or brand's specially designed Alpine IQ native app.
Additionally, when a customer with the Alpine IQ app on their mobile device enters a specific geographical area or approaches a predefined location, the app uses the device's GPS to identify their exact location. This allows retailers to send tailored messages, promotions, or information to the customer's device, enhancing their shopping experience and engagement.
Regional Insights
North America region dominated the global market in 2022
North America has emerged as the largest region in the geofencing market. The region is actively promoting the adoption of real-time location technology and spatial data integration. Furthermore, it is home to a significant concentration of businesses in sectors such as banking, financial services and insurance (BFSI), retail, transportation, and logistics, all of which have embraced geofencing technology. Its robust communication and internet infrastructure further cement its position as the leader in the geofencing market.
The Asia Pacific region is expected to experience rapid growth, over the forecast period, mainly due to the introduction of innovative products and new solutions by key players. Geofencing, a technology that creates a virtual boundary around a specific geographic location, has found widespread application across various industries in the region, serving diverse purposes. Retailers and other businesses frequently use geofencing to deliver customized marketing messages and promotions to customers when they visit specific locations or approach their physical stores.
Key Market Players & Competitive Insights
Prominent companies in the industry have implemented a range of strategic approaches to increase their market share. These strategies include launching and developing new products, expanding their operations, engaging in mergers and acquisitions, establishing contracts, forming agreements, entering partnerships, and collaborating with other entities. These companies have employed diverse tactics to improve their market presence and strengthen their position in this competitive sector.
Some of the major players operating in the global market include:
Apple, Inc

Bluedot Innovation

DreamOrbit

Esri

Geomoby

GPSWOX

LocationSmart

Mapcite

Mediavision.

Raveon Technologies

Simpli.fi

Succorfish

Thumbvista

Upland Localytics

Urban Airship

Visioglobe
Recent Developments
In February 2023, MapmyIndia, introduced intelligent helmet kits, dashcams, in-dash navigation systems, & GPS trackers. While the GPS tracker and intelligent helmet kits are designed for use by owners of two-wheelers, the dash-cam & in-dash navigation system for the car owners.

In August 2022, Alpine IQ, has expanded its range of omnichannel messaging capabilities by introducing geofence messaging.

In September 2022, M3 has introduced significant enhancements to its Labor Management software, "M3 Labor". These enhancements include the integration of the geo-fencing & beacon technologies.
Geofencing Market Report Scope
| | |
| --- | --- |
| Report Attributes | Details |
| Market size value in 2023 | USD 2.37 billion |
| Revenue forecast in 2032 | USD 13.00 billion |
| CAGR | 20.8% from 2023 – 2032 |
| Base year | 2022 |
| Historical data | 2019 – 2021 |
| Forecast period | 2023 – 2032 |
| Quantitative units | Revenue in USD billion and CAGR from 2023 to 2032 |
| Segments covered | By Component, By Technology, By Type, By Organization Size, By Industry Vertical, By Region |
| Regional scope | North America, Europe, Asia Pacific, Latin America; Middle East & Africa |
| Customization | Report customization as per your requirements with respect to countries, region and segmentation. |