The global aramid fiber market was valued at USD 4,003.2 million in 2022 and is expected to grow at a CAGR of 7.0% during the forecast period.
The aramid fiber market encompasses the sale of aramid fiber by various entities, including sole traders, organizations, and partnerships. Aramid fiber comprises long-chain synthetic polyamide with approximately 85% amide linkages connected to two aromatic rings. These high-performance fibers are produced from artificial molecules with rigid polymer chains. The strong hydrogen bonds between these molecules efficiently transfer mechanical stress, allowing for the use of low molecular weight chains. Aramid fiber finds widespread application in composites for reinforcement purposes, including aviation, sports goods, and military vehicles. It is also used in fabric production for bulletproof jackets and fire safety garments.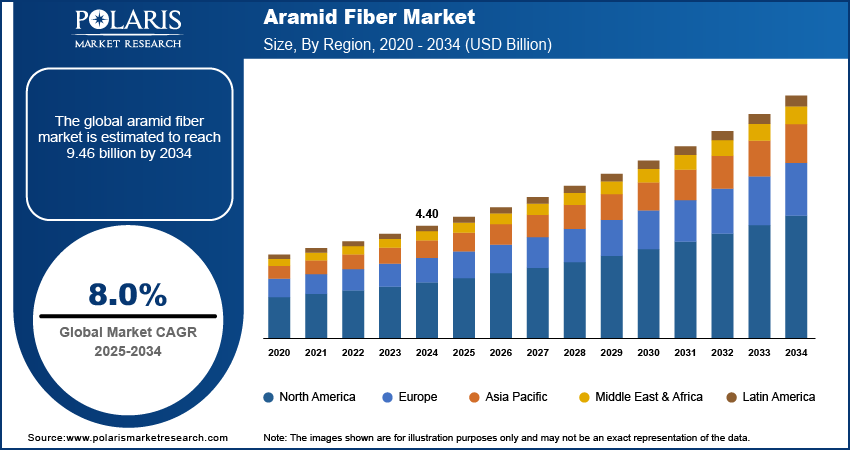 To Understand More About this Research: Request a Free Sample Report
Various factors, including the significant demand for protective clothing in industries like mining and oil & gas, drive the market's expansion. Additionally, changing raw material costs and using aramid fibers in the military and aerospace sectors contribute to market growth.
Protective clothing made from aramid fibers offers advantages over other personal protective equipment, as it can be washed and reused. This feature has gained importance during the COVID-19 pandemic, with clothing manufacturers providing specific laundering instructions for such apparel to prevent the spread of the virus.
Aramid fibers have gained popularity in recent years due to their unique properties, including high strength, dimensional stability, and heat resistance. These properties make aramid fibers well-suited for various applications, further driving their demand in multiple industries.
Aramid fibers are synthetic polyamides characterized by long chains and a high percentage of amide connections between aromatic rings. In the coming years, the market is expected to benefit from the growing regulations against asbestos in various industries. There have been continuous technological advancements, particularly in military equipment, to address the evolving challenges in combat scenarios. Market participants strive to enhance their cost competitiveness by improving productivity and manufacturing capabilities by automating production processes. These efforts aim to increase efficiency and meet the demand for aramid fibers in diverse applications.
The demand for aramid fibers is growing substantially, driven by the increasing need for disaster preparedness materials. Technological advancements to reduce the load on troops and enhance personal protection are expected to fuel the demand for lightweight and soft body armor.
However, despite their durability, aramid fibers have certain limitations that hinder their widespread use. Their tendency to absorb moisture in damp environments discourages their application. Consequently, this factor is restraining market growth during the forecast period.
Industry Dynamics
Growth Drivers
Increasing demand from the automotive industry
Several significant factors, including the increasing demand from the automotive industry, drive the market growth of aramid fibers. These fibers find extensive use in various automotive applications such as turbocharger hoses, tire reinforcing material, belts, mechanical components, gaskets, brake pads, seat textiles, combination motor materials, gearboxes, seating sensors, and electronics.
Moreover, aramid fibers exhibit exceptional thermal resistance, making them well-suited for high-temperature applications. With the trend towards lighter vehicles in recent years, automotive manufacturers increasingly incorporate aramid fiber composites to replace metal components. These composites offer a combination of lightweight, strength, and recyclability, thus meeting the demand for lighter cars in the industry.
In 2020, the global automotive industry experienced a decline in vehicle production, with reduced output observed in major automotive hubs such as China, the U.S., Japan, India, South Korea, and Germany. This decline was primarily attributed to factors like the COVID-19 pandemic. For instance, these countries' GDPs were reduced by 19% to 24% compared to the previous year, affecting overall vehicle manufacturing.
Nonetheless, the increasing demand for aramid fibers from the automotive sector, driven by the need for lightweight and high-performance materials, continues to support the growth of the aramid fiber market.
Report Segmentation
The market is primarily segmented based on type, application, and region.
By Type

By Application

By Region

Security & Protection

Frictional Materials

Industrial Filtration

Optical Fibers

Rubber Reinforcement

Tire Reinforcement

Electrical Insulation

Others

North America (U.S., Canada)

Europe (France, Germany, UK, Italy, Netherlands, Spain, Russia)

Asia Pacific (Japan, China, India, Malaysia, Indonesia, South Korea)

Latin America (Brazil, Mexico, Argentina)

Middle East & Africa (Saudi Arabia, UAE, Israel, South Africa)
To Understand the Scope of this Report: Speak to Analyst
Para-aramid segment held the fastest market share in 2022
In 2022, the para-aramid segment held the fastest share due to increasing demand for protective equipment, the expansion of military and law enforcement sectors, growth in the automotive and aerospace industries, and the adoption of aramid fiber-based composites in various industrial applications.
Para-aramid fibers like Kevlar are known for their high tensile strength and exceptional resistance to impact, cuts, and abrasion. These fibers are used in various applications, including ballistic protection (body armor, helmets), high-performance composites, ropes and cables, and reinforcement in tires and automotive parts.
Security and protection segment held the largest revenue share in 2022
In 2022, the security and protection segment held the largest revenue share in the market. Aramid fibers are extensively utilized in protective clothing and accessories to defend against various threats, including bullets, stabbing, heat, cuts, bomb fragments, and shrapnel. This category encompasses industrial gloves, ballistic gear, vehicles, and hard armor.
Furthermore, aramid fibers enhance the protective barrier between firefighters and heat sources. The thread forms a robust barrier that remains flexible until it cools, providing additional security minutes without compromising mobility. This attribute is particularly valuable in critical firefighting situations where the safety of firefighters is paramount.
Europe dominated the global market in 2022
In 2022, Europe dominated the global market by imposing strict safety rules in gas and oil, steel, aluminum, and construction industries. These have significantly contributed to the increased demand for defensive apparel in Europe, driving market growth.
With its 41 assembly and engine production factories, Germany is prominent in the European automotive sector. It accounts for approximately one-third of the total vehicle production in the region. The presence of equipment manufacturers, material and component suppliers, engine producers, and system integrators in Germany further establishes it as a key manufacturing base in the automobile industry.
Furthermore, North America is projected to experience a significant compound annual growth rate (CAGR) in the global market. This growth can be attributed to the increasing civil and defense aircraft manufacturing activities. According to estimates from Boeing, the global demand for new aircraft is expected to surpass 40,000 by 2035, with North America accounting for a substantial portion of that demand with over 15,000 aircraft.
The strong growth prospects in the aviation sector over the forecast period will contribute to the rise in the regional market share of aramid fibers. Additionally, the United States holds a prominent position in global military spending, contributing the most to this sector. The significant defense expenditure in the United States will further contribute to a substantial market share for aramid fibers in the region during the projected period.
Competitive Insight
The major players working in the global market include China National Bluestar (Group) Co., Ltd., Huvis Corp., Kermel S.A., Hyosung Corp., Kolon Industries, Inc., E. I. du Pont de Nemours and Company (DowDuPont), Yantai Tayho Advanced Materials Co., Teijin Ltd., SRO Aramid (Jiangsu) Co., Ltd, Toray Chemicals South Korea, Inc., and among others.
Recent Developments
In November 2019, Teijin Aramid B.V., a Dutch company, revealed its plans to boost production capacity by over 25% within five years. This expansion is aimed at meeting the rising market demand for their products. Additionally, the company intends to utilize this capacity increase to invest in new technologies that help reduce CO2 emissions.

In May 2022, Taekwang Industry disclosed plans to invest USD 112 million to expand its aromatic polyamide (aramid) fiber production capacity. The company aims to increase its annual production from 1,500 to 5,000 tons by 2025. This significant investment demonstrates Taekwang Industry's commitment to meeting the growing demand for aramid fibers.
Aramid Fiber Market Report Scope
| | |
| --- | --- |
| Report Attributes | Details |
| Market size value in 2023 | USD 4,192.4 million |
| Revenue forecast in 2032 | USD 7,722.3 million |
| CAGR | 7.0% from 2023 – 2032 |
| Base year | 2022 |
| Historical data | 2019 – 2021 |
| Forecast period | 2023 – 2032 |
| Quantitative units | Revenue in USD million and CAGR from 2023 to 2032 |
| Segments Covered | By Type, By Application, By Region |
| Regional scope | North America, Europe, Asia Pacific, Latin America; Middle East & Africa |
| Key Companies | China National Bluestar (Group) Co., Ltd., Huvis Corp., Kermel S.A., Hyosung Corp., Kolon Industries, Inc., E. I. du Pont de Nemours and Company (DowDuPont), Yantai Tayho Advanced Materials Co., Teijin Ltd., SRO Aramid (Jiangsu) Co., Ltd, Toray Chemicals South Korea, Inc., and among others. |