The global body armor market was valued at USD 2.48 billion in 2022 and is expected to grow at a CAGR of 6.3% during the forecast period. Rapid escalations across sensitive borderlines and cross-border terrorist insurgencies are creating body armor requirements. Body armor provides safety to soldiers in military operations. The advanced body armors offer strength and protection from IED explosions, bullet wounds, and ricochets. These body armors are frequently used by security forces and law-keepers across the globe to carry out law-enforcement tasks.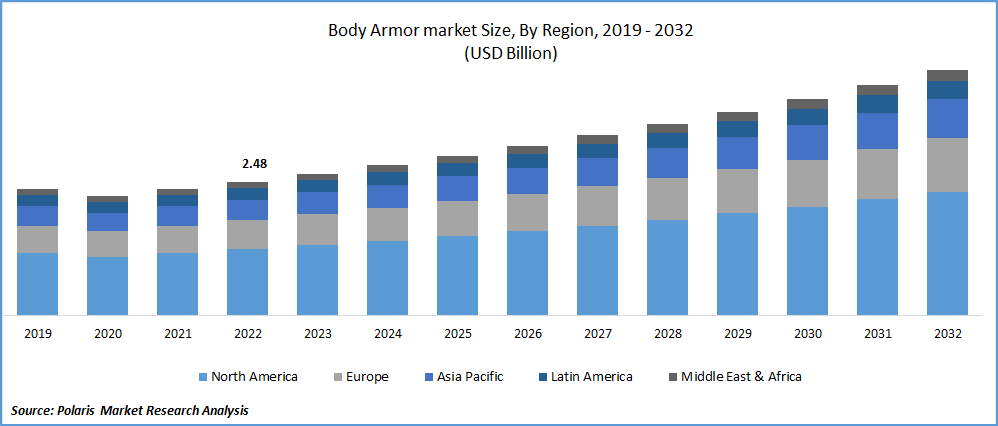 Know more about this report: Request for sample pages
High investment in defense spending to offer improved and innovative safety measures using sophisticated technology to defense personnel to protect them from various calamities on the battlefield are factors that will push the market upwards during the forecast period. Furthermore, factors such as the weight of uniforms, weapons, and other gear make it difficult for a soldier to lug around and is a restraining factor to growth.
However, protecting the workforce from the frugality of war and thriving investments in body armor development are prime factors for generating opportunities for companies to access untapped growth creating new areas of revenue generation which will supplement the market growth.
Furthermore, growing cross-border tensions, tense war-like situations, regional warfare, and an increased stimulus by way of government thought for the safety of armed forces personnel drives growth for the market. The body armor is devised in a manner that shunts bludgeoning attacks and is categorized on its ability to deflect bullets. Earlier, body armor was only licensed to soldiers, but now, due to war-like tensions in the border areas, it is used by security guards, police, and individuals to feel safe and secure. The body armor protects army personnel and security forces from flying mortar shrapnel.
During the pandemic, there has been an increased demand for personal protective equipment, including body armor, due to the need for protection against the virus. However, disruptions in global supply chains have led to delays in production and delivery, resulting in shortages and higher prices for some types of body armor. The pandemic has also caused a shift in demand, with more civilians seeking body armor for personal protection amidst civil unrest and protests. On the other hand, budget cuts in some law enforcement and military organizations due to the economic impact of the pandemic have slowed down some parts of the market.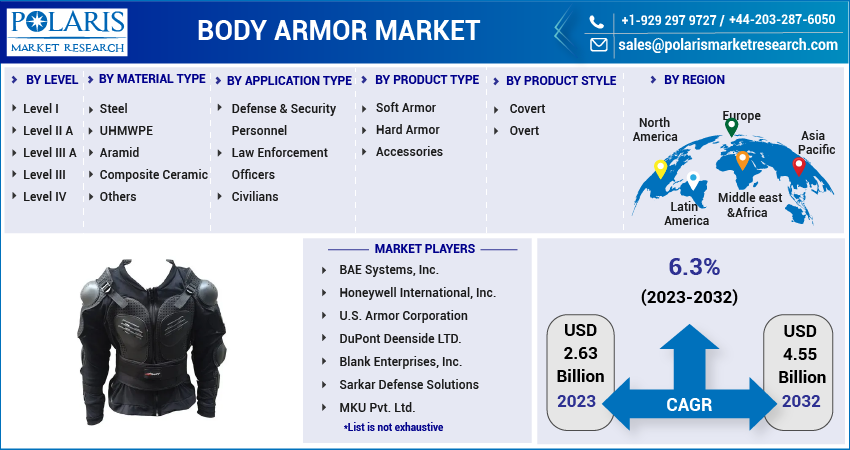 For Specific Research Requirements, Request for a Customized Report
Industry Dynamics
Growth Drivers
The market is experiencing steady growth due to several key factors. There has been an increasing demand for personal protection equipment (PPE) from military and law enforcement agencies as they face growing threats. This has resulted in a surge in demand for body armor that can provide adequate protection against ballistic and stab threats. Additionally, there has been a growing civilian market for body armor due to increasing concerns over personal safety and security. This market includes private security personnel, first responders, and individuals who want to protect themselves in high-risk situations.
Technological advancements in materials science have led to the development of lightweight and flexible body armor that provides better protection while being more comfortable to wear. These advancements have made body armor more affordable and accessible to a wider range of customers. Thirdly, increasing awareness of the benefits of body armor has led to more people turning to body armor as a means of protection. This is especially true in regions with high violence or political instability levels.
Government regulations mandating the use of body armor in certain professions have been a significant growth driver for the market. For instance, in the United States, the National Institute of Justice sets standards for body armor that law enforcement agencies must adhere to. The body armor market is expected to grow in the coming years, driven by these factors.
Report Segmentation
The market is primarily segmented based on level, material type, product type, product style, application, and region.
By Level

By Material Type

By Product Type

By Product Style

By Application

By Region

Level I

Level II A

Level III A

Level III

Level IV

Steel

UHMWPE

Aramid

Composite Ceramic

Others

Soft Armor

Hard Armor

Accessories

Defense & Security Personnel

Law Enforcement Officers

Civilians

North America (U.S., Canada)

Europe (France, Germany, UK, Italy, Netherlands, Spain, Russia)

Asia Pacific (Japan, China, India, Malaysia, Indonesia, South Korea)

Latin America (Brazil, Mexico, Argentina)

Middle East & Africa (Saudi Arabia, UAE, Israel, South Africa)
Know more about this report: Request for sample pages
Level III segment accounted for the highest revenue share in 2022
Level III body armor accounted for the highest revenue share in the market. This can be attributed to Level III armor being lightweight, more flexible, and concealable under clothing while still offering protection against a wider range of ammunition. Additionally, Level III armor provides greater blunt force protection than Level IIA, making it suitable for various applications, including law enforcement, military, and civilian use.
The Level II segment is expected to experience the fastest growth rate over the forecast period. This is because Level II armor can protect against common handgun rounds while being lightweight, concealable, and comfortable. Compared to Level IIA, Level II provides greater protection against blunt force trauma, an important consideration for law enforcement and civilian users.
It is worth noting that the market is constantly evolving, and new materials and technologies are being developed to provide better protection and comfort for users. In addition to traditional soft and hard armor, other types of body armor are available, such as stab-resistant armor and armor designed for specific types of ballistic threats.
Composite ceramics segment held the significant market share in 2022
Composite ceramics held a significant market revenue share, and this trend is expected to continue during the forecast period. This is primarily due to the various benefits offered by composite materials, including better ballistic resistance and higher performance while being lighter than steel plates. These advantages drive the growth of composite materials in the market.
In addition to composite ceramics, other synthetic fibers like aramids are widely used in body armor. These fibers are strong, heat-resistant, and have a good strength-to-weight ratio, making them ideal for body armor vests. Leading companies such as DuPont have developed para-aramid materials like Kevlar and Twaron that are flexible, lightweight, and offer high-level protection.
Furthermore, ultra-high-molecular-weight polyethylene (UHMWPE) is also used as a body armor material. UHMWPE is a polyolefin type with a high strength-to-weight ratio compared to aramid fibers. As a result, UHMWPE is gaining traction in the market, and companies are developing body armor using this material.
Overt segment holds the highest revenue share in 2022
The overt segment of the market generated the highest revenue share in 2022. This was primarily due to its superior protection against large spikes, blades, and heavy gunfire. Overt body armor is designed to be worn on top of clothing, and it is typically bulkier and heavier as it is constructed using multiple layers of Kevlar.
Overt body armor is available at all levels of protection and can safeguard against a wide range of weapons, including bullets and knives. Moreover, these vests can be customized by adding pockets for spare equipment or additional protection for other body parts, such as the neck or arms.
Overt armor vests feature robust bulletproof panels, making them the preferred choice for personnel in high-risk fields such as military operations, riot control, and warzone journalism. They offer high protection and can be tailored to the wearer's specific needs.
Defense and security personnel segment holds the largest market share in 2022
Defense and security personnel holds the largest market share and are expected to continue during the forecast period. The land, marine, and naval defense forces primarily drove the demand for body armor. However, there is still untapped potential in the market due to the emergence of new and advanced technologies, and companies are investing heavily in R&D to develop lightweight body armor that meets soldiers' specific needs.
Many companies are developing body armor to meet the standards set by the U.S. Department of Defense and the U.K. Ministry of Defense. Law enforcement is another segment expected to grow significantly due to the increasing incidents of violence in developing countries. With the rising demand for personal protection in various fields, the market is expected to continue its growth trend, with manufacturers focusing on developing new and innovative designs to meet the market's evolving needs.
North America dominated the global market in 2022
North America dominated the market and will continue its dominance over the forecast period. The regional growth is increased due to the high demand for PPE from law enforcement agencies, military forces, and private security firms. The United States is the largest market in the region, with increasing demand driven by armed violence and terrorism. Advanced materials and technology have also contributed to market growth. Ongoing security threats and the need for better protection for law enforcement and military personnel are expected to continue driving demand. The development of more lightweight and comfortable body armor is expected to boost market growth further. Major players include Point Blank Enterprises, Safariland, LLC, Armor Express, and GH Armor Systems, offering a range of body armor products.
Competitive Insight
The key leading players in the body armor market include BAE Systems, Inc., Honeywell International, Inc., U.S. Armor Corporation, DuPont Deenside LTD., Blank Enterprises, Inc., Sarkar Defense Solutions, MKU Pvt. Ltd., Safariland LLC, Uvex Group, Avon Protections Systems, Inc. and Ceradyne (3M) among others.
Recent Developments
In April 2022, MKU has launched the Kavro body armor system, designed to address the challenges modern soldiers face on the battlefield. This innovative body armor is modular and customizable, with various integrated components that work together seamlessly to improve operational efficiency.

In February 2022, India has launched the "Veer" helmets for its soldiers, developed by MKU company. The new helmets are equipped with a Modular Accessory Connector System (MCAS) that allows for mounting multiple accessories, making them more adaptable for various situations on the battlefield.
Body Armor Market Report Scope
| | |
| --- | --- |
| Report Attributes | Details |
| Market size value in 2023 | USD 2.63 billion |
| Revenue forecast in 2032 | USD 4.55 billion |
| CAGR | 6.3% from 2023 – 2032 |
| Base year | 2022 |
| Historical data | 2019 – 2021 |
| Forecast period | 2023 – 2032 |
| Quantitative units | Revenue in USD billion and CAGR from 2023 to 2032 |
| Segments Covered | By Level, By Material Type, By Product Type, By Product style, By Application, By Region |
| Regional scope | North America, Europe, Asia Pacific, Latin America; Middle East & Africa |
| Key Companies | BAE Systems, Inc., Honeywell International, Inc., U.S. Armor Corporation, DuPont Deenside LTD., Blank Enterprises, Inc., Sarkar Defense Solutions, MKU Pvt. Ltd., Safariland LLC, Uvex Group, Avon Protections Systems, Inc. and Ceradyne (3M). |