The global head and neck cancer market was valued at USD 1,460.99 million in 2022 and is expected to grow at a CAGR of 12.0% during the forecast period. The rising population of head and neck cancer patients due to the increased consumption of alcohol and tobacco primarily drives the head and neck cancer market. In addition, the rising incidences of multiple kinds of head and neck cancer and the increasing geriatric population further boost the market.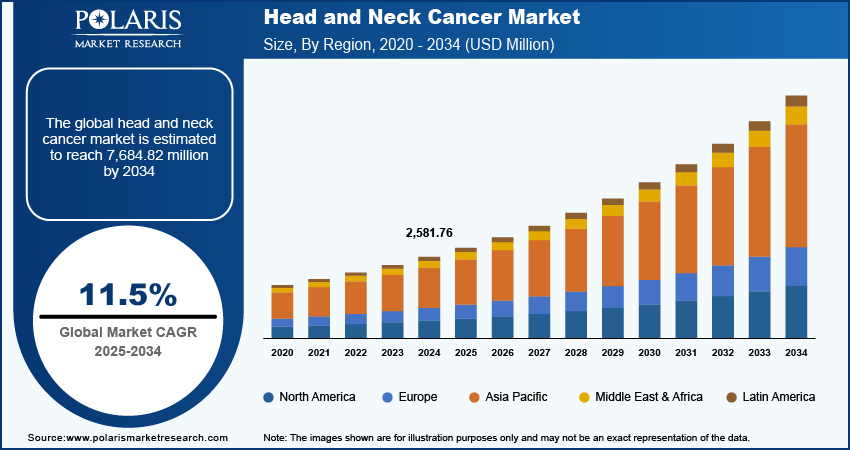 Know more about this report: Request for sample pages
Neck and head cancer is usually characterized by cancer in the squamous cells present in the lining of the mouth, voice box (larynx), and throat (pharynx). Head and neck cancer can form in the throat (pharynx), oral cavity, voice box (larynx), paranasal sinuses and nasal cavity, and salivary glands.
As per the National Institute of Cancer, the significant causes of neck and head cancer includes alcohol and tobacco use, infection with cancer-causing human papillomavirus such as HPV type 16, using paan(betel squid) in the mouth, occupational exposure, radiation exposure, Epstein-Barr virus infection, ancestry, and underlying genetic disorders. The most common symptoms witnessed in case of head and neck cancer such as a lump in the neck and sore in the mouth, difficulty in swallowing, hoarseness in the voice, white or red patch on the gums, and tongue, pain in the neck and throat, trouble breathing and speaking, bleeding through the nose, frequent headaches, swelling under chin and numbness or paralysis of the muscles in the face.
Head and neck cancer is considered the seventh most common cancer globally and contributes to more than 8,00,000 new cases annually, as per the National library of medicine. Additionally, as per National Cancer Institute, treatments for head and neck cancer including of surgery, chemotherapy, immunotherapy, radiation therapy, and targeted therapy. Further, research by National Cancer Institute provides information about the positive correlation between Human papillomavirus (HPV) and the chances of cure than those with HPV-negative tumors.
The covid-19 pandemic has negatively impacted the head and neck cancer market owing to various factors such as delayed diagnosis and treatment due to limited inpatient services, fear of contact with healthcare providers, and telemedical visits. As a result, the patients were admitted with extremely high-stage laryngeal and oropharyngeal cancers, requiring urgent tracheotomy.
Patients suffering from head and neck cancer are commonly treated with chemotherapy and radiation. Hair loss, speech difficulties, difficulty swallowing, reduced appetite, and skin changes are some of the widely witnessed side effects of surgery or radiation, and chemotherapy limits the market's growth. Further, the expensive diagnosis therapies and availability of well-developed cancer treatment clinics for head and neck cancer restricts the timely treatment of patients in low-income group countries are some of the other challenges faced by the market.
Industry Dynamics
Growth Drivers
The increasing tobacco and alcohol-consuming population worldwide has pushed head and neck cancer patients in the last few years. For instance, according to WHO, nearly 22.3% of the global population uses tobacco, and 80% of these users are from low- and middle-income countries. Almost 3 million deaths are accounted for annually by the harmful use of alcohol, and it is the causal factor for more than 200 diseases, such as liver disorder and cancer. Further, the increment in research and development in various cancer diagnosing therapies such as immunosuppression, chemotherapy, and target therapy and increased product approvals from government authorities boosted the survival rate of individuals with head and neck cancer, which boots the market.
The rising approvals for head and neck cancer treatment drugs and favorable government regulations support the growing market. The increasing investment towards research and development in effective medications and therapies for head and neck cancer and approval from the regulatory bodies have made several effective treatment methods available and increased mortality rates.
Report Segmentation
The market is primarily segmented based on form, product, application, and region.
By Drug Class

By COPD Type

By Treatment Type

By Distribution Channel

By Region

Phosphodiestrase-4 Inhibitors

Anti-PD-1 Monoclonal Antibodies

Long-Acting Bronchodilators

Short-Acting Bronchodilators

Methylxanthines

Corticosteroids

Chronic Bronchitis

Emphysema

Drugs

Oxygen therapy

Surgery

Others

Hospitals Pharmacies

E-Commerce

Retail Pharmacies

North America (U.S., Canada)

Europe (France, Germany, UK, Italy, Netherlands, Spain, Russia)

Asia Pacific (Japan, China, India, Malaysia, Indonesia. South Korea)

Latin America (Brazil, Mexico, Argentina)

Middle East & Africa (Saudi Arabia, UAE, Israel, South Africa)
Know more about this report: Request for sample pages
The Anti-PD-1 Monoclonal Antibodies segment is expected to dominate the Head and neck market in 2022
Based on drug class, the anti-PD-monoclonal antibodies segment is anticipated to dominate the market due to its efficiency against cancer cells. According to the American Cancer Society, monoclonal antibodies such as PD-1 and PD-L1 are designed to target the checkpoint proteins which find and attack the cancer cells in the body. Further, the rising awareness and approvals for two anti-PD-1 antibodies, including nivolumab and pembrolizumab by the US Food and Drug Administration (FDA) for metastatic squamous carcinoma of the head and neck fuels the drug in head and neck cancer market.
The Hospital Pharmacy segment is projected to dominate the head and neck cancer market in 2022
The rising head and neck cancer patient populations in the hospitals due to well-equipped infrastructure and better diagnosis of disease primarily drives the segment. Further, the increasing number of cancer hospitals in the last decade and favorable government schemes for poor sections of society have propelled the head and neck cancer market.
The North American region is projected to dominate the diabetes drugs market in 2022
Major factors driving the segment include a higher prevalence of head and neck cancer due to a higher share of patients and higher expenditure towards treating head and neck cancer. As per the National Institute of Cancer, the United States accounts for nearly 4% of global head and neck cancers. More than 68,000 men and women will be diagnosed with voice box, mouth, and throat cancers in the United States in 2021. Further, the continuous technological developments by R&D investments from private players and the government, increasing drug approval, and rise in mergers and acquisitions of pharmaceutical players in the cancer industry support the largest share of North America's head and neck cancer market.
Asia Pacific region is projected to witness the highest growth rate in the head and neck cancer market owing to the rising number of patients due to the increasing smoking, tobacco, and alcohol-consuming population in countries like China and India. For instance, WHO estimated China to be the largest producer and consumer of tobacco, with around 300 million smokers, comprising around one-third of global smokers. Further, the increasing geriatric population and rising expenditure towards head and neck cancer treatment due to increasing disposable income spur the market in the region.
Competitive Insight
Some major global players include Bayer Healthcare AG, Boston Biomedical, Inc., Bristol-Myers Squibb Company, Astellas Pharma Inc., AbbVie Inc., AstraZeneca Plc., Acceleron Pharma Inc., DentalEZ, Inc., Koninklijke Philips N.V., Siemens Healthcare Private Limited, AB Sciences, and AdDent Incorporated.
Recent Developments
In May 2021, PDS Biotechnology and the Head and Cancer Alliance entered into a partnership to increase the awareness and treatment options for patients diagnosed with HPV-related head and neck cancer.

On June 10, 2019, the Food and Drug Administration approved Pembrolizumab with platinum and fluorouracil (FU) to treat unresectable recurrent head and neck squamous cell carcinoma (HNSCC).
Head and Neck Cancer Market Report Scope
| | |
| --- | --- |
| Report Attributes | Details |
| Market size value in 2023 | USD 1,632.52 million |
| Revenue forecast in 2032 | USD 4,523.43 million |
| CAGR | 12.0% from 2023 - 2032 |
| Base year | 2022 |
| Historical data | 2019 - 2021 |
| Forecast period | 2023 - 2032 |
| Quantitative units | Revenue in USD million and CAGR from 2023 to 2032 |
| Segments covered | By Drug Class, By COPD Type, By Treatment Type, By Distribution Channel, By Region |
| Regional scope | North America, Europe, Asia Pacific, Latin America; Middle East & Africa |
| Key companies | Bayer Healthcare AG, Boston Biomedical, Inc., Bristol-Myers Squibb Company, Astellas Pharma Inc., AbbVie Inc., AstraZeneca Plc., Acceleron Pharma Inc., DentalEZ, Inc., Koninklijke Philips N.V., Siemens Healthcare Private Limited, AB Sciences and AdDent Incorporated |