The global peripheral vascular device market was valued at USD 10.31 billion in 2021 and is expected to grow at a CAGR of 5.41% during the forecast period.
The global market for peripheral vascular devices is predicted to be driven by the increasing prevalence of venous disorders, often known as Chronic Venous Insufficiency. Raising demand for minimally invasive endovascular procedures due to their quicker recovery times, less noticeable scarring, and lower risk of post-surgery infections are some of the main factors driving this market.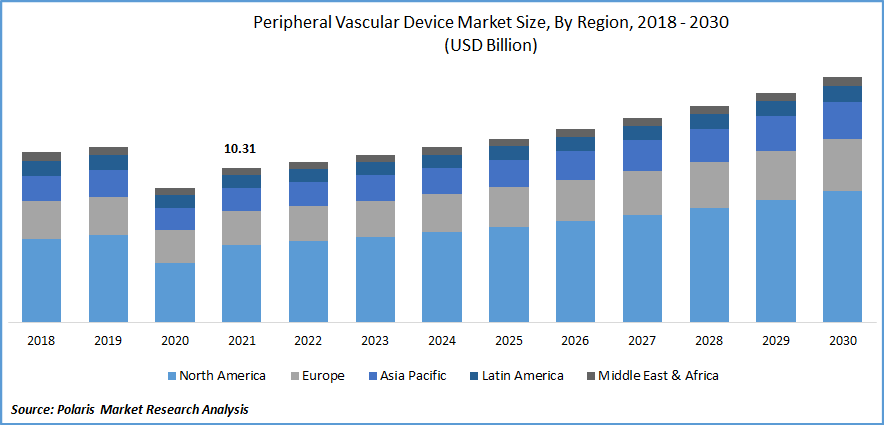 Know more about this report: Request for sample pages
Another one is the growing global elderly population base, which is increasing incidence rates of target diseases. For instance, the World Health Organization's 2020 study predicts that by 2030, one in six people globally will be 60 or older. The number of persons who are 60 years or older will reach 1.4 billion by this time, up from 1 billion in 2020. By 2050, the global population of people over will have doubled. There will be 426 million more persons who are 80 years of age or older in the world in 2050 than there are today.
Furthermore, the rising need for arterial blockage therapy has increased the need for emergency and critical care admissions, which is what is anticipated to fuel the expansion of the market for review throughout the course of the study period. For instance, according to clinicaltrials.gov, the Assistance Publique - Hôpitaux de Par started research comparing percutaneous coronary revascularization to coronary-artery bypass grafting for patients with left ventricular dysfunction who have multiple vessel disease. The clinical trial began on October 1, 2022, and it will end on February 28, 2031.
However, it began to pick up speed when the lockdowns were lifted and the number of COVID-19 occurrences decreased. For instance, as per researchers at the "University of Washington's Institute for Health Metrics and Evaluation", the number of heart attacks and strokes and COVID-19 are interrelated using its Al-data. Moreover, issues related to the COVID resulted in 12,000 strokes and 44,000 heart attacks in the US, as of 2020. It also implies that COVID-19 may have resulted in a 2 to 8% increase in the rates of stroke and heart attack, respectively.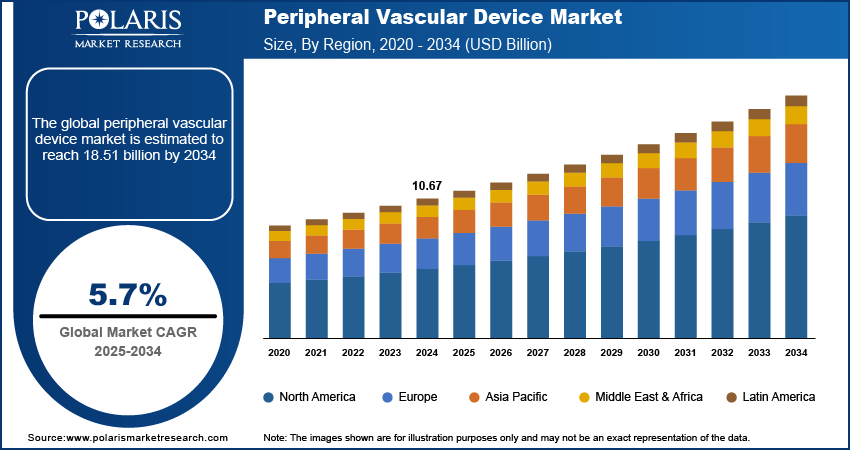 Know more about this report: Request for sample pages
Industry Dynamics
Growth Drivers
Peripheral vascular stent demand has increased significantly due to the rise in cardiac diseases. The most frequent type of heart disease, coronary heart disease, claimed 382,820 lives in 2020, according to the Centers for Disease Control and Prevention report in 2022. Over 20.1 million adults in this age group have CAD. Every 40 seconds, a heart attack happens in the U.S. The same report states that approximately 805,000 Americans experience a heart attack each year. The requirement for peripheral vascular stents was influenced by the high prevalence of heart disease in the nation.
The market expansion is being aided by technological developments, an increase in product approvals, partnerships, and collaborations among major players. For instance, PocDoc, a personal diagnostics and digital health platform announced on May 20, 2022, an exclusive collaboration with Dears Pharmacy to expand access to routine testing for cardiovascular illnesses. Many cases can be avoided and the burden on medical resources is decreased by identifying the most at risk of CVDs early and ensuring they receive the proper care.
Report Segmentation
The market is primarily segmented based on product, End-Use, and region.
By Product

By End-Use

By Region

Peripheral Vascular Stents
Peripheral Transluminal Angioplasty Balloon Catheters
Peripheral Transluminal Angioplasty Guidewires
Atherectomy Devices
Embolic Protection Devices
Inferior Vena Cava Filters
Other Device Types

Hospitals and Clinics
Ambulatory Surgical Centres.

North America (U.S., Canada)
Europe (France, Germany, UK, Italy, Netherlands, Spain, Russia)
Asia Pacific (Japan, China, India, Malaysia, Indonesia, South Korea)
Latin America (Brazil, Mexico, Argentina)
Middle East & Africa (Saudi Arabia, UAE, Israel, South Africa)
Know more about this report: Request for sample pages
Peripheral vascular stents are the industry's largest market segment.
The segment for peripheral vascular stents had the largest share in 2021. The global market for peripheral vascular stents is expanding as more people use them during open surgery and angioplasty procedures. Additionally, expanding approvals for novel products like bio-based and eluting stents and their accessibility United States, Europe, and Japan over the past few years have enhanced peripheral vascular stents, encouraging their uptake. For instance, vascular Balloon-expanding covered stent iCover received CE mark approval in May 2021. It is used to treat ruptures and aneurysms as well as arteriosclerotic lesions in the iliac and renal arteries. This method enabled the corporation to develop its business.
Furthermore, governments and manufacturers of peripheral stents are increasing their investments in order to deal with the rising prevalence of peripheral artery disease and vascular technology breakthroughs such as drug-eluting and drug-coated stents.
Sales of peripheral vascular devices are also anticipated to increase. For instance, In September 2021, Boston Scientific, a US medical equipment maker, acquired Devoro Medical, Inc. for an undisclosed sum. This acquisition of Devoro Medical Inc. will add the WOLF platform, furthering efforts to provide clinicians with the greatest tools for increasing operation efficacy. Technology for healthcare is produced by a company in America named Devoro Medical, Inc.
Hospitals and Clinics segment will account for a higher share of the market.
Hospitals and Clinics retained the greatest market share in 2021. Due to the rise in peripheral vascular disorders worldwide, the category is also anticipated to develop at the fastest CAGR during the forecast period. Because trained medical staff and nursing staff are more readily available in hospitals, patients receive superior post-operative care.
Furthermore, a rising sedentary lifestyle, inappropriate nutrition, and unhealthy behaviors such as smoking, drinking and cigarette consumption are projected to increase number of stenting treatments. For instance, according to research from the Centers for Disease Control and Prevention, 14.1% of men and 11% of women who were U.S. adults in 2020 (or an estimated 30.8 million individuals) currently smoked cigarettes.
The demand in North America is expected to witness significant growth
North America is expected to dominate the market due to a number of factors, such as the rising prevalence of cardiovascular illnesses, the aging of the population, the region's strong industry player presence, improved healthcare infrastructure, and increased public awareness of current technologies among healthcare stakeholders.
According to the American Heart Association Research 2022 report, cardiovascular disease was the main cause of 874,613 fatalities in the US in 2019. Every year, CVD kills more people in the US than all cancers combined with chronic lower respiratory disease. A CVD affected 126.9 million US adults between 2015 and 2018. Total direct and indirect CVD costs from 2017 to 2018 were USD 378.0 billion as well as CVD caused about 19.05 million deaths worldwide in 2020. Additionally, the regional stents industry landscape is anticipated to improve during the projected period due to the existence of major market players in the area.
Competitive Insight
Some of the major players operating in the global market include Abbott Laboratories, Angioscore, Edward Lifesciences Corporation, Medtronic, St. Jude Medical, Becton, Teleflex Medical, Volcano Corporation, Boston Scientific Corporation, Teleflex Medical, Cook Group, Cordis Corporation, Covidien, Edward Lifesciences, C.R.Bard, St. Jude Medical, Terumo Interventional Systems, Bayer, Endologix, B Braun, Volcano Corporation, Endologix, W.L.Gore and Associates, and Angioscore.
Recent Developments
The FreedomFlow Peripheral Guidewire was approved by the US Food and Drug Administration in June 2022, according to Cardio Flow, Inc., a maker of minimally invasive peripheral vascular devices to treat peripheral arterial disease.
Peripheral Vascular Device Market Report Scope
| | |
| --- | --- |
| Report Attributes | Details |
| Market size value in 2022 | USD 10.71 billion |
| Revenue forecast in 2030 | USD 16.33 billion |
| CAGR | 5.41% from 2022 - 2030 |
| Base year | 2021 |
| Historical data | 2018 - 2020 |
| Forecast period | 2022 - 2030 |
| Quantitative units | Revenue in USD billion and CAGR from 2022 to 2030 |
| Segments Covered | By Product, By End-Use, By Region |
| Regional scope | North America, Europe, Asia Pacific, Latin America; Middle East & Africa |
| Key Companies | Abbott Laboratories, Angioscore, Edward Lifesciences Corporation, Medtronic, St. Jude Medical, Becton, Teleflex Medical, Volcano Corporation, Boston Scientific Corporation, Teleflex Medical, Cook Group, Cordis Corporation, Covidien, Edward Lifesciences, C.R.Bard, St. Jude Medical, Terumo Interventional Systems, Bayer, Endologix, B Braun, Volcano Corporation, Endologix, W.L.Gore and Associates, and Angioscore. |