The global helideck monitoring system market was valued at USD 227.69 million in 2022 and is expected to grow at a CAGR of 4.6% during the forecast period. Helideck monitoring is a technology that provides precise meteorological and helideck motion pictures during helicopter landings and takeoffs. By tracking the extreme weather conditions of the helicopter terminals, the technology aids in increasing passenger and flight safety. The purpose of the helideck monitoring system is to comply with local and national aviation safety regulations. It offers flight information, helicopter pilots' flight planning pictures, and regional or remote user communication hierarchical storage management (HSM) data.

Know more about this report: Request for sample pages
To provide the highest level of safety during helicopter landing and takeoff operations, the system is also designed to measure, compute, and show all significant weather variables and analyze helideck motion. The system may communicate with various weather sensors, including the direction of the wind, wind velocity, QFE/QNH Barometric, humid, and temperature monitoring, cloud height, and visibility motion. It has several uses in the maritime and oil and gas industries. These reasons are anticipated to drive global demand for this advanced system.
The increasing demand for helideck monitoring systems due to superior weather information and accurate data processing is expected to drive the helideck monitoring system market in the coming years. The expansion can be ascribed to factors such as an augmentation in commercial ships and vessels, increased global vessel traffic, and shorter hardware component maintenance cycles. The requirement for helideck monitoring systems to more accurately visualize the weather is growing due to increased oil and gas operations in an offshore setting, fueling market expansion.
Another important element driving the expansion of the market for helideck monitoring systems is the strict marine safety regulations. The device also offers helicopter pilots real-time data that can be useful during possible hazards in offshore activities, further fostering industry expansion. The demand for the helideck monitoring system has also been driven by the rise in the usage of rotary aircraft as a quick and secure mode of transportation and the requirement for equipment that aids in controlling the docking and flight time-management skills by analyzing meteorological and other conditions.
However, offshore operations are a little more complicated to land and take off from an offshore site and determine the weather conditions. As a result, more highly qualified people are needed. More than moving on a stable platform, landing and taking off from moving helidecks heavily demands airmanship skills. As a result, the market for helideck monitoring systems may grow slower than it could.
The COVID-19 virus outbreak has significantly impacted the industry, leading to decreased output, delayed product delivery, contracts on hold, and other issues. Due to interrupted supply chains, manufacturing halts, and the financial crisis, helicopter OEMs will likely deliver fewer helicopters than in normal years. Offshore-equipped and configured support helicopters suffered greatly due to the GDP recession, fewer contracts, and investments. All of these downturns are anticipated to have a negative impact on the market in the future years.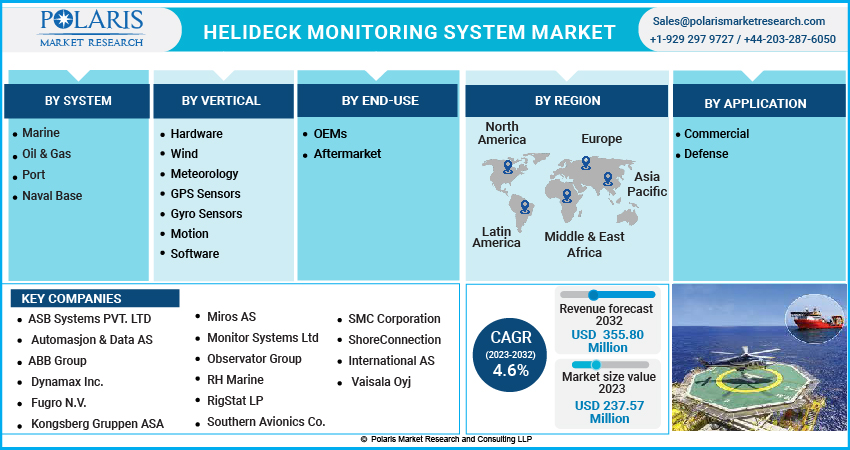 Know more about this report: Request for sample pages
Industry Dynamics
Growth Drivers
The rapidly rising introduction of advanced eVTOL technology in the helideck monitoring system bolsters market growth. The helicopter business is expanding rapidly due to increased demand for various applications, including oil, gas, and marine. The increase in capabilities for research and development by manufacturers of original equipment (OEMs) in the eVTOL technology is expected to demonstrate substantial expansion in the near future. Vertical take-off and landing (VTOL) capability, operational automation, and electrification of lifts and thrusts are among the aspects of eVTOL. It has a low noise level, good safety, a lightweight, and has low operating expenses.
Further, in September 2021, GOL Linhas Aéreas & Grupo Comporte recently signed a non-exclusive letter of intention with Avalon to lease 250 electric vertical take-offs & landing (eVTOL) helicopters. After helicopter certification and successful execution, the Company aims to begin operating a flying network in Brazil utilizing eVTOL helicopters by mid-2025. With the increased usage of electric propulsion, the most recent technology has emerged as user-friendly, faster, more dependable, and highly efficient overall functioning. Implementing compatible software for helideck monitoring devices that offer meteorological data such as wind velocity and direction, temperatures, and cloud services is boosting growth.
Report Segmentation
The market is primarily segmented based on system, vertical, end-use, application, and region.
By System

By Vertical

By End-Use

By Application

By Region

Marine

Oil & Gas

Port

Naval Base

Hardware

Wind

Meteorology

GPS Sensors

Gyro Sensors

Motion

Software

North America (U.S., Canada)

Europe (France, Germany, UK, Italy, Netherlands, Spain, Russia)

Asia Pacific (Japan, China, India, Malaysia, Indonesia. South Korea)

Latin America (Brazil, Mexico, Argentina)

Middle East & Africa (Saudi Arabia, UAE, Israel, South Africa)
Know more about this report: Request for sample pages
The marine segment is expected to witness the fastest growth during projected period
The maritime segment is expected to grow significantly during the projection period. The increase is due to increased trade via sea routes and marine vessel traffic, as well as the number of ships and boats around the world. The segment is also growing owing to the highest government investments and the trade through marine. Also, a growing desire for temporary naval bases utilized as needed by the naval forces is the result of an increase in the maritime confrontation between nations like the US-China, China-Japan, & Israel-Iran, as well as the lengthy time needed to develop naval bases. The unpredictability of these bases and the growing need for air cover by the naval forces in areas with a high piracy population and difficult terrain have increased demand for such systems in the worldwide military industry.
Hardware segment industry accounted for the largest market share in 2022
The hardware segment garnered the largest market share. The growing demands for a helideck monitoring system for real-time weather data supported by IoT-based hardware and software have resulted in dominance. The replacement of hardware devices regularly will boost the segment's growth. Because of the growing demand for meteorological software for actual data, the software segment is expected to develop significantly during the projection period. For helicopter pilots, the program provides reports such as Meteorological Aerodrome Reports (METAR) and Terminal Aerodrome Forecasts (TAFs).
Further, Motion sensors are used by helideck monitoring systems to detect obstructions on the helideck, including such weather conditions, during landing and takeoff procedures. Applications requiring wind speed, velocity, and temperature measurement require wind sensors. Regardless of weather conditions or airflow turbulence, wind detectors, sometimes referred to as anemometers, offer precise measures of wind velocity. When a helicopter arrives on an offshore platform or takes off, meteorological sensors measure wind speed, direction, and visibility. The Global Positioning System (GPS), first designed for military purposes, has been modified for civilian use in various fields, including personal navigation, transport, law enforcement, surveying, maps, and agricultural output.
The aftermarket segment industry accounted for the largest market share in 2022
The aftermarket sector has the largest market share in 2022 and will maintain its dominance throughout the projection period. The increase can be attributed to regularly replacing hardware such as sensors, GPS, pressure meters, navigation systems, etc. The shorter lifespan of hardware systems necessitates regular repair and replacement, which drives market growth. The original equipment manufacturer (OEM) category is expected to develop significantly as ship deliveries and marine traffic increase.
The demand in North America is expected to witness significant growth in 2022
The North American market was dominating the market share. This region's supremacy is due to the rise of the oil and gas industry in the United States and Canada and the presence of the most naval ships in the region. The region will develop even more quickly with the most navy ships. The increased investment in the defense sector to purchase naval vessels is anticipated to accelerate regional market expansion.
Further, because of many fleets in countries such as the UK, France, Russia, & Germany, Europe is experiencing rapid expansion worldwide. One of the biggest market share holders is the Asia Pacific area. Several regional nations are expanding their naval forces for commercial and defense purposes. The region is growing due to an increase in ship passenger traffic and the introduction of military vessels in nations. This region's market is expanding due to rising helideck monitoring system usage and rising interest in new ships.
Furthermore, Australia has huge helicopter fleets with many oil and gas development projects, propelling the industry across the region. During the predicted period, the rest of the world grows rapidly. This expansion is linked to increased sea traffic and oil exploration efforts in the Middle East and Africa.
Competitive Insight
Some of the major players operating in the global market include ASB Systems, Automasjon, ABB Group, Dynamax, Fugro N.V., Kongsberg Gruppen, Miros, Monitor Systems, Observator Group, RH Marine, RigStat, Southern Avionics, SMC Corporation, ShoreConnection International, & Vaisala.
Recent Developments
In March 2022, Vaisala stated that its most recent Helideck Monitoring System (HMS) development now meets with the UK Civil Aviation Authority's (CAA) amended CAP437 regulations for offshore helicopter landing sites. The system directly delivers precise, secure, real-time, and easily shareable weather data above and above industry standards, ensuring the best operations for takeoffs and landings without sacrificing safety.
Helideck Monitoring System Market Report Scope
| | |
| --- | --- |
| Report Attributes | Details |
| Market size value in 2023 | USD 237.57 million |
| Revenue forecast in 2032 | USD 355.80 million |
| CAGR | 4.6% from 2023 - 2032 |
| Base year | 2022 |
| Historical data | 2019 - 2020 |
| Forecast period | 2023 - 2032 |
| Quantitative units | Revenue in USD million and CAGR from 2023 to 2032 |
| Segments Covered | By System, By Vertical, By End-Use, By Application, By Region |
| Regional scope | North America, Europe, Asia Pacific, Latin America; Middle East & Africa |
| Key Companies | ASB Systems PVT. LTD, Automasjon & Data AS, ABB Group, Dynamax Inc., Fugro N.V., Kongsberg Gruppen ASA, Miros AS, Monitor Systems Ltd, Observator Group, RH Marine, RigStat LP, Southern Avionics Co., SMC Corporation, ShoreConnection International AS, and Vaisala Oyj |