The global hemostasis and tissue sealing agents market size is estimated to grow at a CAGR of 6.7% between 2019 and 2026, it is forecasted to be worth USD 6,632.9 million by 2026.
Hemostasis is termed as a process of healing wounds with the help of coagulation of blood. Coagulation is defined as a first step of wound healing process or complex physiological process that involves cells, soluble and insoluble proteins that changes blood to a gel form converted from its original liquid form. The endothelial cells of intact vessels prevent blood from clotting with the help of heparin like molecules, thrombomodulin. Hemostasis includes three major steps namely; vasoconstriction, temporary blockage by platelet plague, and blood coagulation. Similarly, sealants are medical devices that are used to diffuse internal bleeding. These products are sprayed on the injuries, or applied internally as a patch during surgical procedures. There are different type of surgical sealants, glues, and various hemostats products used to prevent or stop bleeding.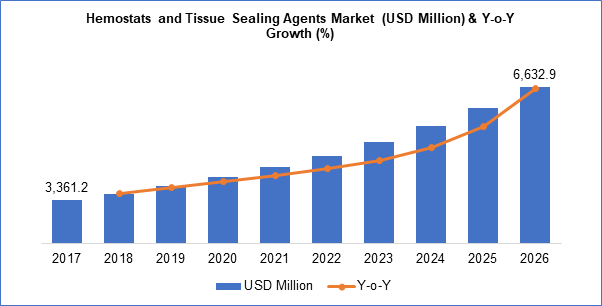 Know more about this report: request for sample pages
The growth in the popularity and adoption of hemostasis and tissue sealing agents is majorly driven by the continuous increase in medical conditions which require surgeries across the world. Increasing geriatric population base is also a major factor for the growth in this market, as the geriatric patients require essential care and injuries/medical wounds in these patients are inclined towards higher healing time.
It is also observed that in incidences of chronic diseases there is a growing preference for undertaking surgical process aimed at better treatment of these diseases. Also, the increased application of hemostats in minimally invasive surgeries is also another factor supporting the market growth. Furthermore, increase in the number of mild injuries caused by burns and neurosurgical management is also expected to create market opportunities for hemostats products during the forecast period. However, lack of reimbursement policies on these products and higher cost of surgical procedures in the developing countries are factors which might impede the adoption of hemostasis and sealing agents.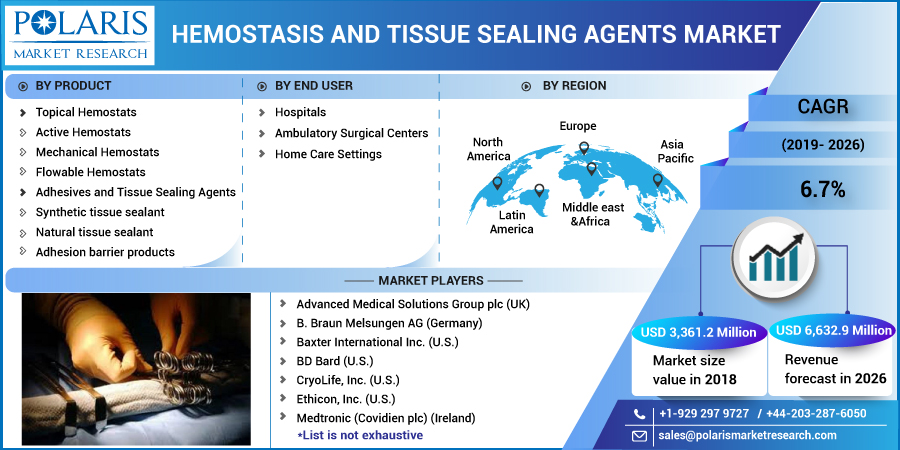 Know more about this report: request for sample pages
Segment Analysis
The market report on hemostasis and tissue sealing agents is segmented on the basis of product type, end users, and geography.
On the basis of product type, hemostasis and tissue sealing agents are segmented as topical hemostats, and adhesives and tissue sealing agents. Topical hemostats product segment is further sub-segmented into active hemostats, mechanical hemostats, and flowable hemostats. Topical hemostats segment is observed to hold the majority share in this market ownig to its cost efficiency, minimal tissue reactivity, non-antigenicity, and quick absorbability of these agents. Similarly, adhesive and sealants plays an important role in limitation of blood loss during various surgical processes, and it requires minimal invasion.
End user segmentation in this report covers hospitals, ambulatory surgical centers, and home care settings. Hospitals segments is expected to be dominant end user segment; growth in this segment is majorly attributed to the increasing number of patient's visit to emergency departments, and increasing number of surgeries performed at multi-specialty hospitals.
Hemostasis and Tissue Sealing Agents Market Scope
By Product Type

By End User

By Region

Topical Hemostats

Active Hemostats
Mechanical Hemostats
Flowable Hemostats

Adhesives and Tissue Sealing Agents

Synthetic tissue sealant
Natural tissue sealant
Adhesion barrier products

Hospitals
Ambulatory Surgical Centers
Home Care Settings

North America (U.S., Canada)
Europe (Germany, UK, France, Italy, Spain, Belgium, Russia, Netherlands)
Asia-Pacific (China, Japan, India, Australia, Korea, Singapore, Malaysia, Indonesia, Thailand, Philippines)
Latin America (Brazil, Mexico, Argentina)
Middle East and Africa (UAE, Saudi Arabia, South Africa)
Know more about this report: request for sample pages
Regional Analysis
By geography, the global hemostasis and tissue sealing agents industry is segmented across five major regions, North America, Europe, Asia Pacific, Latin America, and Middle East & Africa. North America region dominates this market and growth in this region is majorly driven by the increasing expenditure on medical device industry by the government, growing geriatric population along with prevalence of various chronic diseases and injuries, including injuries caused in sports, which require surgical procedures. Moreover, continuous launch of new products in this space and its availability is driving the usage of hemostat products in surgical procedures due to increasing preference for these products by surgeons and physicians.
The market in Asia Pacific region is anticipated to make significant growth during the forecast period and is expected to capture a market share of around 30%. This growth is largely owed to increasing medical awareness for the use of various sealing agents, and escalating investment for development of healthcare infrastructure. Also, the rising expenditure on medical devices in developing countries is expected to drive adoption of the hemostasis and tissue sealing agents in this region. Increasing emphasis on patient safety has necessitated usage of synthetic hemostats. These hemostats are not animal or human derived and are expected to gain popularity among the surgeons across Asia Pacific region.
Competitive Analysis
Companies are focusing on expansion through introduction of hemostats including active and mechanical hemostats. They are used across various surgical procedures such as cardiovascular surgical processes. Furthermore, there is a scope for investment in the natural tissue sealant segment, as this segment is anticipated to gain significant share of the market throughout the forecast period. Natural tissue sealants commercially available in the market include CoSeal, TISSEEL, FLOSEAL.
Also, the players in this sector continually undertake various strategic initiatives, including mergers and acquisitions, to consolidate their position in the market. For instance, in October 2018 Stryker acquired HyperBranch Medical Technology, Inc. and has strengthened its postion in the sealants space as 'Adherus AutoSpray' (FDA approved Dural Sealant) is added to its portfolio.
Some of the major key companies operating in the hemostasis and tissue sealing agents market include Advanced Medical Solutions Group plc (UK), B. Braun Melsungen AG (Germany), Baxter International Inc. (U.S.), BD Bard (U.S.), CryoLife, Inc. (U.S.), Ethicon, Inc. (U.S.), Medtronic (Covidien plc) (Ireland), Mil Laboratories Pvt Ltd. (India), Pfizer Inc. (U.S.), Smith & Nephew plc (UK), and Stryker Corporation (HyperBranch Medical Technology, Inc.) (U.S.).