The global home energy management system market was valued at USD 3.59 billion in 2022 and is expected to grow at a CAGR of 13.6% during the forecast period.
The increasing emphasis on effective energy management largely drives the market growth of the energy management industry. Additionally, the hardware and software costs have decreased, and intelligent utility meters have been introduced, presenting several growth opportunities for market stakeholders. The advancements in smart devices, energy storage solutions and energy-efficient appliances have made home energy management systems (HEMS) more accessible and user-friendly.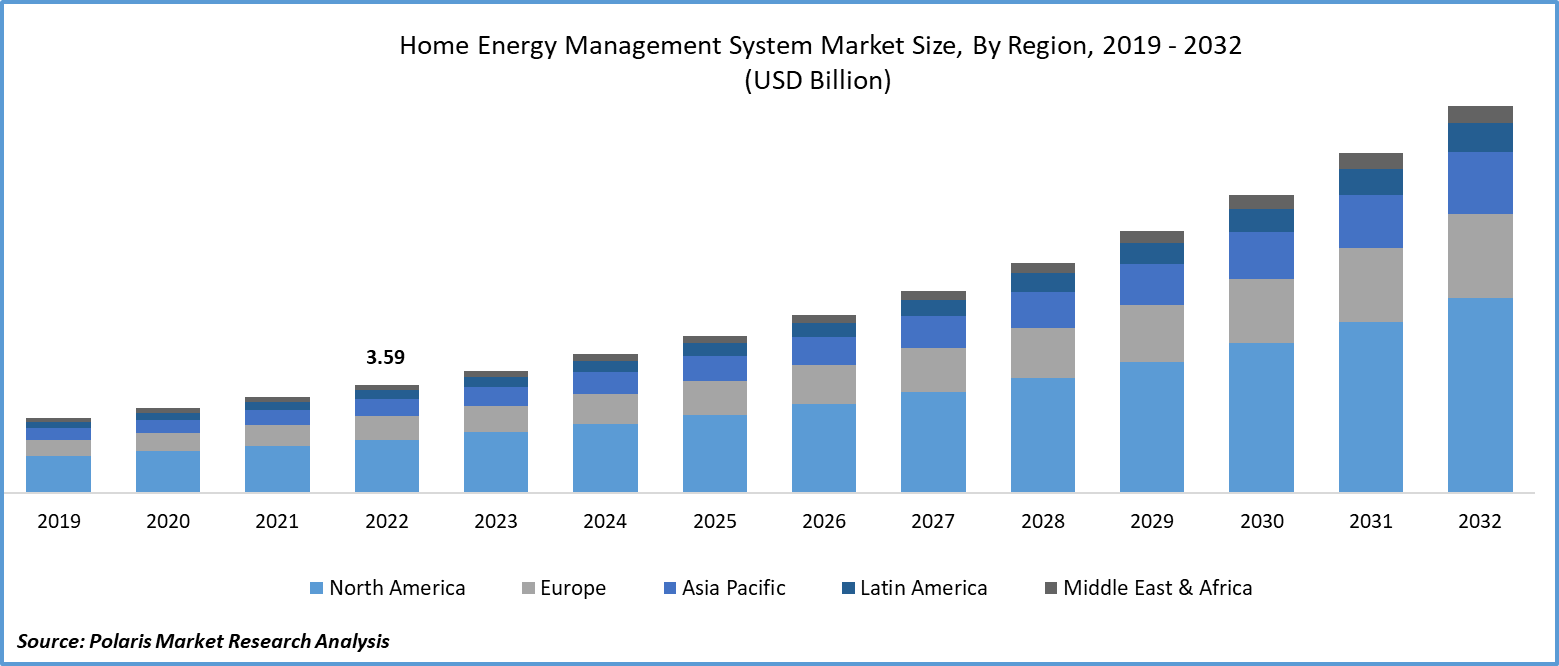 To Understand More About this Research: Request a Free Sample Report
The integration of efficient home energy management systems with smart grids enables consumers to optimize their energy consumption based on real-time grid data, resulting in better overall energy efficiency. Traditional energy grids face challenges in meeting the growing electricity demand, balancing supply and demand, and incorporating renewable energy sources. Smart grid technology, which includes advanced sensors and communication between utilities and consumers, addresses these challenges. The combination of smart grid features with home energy management systems (HEMS) enhances the energy management capabilities within households, enabling more dynamic and responsive energy consumption. With smart grid-enabled HEMS, energy from renewable sources like solar panels and wind turbines can be intelligently managed and stored, ensuring optimal utilization and reducing reliance on non-renewable energy sources.
Energy storage solutions play a crucial role in addressing two significant challenges associated with increasing energy consumption - the intermittency of renewable energy sources and the management of peak demand. These systems provide a stable and reliable power supply, storing energy during periods of low demand and releasing it during peak hours when demand is high. This strategy enhances the overall efficiency of the energy system and promotes a greater reliance on renewable energy sources such as solar and wind power.
Energy storage systems contribute to grid stability by absorbing surplus energy during periods of low demand and returning it to the grid during peak demand, thereby mitigating fluctuations and maintaining a steady power supply. These energy storage facilities facilitate the smooth incorporation of renewable energy sources into the grid. They store the excess energy generated by renewables during times of high production and release it when renewable energy generation is lower, thereby improving the reliability of the grid.
Industry Dynamics
Growth Drivers
Optimizing energy consumption
Thermal energy storage (TES) is a vital component of home energy management systems (HEMS), offering efficient and sustainable solutions for energy storage and utilization. TES technologies are designed to store excess thermal energy during periods of low demand and release it when demand is at its peak. This approach ensures a reliable and cost-effective method of optimizing energy consumption. Conventional energy sources often need help to meet peak demand, resulting in increased electricity costs and stress on the grid.
TES technologies provide a dependable and scalable solution to this challenge. By storing thermal energy during low-demand periods, such as nighttime or off-peak hours, and releasing it when demand is high, TES effectively manages energy consumption and reduces the need for costly peak power generation.
Report Segmentation
The market is primarily segmented based on component, by system, by technology, by application, by deployment, by residence type, and region.
By Component

By System

By Technology

By Application

By Deployment

By Residence Type

By Region

Hardware

Control Devices

Communication/Display Devices

Others

Software

Services

Lighting Controls

Thermostats

Self-Monitoring Systems

Advanced Central Controllers

Intelligent HVAC Controllers

Wireless Protocols

Wi-Fi

ZigBee

Z-Wave

Bluetooth

Others

Wired Protocols

Hybrid

New Construction

Retrofit

Single-family

Multi-family

North America (U.S., Canada)

Europe (France, Germany, UK, Italy, Netherlands, Spain, Russia)

Asia Pacific (Japan, China, India, Malaysia, Indonesia. South Korea)

Latin America (Brazil, Mexico, Argentina)

Middle East & Africa (Saudi Arabia, UAE, Israel, South Africa)
To Understand the Scope of this Report: Speak to Analyst
By Component Analysis
Hardware accounted for the largest market share in 2022
The hardware segment of the energy management system market has the largest market share. Hardware components are crucial as they act as the backbone of the system and facilitate real-time data acquisition, communication, and control of energy-consuming devices within homes. These components create a network that interacts with appliances, sensors, and energy storage solutions to enable intelligent energy management. They monitor electricity consumption and provide valuable insights to support energy-efficient control strategies, contributing to the efficient use of energy resources.
Furthermore, the software segment is expected to grow rapidly. These software solutions are designed to analyze and optimize energy consumption patterns using data analytics and machine learning algorithms. They play a critical role in identifying energy-intensive devices and activities, enabling users to gain a better understanding of their energy usage. By providing insights into energy consumption, these software components empower consumers to make informed decisions that reduce wastage and promote energy-saving practices. This, in turn, leads to improved energy efficiency and lower utility bills. Moreover, energy optimization software solutions can dynamically adjust energy usage based on energy prices, user preferences, and real-time grid data, ultimately enhancing overall energy efficiency.
By System Analysis
Thermostat segment held the significant market share in 2022
The thermostat segment held the majority of the home energy management system market share in terms of revenue. These intelligent devices are designed to control both residential and commercial HVAC systems (heating, ventilation, and air-conditioning). Smart thermostats leverage sensors, data analytics, and advanced algorithms to regulate indoor temperatures efficiently. The integration of thermostat systems into the overall home energy management system empowers users to monitor and manage their HVAC systems remotely. Additionally, these systems can automate temperature adjustments based on factors such as occupancy patterns, weather forecasts, and user preferences.
The intelligent HVAC segment will grow at a robust pace. This growth is attributed to their ability to enhance energy efficiency within the system. These controllers leverage advanced sensors and data analytics to optimize the operation of heating, cooling, and ventilation systems in real time, aligning them with current conditions and user preferences. By adjusting temperature settings, airflow rates, and fan speeds based on home occupancy patterns, these controllers effectively reduce energy wastage during periods when the premises are unoccupied.
By Technology Analysis
Hybrid technology segment is expected to witness highest growth during the forecast period
The hybrid technology sector is expected to experience significant growth in the upcoming years. This growth is being fueled by the integration of various energy sources and storage technologies, creating a versatile and adaptive energy management system. Hybrid systems are specifically designed to leverage the strengths of different energy sources and storage solutions, effectively overcoming the limitations of individual technologies. These systems combine renewable energy sources with conventional sources and incorporate energy storage solutions and demand response capabilities.
Regional Insights
North America region dominated the global market in 2022
North America has emerged as the largest region in terms of adopting Home Energy Management Systems (HEMS) that provide a comprehensive approach to managing energy consumption and reducing utility expenses. This can be attributed to the region's growing emphasis on energy efficiency, environmental sustainability, and the adoption of smart home technologies.
The significant growth in the region is primarily driven by rapid technological advancements, innovations in smart home devices, the widespread use of IoT (Internet of Things) technology, and the implementation of data analytics. Advanced HEMS technologies empower consumers with real-time data on energy consumption, the automation of energy-intensive devices, and personalized energy optimization solutions. These features collectively enhance overall energy efficiency and user convenience.
Asia Pacific region will grow rapidly. Governments across the region have recognized the vital importance of energy efficiency and sustainability. To promote these goals, they have implemented supportive policies and incentives. These measures include subsidies for energy-efficient appliances, tax incentives for residential energy management systems, and mandates for the integration of smart grids. These initiatives are driving consumer interest in HEMS and creating a favorable environment for energy service providers and technology developers in the region. Additionally, the increasing cost of energy and growing environmental awareness have heightened the demand for energy-saving solutions throughout the region.
Key Market Players & Competitive Insights
Market participants are actively engaged in developing innovative solutions with the aim of attracting a substantial customer base and establishing a competitive advantage in the industry. These key players are giving precedence to a range of strategies, both organic and inorganic. These strategies encompass technological advancements, fostering innovation, expanding product portfolios, forging collaborations, and pursuing mergers and acquisitions. These concerted efforts reflect their commitment to staying at the forefront of the market and meeting the evolving needs of consumers and businesses.
Some of the major players operating in the global market include:
Alarm.Com

Comcast

Ecobee, Inc.

Ecofactor

General Electric Company

Honeywell International Inc.

Johnson Controls

Panasonic Holdings Corporation

Robert Bosch Gmbh

Schneider Electric Se

Vivint Smart Home, Inc.
Recent Developments
In July 2023, Schneider Electric has introduced a home energy management system that integrates various technologies for solar storage, electric vehicle (EV) charging, and household appliances. This system simplifies the management of these diverse home energy solutions, offering users a unified experience through a single app with tailored features.
Home Energy Management System Market Report Scope
| | |
| --- | --- |
| Report Attributes | Details |
| Market size value in 2023 | USD 4.06 billion |
| Revenue forecast in 2032 | USD 12.83 billion |
| CAGR | 13.6% from 2023 – 2032 |
| Base year | 2022 |
| Historical data | 2019 – 2021 |
| Forecast period | 2023 – 2032 |
| Quantitative units | Revenue in USD billion and CAGR from 2023 to 2032 |
| Segments covered | By Component, By System, By Technology, By Application, By Deployment Type, By Residence Type, By Region |
| Regional scope | North America, Europe, Asia Pacific, Latin America; Middle East & Africa |
| Customization | Report customization as per your requirements with respect to countries, region and segmentation. |